Nourishing vegan breakfast bowl with tempeh bacon
This nourishing vegan breakfast bowl with tempeh bacon will take your breakfast to a new level. Filled with wholesome ingredients to help you start you day off right!

On weekdays, I'm all about quick and simple breakfasts, (I usually just toss a quick hippie bowl together) but on the weekends, I like to sit down and enjoy a more hearty brunch.
This recipe for nourishing vegan breakfast bowl with tempeh bacon will make all your weekend brunch dreams come true! It has everything you could possibly want in one bowl. Creamy "cheesy" polenta, tempeh bacon, potato hash, and your choice of veggies and sides to go with it!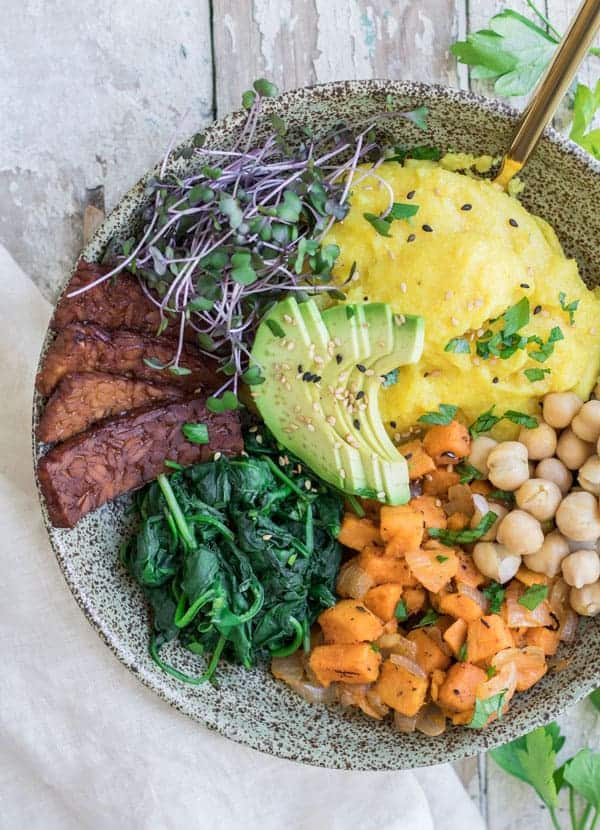 While I enjoy this recipe on the weekends, you can also prepare the parts for this bowl in advance and just pull out some tempeh bacon or potato hash from the fridge for a quick and easy breakfast!
Feel free to play around with add-ins or serve this up with your favourite toast!
Print
Nourishing vegan breakfast bowl with tempeh bacon
Author: Jess
Prep Time: 30 mins
Cook Time: 30 mins
Total Time: 1 hour
Yield: 4 servings 1x
Category: Breakfast
Method: Cook
Cuisine: American
---
Description
Nourish yourself for the rest of the day with this vegan breakfast bowl with tempeh bacon!
---
tempeh bacon
polenta
sweet potato hash
2 sweet potatoes
1 onion, finely chopped
2 tsp avocado oil (or vegetable oil)
1/2 tsp paprika
salt & pepper to taste
bowl filling options
steamed spinach
chickpeas
sprouts
avocado
---
Instructions
tempeh bacon
Cut the tempeh into strips.
In a shallow dish, mix the soy sauce, maple syrup, vegetable oil, and liquid smoke together. Place tempeh in the dish and let marinate for 20 minutes, flipping the tempeh halfway through so each side gets marinated.
Preheat the oven to 400 degrees and line a baking pan with parchment paper.
Place the tempeh on the pan evenly spread out and into the oven for 10-12 minutes.
creamy polenta
Bring water to a boil in a pot.
Add the cornmeal and salt, whisking until there are no clumps. Reduce heat to low and continue to whisk until the polenta begins to thicken.
Cover and let cook on low heat for about 30 minutes, checking on it every 5 minutes and giving it a stir.
Remove from heat and stir in nutritional yeast.
sweet potato hash
Peel 2 sweet potatoes and cut into small cubes.
Bring a pot of water to a boil and boil the sweet potatoes until tender (about 5 minutes)
Heat oil in a medium skillet, add onion to the pan and cook on medium heat for 2-3 minutes.
Add the sweet potato, paprika, salt & pepper and mix all together, allowing to cook for 5 minutes.
Place your polenta, tempeh bacon, sweet potato hash, and any other fillings of your choice into a bowl and serve.
---
---
Nutrition
Serving Size: 1 bowl
Calories: 480
Sugar: 5g
Fat: 21g
Saturated Fat: 4g
Carbohydrates: 62g
Fiber: 11g
Protein: 15g
Keywords: vegan breakfast bowl with tempeh bacon, vegan breakfast recipe, tempeh recipe
Tips & suggestions:
If you don't have polenta, you can replace it with quinoa instead.
Add any of your favorite veggies into this bowl!
If you want a sweet breakfast try this hippie breakfast bowl!
This post contains affiliate links which means I will make a small commission if you purchase through those links. I only recommend products that I know, trust and love!