Weeknight slow cooker lentil soup
This weeknight slow cooker lentil soup makes the perfect lazy weeknight dinner. This is a hearty soup loaded with two types of lentils, sweet potatoes, and veggies!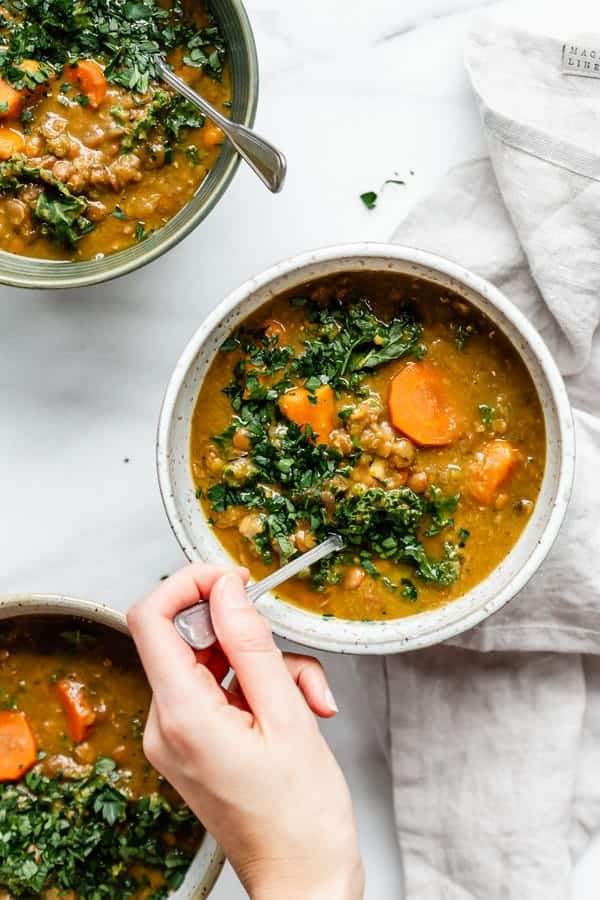 Raise your hand if you've ever felt too lazy on a weeknight to cook dinner. *Me raising both hands*
Yup. the struggle is real. It's dark out early, work days can feel long and tedious, and you come home and just don't want to cook. Trust me, I've been right there with you
With it being dark out now by 5 pm I'm pretty sure November was made for slow cooker recipes. I'm feeling all about the quick & easy, cozy dinners this month and this weeknight slow cooker lentil soup fits the bill!
Can you put raw lentils in a slow cooker?
The quick answer is yes!
Unlike most legumes, lentils do not need to be soaked or cooked before you put them in the slow cooker. If they are bulk lentils, I will quickly rinse them before putting them in the slow cooker just to get any extra dirt of stones off of them. But that is the best part of this dish – it is so easy! The lentils do not need to prepare them beforehand!
What makes lentil soup healthy?
This soup is one of those hearty soups that can be an appetizer if you want a small portion, or if you're like me and want a big bowl, this soup is a full on MEAL. It is also full of nutrients, so you will be getting a meal that feels like it should be not healthy, but it is!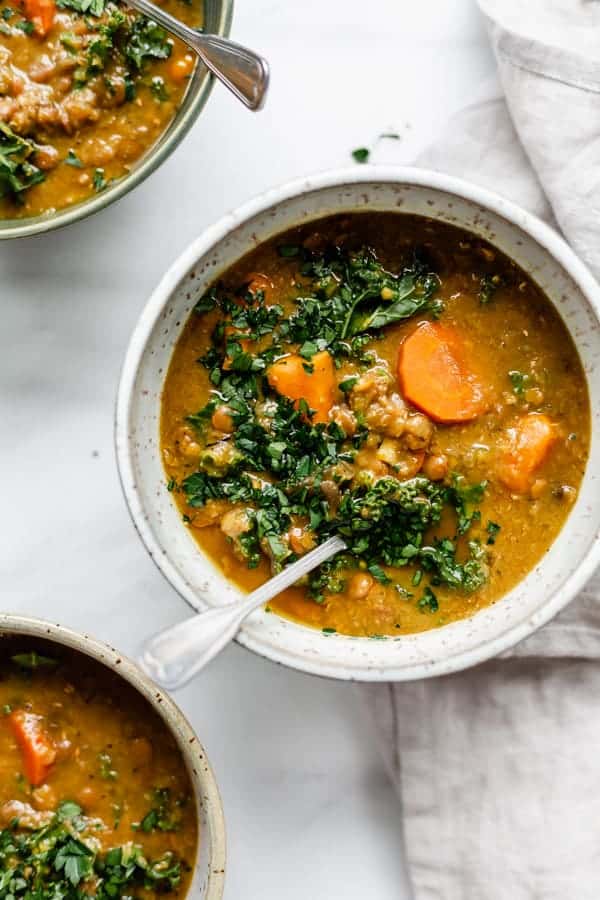 We've got:
Red lentils: light in flavour, soft and add great texture to the soup.
Green lentils: a bit bolder in flavour and have more of a bite to them.
Sweet potatoes: sweet and satiating and help thicken the soup.
Carrots: great for adding flavour.
Kale: Adds nutrients and a great texture.
All the makings of a perfectly acceptable hearty, filling and protein-rich vegetarian soup! Lentils are full of fibre, protein and packed full of B vitamins. They also have a great amount of iron, which is something all my vegetarians and vegans think about since they do not eat the iron-rich red meats.
This soup will require 10 minutes of prep, and then your crockpot will do the rest of the work for you. Just throw everything into the crockpot in the morning, turn it on for the day, and next thing you know you'll be coming home to a delicious already made dinner! (Thank you crockpot, thank youuu!)
If you're looking for some more slow cooker recipes make sure to make this crockpot Moroccan chickpea stew and this slow cooker quinoa chili next!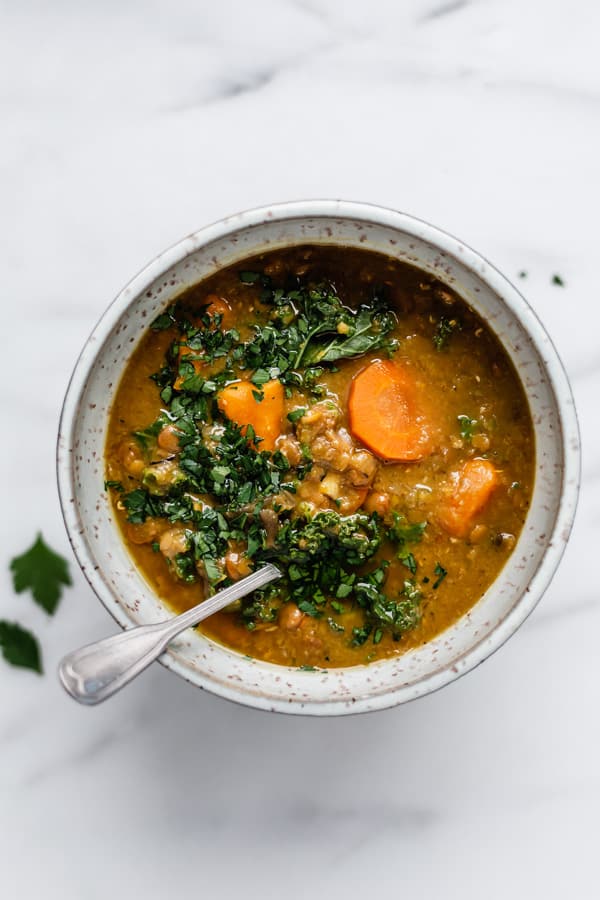 Tips for making this recipe perfectly
This weeknight slow cooker lentil soup is already quite hearty and loaded with some veggies, but you can always add some more of your favourites to the mix! Regular potatoes, cauliflower or turnips would work particularly well!
One thing I always like to do when making recipes in my slow cooker is to brown my onions and garlic in a pan. You can just throw these directly into the slow cooker completely raw, but they won't get that same delicious caramelized flavour. So this step is always working the extra couple minutes for me!
Depending on how big your vegetables are, you may need to adjust the amount of broth you use slightly to make the soup a little thinner. You can always add a little extra broth at the end to make the soup your desired consistency.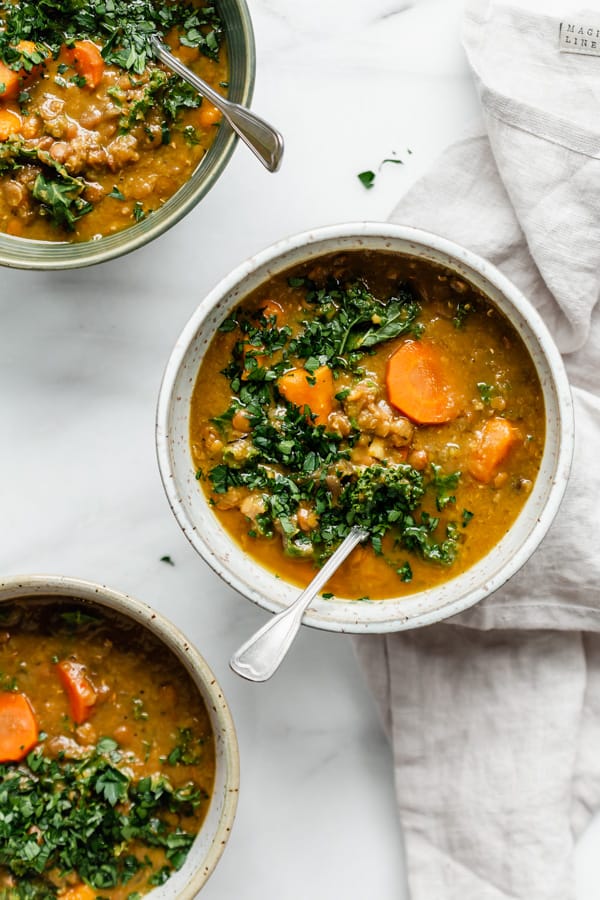 This weeknight slow cooker lentil soup is:
Naturally vegan, gluten-free, paleo, grain-free (aka GREAT FOR EVERYONE!)
Filled with detoxing veggies and herbs
Loaded with protein and can be served as a meal!
If you tried this weeknight slow cooker lentil soup or any other recipe on the blog let me know how you liked it by leaving a comment/rating below! Be sure to follow along on Pinterest, Instagram and Facebook for even more deliciousness!
Print
Weeknight slow cooker lentil soup
Author: Jess
Prep Time: 10 minutes
Cook Time: 4 hours
Total Time: 4 hours 10 minutes
Yield: 8–10 servings 1x
Category: Soup
Method: Slow cook
Cuisine: American
---
Description
Say hello to your new favourite easy weeknight dinner!
---
Scale
Ingredients
1 tbsp avocado oil (or vegetable oil)
1 large onion, chopped
5 garlic cloves, chopped
1 large sweet potato, peeled and cut into cubes
2 medium carrots, chopped
1 celery stalk, chopped
1 cup dried green lentils, rinsed
1 cup dried red lentils, rinsed
8 cups of vegetable broth
1/2 tsp-1 tsp salt
1/2 tsp black pepper
5 tsp herbs de Provence or mixed dried herbs
1 cup kale leaves, shredded
---
Instructions
Heat the avocado oil in a pan on medium-high heat then add the onion and let cook for 2 minutes. Add the garlic and let cook another 2 minutes, then pour the onions & garlic into the slow cooker.
Add all the rest of the ingredients, except for the kale to the slow cooker. There should be enough liquid to completely cover all the vegetables. (If there's not, add some more broth)
Cook on low for 8 hours, or high for 4 hours.
15 minutes before serving, add in the kale & remove the bay leaves.
Taste and adjust any seasoning if necessary.
Serve with freshly chopped parsley if desired.
---
Notes
If you don't have a slow cooker I recommend this one.
If your soup becomes very thick while cooking, add in some more broth at the end.
I just a reduced sodium vegetable broth so I can control how salty the soup turns out.
---
Nutrition
Serving Size: 1 small bowl
Calories: 171
Sugar: 3g
Fat: 0.7g
Saturated Fat: 0g
Carbohydrates: 31g
Fiber: 13g
Protein: 11g
Keywords: crockpot soup recipes, healthy slow cooker recipes
This post contains affiliate links which means I will make a small commission if you purchase through those links. I only recommend products that I know, trust and love!

This post contains affiliate links which means I will make a small commission if you purchase through those links. I only recommend products that I know, trust and love!