Sweet Potato Chili
This sweet potato chili with black beans is an easy one-pot meal that is perfect for a weeknight dinner or easy lunch. It's gluten-free, vegetarian and vegan-friendly. Serve up this vegetarian chili on its own or with your favourite crusty bread!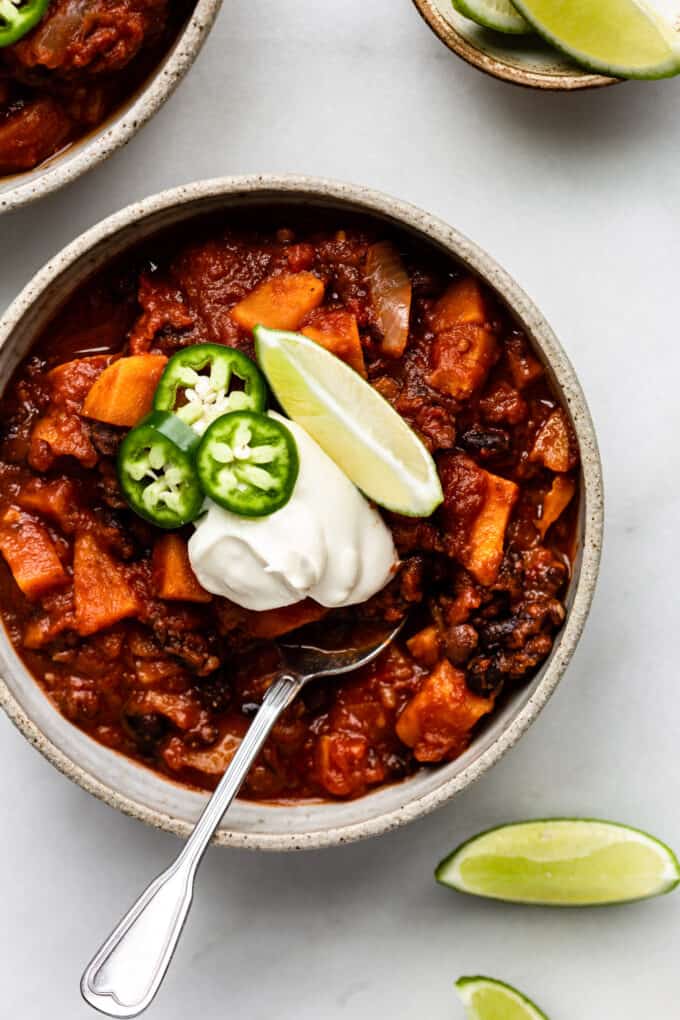 Easy sweet potato black bean chili
With the chili weather right around the corner, there's only one way to cozy up: with a big bowl of sweet potato chili!
There's nothing like enjoying a chili during the colder months of the year for a warm meal. From white chili, to instant pot chili, there are so many variations and ways you can make chili and always new ingredients you can try adding.
One ingredient that is absolutely delicious to add to chili is sweet potato. Sweet potatoes are not only packed with tons of health benefits, but they add some sweetness, thickness and a satiating quality to this chili.
This chili is delicious to enjoy in a bowl as is, or it can be served over some rice or quinoa or with a side of your favourite crusty bread. You can even use this chili as a filling for a veggie burrito to make it easy to eat on the go!
Why you'll love this recipe
One pot meal. Who has time to start cleaning up a bunch of pots and pans? Not me! That's why I love a good one-pot chili for minimal clean-up and effort.
Healthy and delicious. This sweet potato chili is made with healthy ingredients and veggies for a nourishing and wholesome vegetarian meal that everyone can enjoy.
Great for meal prep. Did you know if you leave this chili sitting in the fridge for a couple of days it becomes even more flavourful? That's why it's such a great dish to meal prep ahead of time!
Key Ingredients you'll need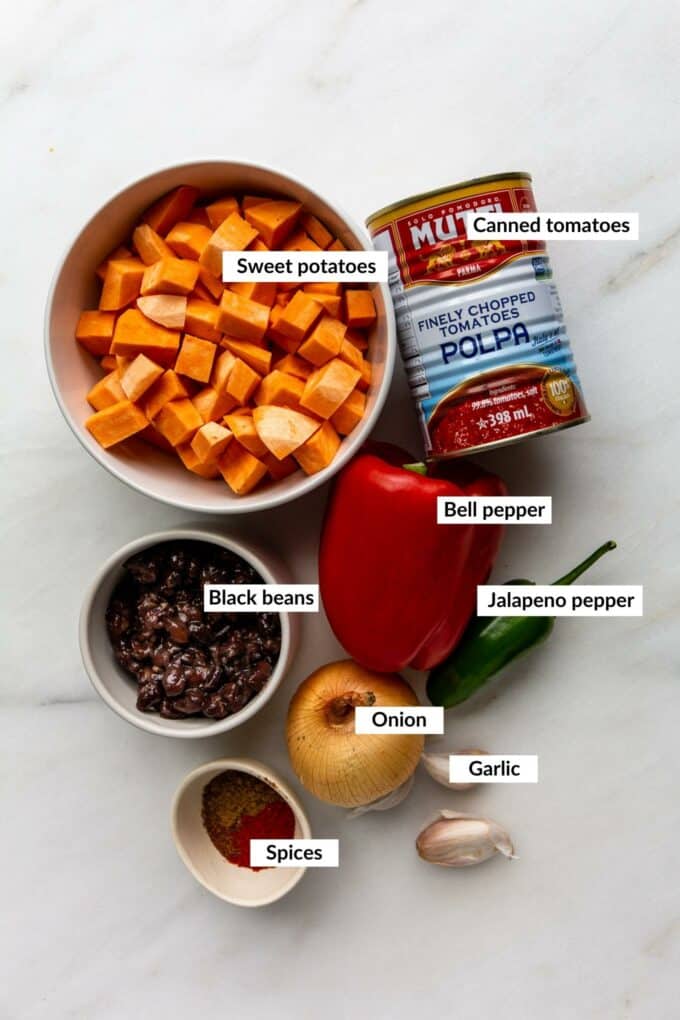 Sweet potato: this is the star ingredient of the chili! If you don't love sweet potatoes you can also use regular russet potatoes. You can also substitute with butternut squash.
Black beans: I use canned black beans. If using dried black beans, make sure to cook them before adding them to the chili.
Canned tomatoes: I like to use diced tomatoes, but if you prefer whole canned tomatoes you can use them too. They'll break down as the chili cooks.
Vegetable broth: Not photographed above, but vegetable broth will the chili cook down into the perfect texture.
Peppers: you want to use one red bell pepper and one jalapeno pepper for a little heat.
Onion & garlic: for flavour.
Spices: the spices used for this chili are chili powder, cumin, smoked paprika, salt and pepper.
How to make Sweet Potato Chili
Step 1
Add some oil to a large pot on medium-high heat. Then add the onions and garlic and sauteé for 1-2 minutes. Then add the bell pepper and jalapeno pepper and sauteé for another 2 minutes.
Step 2
Add in the cubed sweet potato, black beans and spices and mix everything together.
Step 3
Add the crushed tomatoes and vegetable broth to the pot and bring everything to a light boil, then cover and let the chili simmer on low heat for about 30 minutes, or until the sweet potatoes are tender.
Step 4
Serve the chili and top it off with whatever toppings you like such as sour cream, jalapenos and lime.
How to make instant pot sweet potato chili
Want to make this recipe in your instant pot? No problem! Here's how:
Turn the Instant Pot on Saute mode then add the onions, garlic and peppers. Saute for 5 minutes until the veggies are tender.
Add the rest of the ingredients and mix them together.
Close the lid, make sure it's set to sealing and pressure cook (on manual) for 10 minutes. Let the pressure release naturally then turn to venting.
Ways to serve this vegetarian chili
There are so many different ways you can serve chili beyond just eating it in a bowl. Here are some fun and creative ways you can enjoy this chili.
With your favourite crusty bread
Wrapped in a tortilla
Over rice or quinoa
On a bun
As a topping for nachos
Chili topping ideas
My personal favourite way to enjoy chili is in a big bowl with a variety of yummy toppings. Here are some different topping options you can add to your bowl of sweet potato chili.
Sour cream
Greek yogurt
Shredded cheese
Lime wedge
Jalapeno peppers
Green onions
Red onion
Cilantro
Shredded lettuce
Cherry tomatoes
Tortilla chips
Salsa
Avocado
Guacamole
Sriracha
How to store and freeze
Fridge: store any leftover sweet potato chili in the fridge in an airtight container for up to 5 days. If you prepare the chili ahead of time you can also store it directly in the pot you cooked it in in the fridge. Reheat the chili in the microwave or in a pot on the stove.
Freezer: let the chili cool completely, then transfer it to an airtight container or to a large freezer bag and place in the freezer for up to 3 months. To defrost, let the chili thaw on the countertop.
Expert tips for making chili
Cut the sweet potato evenly. This will ensure that all the cubes of sweet potato cook evenly in the chili.
Use good quality canned tomatoes. The brand I used in this recipe are Mutti canned tomatoes. If you aren't sure what a "good quality" brand is, look for canned tomatoes that use tomatoes from Italy. They will be tastier and create a tastier chili.
The longer the chili sits, the better. While you only need to cook the chili for 30 minutes, if you have the time to prepare it a day in advance it will be even tastier the next day as the flavours sit and become more robust
Add any veggies you like. This chili is versatile and you add any additional vegetables you love to it! Try adding some zucchini, cauliflower, green beans or kale.
Sweet Potato Chili FAQ
Does sweet potato chili freeze well?
Yes! This chili freezes very well and can stay in the freezer for up to 3 months.
How many calories are in a bowl of sweet potato chili?
One serving of sweet potato chili has 324 calories, 15 grams of fibre and 13 grams of protein.
What can I add to chili to make it amazing?
If you find your chili is lacking flavour, add more spices to make it amazing. Try adding an extra teaspoon of chili powder, smoked paprika or cumin.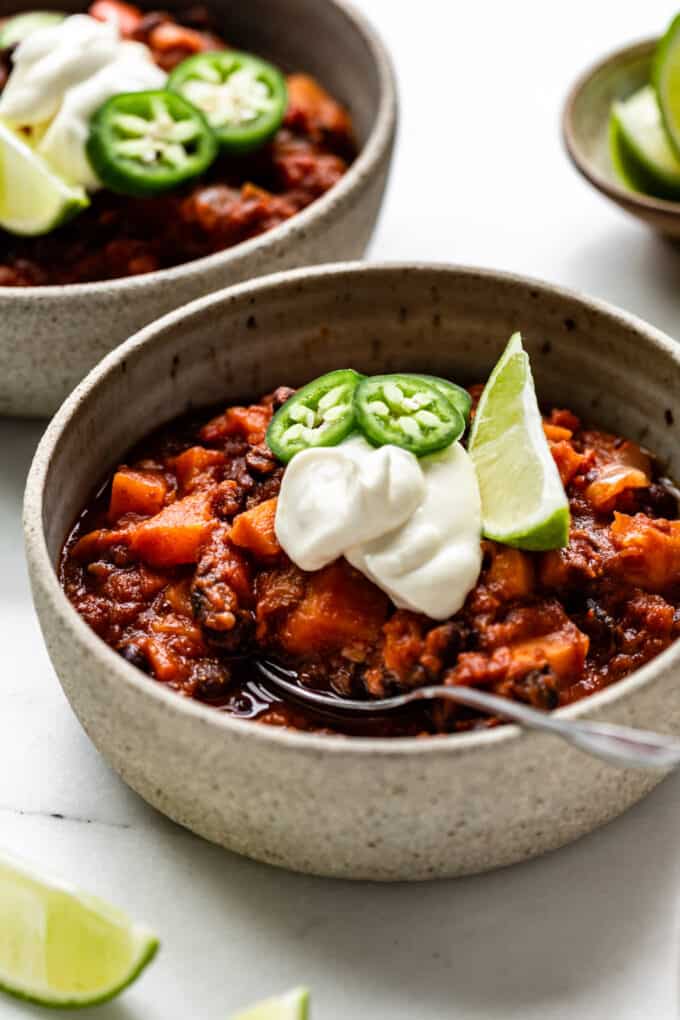 More sweet potato recipes to try
If you tried this Sweet Potato Chili or any other recipe on the blog let me know how you liked it by leaving a comment/rating below! Be sure to follow along on Pinterest, Instagram and Facebook for even more deliciousness!
Print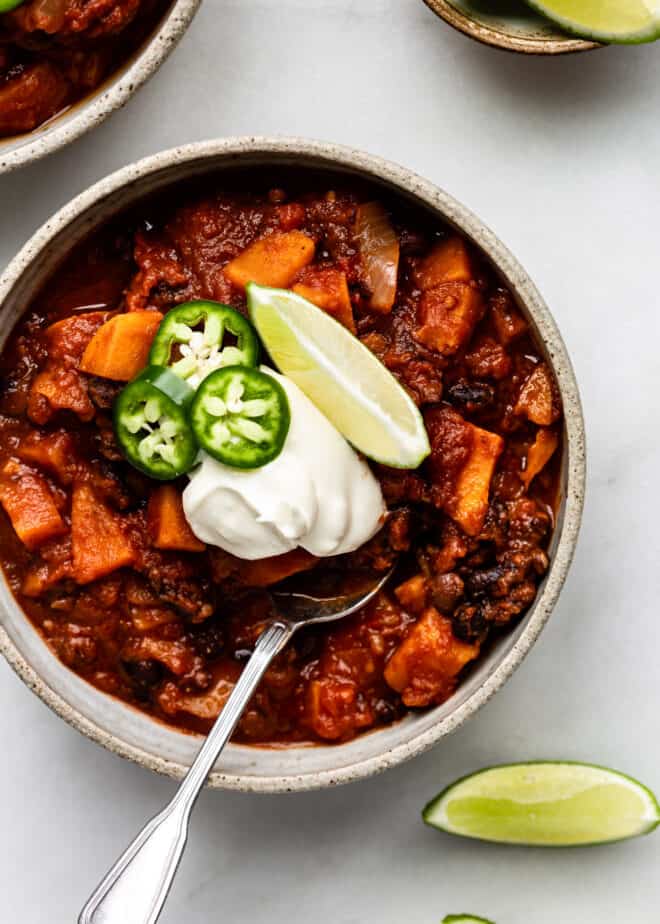 Sweet Potato Chili
Author: Jessica Hoffman
Prep Time: 15 minutes
Cook Time: 30 minutes
Total Time: 45 minutes
Yield: 4 servings 1x
Category: Main
Method: Cook
Cuisine: American
Diet: Vegetarian
---
Description
This Sweet Potato Chili is loaded with sweet potato, black beans and spices for a cozy meal!
---
2 tbsp avocado oil
1 onion, chopped
3 garlic cloves, chopped
1 bell pepper, chopped
1 jalapeno pepper, chopped
2 sweet potatoes, peeled and cut into cubes (about 4 cups)
15 oz can black beans
15 oz can crushed or diced tomatoes
1 cup vegetable broth
2 tsp chili powder
2 tsp smoked paprika
1/2 tsp ground cumin
salt & pepper to taste
---
Instructions
Heat the avocado oil in a large pot on medium-high heat, then add the onion and garlic and let cook for 1 minute. 
Add the bell pepper and jalapeno pepper and cook for another 2 minutes. 
Add the cubed sweet potatoes, black beans, crushed tomatoes, vegetable broth and spices and bring the to a light boil, string everything together. 
Cover and reduce the heat to medium-low and let cook for 30 minutes until the potatoes are tender. 
Serve as is or top it off with some sour cream, a squeeze of lime, fresh cilantro, or whatever you like!
---
---
Nutrition
Serving Size: 1/4 of the recipe
Calories: 324
Sugar: 7g
Sodium: 400mg
Fat: 2g
Carbohydrates: 65g
Fiber: 15g
Protein: 13g
Keywords: sweet potato chili, sweet potato black bean chili, vegetarian chili
This post contains affiliate links which means I will make a small commission if you purchase through those links. I only recommend products that I know, trust and love!