Black Bean Veggie Burritos
Black Bean Veggie Burritos are loaded with cilantro lime rice and spicy chipotle black beans for a hearty and filling meal with 15 grams of protein and 9 grams of fibre. Prep these burritos in advance and store them in your freezer to have on hand whenever the burrito-mood strikes!
Easy Vegetarian Burritos
I'm all about quick and easy meals that are healthy and filling. And while I do love a good burrito bowl, sometimes an actual burrito is a little easier to grab on the go or eat while you're multitasking.
These veggie burritos are packed with protein and make for a filling lunch or dinner. You have the option to add cheese (or vegan cheese) to them or leave it out, or to add any additional veggies you love to these burrito wraps!
Not only do these make a great meal, but they are freezer-friendly and can be stored in the freezer for months so you can have burritos on hand whenever you need!
Why you'll love these veggie burritos
Packed with flavour. Who has time for a bland boring burrito? These black bean burritos are saucy and just spicy enough. They're seasoned with chipotle peppers to give them a kick!
Freezer-friendly. These burritos make are AWESOME in the freezer. Make a double batch and freeze them so you can have burritos on hand for easy lunches and dinners.
Healthy ingredients. While some store-bought burritos can be loaded with calories, fat and processed ingredients, these homemade veggie burritos are made with wholesome good-for-you ingredients.
Vegetarian burrito ingredients
Rice: you can use any type of rice you love in these burritos. White rice like basmati rice or jasmine rice works well, or you could use brown rice or whole grain rice.
Cilantro: this is mixed into the rice for some extra flavour and freshness
Lime: just a squeeze of fresh lime juice in the rice will brighten up the flavour and give it some tanginess.
Onion: you can use regular white, yellow or red onion.
Garlic: Fresh garlic is best, no garlic powder!
Peppers: any colour bell pepper you like works here. I used a mix of half red and half yellow bell pepper for colour. If you like a more intense pepper taste you can use a green bell pepper.
Black beans: I use a 15 oz can of organic black beans. You could use dried black beans too. Just cook them to the package directions and remember to prepare them in advance since they take longer to cook.
Chipotle: chipotle peppers in adobo are sold in most grocery stores where you will find Mexican food.
Salsa: any jar of your favourite salsa will work.
Tortillas: while, whole wheat or any flour tortillas you like. Make sure to grab ones that are big enough to roll into burritos. If you want to make this recipe gluten-free, just use gluten-free tortillas.
Cheese: I like to use shredded tex-mex cheese, but any shredded cheese will work. If you want to make this recipe vegan, use dairy-free cheese.
How to make veggie black bean burritos
Step 1
Prepare the cilantro lime rice. Cook the rice according to the package directions. Then add the chopped cilantro and a squeeze of lime juice to the rice.
Step 1
Prepare the chipotle black beans by sautéeing the onions, garlic, peppers, beans, chipotle, seasoning and salsas together in a large skillet on medium-high heat. Remember to taste and adjust any seasoning if needed to your personal taste.
Step 3
Assemble the burritos! Add some rice, black beans and cheese about 1/3 of the way in the tortilla as pictured below. (You don't want to add the stuffing directly to the middle of the burrito, add it slightly below the middle.) Fold in the edges of the burrito and roll.
What to serve with veggie burritos
These veggie burritos are perfectly delicious just as they are, but you can also serve them up with some delicious dips and sauces if that's your jam. Here are a few great options.
Salsa
Guacamole
Sour cream
How to store & reheat burritos
Fridge: store leftover burritos wrapped in aluminum foil in the fridge for up to 5 days. To reheat the burritos warm them up in the microwave, in the oven at 350 degrees F for 10-15 minutes, or heat them in a pan on the stovetop.
Freezer: to freeze your burritos, wrap the burritos individually in aluminum foil then place the burritos in a freezer bag. Store in the freezer for up to 3 months. To heat warm in the microwave, or cook in the oven at 350 degrees F for 30-45 minutes. (you can place the frozen burritos directly in the oven, no need to thaw them.)
Expert tips for making burritos
Season the rice with salt or vegetable broth when cooking. Add 1/2 tsp of salt to the pot of water and rice or alternatively cook the rice in vegetable broth. This will infuse the rice with more flavour.
Add more chipotle as needed. Depending on your spice tolerance, you may find that you want some more chipotle flavour in the black beans. Taste the mixture as you cook and add more chipotle if you like.
Don't overfill the tortillas. This will make it hard to roll the tortillas into burritos and the stuffing will overflow.
If you plan on eating the burritos right away, you can add some shredded lettuce or sliced avocado to the burritos. Just keep in mind if you add these ingredients you can't freeze the burritos.
Grill the burritos. This is optional, but grilling the burritos, or cooking them lightly in an oiled pan will give the tortillas a nice crispy crust and melt the cheese, making for an extra tasty burrito!
Frequently asked questions
What veggies are good in burritos?
There are so many different veggies you can add to burritos! Bell peppers, chipotle peppers, corn, beans, mushrooms, zucchini, sweet potatoes and cauliflower are all great options.
Are vegetable burritos healthy?
These homemade vegetable burritos are much healthier than store-bought or restaurant burritos. Each burrito has 500 calories, 15 grams of protein and 9 grams of fibre.
Are these veggie burritos freezer friendly?
Yes! Because these burritos don't have any fresh ingredients like lettuce in them, they can be frozen for up to 3 months.
Try these Mexican-inspired recipes next!
If you tried these Black Bean Veggie Burritos or any other recipe on the blog let me know how you liked it by leaving a comment/rating below! Be sure to follow along on Pinterest, Instagram and Facebook for even more deliciousness
Print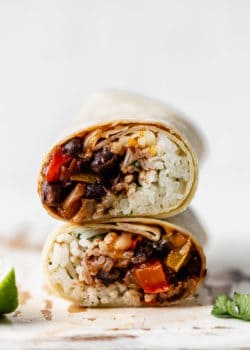 Black Bean Veggie Burritos
Author: Jessica Hoffman
Prep Time: 15 minutes
Cook Time: 20 minutes
Total Time: 35 minutes
Yield: 4 burritos 1x
Category: Main
Method: Cook
Cuisine: Mexican
Diet: Vegetarian
---
Description
Easy freezer-friendly veggie burritos loaded with flavour!
---
Cilantro lime rice
1/2 cup white rice (uncooked)
3 tbsp chopped cilantro
1 tbsp lime juice
Chipotle black beans
1 tbsp olive oil
1 onion, chopped
2 garlic cloves, chopped
1 bell pepper, chopped
1 15oz can of black beans
1 tsp chili powder
1/2 tsp salt
3 tbsp chipotle in adobo
1/3 cup salsa
Other ingredients
4 large tortillas (wheat or gluten-free)
1/2 cup shredded cheese (regular or vegan)
---
Instructions
Start by cooking the rice according to the package directions. (*Add  1/2 tsp of salt to the water for extra flavour)
Once the rice is cooked, add the cilantro and lime and mix together. Set aside.
Heat the olive oil in a large skillet on medium-high heat. Add the onions, garlic and peppers and sautée for 2-3 minutes.
Add the black beans, chili powder, salt, and chipotles in adobo and salsa and mix together.
Lower the heat to medium-low and let simmer together for 5 minutes.
To assemble the burritos, place a big spoonful of rice, black beans mixture and cheese in the tortilla. Tuck in the side edges and fold the burrito.
You can optionally grill your burrito for extra flavour!
---
Notes
Not sure how to roll the burrito? Refer to the images above in the blog post.
To freeze the burritos wrap each burrito individually in aluminum foil and then place it in a freezer bag. Freeze for up to 3 months. Defrost in the microwave or oven.
---
Nutrition
Serving Size: 1 burrito
Calories: 500
Fat: 10g
Carbohydrates: 59g
Fiber: 9g
Protein: 15g
Keywords: vegetarian burrito, vegan burrito, veggie burrito, vegetable burrito
This post contains affiliate links which means I will make a small commission if you purchase through those links. I only recommend products that I know, trust and love!