Veggie Enchiladas
These Veggie Enchiladas are filled with sweet potatoes and black beans and topped off with enchilada sauce and cheese. They're vegetarian and gluten-free and can easily be made vegan and dairy-free. These enchiladas are also great for meal prep!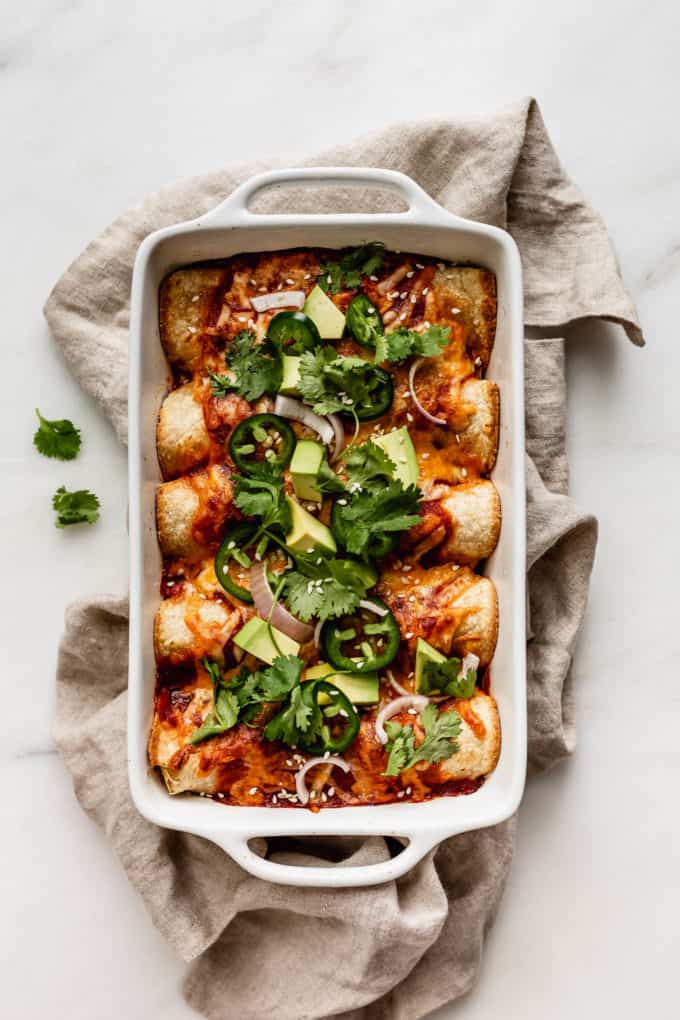 Easy Veggie Enchiladas
I love making Mexican-inspired recipes for quick and easy weeknight dinners. Healthy tacos and burrito bowls are great options, but if you're looking for something a little different, then these veggie enchiladas are for you!
This recipe for veggie enchiladas is made with super delicious protein-rich filling made of black beans and roasted sweet potatoes mixed up with spices and some enchilada sauce. The filling is savoury and spicy and seasoned with plenty of garlic, onions, cumin and chilli.
The stuffing then gets stuffed inside corn tortillas and topped off with the rest of the enchilada sauce before baking. You can optionally top these off with a sprinkle of cotija cheese, or leave it out if you want to keep this recipe dairy-free and vegan.
Why you'll love this Veggie Enchilada Recipe
This recipe is easy to make and a crowd pleaser! It's great to serve up for anyone who may have dietary restrictions since it can be made gluten-free, vegan, vegetarian and dairy-free.
The combination of sweet potatoes and black beans in the filling is high in protein and fibre, so these enchiladas will keep you feeling full. One serving of this recipe has 11 grams of protein and 6 grams of fibre!
This recipe can be prepped ahead of time and is freezer-friendly!
Healthy Vegetarian Enchiladas Ingredients
Sweet Potato: sweet potatoes are one of the main filling ingredients that add a great texture and flavour to the enchiladas.
Onions: you can use any regular yellow, white or red onion here.
Garlic: make sure to use fresh garlic.
Black Beans: this is the other main filling ingredient along with the sweet potatoes. Black beans are classic in Mexican cuisine and perfect for a vegetarian enchilada to give it some protein.
Spices: this recipe uses a mix of chilli powder and cumin. If you like your enchiladas spicy, you can also add some cayenne pepper.
Tortillas: corn tortillas are the most traditional type of tortillas to use and are also gluten-free. If you prefer flour tortillas you can use those instead.
Enchilada Sauce: your favorite enchilada or taco sauce.
Cheese: shredded Mexican cheese or tex-mex cheese. You can also use mozzarella.
How to make Veggie Enchiladas
Roast the sweet potatoes in the oven until tender then sautee them in a pan with the black beans, onions, garlic and seasoning. Add in 1/2 cup of the enchilada sauce and mix everything together.
Warm the tortillas and then stuff each tortilla with some of the fillings. Top with sauce and cheese and bake in the oven at 350 degrees for 15 minutes.
Vegetarian Enchilada Fillings and Adaptations
Make it vegan: just leave out the cheese or swap the cheese on top for your favourite brand of vegan shredded cheese
Make it low carb: use a low-carb wrap alternative like Siete almond flour tortillas or a keto cheese tortilla wrap.
Make it into a casserole: prefer a casserole? I gotchu covered! 😉 Rather than stuffing the tortillas with the filling, simply layer everything in your baking dish like you would a lasagna. Start with a layer of enchilada sauce, followed by a layer of tortillas (you can cut them to fit if you need), then a layer of filling, then a layer of cheese and repeat.
Delicious Enchilada Toppings
There are so many different ways you can top your enchiladas and you can use any type of toppings you love to pair with this recipe. Here are a few suggestions:
Cilantro
Lime
Sliced Avocado
Guacamole
Salsa
Sliced jalapenos
Sliced red onion
Pickled red onion
Pico de gallo
Tips for Healthy Vegetarian Enchiladas
Taste your sweet potato and black bean stuffing before filling the vegetable enchiladas. Depending on the brand of black beans you use, you might need to adjust the salt or seasoning.
Make sure the tortillas are slightly warmed (in the microwave or oven) before stuffing them. Corn tortillas have a tendency to crack easily if they are cold. If you find your tortillas are a bit stiff and hard to roll, warm them up slightly in the oven until they are more pliable. You can also lightly pan fry the tortillas in some oil before rolling them up.
If you like crispy tortillas with crispy edges, spray some olive oil cooking spray on the tortillas before pouring the sauce on top, and only pour the sauce in the middle as shown in the photos.
Don't overstuff the tortillas. If you overstuff they will be hard to roll and the stuffing will fall out the ends.
Don't oversauce. If you add too much sauce to the tortillas they will become soggy.
Make Ahead, Freeze, Store and Reheat Veggie Enchiladas
Fridge: Store leftover enchiladas in the fridge covered in plastic wrap for up to 5 days. To reheat just pop back into the oven at 350 degrees for about 10 minutes until warmed through. If you find the enchiladas are a bit dry after storing them in the fridge, you can always add a bit more sauce before baking.
Freezer: Tightly wrap and seal your leftovers and store in the freezer for up to 3 months. Let defrost in the fridge and then reheat in the oven. You can also freeze these enchiladas before baking them. Simply prep the enchiladas, cover and place in the freezer for up to 3 months.
FAQs for Healthy Vegetarian Enchiladas
What is enchilada sauce made from?
Enchilada sauce is traditionally made with oil, flour, soup stock and spices. There are many variations on Enchilada sauce, so you can really use whichever one you like. You can even make these Veggie Enchiladas with a Mole sauce or Taco sauce, or if all else fails, I promise these are still delicious topped with a jar of salsa!
What else can you put inside Enchiladas?
There are so many options to stuff your Vegetarian Enchiladas! If you want to try something different from sweet potato and black beans, you can try stuffing these enchiladas with refried beans, rice, corn, sautéed peppers, squash or even some scrambled tofu.
How do I keep my enchiladas from falling apart?
This will mostly have to do with the type of tortilla you get. One trick you can use if you find your tortillas fall apart, is to lightly pan fry them in some oil before using them in the recipe. This will help prevent your tortillas from getting soggy.
Can I make these Veggie Enchiladas ahead of time?
Absolutely! These Vegetarian Enchiladas are the perfect make-ahead meal. You can prep the enchiladas and add them to the baking dish, and then when you are ready to bake them add the sauce and cheese on top.
What to serve with Vegetarian Enchiladas
Here are some of my favorite recipes to serve with these veggie enchiladas:
More Mexican inspired recipes to try
If you tried these Veggie Enchiladas or any other recipe on the blog let me know how you liked it by leaving a comment/rating below! Be sure to follow along on Pinterest, Instagram and Facebook for even more deliciousness!
Print
Healthy Vegetarian Enchiladas
Author: Jessica Hoffman
Prep Time: 30 minutes
Cook Time: 30 minutes
Total Time: 60 minutes
Yield: 4 servings 1x
Category: Main
Method: Bake
Cuisine: Mexican
---
Description
These Veggie Enchiladas are stuffed with roasted sweet potatoes and black beans and are perfect for a healthy dinner!
---
Sweet potato & black bean filling
1 medium sweet potato
2 tbsp olive oil
1 onion, chopped
2 garlic cloves, chopped
1 15oz can black beans, drained and rinsed
1 tsp chilli powder
1/2 tsp cumin
1/2 cup enchilada sauce
salt & pepper to taste
Other ingredients 
olive oil cooking spray
6–8 corn tortillas
1 cup your favourite enchilada sauce (can sub taco sauce)
1/2 cup shredded cheese
---
Instructions
Roast the sweet potatoes: Poke a few holes in the sweet potato with a knife, then place on a baking sheet and roast in the oven at 425 degrees for 20-25 minutes until tender. 
Make the filling: Add the olive oil to a pan on medium-high heat. Add the onions and garlic and let cook for 2-3 minutes until translucent. Add the black beans and sweet potato and mix together, then add the spices and enchilada sauce.
Stuff the enchiladas: Warm the corn tortillas in the microwave or oven until they are malleable, then spoon some of the filling into each tortilla and roll-up. Place face down on a baking dish. Repeat until your dish is full.
Dress the enchiladas: Spray the enchiladas with olive oil cooking spray (or alternatively brush them with olive oil) then pour the sauce onto the enchiladas and sprinkle with cheese.
Bake: in the oven at 350 degrees F for 15-18 minutes until warmed through. 
Serving: serve immediately. You can optionally top the enchiladas with cilantro, jalapeno and avocado 
---
Notes
If you want to prep these ahead of time prep them up until step 3. When you're ready to bake continue with step 4 (dressing the enchiladas) and baking. 
Make sure the tortillas are slightly warmed (in the microwave or oven) before stuffing them. Corn tortillas have a tendency to crack easily if they are cold. 
Want tortillas with crispy edges? Don't skip out on spraying or brushing the tortillas with olive oil. This helps them get a bit of crisp! 
---
Nutrition
Serving Size: 2 enchiladas
Calories: 260
Sugar: 3g
Fat: 6g
Carbohydrates: 30g
Fiber: 6g
Protein: 11g
Keywords: black bean enchiladas, healthy enchilada recipe, vegetarian enchiladas
This post contains affiliate links which means I will make a small commission if you purchase through those links. I only recommend products that I know, trust and love!