Thai Green Curry Tofu
This Thai Green Curry Tofu features crispy tofu tossed up in a luscious creamy coconut sauce, with some spicy green curry! It's a simple and healthy recipe that's bursting with Thai flavour!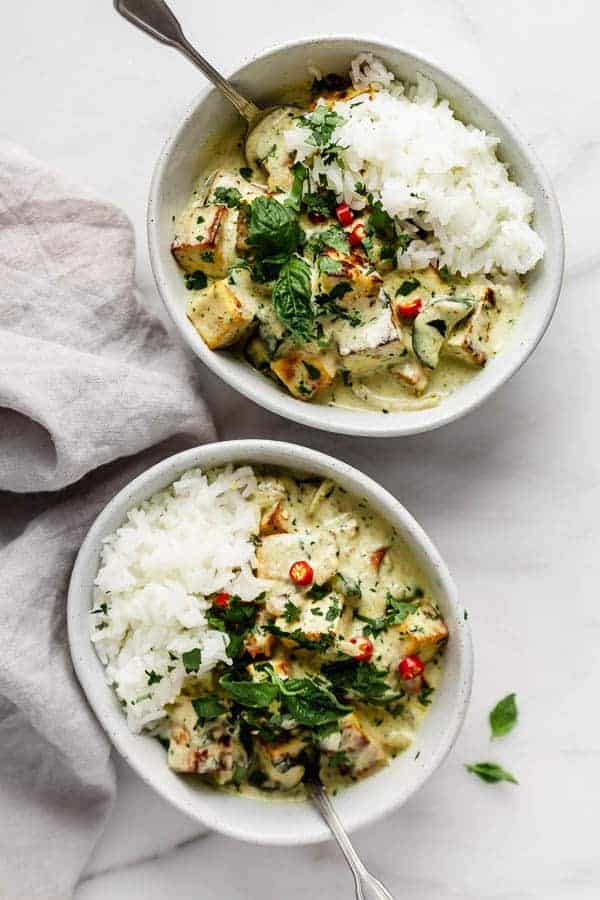 If I could eat Thai green curry every day I'd be one happy girl.
How can you go wrong with some crispy tofu covered in a creamy spicy green curry, served over a bowl of jasmine rice? Answer: You can't. I'm a big fan of delicious curries. A classic Red Curry or even Red Curry Tacos are always right up my alley. So naturally, it only seems fit to make a green curry recipe for the blog.
Vegetarian Thai Green Curry
Traditionally, Thai green curry is made with chicken and uses fish sauce as the salty element of the curry. This recipe is a variation of the Traditional d using slightly different ingredients like soy sauce instead of fish sauce and some vegetables that are not traditional. This recipe is inspired by a traditional Thai green curry, which I learned how to make from cooking classes in Thailand.
If you're wondering what spices are in green curry, the main components are green chillies, lemongrass, ginger, garlic, and herbs like Thai basil. This gives the curry a bright green colour.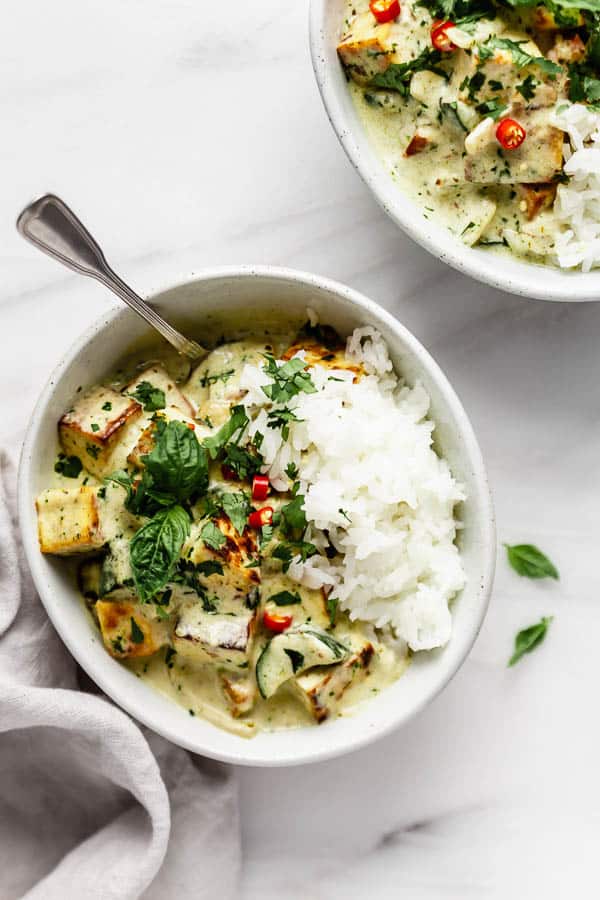 To make a vegetarian Thai green curry, the main thing you'll want to swap out is fish sauce for soy sauce. Soy sauce does have a bit of a darker colour, so I like to use a light soy sauce. You could also use Tamari or a liquid soy seasoning.
Next, you'll want to replace the chicken with a vegetarian alternative. In today's recipe, we're using tofu, (a very popular ingredient in Thai dishes!) but you can use anything you like really. Tempeh, chickpeas, or an assortment of vegetables will all work!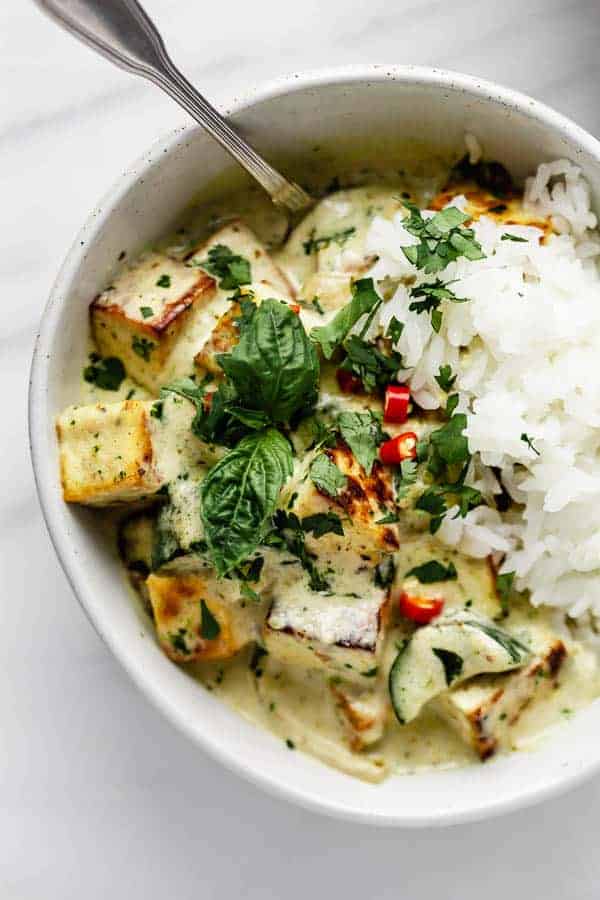 How to make Thai green curry:
Making Thai green curry is pretty simple, and once you learn how you'll be making it ALL the time!
Start by cooking your tofu in a pan with some oil until it becomes nice and crispy.
While that cooks, in a separate pan you'll prepare your curry sauce. (*The key to making a great tasting curry sauce is all about balancing 3 elements: sweet, salty and sour. We get these flavours from coconut sugar, soy sauce and lime juice.)
Once the sauce is prepared we add in the tofu and let it simmer together. Green curry is best served over jasmine rice.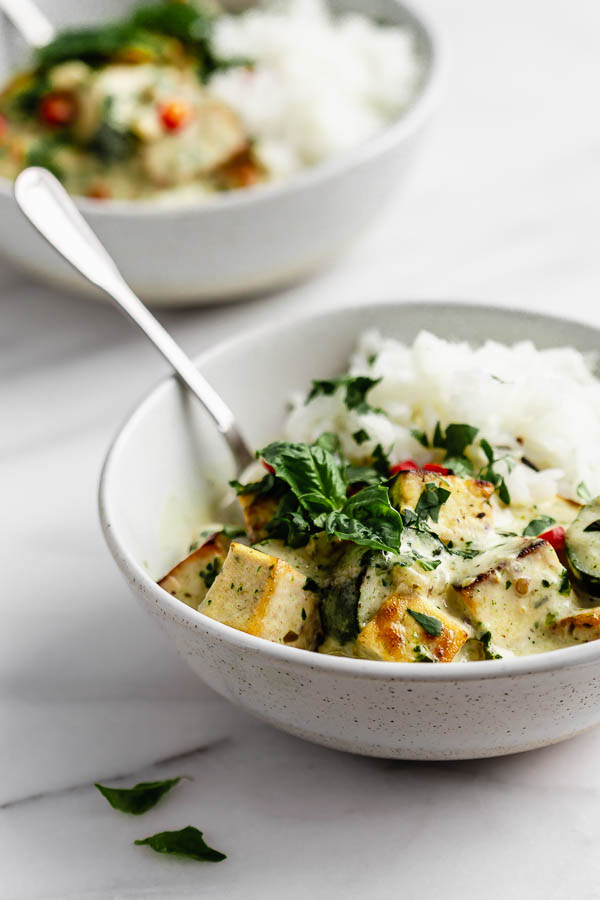 Expert tips
Some brands of curry paste tend to be A LOT spicer than others. So when preparing the dish, start by adding in 1 tbsp of curry paste, tasting the sauce and adding more as you go. I usually like to add about 2 tbsp of curry paste, but you may find that you need a bit more or less.
Add in any vegetables you like to this green curry. Eggplant, potato, broccoli or bok choy would all taste great!
Thai green curry tofu is best enjoyed served alongside some jasmine rice or some vermicelli rice noodles.
FAQ
Is Thai green curry paste vegan?
When shopping for a green curry paste, make sure to check the label to make sure it is actually vegetarian/vegan friendly. Many green curry pastes contain shrimp paste, so it's always good to double-check!
Is Thai green curry healthy?
Yes! This dish is packed with protein and vegetables. If you are watching your saturated fat intake, you can use light coconut milk instead of full-fat coconut milk
What does Thai green curry taste like?
Thai green curry tends to be a bit less spicy (generally) than red curry. It has more herbs in it than red curry as well as kafir lime leaves which give the curry paste a really fresh and vibrant taste.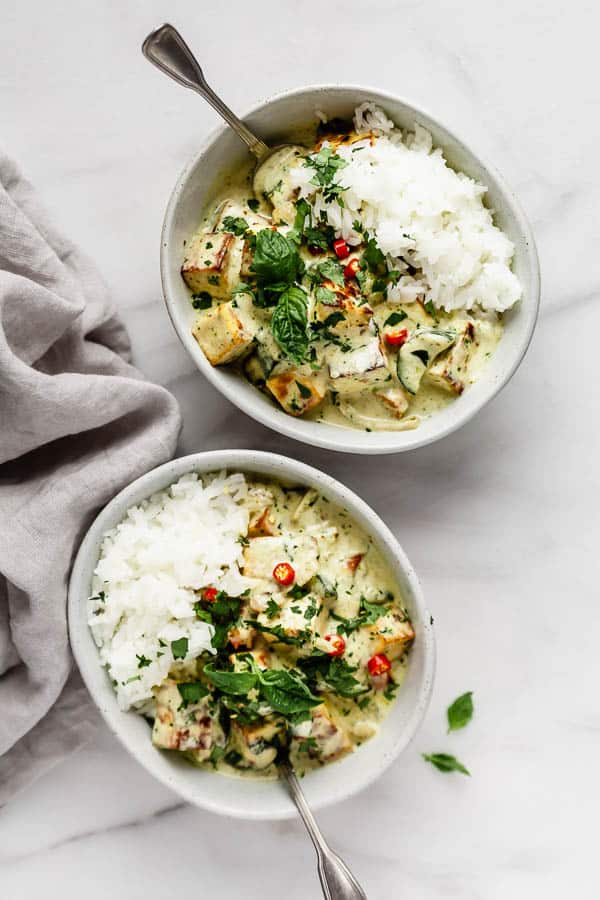 If you tried this Thai Green Curry Tofu or any other recipe on the blog let me know how you liked it by leaving a comment/rating below! Be sure to follow along on Pinterest, Instagram and Facebook for even more deliciousness!
Print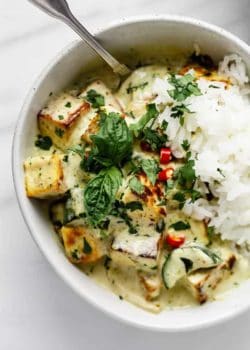 Thai Green Curry Tofu
Author: Jessica Hoffman
Prep Time: 15 minutes
Cook Time: 15 minutes
Total Time: 30 mins
Yield: 4 servings 1x
Category: Main
Method: Cook
Cuisine: Thai
Diet: Vegan
---
Description
This Thai green curry is a healthy vegetarian recipe that comes together in less than 30 minutes!
---
1 tbsp avocado oil
1 block tofu, cut into cubes (approx 14oz, firm or extra firm)
1 tbsp avocado oil
1 medium onion, chopped
2 garlic cloves, chopped
1 med zucchini, chopped
1/2 red pepper
2 tbsp green curry paste
14oz can full-fat coconut milk
1 tbsp coconut sugar
2 tbsp soy sauce (gluten-free if needed)
a squeeze of lime juice
---
Instructions
Heat the avocado oil in a skillet on medium-high heat. Add the tofu and cook on each side for 1-2 minutes until crispy and golden brown.
Transfer the tofu to a bowl then heat the remaining 1 tbsp of avocado oil in the skillet.
Add the onion and garlic and let cook for 2 minutes. Then add the zucchini and red pepper and let cook for another 2-3 minutes. 
Add remainder of the ingredients and mix everything together until well combined. Add back the tofu and mix. 
Taste and adjust seasoning if needed, then remove from heat and serve immediately. 
---
---
Notes
Use extra firm tofu in this recipe for crispier tofu, or medium tofu if you prefer a softer texture. 
Some brands of Thai Green Curry paste are spicier than others, so make sure to start with less if you don't like your curry to spicy.
I like to cook the tofu separately then add it back at the end so it maintains some of its crispy texture. 
This recipe is best served with a side of Jasmin rice. 
---
Nutrition
Serving Size: 1/4 of recipe
Calories: 450
Sugar: 7g
Sodium: 400mg
Fat: 12g
Saturated Fat: 7g
Carbohydrates: 55g
Fiber: 2g
Protein: 9g
Keywords: Green curry tofu, Thai tofu, Thai curry tofu, vegan green curry
This post contains affiliate links which means I will make a small commission if you purchase through those links. I only recommend products that I know, trust and love!