Crispy Baked Tofu Teriyaki
Crispy Teriyaki Tofu is quick, easy to make, healthy and perfect for a delicious vegetarian/vegan meal! Serve it up with some rice and your favourite veggies!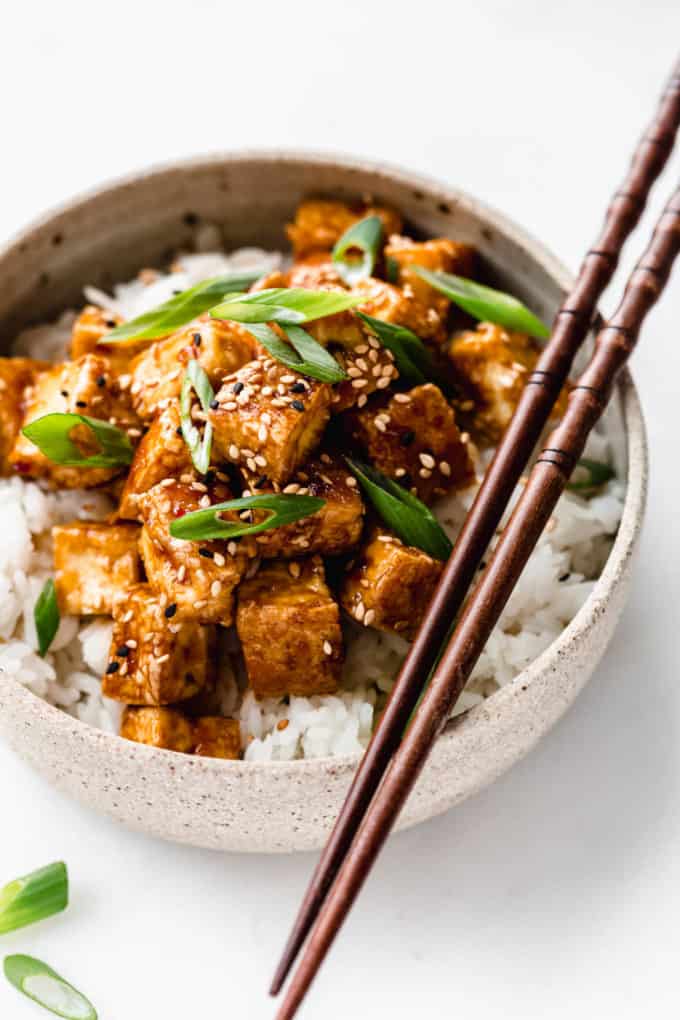 If you know someone who is convinced that tofu is bland and flavourless, this is the recipe to convert them. Knowing how to prep your tofu can transform it into delicious crispy bites that will convert any tofu hater.
This Crispy Teriyaki Tofu is an Asian-inspired recipe that is healthy, vegan and packed full of flavour! If you need even more teriyaki flavour in your life you can serve these up with some teriyaki noodles on the side.
Teriyaki Tofu Recipe Ingredients
Tofu: You'll want to use firm or extra-firm tofu for this recipe to get crispy cubes of tofu.
Oil: Avocado oil or vegetable oil both work. This coats the tofu to help the cornstarch stick to it and will also help it crisp up in the oven.
Cornstarch: This is the "secret" ingredient to getting crispy tofu!
Tamari: You can substitute soy sauce if you prefer
Coconut Sugar: This is used to get that sweetness in the teriyaki sauce. You can substitute with brown sugar, honey or maple syrup.
Rice Vinegar: This helps balance the flavour in the sauce and gives it that sweet and sour tanginess.
Garlic: Make sure to use fresh garlic! This is an important ingredient in teriyaki sauce.
Ginger: I love the flavour of ginger with teriyaki! Fresh ginger will elevate the taste of the dish.
What type of tofu is best for stir fry?
If you want a tofu stir fry that is crispy, firm or extra-firm tofu are best. Firmer tofus have less water in them, allowing them to crisp up more easily than softer tofus.
Do you have to press tofu for stir fry?
Pressing tofu for stir fry allows you to get more water out of the tofu which will help it crisp up more. For this baked tofu, I don't find it's necessary to press the tofu before, but if you'd like to you can by placing the tofu in a tofu press, or in a kitchen towel under a heavy book for 15 minutes before cooking.
How to make Homemade Teriyaki Sauce
Homemade teriyaki sauce is so easy to make and tastes WAY better than any store-bought teriyaki sauce. (Plus it's much healthier when it's homemade.)

To make homemade Teriyaki sauce just mix tamari, coconut sugar, rice vinegar, garlic, ginger, cornstarch and water together in a mixing bowl. That's it!
How to make Tofu Teriyaki
Cut the tofu into cubes then coat it with some cornstarch. Bake the tofu in the oven at 425 degrees F for 30 minutes until golden brown and crispy.
While the tofu is baking, prep the sauce by mixing all the sauce ingredients together in a saucepan on medium heat. Toss the tofu in the sauce .(in the saucepan or in a bowl)
Serve the tofu immediately on it's own, over rice, with noodles or however you like.
How to make Teriyaki Tofu Stir Fry
If you prefer stir fry teriyaki tofu over baked teriyaki tofu, follow the steps to prep the tofu, then heat 2 tbsp vegetable oil in a large pan on medium-high heat. Fry the tofu on each side (about 2 minutes per side) until golden brown.
If you'd like to add in any veggies, remove the tofu from the pan and saute your favourite veggies. Then add the tofu back in the pan and pour the teriyaki sauce over the tofu and vegetables and mix together.
How to make this Teriyaki Tofu recipe in an Air Fryer
To cook the tofu in an air fryer, heat the air fryer to 375 degrees and add the tofu to the air fryer in a single layer. (don't overcrowd the tofu!) Cook for 10-15 minutes. Once the tofu is done, toss with the Teriyaki sauce.
Tips for perfect Baked Teriyaki Tofu
Make sure to use firm or extra-firm tofu! While soft tofu is great in things like soups, it won't crisp up like firm tofu does.
Use parchment paper or a silicone baking mat to prevent the tofu from sticking to your pan.
Do not prep this dish too far ahead of time. Once the tofu is tossed in the sauce it should be served immediately to maintain its crispiness.
Teriyaki Tofu FAQs
What is Teriyaki sauce made of?
Teriyaki sauce is made out of three main flavours: salty, sweet and tangy. This is usually achieved with soy sauce, sugar and vinegar. The sauce can be made in a variety of different ways.
How do I make the tofu crispy?
Always use firm or extra-firm tofu to start. Next, squeeze out as much of the liquid as possible before proceeding. You can always use a tofu press for this, but I personally don't use one. Coating the tofu in some cornstarch before baking or pan-frying, will also help the exterior of the tofu become crispier.
What can I serve with Teriyaki Tofu?
There are so many ways to serve up this recipe! Serve it over some rice,(regular or fried rice) serve it with some noodles, or serve with with your favourite vegetables.
Storing and Reheating Crispy Teriyaki Tofu
Does it keep?
This recipe keeps in the fridge for 1-2 but it's definitely best enjoyed fresh. The tofu will lose it's crispiness if it's not eaten right away.
How do I reheat it?
You can reheat this in a pan on the stove or in the microwave. My personal preference is in a pan with a touch of oil. This will help the tofu cubes get a little bit crispy again once you reheat them.
General Tofu FAQs
How to marinate Tofu
Marinating tofu is a great way to infuse tofu with more flavor. You can Marinate the tofu in this recipe with teriyaki sauce if you like. To marinate tofu just cut the tofu into cubes and place it in a shallow dish or ziplock bag with the marinade and let the tofu sit in the marinade for at least an hour or overnight.
Should tofu be marinated before cooking?
If you aren't using a sauce on the tofu then marinating is a great way to infuse tofu with more flavour. If the tofu is being tossed in a sauce like in this recipe, it's not necessary to marinate the tofu.
How long should you marinate tofu?
For the most flavour, it's best to marinate tofu for at least 12 hours, flipping the tofu halfway through so all sides can absorb the marinade. If you're pressed for time, you can marinade tofu for an hour and still get some great flavor from it.
Does tofu go bad?
Tofu usually has a long shelf life, but it does go back eventually. If you have tofu that is going to expire soon, you can place it in the freezer. Tofu will last for months in the freezer.
How do you cook tofu that's not rubbery?
If your tofu is rubbery it may be the brand of tofu you're using. Try a different brand. I've found some brands of tofu to have a much better taste and texture than others.
How to drain Tofu
To drain the tofu, simply open the package over the sink and let the liquid drain out. Then place the block of tofu in between some paper towels and press out any excess water.
Is it better to pan fry or bake tofu?
It's up to you! Both ways are delicious. Baked tofu will generally need less oil, making it a healthier option.
More tofu recipes to try
Print
Teriyaki Tofu
Author: Jessica Hoffman
Prep Time: 10 minutes
Cook Time: 30 minutes
Total Time: 40 minutes
Yield: 2 servings 1x
Category: Main
Method: Bake
Cuisine: Japanese
Diet: Vegan
---
Description
This Teriyaki Tofu is baked to perfection, crispy and coated in the tastiest sauce! Serve it on its own or over rice
---
Crispy baked tofu 
1 block firm or extra-firm tofu
1 tbsp avocado oil (can sub vegetable oil)
2 tbsp cornstarch 
Teriyaki Sauce
3 tbsp tamari (or soy sauce)
2 tbsp coconut sugar (or brown sugar)
1 tbsp rice vinegar 
2 garlic cloves, chopped
one 1-inch cube of ginger, chopped 
1 tbsp cornstarch mixed in 1 tbsp cold water 
2 tbsp water 
Extras
Jasmine rice to serve
Sliced green onions 
Sesame seeds
---
Instructions
Preheat the oven to 425 degrees F and line a baking pan with parchment paper.
Using a paper towel, press down on the tofu and squeeze out as much water as possible.
Cut the tofu into cubes then toss it in a bowl with the avocado oil and cornstarch
Spread the cubes of tofu on a baking sheet making sure none of the cubes are touching, and bake for 25-30 minutes flipping halfway through. 
While the tofu bakes, prepare the sauce 
Whisk all the sauce ingredients together in a saucepan on medium heat. Once the sauce begins to heat up it should start to thicken. (about 2-3 minutes) Once you notice your sauce thickening remove it from heat. 
Toss the baked tofu cubes into the sauce. (This can be done directly in the saucepan or in a bowl.) 
Serve immediately. 
---
Notes
Make sure to use firm or extra-firm tofu! While soft tofu is great in things like soups, it won't crisp up like firm tofu does.
Use parchment paper or a silicone baking mat to prevent the tofu from sticking to your pan.
Do not prep this dish too far ahead of time. Once the tofu is tossed in the sauce it should be served immediately to maintain its crispiness.
---
Nutrition
Serving Size: 1/4 of the recipe
Calories: 320
Sugar: 18g
Fat: 15g
Carbohydrates: 30g
Fiber: 3g
Protein: 12g
Keywords: teriyaki tofu, baked tofu, tofu with teriyaki sauce, healthy tofu
This post contains affiliate links which means I will make a small commission if you purchase through those links. I only recommend products that I know, trust and love!