Triple Chocolate Chia Pudding
Satisfy your chocolate craving with this Triple Chocolate Chia Pudding. It starts with some chia seeds, plant-based milk, and then three different types of chocolate!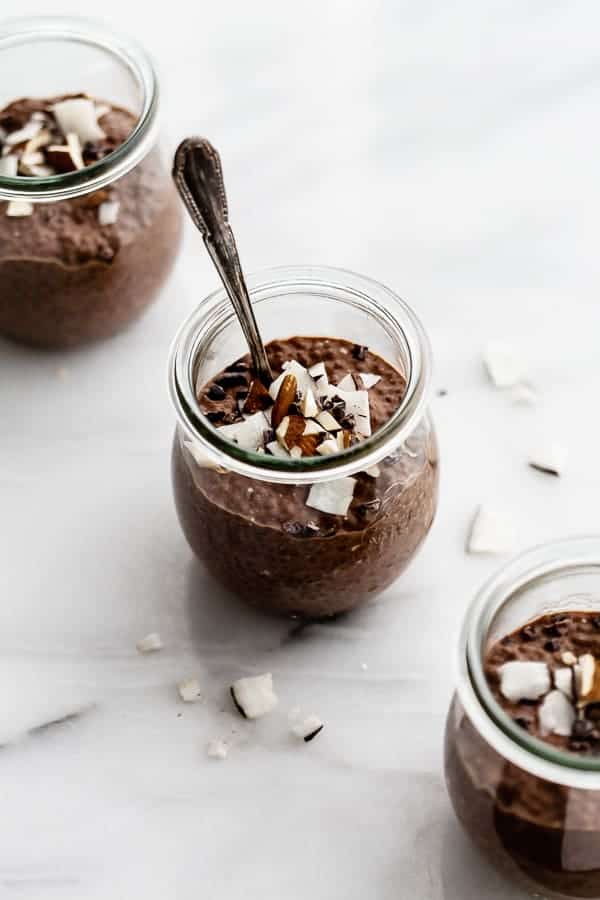 This is an old recipe from the blog that has been updated to make it even better!
Question: What's better than one kind of chocolate?
Answer: 3 kinds of chocolate.
Which is exactly what this chia pudding is made with. That's right. THREE kinds of chocolatey goodness loaded into one cup of chia seed pudding. If you want a little less chocolate, Snickers Chia Pudding or Chocolate Raspberry Chia Pudding might be right up your alley.
How healthy is chocolate chia pudding?
It's about time I've added a chocolate chia pudding recipe to blog. Chocolate chia pudding is definitely one of the most popular ways to enjoy a chia pudding. I wanted to make this recipe a little more special than your average chocolate chia pudding though, so we're adding in even MORE chocolate in the form of chocolate chips and cacao nibs.
If you've never used cacao nibs before, they are literally just little bits of crushed up cocoa beans. They can be a little more bitter in taste, (since they have no sugar added to them) but they are uh-mazing sprinkled in chia pudding, oatmeal, granola…really on anything.
Cocoa nibs have great health benefits! They are extremely high in fiber, loaded with magnesium, antioxidants and is a mood booster (but let's be honest, what chocolate isn't a mood enhancer 🙂 ) Then on top of that you have all the benefits of chia seeds too. Chia seeds are extremely healthy and are packed with tons of nutritional benefits. They are:
Loaded with Fiber
High in protein
Packed with Omega-3 fatty acids
Expand in liquid so they keep you feeling full and satisfied!
Chia seed pudding with coconut milk
I make this recipe with not only coconut milk, but also almond milk. This creates a wonderful, creamy flavor while remaining vegan! You can use either unsweetened or sweetened nut milks depending on how sweet you want this chia seed pudding. If you want to keep this recipe as unprocessed as possible, try making your own nut milk first with this almond milk recipe, and then use it to make your chocolate chia pudding!
How to make chocolate chia pudding
The process to make this triple chocolate chia pudding recipe is so simple, that it can be prepared anywhere from the night before, to an hour in advance, before you want to eat it.
The base ratio for making chia pudding is 1 part chia seeds to 4 parts liquid. Though depending on the type of liquid you use and your personal preference, you may want to add 5 or even 6 parts liquid.
Here are the steps:
Mx the base chia pudding ingredients together
Let sit for an hour to thicken (or overnight)
Mix in the chocolate chips & cacao nibs
Some notes on the recipe
One thing to note for this recipe is to use a high-quality cocoa powder! Cheap cocoa powder tends to be more bitter in taste and doesn't have the same rich quality as a good quality cocoa.
You can also use any type of milk you like. Both plant-based milks and dairy milk will work based on your preference.
If you'd like to make this recipe keto-friendly, just substitute the maple syrup for a sugar-free sweetener like stevia, and make sure to use chocolate chips that are sugar-free.
This triple chocolate chia pudidng is my favourite to make when I feel a chocolate craving coming on. Which, let's be honest, is most of the time. I like to prepare a batch of this chia pudding in advance (on a food prep day) and store it in the fridge. That way I have it ready to go for the week when I'm in need of some chocolatey goodness!
More chia pudding recipes to try
Print
Triple Chocolate Chia Pudding
Author: Jess
Prep Time: 10 minutes
Cook Time: 0 minutes
Total Time: 10 minutes
Yield: 2–3 servings 1x
Category: Dessert
Method: Mix
Cuisine: American
---
Description
This chia pudding loaded with 3 types of chocolate will satisfy your chocolate craving…in a healthy way!
---
---
Instructions
Mix the chia seeds, coconut milk, almond milk, vanilla extract, cocoa powder and maple syrup in a bowl until well combined.
Let sit for 5 minutes, then give it another mix before placing it covered in the fridge for 1 hour.
Remove from fridge and mix in the cacao nibs and dark chocolate chips.
Serve with fresh fruit, nuts or more chocolate.
---
Notes
Store in the fridge in a sealed container for up to a week
Add any toppings you like to serve! I love fresh fruit, crushed nuts, or some coconut yogurt!
---
Nutrition
Serving Size: 1/2 of the recipe
Calories: 288
Sugar: 12g
Fat: 19g
Saturated Fat: 10g
Carbohydrates: 30g
Fiber: 11g
Protein: 6g
Keywords: how to make a chia pudding, chocolate chia pudding, chia seed pudding, vegan, coconut milk, healthy
If you tried this Triple Chocolate Chia Pudding or any other recipe on the blog let me know how you liked it by leaving a comment/rating below! Be sure to follow along on Pinterest, Instagram and Facebook for even more deliciousness!
This post contains affiliate links which means I will make a small commission if you purchase through those links. I only recommend products that I know, trust and love!