Banana cream pie chia pudding
This banana cream pie chia pudding is loaded with banana and coconut flavour for a delicious breakfast snack or treat! This is an easy vegan recipe that is healthy and simple to make!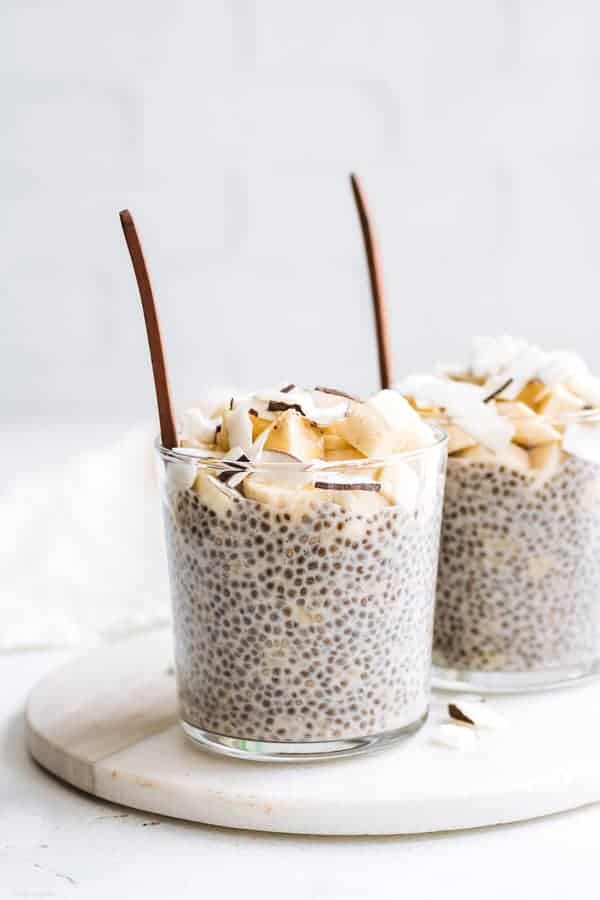 Banana cream pie…have you ever had one?
It's basically a pie filled with custard and bananas and topped with whipped cream, though I've seen so many variations of it online.
One thing they all have in common though is that they're a creamy and fluffy pie and they're all loaded with banana goodness.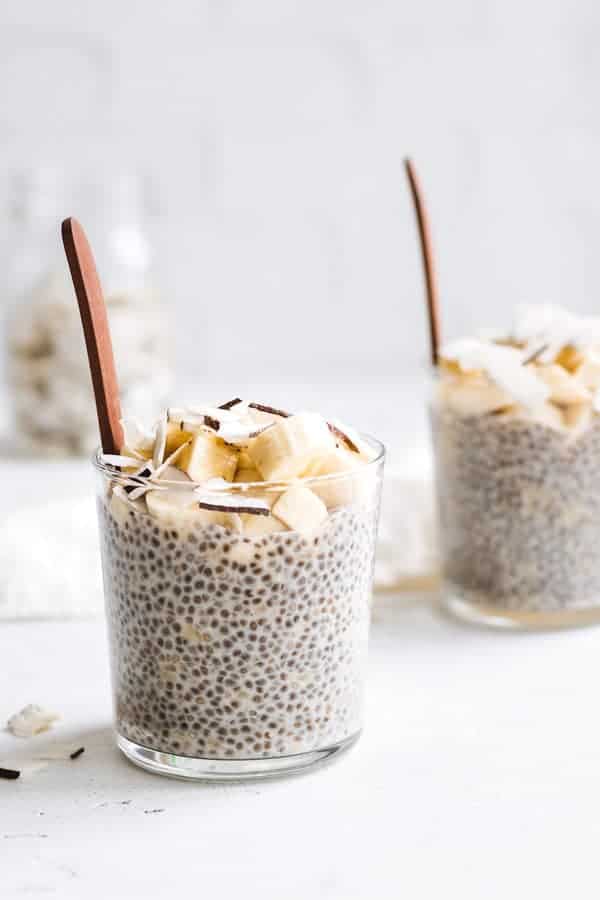 I don't know about you, but I'm a big banana fan! I probably have bananas every single day either in smoothies, cut up in a tortilla with almond butter, (one of my favourite snacks) or just sliced on a bowl of oatmeal or chia pudding.
But when it comes to enjoying my bananas, I can be pretty particular…I like them to be completely yellow. MAYBE one or two brown spots…but any riper and they're reserved for baking into banana bread.
So of course for this recipe, I use yellow bananas, but you can use whatever ripeness of banana you love!
How to make healthy banana cream "pie":
One of my favourite things to do when creating new chia pudding recipes is to base them off of pies that I love! (Like this key lime pie chia pudding , this pumpkin pie chia pudding, and this apple pie chia pudding.)
So it only made sense to make a banana cream pie chia pudding recipe too! This recipe is almost like a mix between a banana cream pie and a coconut cream pie. (Since it's made with some coconut milk.)
What I love about this recipe is you can make it all year round since bananas are always available. The rest of the ingredients are pretty simple too. I use a mix of coconut milk for creaminess and almond milk to keep it bit less dense in calories and fat. (Though if you want this recipe to be extra creamy you can use a full cup of coconut milk!)
Let's break this banana cream pie chia pudding recipe down a little further.
This chia pudding is made with almond milk and coconut milk, so you have a great blend of both. One reason I mix them is because coconut milk can be quite high in fat, so using a mix of almond and coconut keeps this chia pudding a little more on the lighter side. Using plant-based milk in chia pudding makes this recipe naturally vegan too.
Chia seeds have TONS of great health benefits and are one of my favourite foods to eat every day.
What are some chia seed benefits:
High in fibre
High in Omega-3
They help with digestive health
Boost energy and metabolism
If I'm not eating chia seeds in the form of chia pudding, one of my favourite ways to enjoy them is in a smoothie. They're also delicious sprinkled on top of oatmeal, yogurts and salads.
Now, I'm going to answer the biggest question I hear about chia pudding: what is the chia pudding ratio?
By rule of thumb, you want to have about 1/4 cup of chia seeds to 1 cup of liquid. From there you can always add a little bit more liquid if you like a thinner consistency, or if your chia pudding thickens up too much. I find if I leave my chia pudding in the fridge to chill overnight, I like to add a little bit more almond milk to it in the morning to thin out. (Just a bit though!)
This banana cream pie chia pudding is:
Vegan
Gluten-free
Refined-sugar free
Grain-free
So yeah…it's a whole lot healthier than an actual banana cream pie!
Some other favourite chia recipes from the blog:
If you tried this banana cream pie chia pudding or any other recipe on the blog let me know how you liked it by leaving a comment/rating below! Be sure to follow along on Pinterest, Instagram and Facebook for even more deliciousness!
Print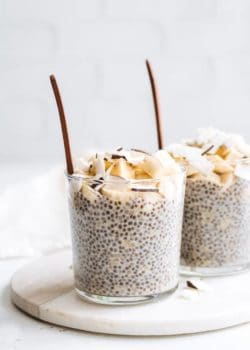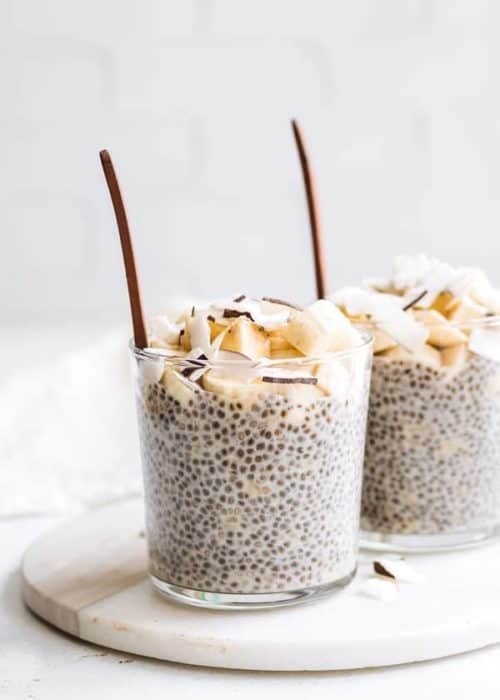 Banana cream pie chia pudding
Author: Jess
Prep Time: 10 minutes
Cook Time: 0 minutes
Total Time: 10 minutes
Yield: 2 servings 1x
Category: Breakfast/dessert
Method: mix
Cuisine: American
---
Description
A creamy and delicious chia pudding loaded with banana flavour!
---
---
Instructions
Combine the chia seeds, coconut milk, almond milk, agave, cinnamon and mashed banana together in a bowl. Whisk until well combined.
Cover the bowl and place it in the fridge for 1 hour to firm up
Plate the chia puddings into 2 cups and topped with chopped bananas and coconut chips
---
Notes
Mix the chia pudding and let it sit for 2-3 minutes, then mix it again to avoid having any of the chia clump together.
Add whatever toppings you like to this chia pudding (like nut butter, jams or crushed graham crackers!)
---
Nutrition
Serving Size: 1/2 recipe
Calories: 350
Sugar: 19g
Fat: 17g
Saturated Fat: 4g
Carbohydrates: 37g
Fiber: 12g
Protein: 5g
Keywords: chia pudding recipe, banana chia pudding, healthy chia pudding
This post contains affiliate links which means I will make a small commission if you purchase through those links. I only recommend products that I know, trust and love!