Layered chia pudding with mixed fruit puree
This layered chia pudding with mixed fruit puree is the perfect all natural, and healthy recipe to make you feel your best! Serve them up for breakfast or a fruity dessert!
Why chia pudding?
I think it's no secret if you've stumbled upon this blog that you would find some recipes that include chia seeds. I mean the blog is called choosing chia after all!
While the meaning behind the blog name is the idea of choosing a healthy lifestyle, I do love chia seeds and creating recipes highlighting the super food ingredient. I love incorporating chia seeds into smoothies, drinks, and recipes. And of course one of my favourite ways to eat chia is as a chia seed pudding.
There are several very convincing reasons to incorporate chia seed pudding into your life. First, it is so easy to "make" – honestly you just combine a handful of ingredients let it sit for anywhere from 1 hour to 2 days. Second chia seeds and other common ingredients found in these recipes are so healthy. Chia seeds are high in omega-3 fatty acids, which most people are lacking and help reduce inflammation (so you need these) and they are high in fibre and protein! Third (but definitely not the last), there are so many varieties of chia seed pudding – anything from fruit, vanilla, chocolate, matcha; you can enjoy this all day long!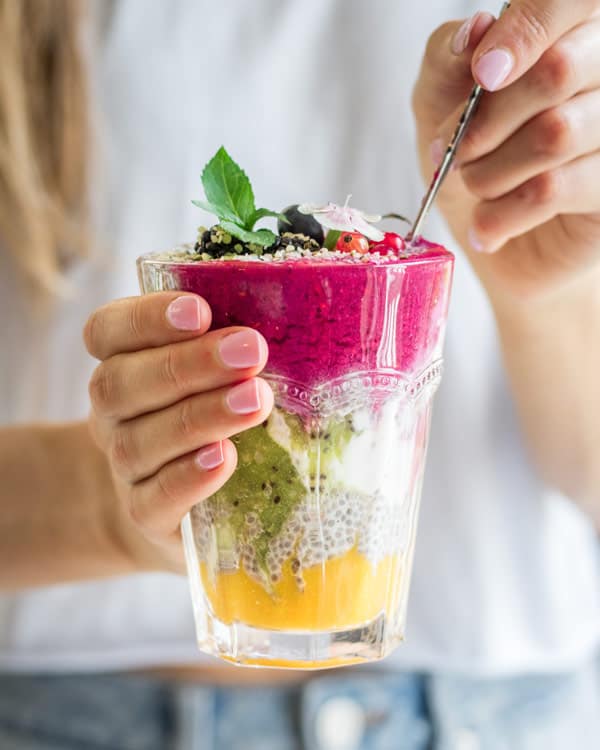 How to prepare chia pudding:
This recipe for layered chia pudding with mixed fruit puree uses raspberry, kiwi, and mango puree for a mix of vibrant flavours. I love the combination of these three fruits together, for flavour that really pops!
Not only do these flavours complement each other, they pack a nutrient punch. These 3 fruits will provide you with vitamins A, B complex, C and folic acid – what else could you need?
For this recipe you simply need to prepare a simple vanilla chia pudding. I do recommend only adding the fruit purees once you are ready to eat the pudding. So once your chia pudding is to your thickness liking, puree the 3 fruit (one at a time so, you can create the beautiful array of colors) and transfer the mixtures – puree, chia pudding, puree, chia pudding – into a separate glass. Now you can enjoy!
Print
Layered chia pudding with mixed fruit puree
Author: Jess
Prep Time: 25 mins
Cook Time: 0 mins
Total Time: 25 mins
Yield: 2 servings 1x
Category: Breakfast/snack
Method: Mix
Cuisine: American
---
Description
Enjoy this beautiful and nutritious layered chia pudding for breakfast or as a snack!
---
chia pudding
parfait
2 kiwis
1 large mango
1 cup raspberries
1/2 cup yogurt of choice
2 tbsp hemp hearts
Fruit for garnish (optional)
---
Instructions
Mix the chia seeds, almond milk, vanilla extract, and maple syrup together in a bowl. Whisk for 1-2 minutes until the mixture begins to thicken. Place in the fridge and allow to thicken up for 1 hour.
Place the kiwis in a blender and blend until smooth. Remove and repeat with the mango and raspberries.
Once the chia pudding is thick, begin layering the chia pudding, fruit purees, and yogurt in a glass.
Start with some fruit puree on the bottom, followed by some chia pudding, followed by some yogurt. Repeat this process until you have filled your glass.
Garnish with hemp hearts and fresh fruit if desired.
---
---
Nutrition
Serving Size: 1/2 recipe
Calories: 686
Sugar: 34g
Fat: 35g
Saturated Fat: 4g
Carbohydrates: 74g
Fiber: 30g
Protein: 24g
Keywords: Layered chia pudding with mixed fruit puree, vegan chia pudding, healthy chia pudding recipe
This post contains affiliate links which means I will make a small commission if you purchase through those links. I only recommend products that I know, trust and love!