Vegan Pad Thai
This Vegan Pad Thai is made with fresh simple ingredients like bean sprouts, garlic, and lime juice. It's a healthy vegan noodle dish that takes less than 30 minutes to make!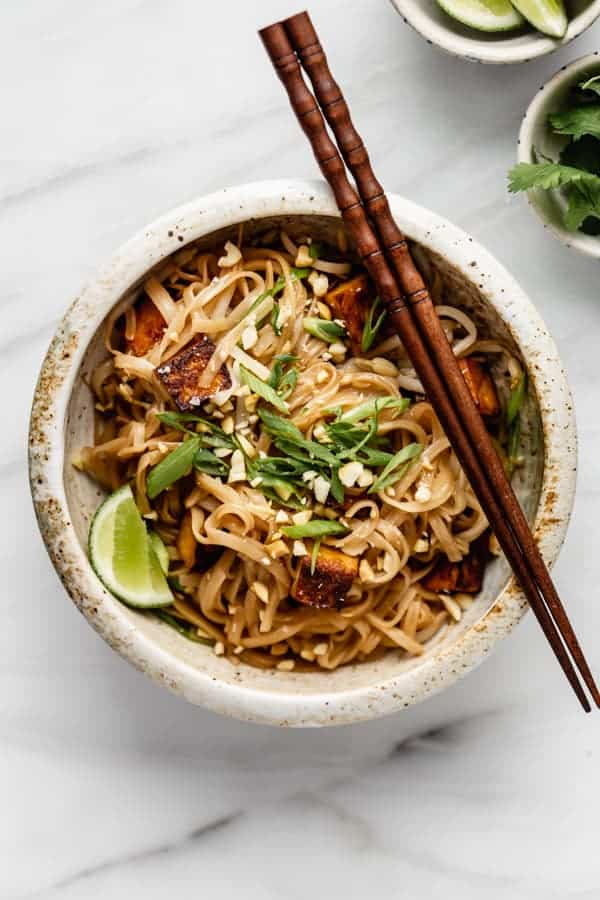 What is Pad Thai?
Pad Thai is a traditional stir-fried noodle dish served in Thailand. It's commonly served as street-food or in restaurants all throughout Thailand. One of my favourite experiences was learning how to cook an authentic Pad Thai in Thailand.
A Vegan Pad Thai doesn't use all the same ingredients as a traditional recipe, so this is my personal take on a traditional Pad Thai recipe based on my learnings from cooking classes in Thailand.
Where Did Pad Thai Come From?
Pad Thai originated in Thailand in the late 1930s. During World War Two there was a shortage of rice in Thailand so got noodles from China and stir-fried them with Thai ingredients to create Pad Thai.
What gives Pad Thai its flavor?
The key to a great Pad Thai recipe is to have the proper balance of sweet, salty, sour and spicy flavours. We achieve this balance through using soy sauce, coconut sugar and lime juice.
If you're looking to create a whole Thai-inspired feast, these Thai Peanut Cauliflower Wings and this Thai Mango Salad would create a whole plate's worth of colour and flavour to transport your taste buds to Thailand.
Is Pad Thai vegan?
This recipe for Pad Thai is a take of a traditional Pad Thai recipe from Thailand.
Traditionally, Pad Thai is not vegan since it's made using fish sauce, eggs, and often times in Thailand even find dried shrimp.
Luckily for us, Pad Thai is easy to make vegan!
The main replacement is to use soy sauce in place of fish sauce. All the other sauce ingredients stay the same and you will end up with an equally delicious Pad Thai!
Vegan Pad Thai Ingredients
Rice Noodles: you want to use "Pad Thai" rice noodles for this recipe. They usually say Pad Thai on the packaging and are thin, but not as thin as vermicelli noodles.
Firm Tofu: firm or extra-firm tofu are best for this recipe to get crispy cubes.
Vegetable Oil: for sauteing.
Garlic: make sure to use fresh garlic, not dried or powdered.
Garlic Chives: this is a very common ingredient you'll in a traditional Pad Thai, especially in Thailand. Garlic chives look similar to chives and can be found at most Asian supermarkets. If you can't find garlic chives you can use regular chives.
Bean Sprouts: You can find these at most grocery stores. Bean sprouts are added towards the end and gives the Pad Thai some crunch!
Green Onion: to mix it at the end of even more flavor.
Vegan Pad Thai Sauce Recipe Ingredients
Soy Sauce: regular or gluten-free soy sauce if needed. You can also substitute it with tamari.
Coconut Sugar: traditionally Pad Thai is made with palm sugar, which you can use in place of coconut sugar. But coconut sugar is easier to find at most North American grocery stores. You can also substitute with brown sugar, agave or maple syrup.
Lime: for some acidity.
What can I use instead of fish sauce?
Traditionally, Pad Thai is made with fish sauce, which isn't vegan-friendly. If you want to make a Vegan Pad Thai you can just use soy sauce or tamari instead of fish sauce.
How to make Vegan Pad Thai
Cook up the tofu in a pan with some oil. Once the tofu is cooked, push it off to the side (so it's off the heat), and add the noodles to the pan.
After the noodles, add the seasoning and sauce. Toss everything up together, and serve with crushed peanuts and lime.
Pad Thai is BEST served immediately after cooking, so it's not a dish you want to leave sitting around for 10-15 minutes on the stove. Enjoy it right away!
Substitutions, Additions and Tips for Pad Thai you'll love!
Use extra-firm tofu and a non-stick pan to fry the tofu. This will make sure it gets nice and crispy and doesn't stick to your pan.
Don't fully cook your rice noodles before adding them to the pan! They will continue to cook as your stir-fry, so you want them to be slightly firm with a little bite to them.
Use a bit of water or vegetable stock to loosen up your Pad Thai if it the noodles start getting stuck together.
Eat right away! Pad Thai is best enjoyed straight out of the pan, so don't let it sit on the table for too long otherwise the noodles will start sticking together.
How to Store and Reheat Vegan Pad Thai
Store leftover Pad Thai in the fridge in an airtight container for up to 3 days. Reheat on the stovetop in a pan or in the microwave. If the Pad Thai is sticking together when you are reheating it, simply add a splash of water to help loosen up the noodles.
Vegan Pad Thai FAQs
Is Pad Thai gluten-free?
Yes! Traditionally Pad Thai is gluten-free. In this recipe as long as you use gluten-free soy sauce the Pad Thai will be gluten-free.
What kind of noodles are best for Pad Thai?
Flat dried rice noodles are best to use for Pad Thai. You can find these at most grocery stores or your local Asian supermarket.
Why do you soak Pad Thai noodles?
Since Pad Thai noodles cook very fast, they are traditionally soaked in water for a few minutes to make them more pliable and then added directly to the stir fry pan. Since the noodles will cook more in the pan, you'll end up with perfectly cooked noodles. If you boil the noodles before adding them to the pan, they can become overcooked and start sticking together.
How to serve vegan Pad Thai
Vegan Pad Thai can be served on its own or as a side with other Thai dishes. Here are some great options to serve with this Pad Thai:
More Thai recipes to try
Print
Vegan Pad Thai
Author: Jess
Prep Time: 10 minutes
Cook Time: 10 minutes
Total Time: 20 minutes
Yield: 2 servings 1x
Category: Entree
Method: Cook
Cuisine: Thai
---
Description
A simple Pad Thai recipe that is easy to make and takes less than 30 minutes!
---
1/2 pack rice noodles (approx 7 oz)
1/2 block of extra-firm tofu, cut into small cubes
2 tbsp vegetable oil
1/4 cup-1/2 cup water
1 garlic clove, finely chopped
1 large handful garlic chives (can sub regular chives)
2 tbsp soy sauce (gf if needed) 
1 tbsp coconut sugar (can sub agave, maple syrup)
juice of 1/2 lime
1 cup bean sprouts
1 green onion, chopped
crushed peanuts, lime & cilantro for serving
---
Instructions
Boil the rice noodles in a pot of water until tender, but not too soft (they should still be slightly undercooked. Drain and set aside.
Heat the vegetable oil in a non-stick pan on medium high heat then add the tofu and cook for 2-3 minutes on each side until golden brown.
Push the tofu to the side of the pan, turn the heat to medium and add the garlic noodles, garlic chives, soy sauce, coconut sugar and lime juice to the pan.
Slowly add some water to the pan, 1-2 tbsp at a time to prevent the noodles from sticking and allowing to cook fully through.
Turn the heat to low and add the bean sprouts and green onion and mix together.
Top with crushed peanuts, cilantro and a lime wedge to serve.
---
Notes
Use extra-firm tofu and a non-stick pan to fry the tofu to get nice crispy tofu that doesn't stick to the pan. 
Don't fully cook the noodles before adding them to the pan! They will continue to cook as you stir-fry them so you want them to be slightly undercooked before adding them in. 
If you're noodles start to stick together, use some water or veggie stock to losen them up. 
Pad Thai tastes best if you eat it immediately after cooking! 
---
Nutrition
Serving Size: 1/3 recipe
Calories: 265
Sugar: 6g
Sodium: 600mg
Fat: 13g
Saturated Fat: 2g
Carbohydrates: 50g
Fiber: 3g
Protein: 8g
Keywords: Vegan pad thai, tofu pad thai, Vegetarian pad Thai
If you tried this Vegan Pad Thai or any other recipe on the blog let me know how you liked it by leaving a comment/rating below! Be sure to follow along on Pinterest, Instagram and Facebook for even more deliciousness!
This post contains affiliate links which means I will make a small commission if you purchase through those links. I only recommend products that I know, trust and love!