30 Minute Thai Drunken Noodles (Pad Kee Mao)
These Thai Drunken Noodles (also known as Pad Kee Mao) are delicious, easy to make and come together in less than 30 minutes! These noodles are vegetarian and perfect when you need a quick and easy dinner.
Thai drunken noodles
Take-out Thai is one of my favourite guilty pleasures, and in my opinion, their flavour combinations are some of the best! From Thai Peanut Cauliflower Wings to Thai Green Curry Tofu, there's no shortage of delicious spices in Thai food.
However, Thai take-out meals can be pricey, greasy and sometimes not so healthy. The good news is that Thai noodles are actually quite easy to make at home, and trust me, once you make this recipe it will be on repeat in your kitchen!
These noodles are loaded with flavour, simple to make and come together in less than 30 minutes for a quick and easy meal everyone will love! (cuz who doesn't love a good 30-minute meal?)
This recipe for Thai Drunken noodles is my personal take on the traditional dish made with vegetarian-friendly ingredients.
Why you'll love this Pad Kee Mao recipe
Ready in 30 minutes. One thing I love about Thai noodle recipes is how quick they are to make. This recipe will be ready to go in less than 30 minutes
Better than take out. Why get takeout noodles when you can make them right at home? Once you try this recipe you'll see how easy it is to make Thai Drunken Noodles right at home!
Customizable. Add in any protein you like or any veggies you like. This recipe is completely customizable.
What are Drunken Noodles?
Drunken noodles (also called Pad Kee Mao) is a stir-fried noodles dish that originated in Thailand. It's made by stir-frying wide rice noodles together with vegetables, Thai basil and stir-fry sauce.
There are a few different theories as to why this dish is called drunken noodles, but no one knows for sure.
One common theory is that the original dish was so spicy, that it would leave you feeling dizzy and kind of "drunk." Another theory suggests that this dish is a favourite amongst people in Thailand to eat after an evening of drinking.
Vegetarian Drunken Noodles Ingredients
Wide rice noodles: Pad Kee Mao is traditionally made with fresh wide rice noodles. You can often find fresh rice noodles at your local Asian market, or you can buy them dried at most large grocery stores or online. If you ever have trouble finding the wider variety you can always use the thinner Pad Thai noodles.
Green onion: I like to use a mix of regular onion and green onion for a more traditional dish, but you can use any type of onion you have
Garlic: make sure to use fresh garlic!
Ginger: make sure this is fresh too 🙂
Red bell pepper: This gives a nice pop of colour to the Drunken noodles. You can also feel free to add in any other veggies you like such as broccoli, baby corn or bok choy.
Thai chilis: Not pictured above, but Thai chilies are a classic ingredient in this dish. If you can't get your hands on them you can substitute some chili flakes or Sambal Oelek.
Thai basil: You can find this at most Asian grocery stores. This is not the same as regular basil and gives a really unique taste to the dish.
Vegetarian oyster sauce: Or if you're not making this dish strictly vegetarian you can use regular oyster sauce
Dark soy sauce: Another classic ingredient in this dish! Besides giving the noodles a deep rich colour, dark soy sauce is less salty and sweeter than regular soy sauce. You can learn more about the differences here.
Soy sauce: you can also use tamari
Coconut sugar: Also known as palm sugar and used in Thailand in many dishes and adds a little sweetness to the dish to balance out the salty and spicy flavours. You can substitute agave, maple syrup, honey or brown sugar if needed.
What is Drunken Noodle sauce made of?
Just like any Thai noodle dish, you'll find some slight differences from one recipe to another when it comes to the stir-fry sauce. This drunken noodle recipe uses some traditional ingredients used in Thailand.
This sauce is made by combining oyster sauce, dark soy sauce, light soy sauce and sugar. This combination of sauces gives the noodles a sweet, salty and savoury taste. If you don't use chillies in your noodles, you can also add some sriracha or Sambal Oelek to the sauce for a little heat.
What is the difference between Italian Basil and Holy Basil and Thai Basil?
You're probably familiar with regular basil that you can find at most grocery stores, but in Thai cuisine, you'll often see holy basil and Thai basil used in recipes. Many people think holy basil and Thai basil are the same herbs, but they're not. Here's the difference between these herbs:
Italian Basil: the traditional herb that is fragrant with a slightly sweet taste. Basil is often used in Italian cooking.

Holy basil: has a spicier and peppery flavour compared to traditional basil. Holy basil is native to India and is also used as a medicinal herb.

Thai basil: Is sweeter, slightly spicy and has a hint of star anise flavour. It's native to South-East Asia and used often in Thai cooking.

If you substitute Thai basil in this recipe for regular basil, you will end up with a different tasting dish. You can find Thai basil at your local Asian grocery store.
The best type of noodles to use for Drunken Noodles
The best noodles to use in this recipe are wide rice noodles. You can use either dried wide rice noodles which can be found at most grocery stores or fresh wide rice noodles which can be found at your local Asian grocery store. The traditional recipe is made with fresh rice noodles, but packaged rice noodles work great if that's what you can get your hands on.
How to make Thai drunken noodles (Pad Kee Mao)
Step 1
Boil the rice noodles in a pot of water until they are almost cooked through, but still have a slight bite to them. You want the rice noodles to be slightly uncooked since they will cook more while you stir-fry.
Step 2
Heat some vegetable oil in a pan or a wok on medium-high heat, then add the garlic, chilli, onion and red pepper and let cook until it begins to slightly caramelize.
Step 3
Add the noodles and let them cook for a couple of minutes to brown, then add the sauce and the Thai basil and mix everything together.
Step 4
Fold in extra green onions and serve right away. Optionally serve with crushed peanuts and a lime wedge. Rice noodles are always best enjoyed right away otherwise the noodles tend to get a bit sticky.
Recipe variations
One great thing about these stir-fried Pad Kee Mao noodles is that they are easily customizable so you can make them your own. Here are some variations and ways you can try customizing this dish.
Add protein: add some tofu, tempeh, scrambled egg, chicken, beef or pork to this dish for an extra boost of protein.
Add veggies: vegetables like broccoli, bok choy, Chinese eggplant, carrots, cabbage and snow peas would all work well.
Make it gluten-free: just make sure to be using gluten-free certified light and dark soy sauce. You can also substitute the soy sauce in the recipe with tamari.
Make it vegan. Use a vegetarian oyster sauce in this recipe for a vegan variation of the dish.
What to Serve with a Drunken Noodle Recipe
There are so many different tasty Thai dishes you can serve up with your Thai Drunken Noodles! While this dish is great on its own, it also works as a side or part of a spread of many Thai dishes. Here are some of my favourite recipes to serve with this dish:
How to Store your Pad Kee Mao
Store any leftovers in the fridge in a sealed container for up to 2 days. Reheat on the stovetop or in the microwave. If the noodles clump together from refrigerating, add a splash of water to the pan with the noodles when reheating. This will help the noodles come apart.
Tips for making this recipe perfectly
This recipe is vegetarian, but if you want to make this recipe with more "traditional" ingredients, you can use fish sauce instead of soy sauce and regular oyster sauce instead of vegetarian oyster sauce. You can also add in some tofu, shrimp or chicken if you'd like some more protein.
It's best to slightly undercooked the rice noodles when making stir-fried noodles as the noodles will continue to cook in the pan while you stir-fry. If you fully cook the noodles beforehand, they will end up being mushy and overcooked after stir-frying.
Use wide rice noodles instead of thin rice noodles for this recipe. The texture of the wide rice noodles is delicious and is more traditional for a Pad Kee Mao.
Use Thai basil. This is one of those ingredients that will just make this recipe better. You can find Thai basil at your local Asian market.
A large pan or wok works best! You will need space to let all the ingredients caramelize, so use a big enough pan or a wok if you have one for stir-frying.
Serve immediately after making. The noodles will start to stick together after the dish sits in the pan for a few minutes, so it's best to serve this dish right away.
Drunken Noodle Recipe FAQs
What's the Difference between Pad Thai & Drunken Noodles?
Pad Thai is probably one of the most popular types of Thai Noodles. Pad Thai is made with thinner rice noodles and a sweeter sauce traditionally made from fish sauce and palm sugar. The dish usually contains a scrambled egg and is topped with some protein like chicken, shrimp or tofu and is served with crushed peanuts and lime.

Drunken noodles are made with wide rice noodles and a more salty and savoury sauce traditionally made from oysters sauce, fish sauce and soy sauce. Drunken noodles are often stir-fried with vegetables like peppers, snow peas and Thai basil.
Are drunken noodles very spicy?
Traditionally, drunken noodles are spicy and made with Thai chillies. This recipe for drunken noodles is customizable so you can add as much or as little spice as you like for your palate.
Do drunken noodles get you drunk?
Nope! There is no alcohol in drunken noodles, it's just a name! (There are a few different theories of where the name originated.)
Can I use Italian basil in this recipe?
Yes. If you really can't find Thai basil, you can substitute it with Italian basil. Just keep in mind that this will alter the taste of the finished dish. (But it will still taste good!)
Are drunken noodles gluten-free?
As long as you use gluten-free soy sauce in this recipe then yes it is gluten-free! It's always a good idea to check the labels of the sauces you use as some sauce brands may contain gluten.
More Noodle Recipes to try
If you tried these Thai Drunken Noodles or any other recipe on the blog let me know how you liked it by leaving a comment/rating below! Be sure to follow along on Pinterest, Instagram and Facebook for even more deliciousness!
Print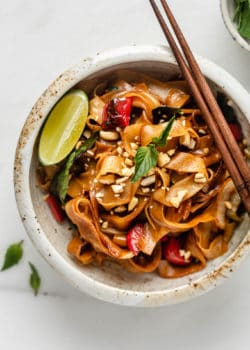 Drunken Noodles (Pad Kee Mao)
Author: Jessica Hoffman
Prep Time: 15 minutes
Cook Time: 15 minutes
Total Time: 30 mins
Yield: 2–3 servings 1x
Category: Main
Method: Cook
Cuisine: Thai
Diet: Vegetarian
---
Description
Make a better-than-takeout version of Thai Drunken Noodles right at home with a few simple ingredients!
---
Noodles
8 oz wide rice noodles (about 1/2 a standard package)
2 tbsp vegetable oil
3 garlic cloves, minced
1-inch cube of ginger, minced
1 Thai chili, finely chopped (or more if you like it really spicy)
3 green onions, chopped (can sub 1/2 regular onion)
1/2 red pepper, chopped
2 large handfuls of Thai basil leaves
Crushed peanuts and a lime wedge to top (optional)
Sauce
---
Instructions
Cook the rice noodles in a pot of hot water for 2-3 minutes until al dente. They should be a bit hard in the center, and not cooked fully through.
Heat the vegetable oil in a large pan on medium-high heat. Add the garlic and chilli pepper and cook for 1 minute, then add the ginger, onion and pepper and let cook for another 2-3 minutes.
Add the noodles to the pan tossing together and letting cook for 2 minutes, until the noodles start to brown on the bottom slightly.
Reduce the heat to medium and add the sauce and Thai basil leaves mixing everything together.
Serve immediately.
---
Notes
Store leftovers in an airtight container in the fridge for up to 2 days. Reheat in the microwave or in a pan on the stove. If the noodles clump together while reheating add a small splash of water. 
Make sure to use Thai Basil (also known as holy basil) in this recipe! It's not the same as regular basil and can be found at your local Asian grocery store.
Use a large pan or wok to make this recipe to give the ingredients enough space to caramelize.
To make this recipe gluten-free use gluten-free soy sauce.
---
Nutrition
Serving Size: 1/3 of recipe
Calories: 300
Sugar: 5g
Sodium: 600mg
Fat: 9g
Saturated Fat: 2g
Carbohydrates: 48g
Fiber: 3g
Protein: 6g
Keywords: drunken noodles recipe, pad kee mao recipe, vegetarian drunken noodles
This post contains affiliate links which means I will make a small commission if you purchase through those links. I only recommend products that I know, trust and love!