Thai Drunken Noodles
These Thai Drunken Noodles (also known as Pad Kee Mao) are delicious, easy to make and come together in less than 30 minutes!
Take out Thai is one of my favourite guilty pleasures, and in my opinion, their flavour combinations are some of the best! From Thai Peanut Cauliflower Wings to Thai Green Curry Tofu, there's no shortage of delicious spices in Thai meals.
However, Thai takeout meals can be pricey, greasy and often not so healthy. Once you make this recipe at home, you'll think twice about ordering take out again!
These noodles are loaded with flavour, simple to make and come together in less than 30 minutes for a quick and easy meal everyone will love!
This recipe for Thai Drunken noodles is my personal take on the traditional dish made with vegetarian-friendly ingredients. If you are curious about an authentic Drunken Noodles recipe you can check out this recipe from Hot Thai Kitchen.
Why do they call them drunken noodles?
There are a few different theories as to why this dish is called drunken noodles, but no one knows for sure.
One common theory is that the original dish was so spicy, that it would leave you feeling dizzy and kind of "drunk." Another theory suggests that this dish is a favourite amongst people in Thailand to eat after an evening of drinking.
How to make Thai drunken noodles (Pad Kee Mao)
Cook the rice noodles in boiling water until they are al-dente. Don't cook them fully through!
Add some oil to a pan then add the garlic, chilli, onion and red pepper and let cook until it begins to slightly caramelize.
Add the noodles and let them cook for a couple of minutes to brown.
Add the sauce and the Thai basil and mix everything together.
Fold in the scallions and serve.
The best ingredients to make drunken noodles
You can find most of the ingredients to make this recipe at your local Asian grocery store.
Two of the key ingredients to making drunken noodles are Thai basil and fresh chilli peppers. Don't skip out on these ingredients, they truly make the difference in true Thai flavour!
Thai drunken noodles are also traditionally made with wide rice noodles. You can buy these fresh at the Asian grocery store, or dried at most large grocery stores. Either will work well.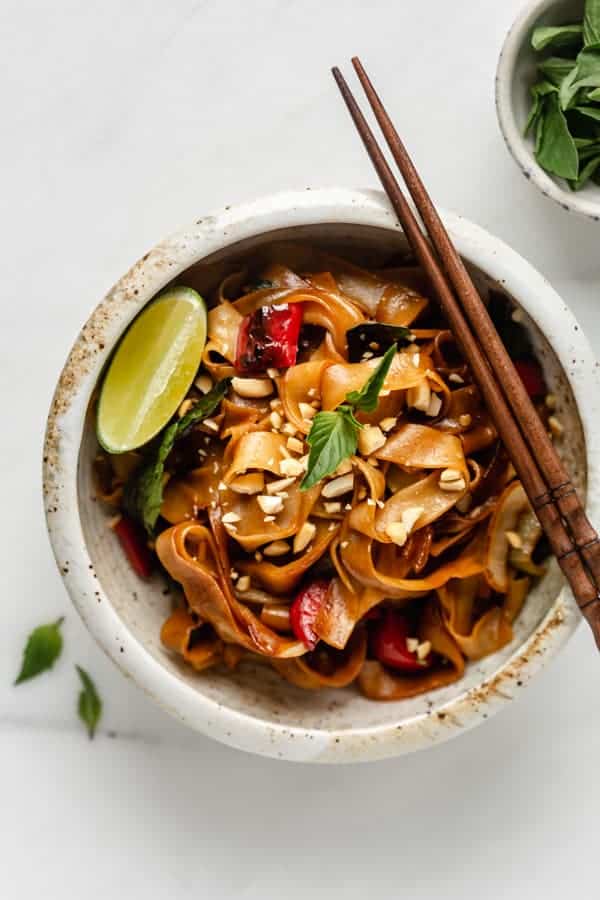 Recipe tips and variations
This recipe is vegetarian, but if you want to make this recipe with more "traditional" ingredients, you can use fish sauce instead of soy sauce and regular oyster sauce instead of vegetarian oyster sauce.
Use wide rice noodles instead of thin rice noodles for this recipe. The texture of the wide rice noodles is delicious!
Use Thai basil or Holy basil in this recipe, which you can find at your local Asian grocery store. (This is not the same as regular basil)
Use a large pan to make this recipe! You will need space to let all the ingredients caramelize.
Serve immediately after making.
More Thai noodle recipes to try
Print
Thai Drunken Noodles
Author: Jess
Prep Time: 15 minutes
Cook Time: 15 minutes
Total Time: 30 mins
Yield: 2–3 servings 1x
Category: Main
Method: Cook
Cuisine: Thai
---
Description
Make a better-than-takeout version of Thai Drunken Noodles made with authentic ingredients!
---
Noodles
8 oz wide rice noodles (about 1/2 a standard package)
2 tbsp vegetable oil
3 garlic cloves, minced
1-inch cube of ginger, minced
1 Thai chili, finely chopped (or more if you like it really spicy)
1 small onion, chopped
1/2 red pepper, chopped
2 large handfuls of Thai basil leaves
1 green onion, sliced
Crushed peanuts and a lime wedge to top (optional)
Sauce
---
Instructions
Cook the rice noodles in a pot of hot water for 2-3 minutes until al dente. They should be a bit hard in the center, and not cooked fully through.
Heat the vegetable oil in a large pan on medium-high heat. Add the garlic and chilli pepper and cook for 1 minute, then add the ginger, onion and pepper and let cook for another 2-3 minutes.
Add the noodles to the pan tossing together and letting cook for 2 minutes, until the noodles start to brown on the bottom slightly.
Reduce the heat to medium and add the sauce and Thai basil leaves mixing everything together.
Lastly, fold in the green onion and mix together, letting cook just slightly for 1 minute.
Serve immediately.
---
Notes
This recipe is made vegetarian/vegan-friendly. If you want to use all traditional ingredients, you can use fish sauce in place of light soy sauce, and regular oyster sauce.
Add in an egg if you like! Crack an egg in the pan after adding in the veggies and mix to scramble before adding in the noodles.
Make sure to use Thai Basil (also known as holy basil) in this recipe! It's not the same as regular basil and can be found at your local Asian grocery store.
Use a large pan to make this recipe to give the ingredients enough space to caramelize.
To make this recipe gluten-free use gluten-free soy sauce.
---
Nutrition
Serving Size: 1/3 of recipe
Calories: 300
Sugar: 5g
Sodium: 700mg
Fat: 9g
Saturated Fat: 2g
Carbohydrates: 48g
Fiber: 3g
Protein: 6g
Keywords: drunken noodles recipe, pad kee mao recipe
If you tried these Thai Drunken Noodles or any other recipe on the blog let me know how you liked it by leaving a comment/rating below! Be sure to follow along on Pinterest, Instagram and Facebook for even more deliciousness!
This post contains affiliate links which means I will make a small commission if you purchase through those links. I only recommend products that I know, trust and love!