Thai Coconut Curry Tofu
This Thai Coconut Curry Tofu is made with Thai red curry paste and coconut milk for a delicious tofu dish that comes together in just 30 minutes! Serve it with jasmine rice, rice noodles or your favourite vegetables!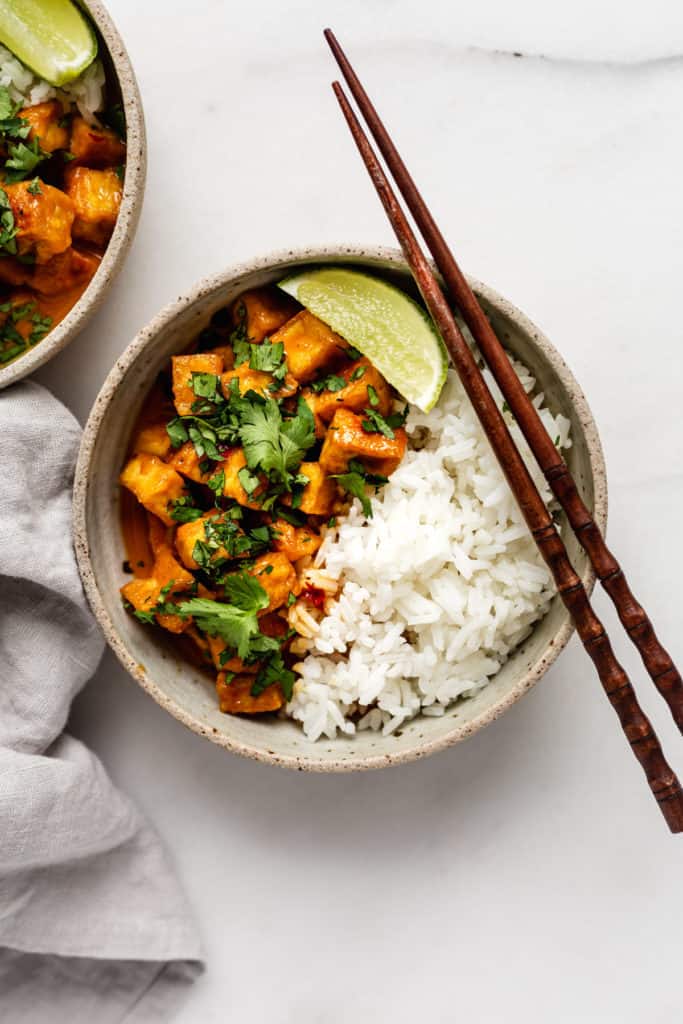 Easy Vegan Coconut Curry
Thai food is my all-time favourite cuisine and I share a lot of Thai-inspired recipes on the blog, like my Vegan Pad Thai and Thai Butternut Squash Soup.
Today we're doing a simple 30-minute vegetarian, vegan and a gluten-free friendly recipe for this Thai Coconut Curry Tofu. You'll be truly amazed at how simple it is to make this dish! You need just a handful of ingredients, a pan and 30 minutes of your time.
This recipe is inspired by a Traditional Thai red curry but made with vegetarian and vegan-friendly ingredients.
Why you'll love this Thai Curry
Better than takeout. No need to order Thai tofu curry for takeout anymore! This tofu curry tastes just as good as one you would order from a restaurant.
Ready in 30 minutes. This recipe is easy to make and ready in just 30 minutes for a quick and simple meal.
Customizable. This recipe can be customized however you like. Add any vegetables you love to this tofu curry!
Best Tofu to use in a Curry
Depending on your preferred texture, you can use extra-firm, firm, medium or soft tofu. Here is the difference you'll get with each type of tofu.
Extra-frim tofu: will be firm and can get crispy when pan-fried before adding to the curry.
Firm tofu: will often become crispy, but has a little more moisture in it than extra-firm tofu. Generally gives a similar result to extra-firm tofu.
Medium tofu: somewhere between firm and soft tofu, medium tofu won't become crispy but is great if you want to add the tofu directly to the curry and like a softer texture.
Soft tofu: this type of tofu is silky and soft when you bite into it. It won't become crispy and can break apart more easily so it needs to be handled delicately. It is delicious if you like a soft texture in your curry.
For this recipe, I use extra-frim tofu for a crispy texture, but you can use any type of tofu you like.
Red Curry Tofu Ingredients
Extra-firm tofu: the base of the recipe. If you like a more pillowy soft texture you can also use soft-medium tofu.
Avocado oil: or any high-temperature cooking oil to fry the tofu.
Coconut milk (from a can): The base of the coconut curry sauce. You can use full-fat or light coconut milk. Full fat will taste better.
Red curry paste: If you are vegetarian or vegan, make sure to check the label. Some brands of curry pastes contain shrimp paste in them.
Soy sauce: Traditionally fish sauce is used, (which you're welcome to use) but to keep this veggie-friendly, we're using soy sauce instead. Use gluten-free soy sauce if needed.
Coconut sugar: A traditional sweetener used in Thailand for curries!
Lime: Used to balance out the flavours
Paprika: Optional, if you want a more vibrant red colour.
How to make this Coconut Curry Tofu
Step 1
Press as much liquid out of the tofu as possible then cut the tofu into cubes.
Step 2
Heat the avocado oil in a large pan on medium-high heat then add the cubed tofu and cook for 3-4 minutes on each side until golden brown.
Step 3
Add the curry paste to a saucepan on medium-high heat and let it toast for 30 seconds, then add the coconut milk and bring to a boil so the sauce begins to thicken. Then reduce the heat and add the soy sauce, coconut sugar, lime juice and paprika and mix.
Step 4
Add the tofu to the curry sauce and mix everything together until the tofu is coated in the curry.
Step 5
Serve the tofu curry right away for the best taste. The curry can be served on its own or with your rice. For an authentic experience make sure to use jasmine rice or sticky rice.
Vegetables you can add to this curry
There are so many different delicious vegetables that can be added to a Thai curry if you want to get a little more vegetables into your meal. Here are a few of my favourites.
Eggplant
Cauliflower
Broccoli
Chinese broccoli
Snap peas
Green beans
Potato
Bell peppers
Carrots
Mushrooms
Kale
Bamboo shoots
Bok choy
How to store and freeze leftovers
Fridge: store leftover curry in the fridge in an airtight container for up to 3 days. Reheat the curry in the microwave or in a pan on the stove.
Freezer: to freeze the curry, let it cool completely then transfer it to an airtight container. Freeze for up to 2 months. To defrost the curry let it thaw on the countertop and reheat in the microwave or on the stove.
Expert Tips for making Thai Coconut Curry Tofu
Use a non-stick pan to cook the tofu and don't try and flip the pieces too quickly, otherwise, they can stick to the pan. Each side should be golden brown before you flip and cook the next side.
The tofu will naturally lose some of its crispiness the longer it sits in the curry sauce. If you prefer the tofu crispy, serve and eat it right away after adding it to the curry sauce.
If adding vegetables to this dish, I recommend to sautee them in a pan with a touch of oil for 2-3 minutes until slightly tender. Then add them to the curry sauce with the tofu.
Traditional coconut curries in Thailand have a loose (more liquidy) sauce. If you prefer a thicker sauce, simply boil the sauce on medium-high heat stirring constantly until it begins to thicken, then proceed to add the tofu.
Vegan Coconut Curry FAQs
Does coconut curry taste like coconut?
Because coconut curry has so many strong flavours in it, it doesn't really taste too strong of coconut. The coconut milk flavour is very mild and you will mostly taste the curry paste and seasoning. However, if you are someone who really doesn't like coconut, this curry might not be for you.
Is coconut curry Thai or Indian?
Most coconut curries are Thai. Thai cuisine uses coconut milk in most of its curry recipes, while Indian curries often use ghee or cream.
Do you have to cook tofu before adding it to curry?
Tofu does not need to be cooked before adding it to the curry, however, if using a firm or extra-firm tofu, it will taste better to pan-fry the tofu before adding it to the curry. If you are using soft tofu, you can add it in directly.
Can curry powder be used instead of curry paste?
No. I don't recommend using curry powder instead of curry paste. Curry paste is more concentrated and has more moisture in it from wet ingredients like lime, oil, and chillies, while curry powder is made with dried ground spices.
Curry paste and curry powder also have different flavour profiles, since they contain different ingredients and spices. If you use curry powder in this recipe instead of curry paste, you'll end up with a final dish that tastes completely different.
If you tried this Thai Coconut Curry Tofu or any other recipe on the blog let me know how you liked it by leaving a comment/rating below! Be sure to follow along on Pinterest, Instagram and Facebook for even more deliciousness!
Print
Thai Coconut Curry Tofu
Author: Jessica Hoffman
Prep Time: 15 minutes
Cook Time: 15 minutes
Total Time: 30 minutes
Yield: 4 servings 1x
Category: Main
Method: Cook
Cuisine: Thai
Diet: Vegan
---
Description
This Coconut Curry Tofu comes together in 30 minutes and is made Thai flavours!
---
---
Instructions
Heat the oil in a large non-stick pan on medium-high heat.
Add the tofu to the pan and cook for 3-4 minutes on each side, until golden brown.
Heat a separate saucepan on medium-high heat and add the curry paste, letting toast for 30 seconds then add the coconut milk and stir to combine.
Bring the mixture to a boil stiring constantly for 3-4 minutes until the sauce thickens just slightly.
Reduce to low heat, and add the soy sauce, coconut sugar, lime juice and paprika, mixing everything together. Taste and adjust seasoning if needed.
Add the cooked tofu to the pan with the curry sauce and mix together.
Serve with rice and fresh cilantro.
---
Notes
Store leftovers in the fridge for up to 3 days or in the freezer for up to 3 months. 
Add any vegetables you love to this curry.
---
Nutrition
Serving Size: 1/4 of recipe
Calories: 250
Sugar: 3g
Sodium: 500mg
Fat: 25g
Carbohydrates: 7g
Fiber: 1g
Protein: 5g
Keywords: Vegetarian Thai curry, coconut curry with tofu
This post contains affiliate links which means I will make a small commission if you purchase through those links. I only recommend products that I know, trust and love!