15-Minute Sesame Noodles
These 15-Minute Sesame Noodles are perfect for a quick and easy dinner with minimal cleanup! These stir-fried noodles come together in no time and can be easily customized by adding your favourite vegetables or protein.
What are sesame noodles?
There's nothing better when you want a quick dinner than Asian noodle recipes. Especially when it's a recipe that comes together in just 15 minutes like these Sesame noodles.
Sesame noodles are a simple stir-fried Asian noodle dish made with sesame oil, sesame seeds and tahini. You could also make this recipe with Chinese sesame paste if you have that on hand, but I find tahini easier to find at most grocery stores. (Plus it's delicious in this recipe and can be used in other recipes like these Tahini Cookies.)
There are many different variations of sesame noodles that use different types of noodles and different stir-fry sauces. These 15-Minute Sesame Noodles are made with rice noodles and are creamy, savoury and just a little bit spicy.
Why you'll love these tahini noodles
Ready in 15 minutes. I mean, what could be better than having dinner ready in 15 minutes? This recipe is easy to make and can be made in just one pan.
Easy to customize. Feel free to add anything you love to these sesame tahini noodles! Your favourite veggies or protein sources like tofu, egg or chicken all work great.
Gluten-free and vegan-friendly. This recipe is naturally gluten-free and vegan-friendly and is a total crowd-pleaser! (Just use agave or maple syrup in place of honey for the vegan version.)
Best types of rice noodles to use
There are many different variations and types of rice noodles you may find at the supermarket or grocery store. So let's go over some options that would work well in this recipe.
Pad Thai noodles. These are the type of rice noodles pictured in this recipe. These noodles are the most classic rice noodle you'll find at most grocery stores and are thin, but not too thin.
Wide rice noodles. These can also sometimes be called Pad See Ew noodles and are wider than Pad Thai noodles. These also work well and are delicious in this recipe!
Rice spaghetti noodles. These you may find in the Pasta section at your grocery store and are just spaghetti noodles made from rice. This is another good option to use.
Tip: you want to avoid using vermicelli noodles in this dish, as they are too thin and won't taste as good as the rice noodles suggested here.
Sesame noodle ingredients
Rice noodles: I use Pad Thai rice noodles for this recipe which have a great texture!
Scallions: also called green onions, scallions give a delicious flavour to sesame noodles.
Garlic: make sure to use fresh garlic in this recipe. This will add a lot of flavour to the dish.
Sesame stir-fry sauce: the stir-fry sauce is made from tahini, sesame oil, tamari, rice vinegar, honey and sriracha.
Sesame seeds: we can't make sesame noodles without stopping them off with some toasted sesame seeds!
How to make sesame noodles
Step 1
Heat some oil in a large skillet on medium-high heat. Then add the scallions and garlic and sauteé for one minute.
Step 2
Cook the rice noodles according to package directions, leaving them slightly undercooked. Add the cooked rice noodles to the skillet.
Step 3
Prepare the stir-fry sauce and add it to the skillet.
Step 4
Mix everything together on medium-heat until combined. Add 2-4 tablespoons of water as needed to help loosen up the noodles and prevent them from sticking.
Step 5
Serve topped with scallions and sesame seeds.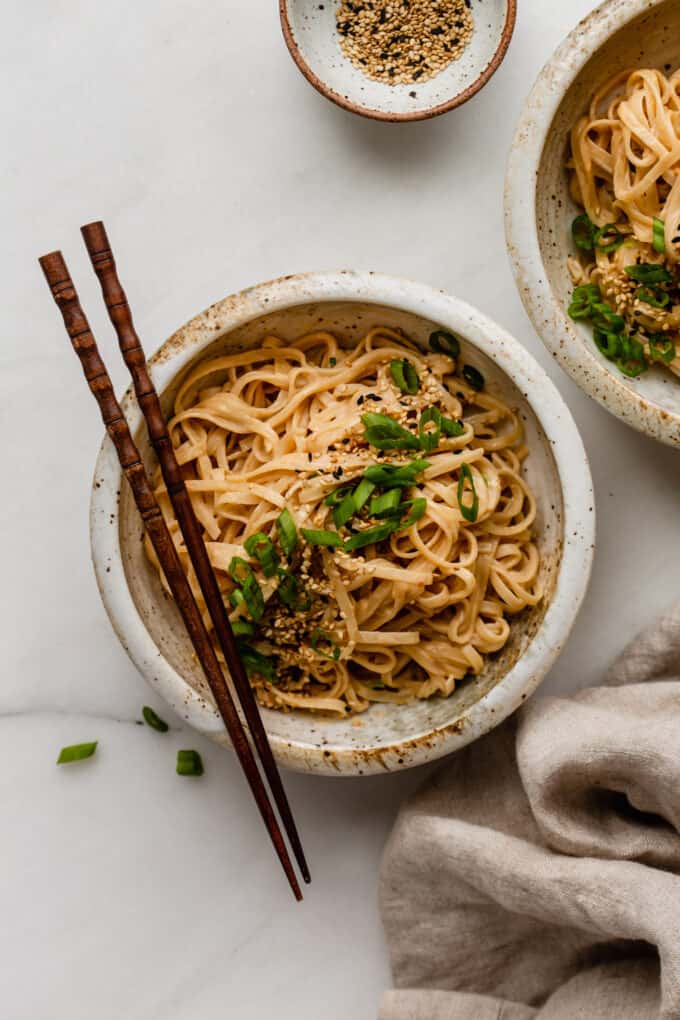 Optional add-ins
When it comes to add-ins for these Sesame Noodles, the options are endless! You can customize this dish however you like. Here are some suggestions (both vegetarian and non-vegetarian) to get you started.
VEGETABLES:
Broccoli
Chinese broccoli
Bok choy
Bean sprouts
Garlic sprouts
Carrots
Red pepper
Garlic sprouts
Mushrooms
Snow peas
Edamame
PROTEIN:
Tofu
Tempeh
Shrimp/prawns
Chicken
Beef
Pork
Scrambled egg
How to store and reheat rice noodles
Store leftovers of this sesame noodle recipe in an airtight container in the fridge for up to 3 days.
To reheat these noodles, add them to a pan on the stovetop with a small splash of water and cook on medium heat until the noodles start to break apart and are warmed through. You can also reheat these noodles directly in the microwave but still may need to add a splash of water to help the noodles separate.
Expert tips for making this recipe
Undercook the rice noodles before adding them to the pan. Rice noodles are quite thin and cook up very quickly. The noodles will continue to cook when stir-frying them in the pan, so it is best to uncook the noodles slightly. This way you won't end up with overcooked mushy noodles.
Prepare the stir-fry sauce first. Start by preparing the stir-fry sauce so it's easy to add it to the stir-fry right away and evenly coat all the noodles.
Cook the noodles on medium heat. Rice noodles can stick to the pan easily on high heat, so cook the noodles on medium or medium-low heat.
Serve immediately. Rice noodles tend to get sticky and clumpy the longer they sit. This dish is best enjoyed when served immediately after cooking.
Sesame noodles FAQ
Are sesame noodles gluten-free?
Yes! Sesame noodles are made from rice noodles which are naturally gluten-free.
Are sesame noodles good for you?
These sesame noodles are part of a healthy balanced diet. Each serving has 400 calories, 4 grams of fibre and 9.5 grams of protein.
What Country is sesame noodles from?
Sesame noodles originated in China and are a Chinese dish. Though there are many different variations of the dish now.
What do you serve with sesame noodles?
Sesame noodles can be served on their own, or with some soup, salad, or your favourite protein on the side.
Try these noodle recipes next!
If you tried these 15 Minute Sesame Noodles or any other recipe on the blog let me know how you liked it by leaving a comment/rating below! Be sure to follow along on Pinterest, Instagram and Facebook for even more deliciousness!
Print
15-Minute Sesame Noodles
Author: Jessica Hoffman
Prep Time: 5 minutes
Cook Time: 10 minutes
Total Time: 15 minutes
Yield: 2 servings 1x
Category: Main
Method: Stir-fry
Cuisine: Asian
Diet: Vegetarian
---
Sauce
Noodles
1/2 pack rice noodles (approx 7oz)
1 tbsp avocado oil (can sub vegetable oil)
2 scallions, chopped
2 garlic cloves, finely chopped
2–4 tbsp water
sesame seeds to top (optional)
---
Instructions
Prepare the sesame sauce by mixing the sauce ingredients together in a bowl. Set aside.
Cook the rice noodles according to package directions, but leave them slightly undercooked. (They'll cook more in the pan with the sauce.)
Heat the avocado oil in a large non-stick skillet on medium-high heat add the scallions and garlic and let cook for 1-2 minutes.
Reduce the heat to medium, then add the rice noodles and sesame sauce to the pan and mix everything together. Add 2-4 tbsp of water to the pan to help prevent the noodles from sticking and mix.
Serve immediately. Optionally top with sesame seeds and sliced scallions.
---
---
Nutrition
Serving Size: 1/2 of the recipe
Calories: 400
Sugar: 7g
Fat: 20g
Carbohydrates: 44g
Fiber: 4g
Protein: 9.5g
Keywords: sesame noodles, tahini noodles, asian sesame noodles
This post contains affiliate links which means I will make a small commission if you purchase through those links. I only recommend products that I know, trust and love!