15 Minute Asian Garlic Noodles
These 15 Minute Asian Garlic Noodles will make your tastebuds dance! They're salty, savoury, sweet and just a tad spicy. This recipe is perfect for a busy weeknight when you need dinner on the table fast and can be made vegan and gluten-free.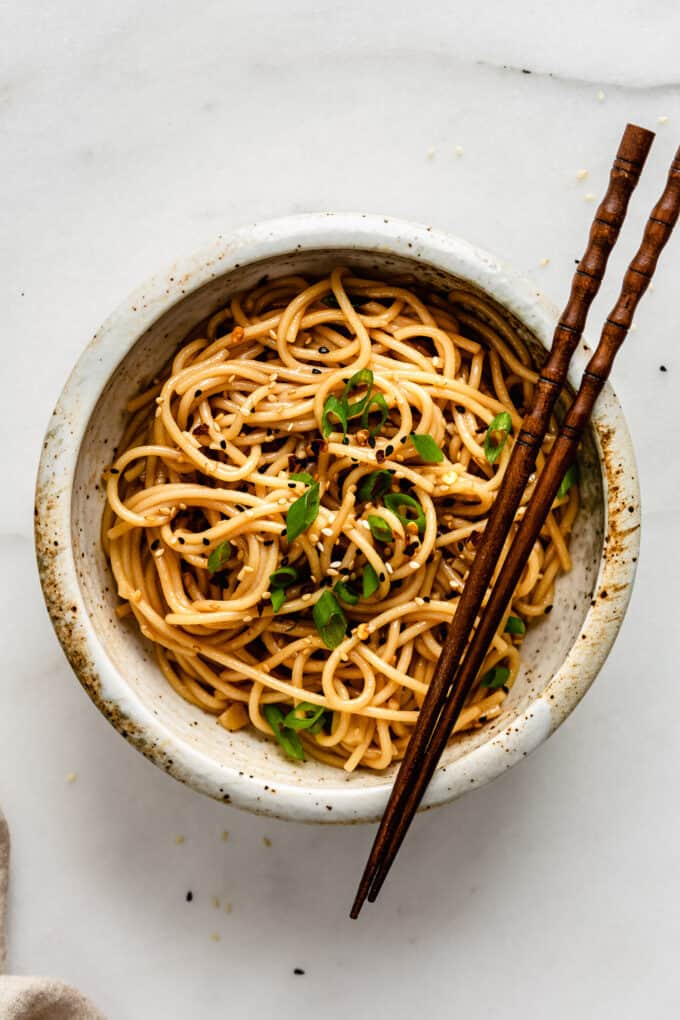 What are garlic noodles?
When I want dinner on the table fast, noodles are always my go-to. Asian noodle recipes make for a perfect quick and easy meal with minimal clean-up. I'm especially a fan of 15-minute noodle recipes like my Sesame Ginger Noodles and Teriyaki Noodles because what could be better than a meal ready in just 15 minutes?
Garlic Noodles are an Asain Fusion dish that originated in the 1970s by chef Helen An who worked at Thanh Long restaurant in San Fransisco.
The dish is made by stir-frying noodles together with garlic, oyster sauce and a variety of other ingredients to give the dish an umami flavour. There are many different variations of the dish, some made with butter, brown sugar and parmesan cheese and others made without these ingredients. The key is to have a salty, sweet and savoury element in the dish.
This recipe for Asian Garlic Noodles is made to be a simple and healthy recipe featuring garlic, green onions and an Asian stir-fry sauce.
Why you'll love these garlic noodles
Use any type of noodles. This recipe can be made with any kind of noodles you have on hand so you don't need to make a special trip to the grocery store. Spaghetti, rice noodles, ramen noodles, any kind will be delicious!
Packed with flavour. These noodles are salty, savoury, sweet and just a bit spicy and will make your tastebuds dance! Oh, and of course, they are also super garlicky!
Ready in 15 minutes. This recipe comes together in just 15 minutes. So it's perfect to make on a busy weeknight when you're pressed for time, or just not in the mood to deal with cooking.
Stores well. These noodles store well in the fridge, so you can enjoy leftovers for lunch or dinner the next day.
Garlic noodle ingredients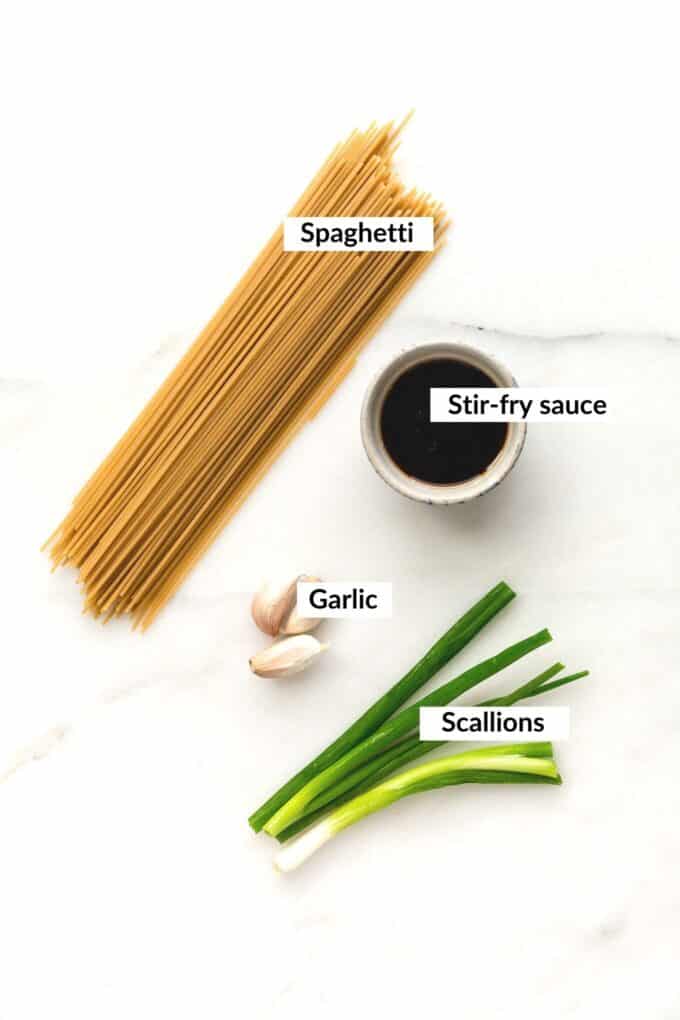 Noodles: for this recipe, I use gluten-free brown rice spaghetti, but you can use regular spaghetti, rice noodles, ramen noodles or any other type of noodles you love.
Garlic: Can't make garlic noodles without garlic! Use fresh garlic for this recipe.
Scallions/green onions: these add some extra delicious flavour to the garlic noodle stir-fry.
Stir-fry sauce: the sauce is made with a combination of soy sauce, oyster sauce, honey, sesame oil and sriracha.
Best types of noodles to use
For this recipe, I use brown rice spaghetti which is made from rice but has the same texture as wheat spaghetti. Rice spaghetti has more of a bite to it and that al dente texture than typical Asian rice noodles, which is delicious for this recipe, but you can really use any kind of noodles.
Here are some noodles you can use for this dish
Asian rice noodles
Spaghetti
Ramen Noodles
Udon noodles
Soda noodles
Chinese egg noodles
How to make garlic noodles
Step 1
Cook the noodles according to package directions. Once the noodles are cooked, heat the oil in a large skillet then add the garlic and scallions and cook for 1-2 minutes until browned. Then add in the noodles
Step 2
Add the stir-fry sauce to the pan and toss everything together on medium-high heat until the noodles are evenly coated.
Step 3
You can optionally serve these noodles with some sesame seeds and chilli flakes on top which is delicious. You can also serve this with a sprinkle of parmesan cheese, (for a vegetarian version) which may sound odd but trust me, is delicious!
How to store and reheat leftovers
Store any leftover noodles in an airtight container in the fridge for up to 5 days. Reheat the noodles in the microwave or in a pan on the stovetop. If the noodles stick together when reheating, add a small splash of water to the noodles to help them separate.
Expert tips for making garlic noodles
If using spaghetti, salt your pasta water to flavour the pasta. This will add flavour to the overall dish.
Don't cook the garlic on high heat. You don't want to brown the garlic for this recipe, you just want it to slightly cook before adding the noodles.
Prepare the stir-fry sauce in advance. This will make it easier to add to the noodles and make sure all the noodles are evenly coated rather than measuring and adding the individual sauces to the pan.
Add any veggies or protein you love. This recipe is versatile and can be customized by adding any vegetables or protein you love to the dish.
Asian Garlic Noodles FAQ
Are garlic noodles healthy?
Yes. Overall this is a healthy recipe and can be made healthier by using whole-wheat noodles and adding vegetables.
What vegetables can I add to garlic noodles?
Some great vegetables to add to these noodles are bok choy, Chinese broccoli, broccoli, spinach, kale, shredded carrots, bean sprouts, red bell pepper and mushrooms.
What protein goes with garlic noodles?
These garlic noodles go well with just about any type of protein! Try adding some tofu, shrimp, chicken or beef.
Where can I find oyster sauce?
You can find oyster sauce at most large chain grocery stores in the Asian section or at your local Asian supermarket. You can also order oyster sauce online from amazon.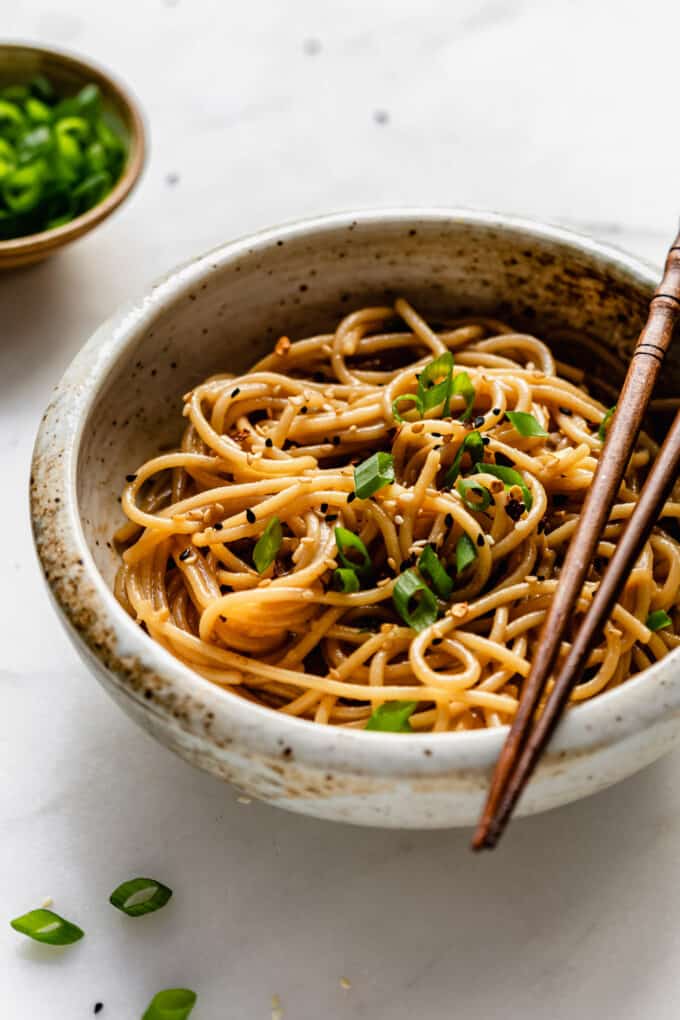 More noodle recipes to try
If you tried these 15 Minute Garlic Noodles or any other recipe on the blog let me know how you liked it by leaving a comment/rating below! Be sure to follow along on Pinterest, Instagram and Facebook for even more deliciousness!
Print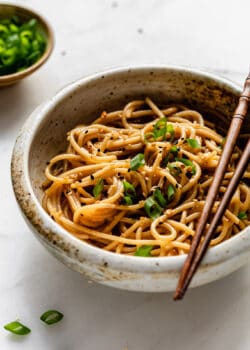 15 Minute Garlic Noodles
Author: Jessica Hoffman
Prep Time: 5 minutes
Cook Time: 10 minutes
Total Time: 15 minutes
Yield: 4 servings 1x
Category: Main
Method: Cook
Cuisine: Asian
Diet: Vegetarian
---
Description
15 Minute Garlic Noodles are the best noodles to make at home when you need a quick and easy meal ready fast that also happens to be super delicious! 
---
Noodles
8 oz spaghetti (can sub any noodles you like)
2 tbsp butter or vegetable oil
6 garlic cloves, finely chopped
2 scallions, chopped
sesame seeds & chili flakes to garnish (optional)
Stir-fry sauce
---
Instructions
Cook the spaghetti according to package directions. 
Heat the olive oil in a skillet then turn the heat to medium-low and add the garlic and scallions. Cook for 2-3 minutes until fragrant. 
Add the spaghetti and stir-fry sauce and mix together until combined. 
Optionally top with sesame seeds and chili flakes and serve. 
---
Notes
If using spaghetti, make sure to salt the pasta water to flavour the noodles. 
Store leftovers in an airtight container in the fridge for 5 days.
---
Nutrition
Serving Size: 1/4 of the recipe
Calories: 252
Sugar: 4g
Sodium: 300mg
Fat: 8g
Saturated Fat: 1g
Carbohydrates: 36g
Fiber: 2g
Protein: 4.5g
Keywords: garlic noodles recipe, asian garlic noodles, vegetarian garlic noodles, spicy garlic noodles
This post contains affiliate links which means I will make a small commission if you purchase through those links. I only recommend products that I know, trust and love!