Ho Fun Noodles
This Ho Fun Noodles recipe (also sometimes called "ho fan" noodles) is easy to make and comes together in just 20 minutes for a quick and simple weeknight dinner recipe that everyone is guaranteed to love! This recipe is also customizable so you can add any vegetables or protein you love to the dish.
What are Ho Fun Noodles?
Ho Fun Noodles also called Ho Fan Noodles is a type of Chinese noodle dish made with wide flat rice noodles that originated in Hong Kong and Southen China that is often seen in Cantonese cuisine. In North America, the dish is also sometimes called chow fun.
While we usually see wide rice noodles in dishes like pad see ew, they're equally as delicious in this Chinese-inspired dish!
Ho Fun/Ho Fan/Chow Fun (call it whichever you like!) is made by lightly stir-frying wide rice noodles together with some vegetables, sometimes some protein like beef, and stir-fry sauce. This version of Ho Fun Noodles is vegetarian, so it uses shiitake mushrooms in place of beef.
Why you'll love this Ho Fun Noodle recipe
Ready in 20 minutes. This Stir-fried flat rice noodle recipe is a no-fuss easy-to-make weeknight (or weekend) dinner that is ready to enjoy in just 20 minutes.
Vegetarian, vegan and gluten-free friendly. This recipe is a great option to suit a variety of diets. If you prefer to add any meat to this dish though you can go ahead!
Easy to customize. One of my favourite things about this Ho Fun Noodles recipe is that it's so easy to customize! You can add whatever veggies, protein or mix-ins you love.
Types of flat rice noodles to use
There are a couple of different types of flat rice noodles out there that you can use for this recipe, so let's go over the different options.
Fresh flat rice noodles: this type of rice noodle is sold in the refrigerator section at most Asian grocery stores. These noodles are soft and already cooked. If using fresh rice noodles you can add them directly to the stir fry.
Dried flat rice noodles. this type of rice noodle is more common and can be found at most grocery stores in the Asian section. These noodles are sold dry and need to be boiled or soaked in hot water before adding to the stir fry.
Ho fun (ho fan) noodle ingredients
Wide rice noodles: one of the unique elements of ho fun noodles is the type of noodles used to make the dish. They're made with wide rice noodles, rather than thin rice noodles like you would see in a Pad Thai.
Green onions: this gives a delicious flavour to the ho fan noodles. I definitely recommend green onions, also called scallions vs. another type of onion.
Garlic: make sure to use fresh garlic for the best taste and flavour.
Shiitake mushrooms: these give the noodle dish a delicious umami flavour and give them some texture and body in place of using beef.
Bok choy: I like to use boy choy as the vegetable in these stir-fried flat rice noodles, but you can use any vegetable you love like broccoli, Chinese broccoli or kale.
Bean sprouts: this ingredient is optional but for a little extra something!
Stir fry sauce: the stir-fry sauce for these noodles is made up of soy sauce, vegetarian oyster sauce (feel free to use regular oyster sauce if you prefer) and a little sesame oil.
How to make Ho Fun Noodles
Step 1
Heat some avocado oil or vegetable oil in a large pan or wok on medium-high heat, then add the green onions (scallions) and garlic and sauteé for 1 minute. Then add the mushrooms and sautee for another couple of minutes.
Step 2
Next add the boy choy and sauteé for another 2-3 minutes until the bok choy starts to cook down. (You'll notice the bok choy shrinks in size a lot after being cooked like in the image below.) Then add in cooked rice noodles and bean sprouts.
Step 3
Pour in the stir fry sauce and mix everything together on medium heat until combined. If the noodles start sticking to the bottom of the pan, add a little splash of water to the pan to help them unstick.
Step 4
Serve the ho fun noodles immediately after cooking and top with some sliced green onions. I also like to add a sprinkle of sesame seeds on top!
How to store and reheat flat rice noodles
Store leftovers of this ho fun/ho fan noodle recipe in an airtight container in the fridge for up to 3 days.
To reheat these noodles, add them to a pan on the stovetop with a small splash of water and cook on medium heat until the noodles start to break apart and are warmed through. You cal also reheat these noodles directly in the microwave.
Tips for making this recipe perfectly
Slightly undercook the rice noodles. You want the rice noodles to still have a slight bite to them, so boil them for slightly less time than recommended on the package. The noodles will continue to cook as you stir-fry them, so if you boil them too long you'll end up with mushy noodles.
Prepare the veggies and sauce before stir-frying. Making stir-fried noodles is a quick process, so make sure all vegetables are cut up and the stir-fry sauce is prepared beforehand. This will make stir-frying the noodles a quick and easy process!
Add any protein you love. If you want to add any protein to this dish, add it after sauteéing the onions, garlic and mushrooms. Once your protein is cooked then add the bok choy and noodles and stir fry sauce.
Ho Fun Noodles FAQ
What is the difference between chow mein and ho fun?
The biggest difference between these two dishes is that chow mein is made with thin egg noodles and ho fun is made with wide flat rice noodles. These noodle dishes also have different sauces.
What is the difference between mei fun and ho fun?
Mei fun is made with thin rice noodles (vermicelli) and ho fun is made with wide rice noodles.
Are ho fun noodles vegan?
This recipe for ho fun noodles is vegan-friendly since it's not made with any meat or animal products.
Are ho fun noodles gluten-free?
This ho fun noodle recipe is gluten-free as long as you make sure to use gluten-free soy sauce or substitute the soy sauce in the recipe with tamari
Try these noodle recipes next!
If you tried these Ho Fun Noodles or any other recipe on the blog let me know how you liked it by leaving a comment/rating below! Be sure to follow along on Pinterest, Instagram and Facebook for even more deliciousness!
Print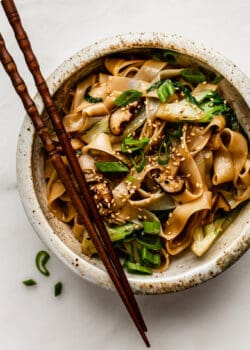 Ho Fun Noodles
Author: Jessica Hoffman
Prep Time: 10 minutes
Cook Time: 10 minutes
Total Time: 20 minutes
Yield: 2–4 servings 1x
Category: Main
Method: Stir fry
Cuisine: Chinese
Diet: Vegetarian
---
Description
A simple and easy Ho Fun Noodle recipe that is ready in just 20 minutes!
---
Noodles
8 oz wide rice noodles (approx 1/2 standard package)
2 tbsp avocado oil (can sub vegetable oil)
2 garlic cloves, minced
3 green onions, finely chopped
1 cup shiitake mushrooms, sliced
3 cups baby bok choy, chopped
1 cup bean sprouts
Stir fry sauce
2 tbsp soy sauce (sub tamari for gluten-free)
2 tbsp vegetarian oyster sauce
1/2 tsp sesame oil
---
Instructions
Cook the rice noodles in a pot of hot water for 2-3 minutes until al dente. They should be a bit hard in the center, and not cooked fully through.
Heat the vegetable oil in a large pan on medium-high heat. Add the garlic and green onion and cook for 1 minute. Then add the shiitake mushrooms and cook for another 1-2 minutes, then add the bok choy and cook for another 2-3 minutes.
Lower the heat to medium and add the noodles, beansprouts and stir fry sauce to the pan and mix everything together until combined. If the noodles begin to stick to the pan, add a small splash of water and mix.
Serve immediately.
---
Notes
Store leftovers in an airtight container in the fridge for up to 3 days. Reheat in the microwave or stovetop. 
Add any protein or veggies you love to this dish.
---
Nutrition
Serving Size: 1/3 of the recipe
Calories: 300
Sugar: 5g
Sodium: 500mg
Fat: 9g
Saturated Fat: 1g
Carbohydrates: 48g
Fiber: 4.5g
Protein: 7g
Keywords: ho fun noodles, ho fan noodles, flat rice noodles
This post contains affiliate links which means I will make a small commission if you purchase through those links. I only recommend products that I know, trust and love!