Best Ramen Noodle Stir-Fry
This Ramen Noodle Stir Fry comes together in just 15 minutes for a delicious quick and easy meal! It's made of 10 simple ingredients and can be modified to add in any veggies, protein or toppings you love!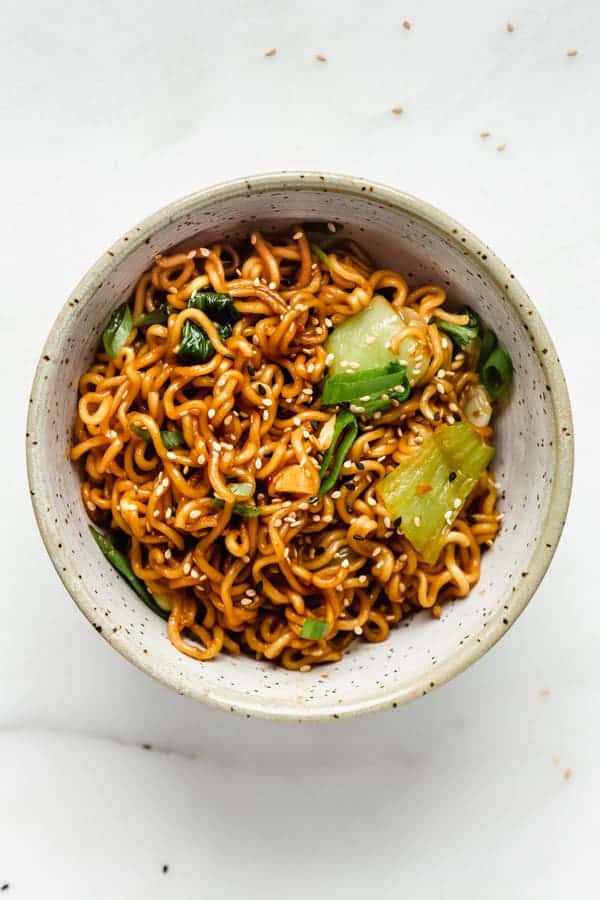 Fried ramen noodles
If you know me then you know I love noodle recipes. Anything from Indonesian Noodles to Pad Thai to Korean Spicy Noodles are always quick and easy to make and perfect for those days when you don't want to fuss around with cooking and spending too much time in the kitchen.
Ramen noodles are traditionally used in soup, but they are delicious and used in other ways like crumbled in Asian salads, or stir-fried with a great sauce and some veggies.
Today there are tons of different varieties of Ramen noodles you can get. The most common are the dried ramen noodle packets, which you can find at most grocery stores. Some specialty stores will also carry gluten-free ramen noodle packs or fresh ramen noodles. All types will work well in this dish!
Why you'll love these Ramen Noodles
A different way to use Ramen noodles. You'll love that you can use ramen noodles in a different way other than just cooking them up in some soup!
Ready in 15 minutes. This recipe is quick and easy to make, so it's perfect for those busy weeknights when you don't have a lot of time to make dinner.
Easy to customize. This stir fry can be modified in any way you like! You can add your favourite toppings like fried onions, cilantro or crushed peanuts, or add in some other veggies or even some tofu!
Stir Fry Ramen Noodles Ingredients
Vegetable oil: You want to high-heat oil for stir-frying that won't burn in the pan. Vegetable oil, sunflower oil, avocado oil and canola oil are all good options.
Green onions: Green onions (also called scallions) have a milder taste than regular onions and give the stir fry a delicious flavour.
Garlic: Make sure to use fresh garlic. The recipe won't taste as good if you substitute for dried or powdered.
Bok choy: This gives the stir fry some greens and nutrients. Bok Choy is a type of Chinese cabbage that is packed with vitamins. You can substitute Chinese broccoli or any other leafy green vegetable you love.
Sesame seeds: These are used to garnish the stir fry and give a little flavour and crunch. I recommend using toasted sesame seeds.
Dark soy sauce: This type of soy sauce is richer and sweeter than regular soy sauce and gives great flavour to stir-fries. You can find dark soy sauce at your local Asian grocery store.
Regular soy sauce: This has a saltier taste than dark soy sauce. These two types of soy sauces are often used together in stir-fries to create more depth.
Sweet chili sauce: This sauce gives both a sweet and sour taste to the stir fry and helps balance everything out. You can find sweet chili sauce at most grocery stores.
Sambal Oelek: For a little bit of heat! You can also use sriracha if you prefer.
How do you pan-fry ramen noodles?
Ramen noodles are easy to pan-fry (or stir-fry)
Just boil the noodles in hot water for 1-2 minutes until the noodles start to soften and come apart. They should be slightly al dente (still have a slight bite to them.)
Then toss them in a pan with some oil or your favourite sauce.
Tip: If using fresh ramen noodles, you will only need to boil them for 30-60 seconds before tossing them in the Stir Fry.
How To Make Ramen Noodles
Step 1
Chop up the bok choy then sautee it in a pot on medium-high heat with some garlic.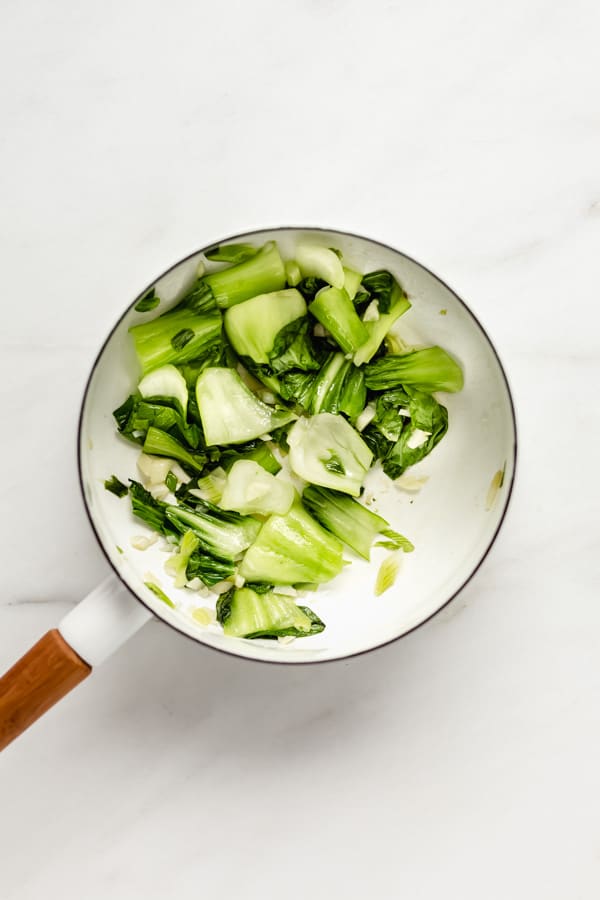 Step 2
Boil the ramen noodles for 1-2 minutes just until they start to soften and break apart. Then add the noodles to the pot along with the stir-fry sauce.
Step 3
Toss everything together until evenly coated. If the noodles start to stick to the pan, add a splash of water or vegetable broth and mix it all up.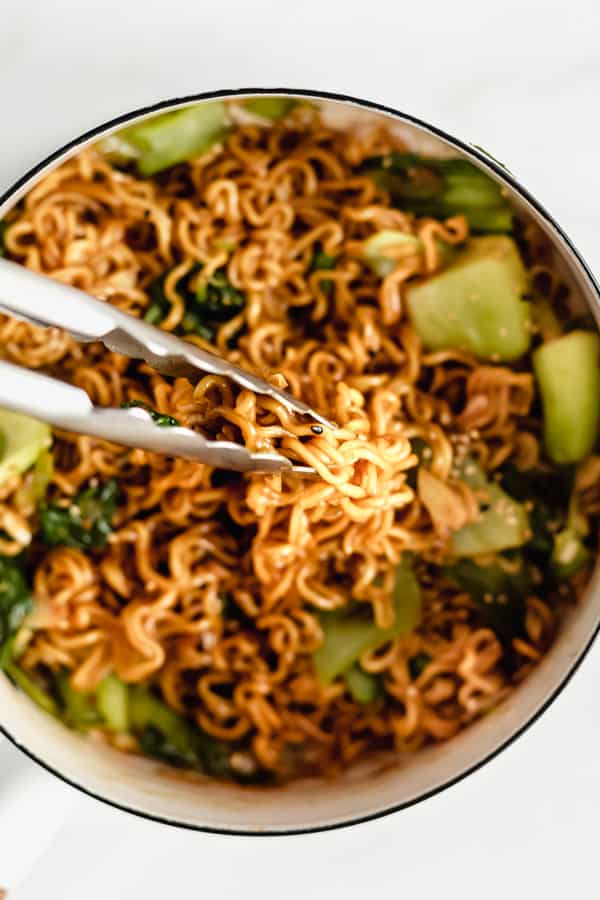 Serve these noodles topped with some toasted sesame seeds and sliced green onions.
Toppings for Ramen
There are many different ways you can top off this Ramen Noodle Stir Fry if you want some extra garnishes. Here are a few of my favourites:
Sliced scallions
Cilantro
Seaweed
Fried egg
Sriracha
Kimchi
Pickled ginger
What to Serve with ramen stir fry
There are so many things you can serve up with your ramen noodles! You can absolutely enjoy them on their own, or you serve them as a side dish with your choice of protein and some extra veggies. Here are some of my favourite recipes to enjoy with this dish:
Expert tips for making this recipe
Chop up the bok choy into bite-sized pieces. This way it'll get evenly distributed with the noodles and you'll get some bok choy in every bite! You can alternatively use Chinese broccoli, snow peas, regular broccoli or any green vegetable you like in this recipe!
Don't overcook the ramen noodles. Boil them just until they come apart and have a slight bite to them. The noodles will continue to cook slightly as you stir-fry them. Ramen noodles should have a chewy texture in the end and not be soggy.
Serve immediately. Noodles dishes are best enjoyed right away while they're still hot and the sauce is still saucy.
If you tried this Ramen Noodle Stir Fry or any other recipe on the blog let me know how you liked it by leaving a comment/rating below! Be sure to follow along on Pinterest, Instagram and Facebook for even more deliciousness!
Print
Ramen Noodle Stir Fry
Author: Jessica Hoffman
Prep Time: 5 minutes
Cook Time: 10 minutes
Total Time: 15 minutes
Yield: 2–4 servings 1x
Category: Main
Method: Stir Fry
Cuisine: Asian
Diet: Vegan
---
Description
This Ramen Noodle Stir Fry comes together in just 15 minutes for a quick and easy meal!
---
1 tbsp vegetable oil
2 green onions, chopped
4 garlic cloves, finely chopped
1 cup bok choy, chopped
2 packs of ramen noodles (any type you like, gluten-free if needed)
2 tbsp sesame seeds
Sauce
---
Instructions
Heat the vegetable oil in a pot or pan on medium-high heat, then add the green onions, garlic and bok choy. Cook for 3-4 minutes until the bok choy is tender.
While the bok choy is cooking, mix the sauce ingredients together in a small bowl.
Boil the ramen noodles just until they begin to come apart and are slightly soft, then drain and add the noodles and sauce to the pot, mixing everything together on medium heat for 2-3 minutes. 
Serve topped with some sesame seeds and sliced green onions
---
Notes
*To make this recipe gluten-free, make sure to use gluten-free noodles and soy sauce 
Chop up the bok choy into bite sized pieces so it gets evenly distribuited in the noodles. 
Boil the ramen noodles just until al dente. They'll continue to cook slightly as you stir fry them. 
This dish is best served right away. 
---
Nutrition
Serving Size: 1/4 of recipe
Calories: 240
Sugar: 5g
Sodium: 500mg
Fat: 12g
Saturated Fat: 2g
Carbohydrates: 26g
Fiber: 2g
Protein: 4.8g
Keywords: ramen noodle recipe, vegan ramen noodles, ramen noodle stir fry
This post contains affiliate links which means I will make a small commission if you purchase through those links. I only recommend products that I know, trust and love!