Mediterranean Quinoa Salad
This recipe for Mediterranean Quinoa Salad will quickly become a staple in your kitchen. It's perfect to enjoy on its own, bring to a potluck, or as a side! It gets even more delicious as it sits and is made with simple ingredients.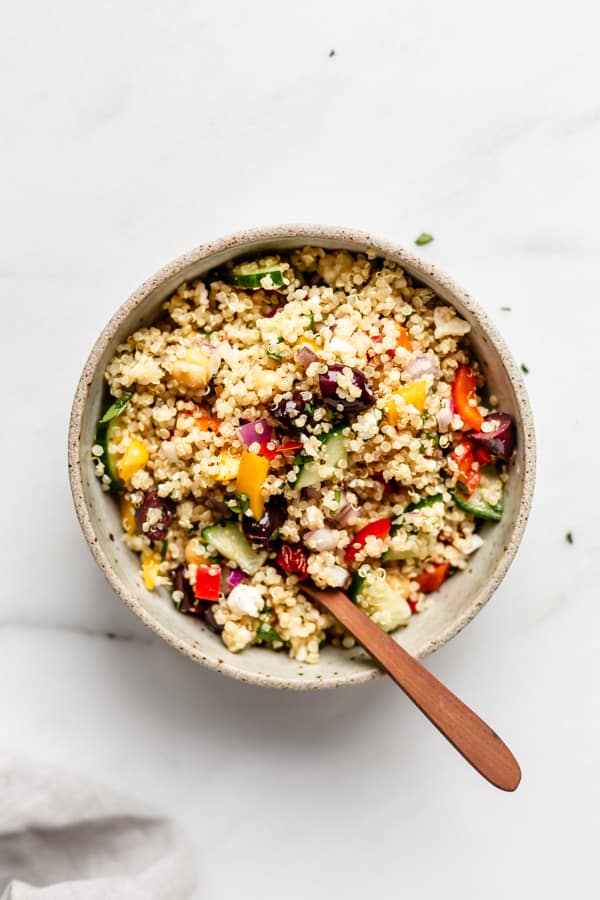 A healthy quinoa salad recipe everyone will love
If there's one type of food I eat on the reg it's definitely quinoa. I usually take some time on Sundays to do some meal prep, which ALWAYS includes preparing a pot of quinoa. This way I know I'll have some on hand to use for breakfast quinoa, in salads or even to make a batch of my black bean quinoa burgers.
This Mediterranean Quinoa Salad is it's so simple to put together and is definitely a crowd-pleaser. This quinoa is my new go-to for potlucks, BBQs, brunches and dinner parties. It even holds up great in the fridge after being dressed!
Mediterranean Cold Quinoa Salad Ingredients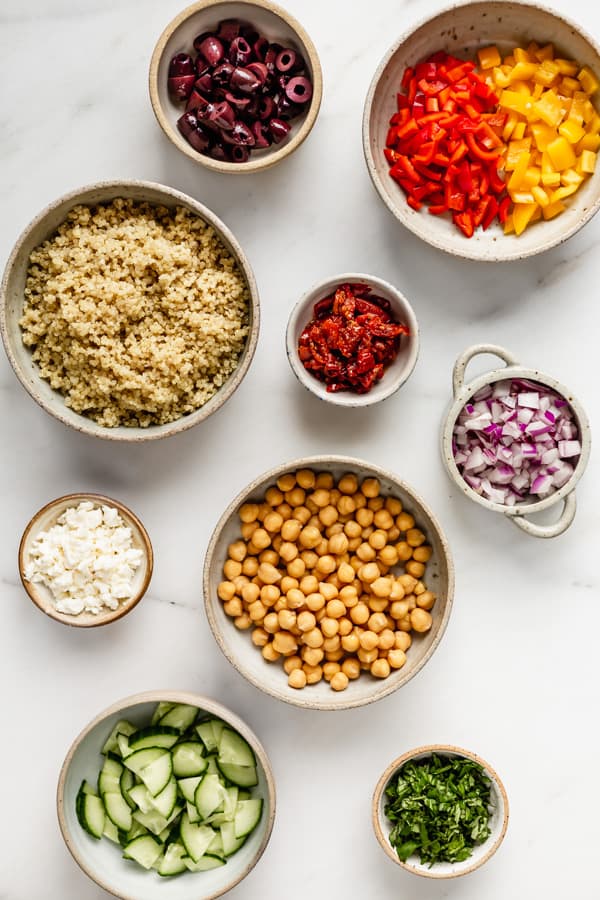 Quinoa: we can't make quinoa salad without quinoa! I like to use white quinoa in this recipe which is light and fluffy. Red and black quinoa tend to have a bit more of a firm texture.
Red bell pepper: you can substitute with any colour bell pepper you love.
Cucumber: English cucumber is best for this recipe. It has less water content than some other varieties of cucumber and tends to be on the sweeter side.
Chickpeas: canned or dried chickpeas will both work. If using dried chickpeas, cook them according to package directions before adding them to the salad.
Red onion: red onion gives the salad a beautiful colour and a nice slightly spicy and sharp taste. If you're not a big fan of onions in your salad you can leave this out or use shallots, which will have a milder taste.
Kalamata olives: make sure to use pitted olives! You don't want to end up biting into a pit when eating the quinoa salad.
Sundried tomatoes: you'll find two varieties of sundried tomatoes at the grocery store. The first is sundried tomatoes in oil and the second is dried sundried tomatoes in a package. I recommend using the sundried tomatoes in oil. They are tastier and have a better texture.
Basil: fresh basil! Don't substitute dried.
Feta: I recommend using double creamed feta. You can find this at most cheese stores. If you can only get regular feta that will work fine too.
Lemon oregano dressing: this homemade dressing is made with olive oil, fresh lemon juice and dried oregano and lightly coats the quinoa salad.
How to make a Mediterranean quinoa salad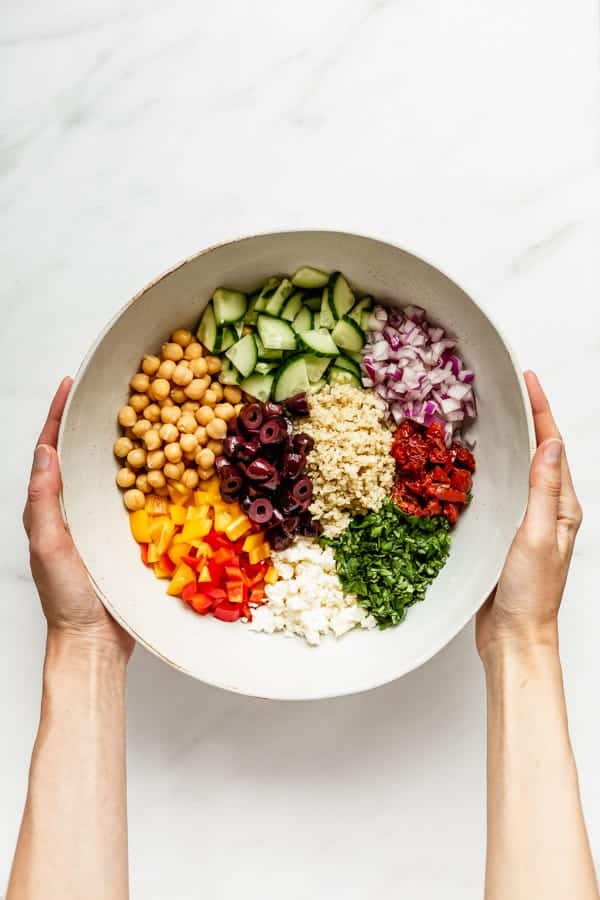 This quinoa salad is so easy to prepare it will quickly become one of your go-to quinoa recipes!
Cook the quinoa according to package directions
Chop up all the veggies into small pieces
Add the quinoa veggies, chickpeas and feta cheese to a large mixing bowl
Make the dressing and toss together with the salad
Make ahead Mediterranean Quinoa Bowl
This quinoa salad is a great make-ahead recipe and can be prepared in advance if you'd like to make it meal prep or are preparing it to bring to a brunch or dinner.
If you'd like to make this quinoa salad ahead of time, make sure to keep the dressing on the side! It's important to only dress the salad right before serving so it will stay as fresh as possible. I recommend preparing this salad no more than a day in advance so the basil stays fresh and the vegetables stay crisp.
Mediterranean Quinoa Salad tips and variations
If there's any ingredient in this salad you're not particularly a fan of, you can simply leave them out, or even replace them with something else.
You can try adding fresh tomatoes in addition to or in place of sun-dried tomatoes, parsley instead of basil, roasted red peppers instead of fresh red peppers…the possibilities here are endless!
I like to prepare my quinoa in advance and keep in the fridge until it is completely cool before adding the other ingredients. This way the quinoa doesn't warm up the salad.
This salad is great to bring to a potluck, picnic or a bbq!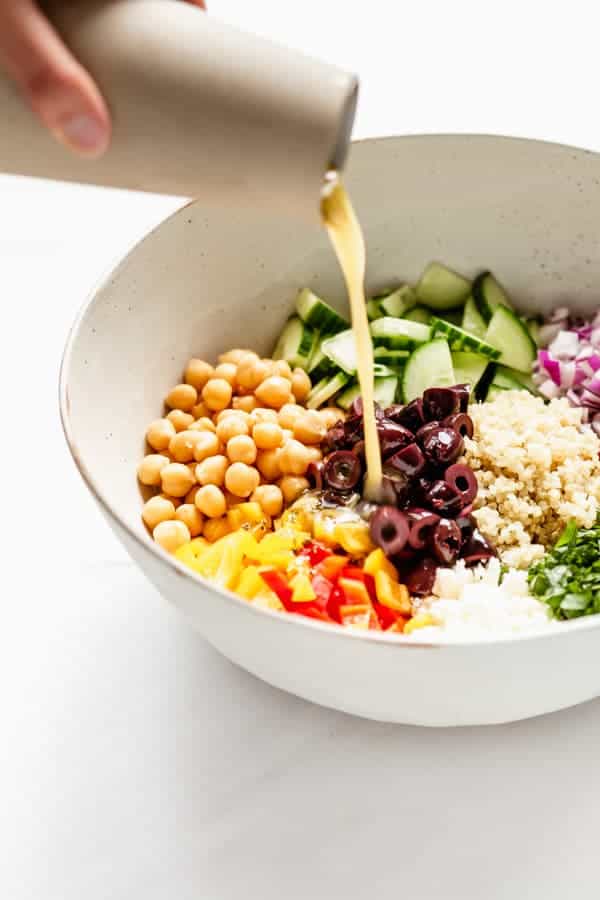 How long does quinoa salad keep in the fridge?
This quinoa salad can be stored in the fridge in a sealed container for up to 2 days if it's dressed, or up to 4 days if it's not dressed. (The salad dressing has a dependency to make everything soggy quicker.)
If you're planning on having leftovers, I recommend only dressing part of the quinoa salad and storing the rest of the salad and dressing separately.
Can I freeze quinoa salad?
Unfortunately no. Everything will become soggy and mushy if you try to freeze it.
Quinoa FAQ
What is the best quinoa to use?
White quinoa is the best to use for this salad because it has the most delicate taste and texture when cooked. White quinoa is fluffier than red or black quinoa, which tends to have a dense and grainier texture.
Is quinoa best served hot or cold?
Quinoa is a very versatile grain that can be enjoyed both hot and cold and is delicious served both ways! For the salad, you'll want to let the quinoa cool completely before using it so it doesn't heat up the fresh vegetables used in the salad.
Can you put raw quinoa in salad?
No. While you may sometimes see a sprinkle of raw quinoa as a garnish on salads, you don't want to use all raw quinoa in the salad. It doesn't have a great taste or texture.
Do I need to rinse quinoa before cooking?
Rinsing quinoa before cooking can help remove any bitter flavour from the quinoa. I personally don't find white quinoa to be bitter so I don't usually rinse it, but if you want to take the extra step you can rinse the quinoa in a strainer under cold water for 60 seconds before proceeding with the recipe.
Is quinoa gluten-free?
Yes! Quinoa is a pseudocereal and is a great gluten-free alternative to some other types of grains.
Serve cold quinoa salad with:
Mediterranean Quinoa Salad pairs well with almost anything! It can be served as an appetizer or as a side. Here are some pairing ideas: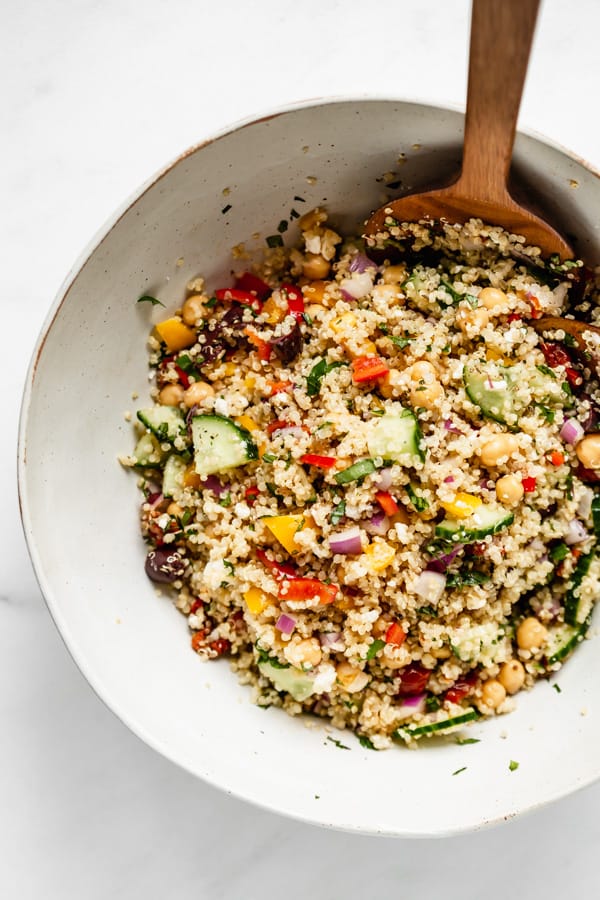 Print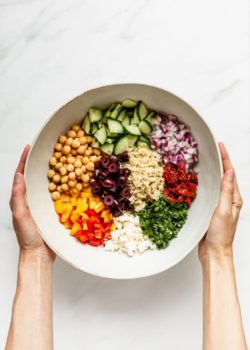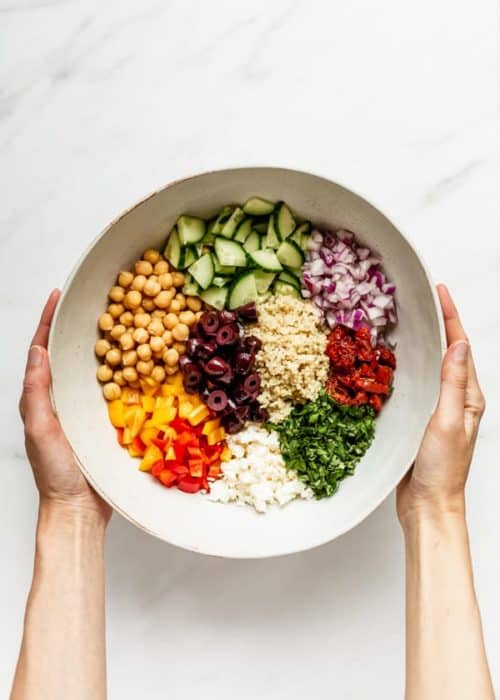 Mediterranean Quinoa Salad
Author: Jess
Prep Time: 10 minutes
Cook Time: 15 minutes
Total Time: 25 mins
Yield: 4 servings 1x
Category: Main
Method: Cook
Cuisine: Mediterranean
---
Description
This Mediterranean Quinoa Salad will be your new favourite salad recipe! It's fresh and light and perfect to enjoy as a meal or side!
---
Quinoa salad: 
2 cups quinoa, cooked (about 1 cup uncooked)
1 red bell pepper, chopped
1/2 cucumber, chopped
1 cup chickpeas
1/2 small red onion, finely chopped
1/2 cup kalamata olives, cut in half
1/4 cup sundried tomatoes, finely chopped
1/3 cup fresh basil, finely chopped
1/4 cup crumbled feta cheese (*use vegan feta cheese if needed)
Lemon oregano dressing: 
2 tbsp lemon juice
1 tbsp white wine vinegar (or red wine vinegar)
1/3 cup olive oil
1 tbsp dijon mustard
1 tsp maple syrup
1/2 tsp dried oregano
1/2 tsp garlic powder
1/4 tsp ground cumin
salt & pepper to taste
---
Instructions
To prepare the salad mix all the ingredients together in a large bowl. If there is any ingredient you like more of feel free to add more!
Mix all the salad dressing ingredients together in a small jar. Cover with the lid and shake until incorporated.
Pour half the salad dressing onto the quinoa salad and give it a taste. If you like more dressing, add more. Otherwise reserve leftover dressing for other salads.
---
Notes
I usually use about half of the salad lemon oregano dressing on this salad. The rest I keep stored in my fridge. This salad is great to bring to parties & potlucks!
If there are any ingredients in this salad your not a fan of you can leave them out. 
You can swap out sundried tomatoes for fresh tomatoes if you prefer! 
Prepare your quinoa in advance and store it in the fridge to make this recipe even faster. 
---
Nutrition
Serving Size: 1/4 of recipe
Calories: 361
Sugar: 5g
Fat: 14g
Saturated Fat: 2g
Carbohydrates: 47g
Fiber: 8g
Protein: 12g
Keywords: healthy quinoa salad recipes, easy quinoa recipes
If you tried this Mediterranean Quinoa Salad or any other recipe on the blog let me know how you liked it by leaving a comment/rating below! Be sure to follow along on Pinterest, Instagram and Facebook for even more deliciousness!
This post contains affiliate links which means I will make a small commission if you purchase through those links. I only recommend products that I know, trust and love!