General Tso Tofu Recipe
This recipe for General Tso's Tofu is the BEST! It's crispy, saucy and one of the most delicious ways you can enjoy tofu. It's also ready in under 30 minutes for a quick and easy dinner recipe that is naturally vegan and has a gluten-free option!
General Tso Tofu is one of my favourite ways to eat tofu because it completely transforms it into these crispy delicious bites that are perfectly covered in sauce!
Tofu can be a little tricky to cook with sometimes, and if not cooked properly it can turn out bland and flavourless.
One of the best ways to cook tofu is to fry it until crispy and coat it in sauce. Since tofu doesn't have much flavour on its own, it'll easily take on the flavour of whatever sauce you coat it with!
What is General Tso's?
General Tso's is a popular Chinese dish that you'll find at most Chinese restaurants. It's usually made with chicken (General Tso's Chicken) that is fried and crispy and covered in General Tso's sauce. The dish isn't considered to be totally "authentic," but rather more of an American-Chinese dish.
General Tso's Tofu is a vegan and vegetarian-friendly take on the traditional dish that is made with pan-fried crispy cubes of tofu tossed in a sweet and sour sauce. It's delicious to enjoy on it's own or served over rice!
Why you'lll love this General Tso Tofu Recipe
The General Tso's Sauce is SO delicious on the tofu and will quickly become one of your new favourite ways to eat tofu.
This recipe is quick and easy to make and comes together in under 30 minutes. It can be enjoyed on its own or severed on top of rice or with a side of your favourite veggies.
The sauce is super easy to make and you can make extras of it to store in the fridge and use in your favourite stir-fry recipes.
How to make General Tso Sauce
This general Tso's sauce is made from just a few simple ingredients. When combined together, these ingredients give the sauce a sweet, salty and sour taste that are key components to a great General Tso's Sauce. This sauce is made with:
Ketchup: not used in every traditional recipe, but ketchup contains vinegar and sugar which makes for a delicious sweet and tangy sauce!
Rice vinegar: You can use white vinegar or apple cider vinegar too, but rice vinegar is a classic ingredient to use in Asian sauces.
Coconut sugar: The sweet element of our sauce! You could also substitute this for brown sugar or even maple syrup or honey.
Soy sauce: The salty element. You can use gluten-free soy sauce or tamari if needed.
Grated ginger: to give the sauce a little kick! This is the "secret ingredient"
If I don't eat soy, can the tofu be substituted?
If you don't eat soy you can substitute the tofu in the recipe with a meat protein like chicken, (for a non-vegetarian option) or you could use chickpeas as a vegetarian substitute.
Is this recipe also gluten-free?
As long as you use gluten-free soy sauce this General Tso's Tofu is gluten-free.
How to make General Tso Tofu
Step 1
Press as much liquid out from the tofu as possible then cut into even cubes. Toss with the tofu cubes with cornstarch. This is what will help make the tofu nice and crispy!
Step 2
Cook the tofu in a skillet with some oil and sliced green onions. You want to cook the cubes on each side until golden brown. Don't rush this process. this is the next important step to get crispy tofu. This will take about 2-3 minutes per side.
Step 3
While the tofu is cooking prepare the sauce by mixing all the sauce ingredients together in a small bowl until combined.
Step 4
Add the sauce to the pan of tofu and mix everything together until the tofu is evenly coated. If the sauce begins to stick to the pan, use a splash of vegetable broth or water to deglaze the pan.
Serve immediately and top with some sliced green onions and sesame seeds. This dish can be enjoyed on its own or served over some rice.
Can this General Tso's Tofu recipe be made in an air fryer?
Yes! To make this recipe in an air fryer toss the tofu cubes with the vegetable oil and cornstarch and place the tofu cubes in the air fryer, leaving a little space between each cube. Set the air fryer to 400 degrees F and cook for 10 minutes. Remove the tofu cubes and coat in the General Tso Sauce.
Optional General Tso Add-ins
This General Tso Tofu is great as is, but can also be delicious by adding in some different vegetables.
If you'd like to make this dish with vegetables, cook the tofu until crispy then remove it from the skillet. Heat one tablespoon of oil in the skillet and add the vegetables. Sautee for 3-5 minutes until the vegetables are tender, then add the crispy tofu back to the pan and add the General Tso sauce.
Here are some great options for veggies you can add in:
Peppers
Broccoli
Cauliflower
Bok Choy
Nappa Cabbage
Shredded Carrots
Kale
How to store and reheat leftovers
Store: store any leftover General Tso Tofu in the fridge for up to 3 days in an airtight container. This recipe does not freeze well so I wouldn't recommend freezing it.
Reheat: this tofu can be reheated on the stovetop, in the oven or in the microwave. To reheat on the stovetop, spray a pan with some cooking spray then add the tofu and let it cook on each side. To reheat it in the oven, preheat the oven to 350 degrees then add the tofu to a small baking dish and bake for 7-10 minutes. To reheat in the microwave heat for 60 seconds.
What is the best tofu to use when making General Tso Bean Curd?
You want to make sure to use firm or extra-firm tofu for this recipe. Extra-firm tofu has the least amount of liquid in it and will crisp up the best when pan-frying.
You can also use a tofu press and press out as much liquid as possible from the tofu, which will help it become extra crispy. You can try out a few different brands of tofu to find your favourite. I always recommend buying organic tofu, since soy is a highly sprayed crop.
Tips for making this General Tso vegetarian recipe perfectly
Use extra-firm tofu for crispy tofu bites and make sure to coat the tofu in cornstarch. The Cornstarch helps to create a crispy coating (almost like a bit of a breading) around the tofu and will help the sauce cling to each cube.
Preheat the pan! This is especially important if your pan isn't non-stick. Preheating the pan will help prevent the tofu cubes from sticking to the pan while you're cooking.
Serve immediately. This recipe is not a dish I recommend preparing in advance before you want to eat it. The tofu will not stay as crispy if you prepare this too far in advance. This recipe is the absolute best when enjoyed right away.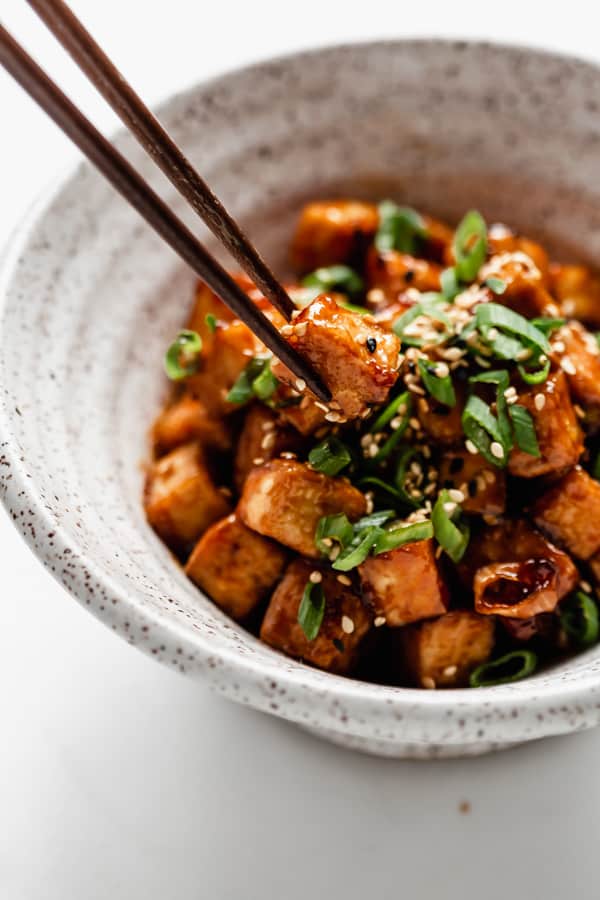 What to serve with General Tso's Tofu
General Tso tofu is traditionally served alongside some white rice. Jasmine rice, basmati rice or even sushi rice will all work. If you're looking for a low-carb option you can also use cauliflower rice.
If you'd like to serve up your General Tso's Tofu alongside some other delicious Asian-inspired recipes it would go great with some Vegetarian Steamed Dumplings, Fresh Spring Rolls, Vegan Fried Rice and Garlic Noodles.
More tofu recipes to try
If you tried this General Tso's Tofu or any other recipe on the blog let me know how you liked it by leaving a comment/rating below! Be sure to follow along on Pinterest, Instagram and Facebook for even more deliciousness!
Print
General Tso Tofu
Author: Jessica Hoffman
Prep Time: 10 minutes
Cook Time: 10 minutes
Total Time: 20 minutes
Yield: 4 servings 1x
Category: Main
Method: Stir-Fry
Cuisine: Chinese
---
Description
This General Tso's Tofu is the BEST! It's crispy and covered in a sweet and tangy sauce for a delicious tofu dish that's ready in under 30 minutes! 
---
Tofu:
1 block extra-firm tofu
2 tbsp cornstarch
2 tbsp vegetable oil
2 green onions, sliced
(optoinal) green onions and sesame seeds to top
Sauce:
---
Instructions
Drain the tofu, cut into cubes and toss with the cornstarch.
Heat the vegetable oil in a pan on medium-high heat then add the sliced green onions and tofu cubes. Let the cubes cook for 2-3 minutes on each side until golden brown. 
While the tofu is cooking, prepare the sauce by mixing the sauce ingredients together in a small bowl.
Once the tofu is crispy on all sides, lower the heat to medium and pour the sauce over the tofu, tossing until evenly coated. 
Serve immediately. Optionally top with sliced green onions and sesame seeds. 
---
Notes
Use firm or extra-firm tofu in this recipe for crispy tofu cubes. Don't skip out on the cornstarch either, this also helps the tofu get nice and crispy and will help the sauce cling to each cube. 
If your pan isn't non-stick, preheat the pan on the stove before adding the oil. This will help prevent the tofu cubes from sticking to the pan. 
This dish is best served immediately. If reheating, do so in the oven at 400 degrees. 
---
Nutrition
Serving Size: 1/4 of recipe
Calories: 155
Sugar: 9.5g
Sodium: 500mg
Fat: 8.5g
Saturated Fat: 1g
Carbohydrates: 15g
Fiber: 1g
Protein: 6g
Keywords: vegan general Tso's recipe, General Tso's with tofu, general tso tofu
This post contains affiliate links which means I will make a small commission if you purchase through those links. I only recommend products that I know, trust and love!