Weeknight Tofu Stir Fry
This Weeknight Tofu Stir Fry with broccoli comes together in just 30 minutes and is perfect for those days where you feel too busy to cook something complicated. This recipe is naturally vegan, gluten-free and packed with protein and veggies for a healthy simple dinner you'll love!
Tofu and broccoli stir fry
On busy weekdays it can be hard to find time to cook a meal, which is why I love this quick and easy Tofu Stir Fry with broccoli. It's a great back-pocket weeknight recipe that you can throw together in under 30 minutes from start to finish. If you're in need of dinner in even less time, then make sure to try these 15-minute Teriyaki Noodles.
Why you'll love this recipe
Ready in 30 minutes. Dont' have tons of time to cook dinner? No problem! This tofu stir fry is ready to go in under 30 minutes for an easy fuss-free dinner.
Vegan and gluten-free. This tofu is naturally vegan and gluten-free so it's great to serve up for anyone with dietary restrictions. (just make sure to use gluten-free soy sauce.) Whether you're a meat eater or vegetarian, you'll love this tofu.
Source of protein. Many people think it's hard to get enough protein from plant-based sources. But tofu is a great option to get your protein intake on a vegetarian or vegan diet. Each serving of this tofu is packed with 10 grams of protein.
Ingredients you'll need
One thing I love about this recipe is it's so versatile. Here is what you need to make this recipe:
Tofu-this recipe uses extra-frim tofu which allows the tofu to become crispy when pan fried. You could also use a medium tofu if you prefer a softer texture.
Onions & garlic-For flavour. Make sure to use fresh garlic, not powedred garlic. This is what will build up that delicious flavour when you cook the tofu.
Veggies-I use a mix of red pepper, yellow pepper and broccoli, but you can mix it up and use any type of veggies you love to eat in a stir fry. Try bok choy, chinese broccoli or spinach to mix it up!
Stir fry sauce–The stir fry sauce for this recipe is made with a mix of soy sauce, honey, and sesame oil for a sweet and salty sauce that is still healthy.
Rice-For serving. You can also use rice noodles if you prefer!
How to make a Tofu Stir Fry
Drain the tofu, cut it into cubes and toss it in cornstarch. The cornstarch helps create a crispy coating on the tofu when cooking.
Heat the oil in a large pan or wok and add the tofu, letting it cook on each side for 2-3 minutes until golden brown. Remove the tofu from the pan, add a touch more oil, then add the veggies and sautee until tender.
Add the tofu and stir fry sauce to the pan and toss everything together until evenly coated.
How to make tofu crispy
The key to having crispy tofu is to use extra-firm tofu. Medium or soft tofu won't crisp up as firm tofu does. Softer tofus contain more water, while firmer varieties of tofu contain less water. The more water tofu has is in th harder it will be to crisp up.
You can also use a tofu press to squeeze out as much water as possible, but if you don't have a tofu press you can also place the tofu in a kitchen towel with a heavy book on top.
My next best tip for crispy tofu is coating the tofu in cornstarch. This will give the tofu a crispy exterior when it hits the frying pan and gives it a great taste and texture.
For more information on how to cook tofu make sure to check out my ultimate guide to cooking tofu.
How do you fry tofu without sticking?
If you have one use a non-stick pan to cook tofu. This is the easiest way to prevent it from sticking.
If you're using a regular pan, preheat the pan on the stove for 1-2 minutes before adding the oil and make sure to use enough oil to coat the bottom of the pan.
When cooking the tofu, be patient and wait for the cubes to release from the pan. As they cook and get a nice golden brown crust on the sides, the cubes will un-stick from the pan.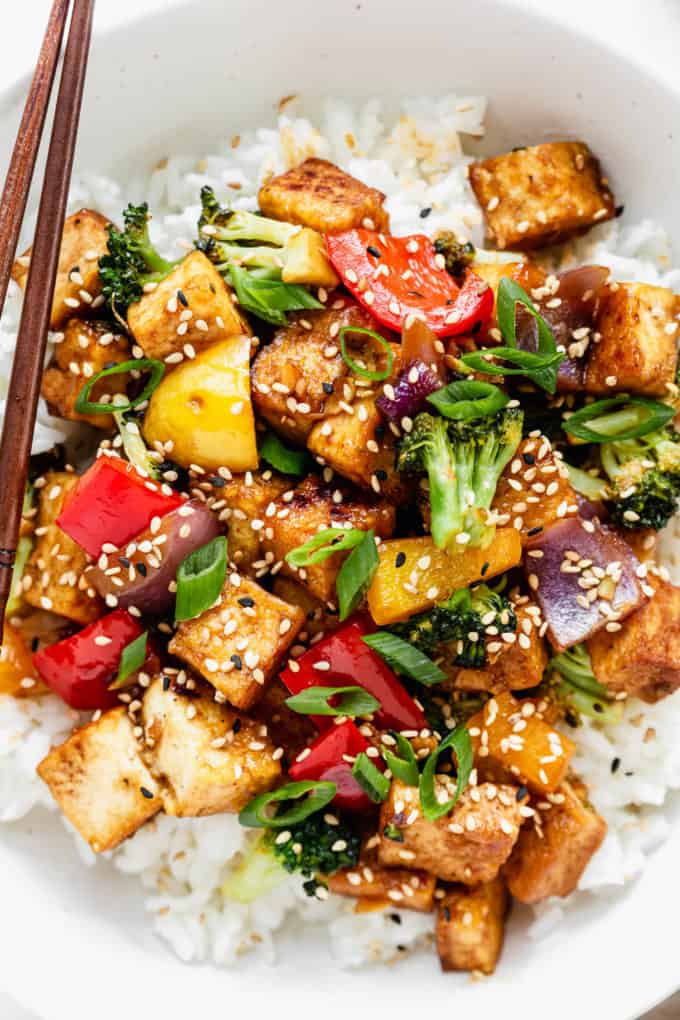 How long should you pan fry tofu?
First off, you want to make sure to use firm or extra-firm tofu in a stir fry, otherwise softer tofu may fall apart. (Unless you're making scrambled tofu.)
You'll want to cook the tofu on medium-high heat for about 3-4 minutes on each side until golden brown. Also, don't peek or try lifting the tofu before it's done! Be patient and let it brown so it gets nice and crispy. If you'd like to learn more about cooking tofu and different techniques make sure to check out this guide.
Expert tips
Use extra-firm tofu if you like your tofu crispy. You can also use firm tofu or medium tofu in this recipe if you prefer a softer texture.
Don't peek when browning the tofu! If you try and lift the cubes they may stick to the bottom of the pan if they're not done yet. Don't interrupt this process.
You can adapt this recipe and add any of your favourite veggies to it.
How to store
Store leftovers of this tofu stir fry in the fridge for up to 2 days. You can reheat the tofu in a pan or in the microwave, though it's best reheated in a pan with a touch of oil to help the tofu get crispy again.
More tofu recipes to try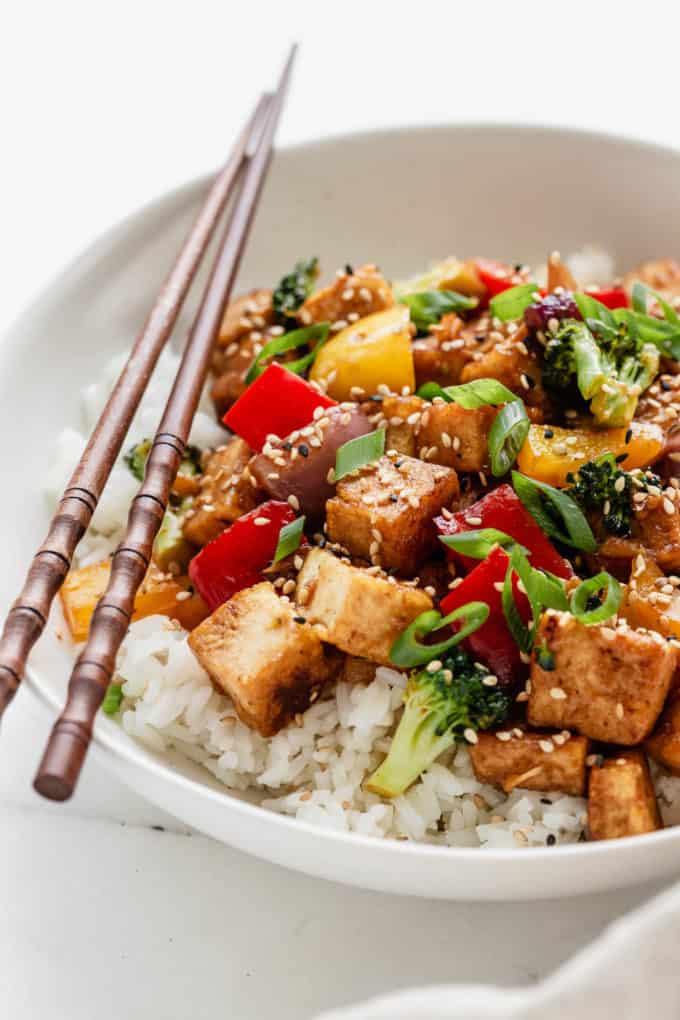 If you tried this Weeknight Tofu Stir Fry or any other recipe on the blog let me know how you liked it by leaving a comment/rating below! Be sure to follow along on Pinterest, Instagram and Facebook for even more deliciousness!
Print
Weeknight Tofu Stir Fry
Author: Jessica Hoffman
Prep Time: 10 minutes
Cook Time: 15 minutes
Total Time: 25 minutes
Yield: 4 servings 1x
Category: Main
Method: Stir fry
Cuisine: Asian
Diet: Vegetarian
---
Description
A simple tofu stif fry that comes together in less than 30 minutes and is perfect for those busy weeknights! 
---
Stir Fry 
1 pack extra-firm tofu, cut into cubes
1 tbsp cornstarch
2–3 tbsp avocado oil (can sub vegetable oil)
1/2 red onion, chopped
2 garlic cloves, finely chopped
1 tbsp minced ginger
1 cup broccoli florets
1 red bell pepper, chopped
1 yellow bell pepper, chopped
Stir fry Sauce
1/4 cup vegetable broth
3 tbsp soy sauce (use gluten-free if needed)
1 tbsp honey (sub maple syrup for vegan)
1/2 tbsp rice vinegar
1 tsp sesame oil
1/2 tsp sriracha
1 tbsp cornstarch
Other
Rice or rice noodles for serving
---
Instructions
Drain the tofu and squeeze as much water out as possible with a kitchen towel or paper towel. 
Cut the tofu into cubes then toss the tofu and the cornstarch together until evenly coated.
Heat 2 tbsp of oil in a non-stick pan then add the tofu, letting cook for 2-3 minutes on each side until golden brown. Once cooked, remove the tofu from the pan.
Add a touch more oil to the pan, then add the vegetables and sautee for 4-5 minutes until tender.
Mix the tofu back in with the veggies then add the stir fry sauce to the pan mixing everything together until evenly coated. 
Serve on it's own or with rice. 
---
Notes
For crispy tofu, make sure to use extra-firm tofu. You can also use firm tofu in this recipe if you prefer your tofu slightly softer. 
Don't peek when browning the tofu! Give it time to brown on each side. 
Store leftovers in an air-tight container in the fridge for up to 3 days. Reheat in a pan on the stove or microwave.
---
Nutrition
Serving Size: 1/4 of recipe
Calories: 150
Sugar: 5g
Sodium: 400mg
Fat: 10g
Saturated Fat: 1g
Carbohydrates: 11g
Fiber: 3g
Protein: 10g
Keywords: easy tofu stir fry, fast stir fried tofu, easy tofu for dinner
This post contains affiliate links which means I will make a small commission if you purchase through those links. I only recommend products that I know, trust and love!