10-Minute Cucumber Asian Salad
This Asian Cucumber Salad recipe comes together in just 10 minutes for a fresh and easy appetizer or side! It's made with sesame oil and chili oil for a flavour-packed and spicy cucumber salad!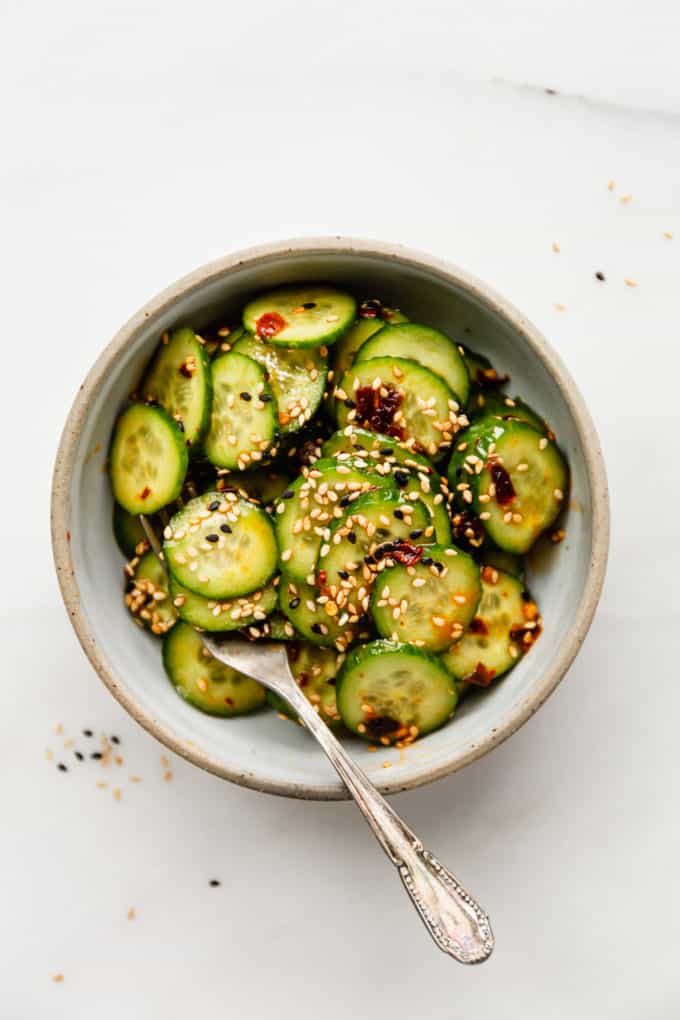 Chinese Cucumber Salad With Sesame Oil
While cucumbers can make a fresh and tasty snack, they're often viewed as being kinda boring…
Which is why this recipe for Asian Cucumber Salad is going to completely change the way you look at cucumbers. Forever.
This salad is made by simply dressing sliced cucumbers with sesame oil, chili oil, soy sauce and vinegar that turn plain cucumbers into a thing of beauty. Each serving of this salad has 130 calories, 2 grams of fiber and 2 grams of protein.
The best part is this is one of those easy peasy recipes that comes together in 10 minutes tops. No need to soak the cucumbers for this salad like some other cucumber salad recipes. We're keeping things fresh and quick with this salad!
Why you'll love "Tiktok viral" Spicy Asian Cucumber Salad Recipe
Ready in 10 minutes. 5 minutes if you're quick. This salad is so quick and easy to toss together and is so flavourful.
Fresh and crunchy. I'm not the biggest fan of cucumbers in mixed salads, but give me a salad made from only cucumbers and I'm here for it!
A fun way to eat cucumber. Because let's be honest, eating plain cucumber can be…well, a little boring.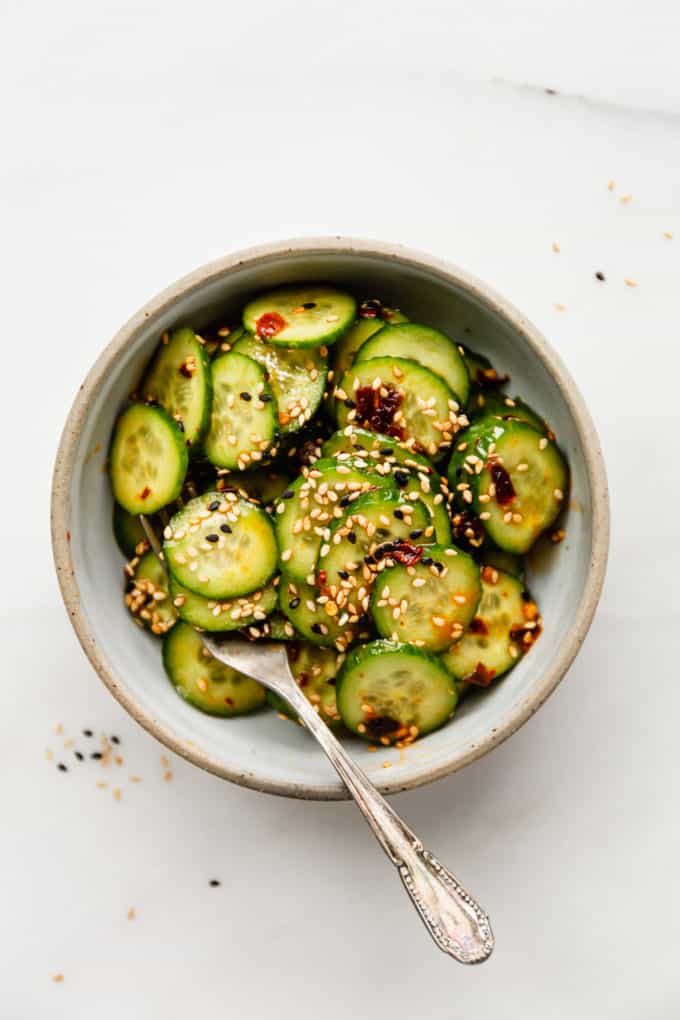 Asian Cucumber Salad Recipe Ingredients
Persian cucumber: these mini cucumbers are the best option for an Asian Cucumber Salad. You can also use English cucumbers as a substitute.
Soy sauce: this will add some salt and umami flavour to the salad. You can substitute with tamari for a gluten-free option if needed.
Rice vinegar: this type of vinegar is slightly sweet and has a great flavour that pairs well with the other ingredients. If you don't have rice vinegar you can also use white vinegar.
Sesame oil: I love adding sesame oil to this salad for a rich nutty taste.
Chili oil: this is going to add so much flavour and spice to the cucumber salad! if you don't have chili oil you can use 1/2 teaspoon of red pepper flakes and 1 tablespoon of vegetable oil.
Sesame seeds: toasted sesame seeds will add the most flavour.
What cucumbers are best for cucumber salad?
For this recipe, Persian cucumbers, also known as Lebanese cucumbers or sometimes labelled "mini" cucumbers are best. These cucumbers have a mild flavour, thin skin and small seeds, making them easy to eat and really enjoyable in a salad.
If you cant find these cucumbers at your grocery store, the next best option is to use English (also known as seedless) cucumbers in this salad.
How to cut cucumber for a cucumber salad
There are a few ways you can cut cucumber for a salad, but the best way is to thinly slice the cucumber into circles. If you are using a larger-sized cucumber, you can also cut the cucumber into half-moons (cut the circles in half) for smaller bites.
If you prefer your salad in smaller bites you can also cut the cucumber into bite-sized cubes.
How to make Cucumber Asian Salad
Step 1
Using a mandoline or a sharp knife, thinly slice the cucumber into even slices.
Step 2
Whisk the soy sauce, sesame oil, chili oil and rice vinegar together in a large mixing bowl. Then add the cucumbers and toss them together.
Step 3
You can optionally mix in some toasted sesame seeds for some extra flavour and crunch!
Asian Cucumber Salad FAQs
Should you peel cucumbers for a salad?
If you are using Persian cucumbers or English cucumbers for this salad there is no need to peel them! The skin is very thin (and actually contains a lot of nutrients) and won't be noticeable since the cucumber will be cut very thin.

If you use garden cucumbers in a salad that have thicker skin, you can choose to peel off the skins if you prefer. (Though it's not necessary.)
Do you need to salt cucumbers for a salad?
You may have come across some cucumber salad recipes that salt the cucumbers to prepare them for the salad. This is the process of adding salt to a bowl of sliced cucumbers and letting it sit so the salt draws out any liquid from the cucumbers. Then this excess liquid is drained off.

So is this really necessary?

No. Not if you are making a fresh cucumber salad to enjoy right away. In fact, after testing this recipe both ways I found that salting the cucumbers actually made the cucumbers limper and much less crunchy and crispy.
Can I Make this Asian Cucumber Salad With Thai or Korean Variations?
Absolutely! You can make whatever variations of this Asian cucumber salad you like. For a Korean variation, you could add some gojuchang paste and for a Thai version, you could use fish sauce or some Thai curry paste.
How to Store Leftover Cucumber Asian Salad
This cucumber salad is best enjoyed fresh for the most crunch, but it will last in the fridge for 1-2 days after being made. Store any leftover cucumber salad in an airtight container in the fridge.
What to serve with Chinese Cucumber Salad
One thing I love about this Asian Cucumber Salad is that it can be enjoyed on its own as a healthy snack, eaten as an appetizer, or enjoyed as a side dish. If you're looking for some recipes that would be great to serve up with this salad here are some options.
Expert Tips for making Asian Cucumber Salad
Use a mandoline to slice the cucumber. This will give you thin and even slices that are perfect for this salad. Always be very careful when slicing with a mandoline, it's very sharp.
Taste the salad and adjust the seasoning. If you like your salad spicier, you can add some more chili oil. If you prefer to be saltier, you can add some more soy sauce. Always taste and adjust any seasoning to your liking.
Serve immediately. This cucumber salad is best enjoyed right away while the cucumbers are still cold and crunchy.
More salad recipes to try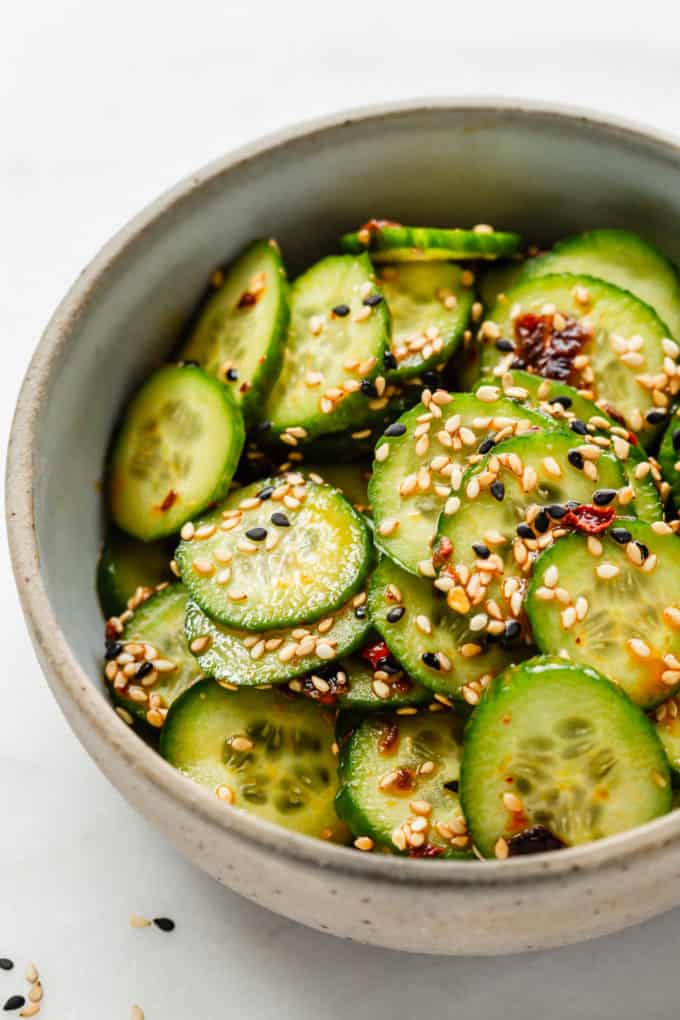 If you tried this Asian Cucumber Salad or any other recipe on the blog let me know how you liked it by leaving a comment/rating below! Be sure to follow along on Pinterest, Instagram and Facebook for even more deliciousness!
Print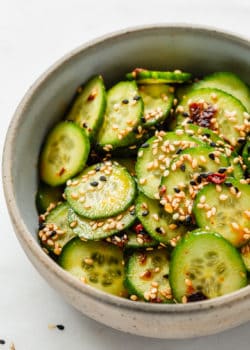 Asian Cucumber Salad
Author: Jessica Hoffman
Prep Time: 10 minutes
Cook Time: 0 minutes
Total Time: 10 minutes
Yield: 2 servings 1x
Category: Appetizer
Method: Mix
Cuisine: Chinese
Diet: Vegetarian
---
Description
Asian Cucumber Salad comes together in 10 minutes and is packed with flavour!
---
4 Persian cucumbers (often called mini cucumbers)
1 tsp soy sauce (can sub tamari)
1.5 tbsp rice vinegar
1/2 tbsp sesame oil
1 tbsp chili oil
1 tbsp sesame seeds
---
Instructions
Use a mandoline to thinly slice the cucumbers. You can alternatively just thinly slice them with a knife.
Mix the soy sauce, rice vinegar, sesame oil and chili oil together in a large mixing bowl.
Add in the sliced cucumbers and sesame seeds and toss them together.
Serve immediately and enjoy!
---
Notes
Use a mandoline to make even thin slices of cucumber. (I use this one.) 
Store leftovers in an airtight container in the fridge for up to 2 days. 
---
Nutrition
Serving Size: 1/2 of the recipe
Calories: 130
Sugar: 2g
Fat: 12g
Carbohydrates: 6.5g
Fiber: 1.5g
Protein: 2g
Keywords: cucumber salad, asian cucumber salad, cucumber salad Chinese, cucumber salad recipe
This post contains affiliate links which means I will make a small commission if you purchase through those links. I only recommend products that I know, trust and love!