Easy Kung Pao Tofu
This Kung Pao Tofu recipe is easy to make and comes together in less than 30 minutes! It makes the perfect weeknight meal that is vegan, gluten-free and packed full of flavour.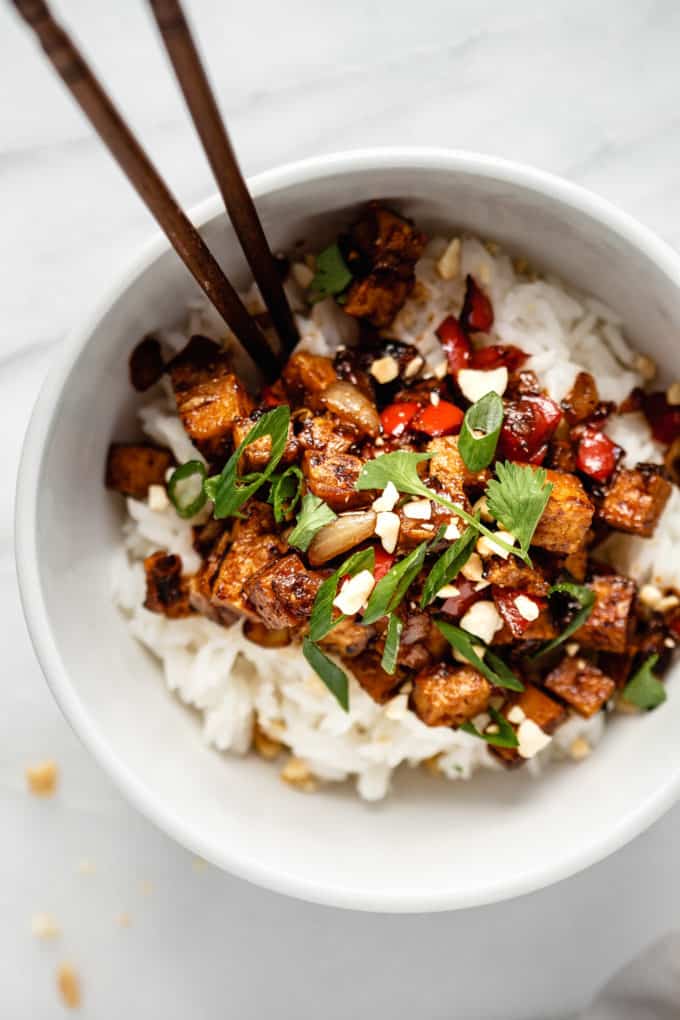 What is kung pao tofu made of?
You know I'm a fan of stir-fried tofu recipes. so today we're doing a fun and new way to stir-fry tofu, KUNG PAO TOFU.
Super crispy little cubes of tofu get tossed up in a spicy tangy kung pao sauce served with veggies, peanuts and rice. Sounds pretty good, right?
Kung Pao Tofu is a vegetarian version of the popular Chinese dish kung pao chicken. This Chinese-inspired tofu recipe is made by pan-frying tofu with vegetables and kung pao sauce. The result is a super flavourful tofu dish that is sweet, spicy salty and tangy.
Why you'll love this recipe
Easy weeknight dinner. This one-pan meal only takes 30 minutes to make and is easy to throw together when you want a simple but tasty weeknight meal.
Customizable. Want to change up the veggies or add any mix-ins to this tofu dish? Go ahead! Kung Pao Tofu is very easy to customize so you can make it how you like.
Packed with flavour. If you don't like bland tofu then this is the dish for you. Kung Pao sauce is packed with so much flavour and is delicious when combined with tofu.
Kung pao tofu ingredients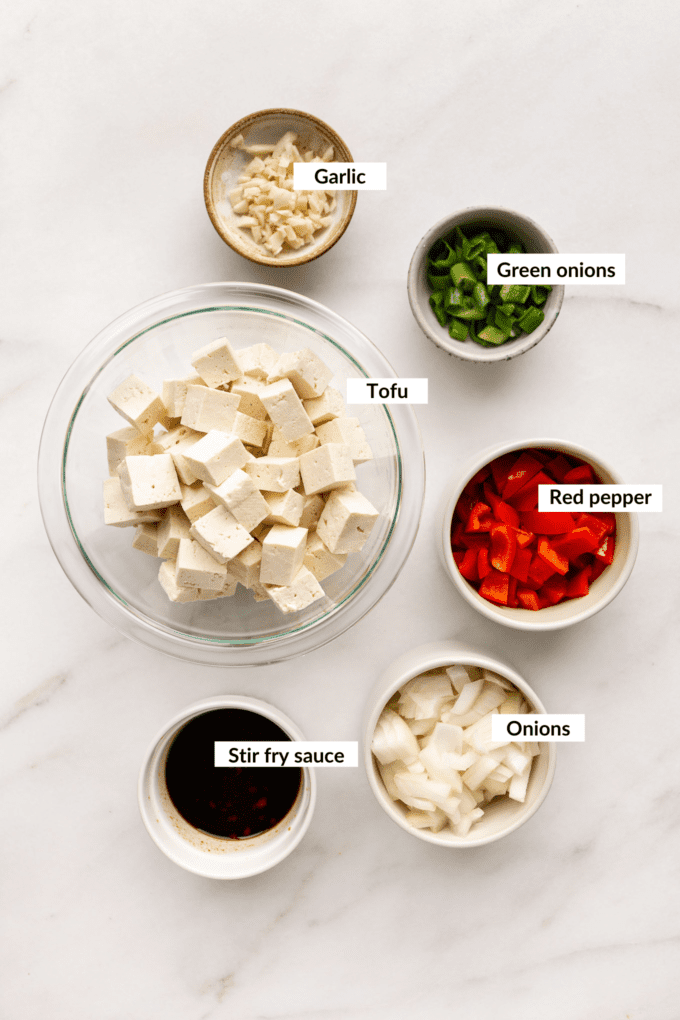 Tofu: when it comes to making crispy tofu, it's best to use extra-firm tofu. This type of tofu has the least amount of liquid in it and will become crispy when pan-fried.
Red bell pepper: for flavour and a pop of red colour. You can also use any other colour bell pepper you like.
Onion: regular white or yellow onion works perfectly in this recipe.
Garlic: make sure to use fresh garlic, not dried or powdered.
Green onion: in addition to white onion, we also add some green onion which gives a bright flavour to the kung pao tofu.
Stir fry sauce: this sauce is the secret to making kung pao tofu! It's made with a combination of soy sauce, hoisin sauce, Chinese black vinegar and sriracha. If you want to make the sauce gluten-free you can substitute soy sauce for tmamari. If you can't find Chinese black vinegar you can use balsamic vinegar or rice vinegar.
How to make kung pao tofu
Step 1
Drain the tofu and press it between two paper towels to remove as much excess liquid as possible. Then cut the tofu into cubes and pan-fry in oil on medium-high heat for 2-3 minutes on each side until crispy.
Step 2
Push the tofu to the side of the pan, add a splash of avocado oil to the pan and then add the onion, red bell pepper and garlic. Let cook for 2 minutes and then mix the vegetables together with the tofu
Step 3
Reduce the heat to medium then pour in the stir fry sauce and sauteé everything together. Remove from heat and mix in the green onions. Serve right away!
What to serve with kung pao tofu
There are so many different ways you can serve up this kung pao tofu dish. The most common way to eat kung pao tofu is served over some white rice and top it off with crushed peanuts or cashews.
If you want to serve this dish family style with some other delicious Asian-inspired dishes, this tofu would pair great with the following recipes.
How to store and reheat leftovers
Store any leftovers of this Kung Pao Tofu in an airtight container in the fridge for up to 3 days. I do not recommend freezing this recipe (it would make the tofu mushy.)
Reheat leftovers in a pan on the stovetop or in the microwave. I personally find this recipe tastes better when reheated on the stovetop.
Expert tips for making kung pao tofu
Use extra-firm tofu. This type of tofu has the least amount of liquid in it and will result in crispier cubes of tofu when pan-fried. If you prefer the tofu not to be crispy, you can use medium-firm tofu.
Use enough oil to coat the bottom of your pan. This is important to make sure the tofu fries properly and doesn't stick to the bottom of the pan. There should be a thin layer of oil that coats the entire pan.
Be patient when cooking the tofu. For truly crispy tofu, you will need to cook the tofu on each side until golden brown.
Add in your favourite vegetables. This dish would be delicious with some broccoli, bok choy, snow peas or any other vegetables you love.
Frequently asked questions
What is kung pao sauce made of?
This kung pao sauce is made with a mix of soy sauce, hoisin sauce, Chinese black vinegar, and sriracha to create a balanced sauce that is sweet, salty, tangy and spicy.
What is the difference between Szechuan and Kung Pao?
Szechuan has a bolder and spicer flavour than kung pao. That being said, kung pao tofu is plenty spicy if you want a dish that isn't *too* hot.
Can I make this recipe with baked tofu?
Yes! if you want to bake the tofu toss the cubes of tofu in some oil then place them on a baking sheet lined with parchment paper and bake at 425 degrees F for 25-30 minutes.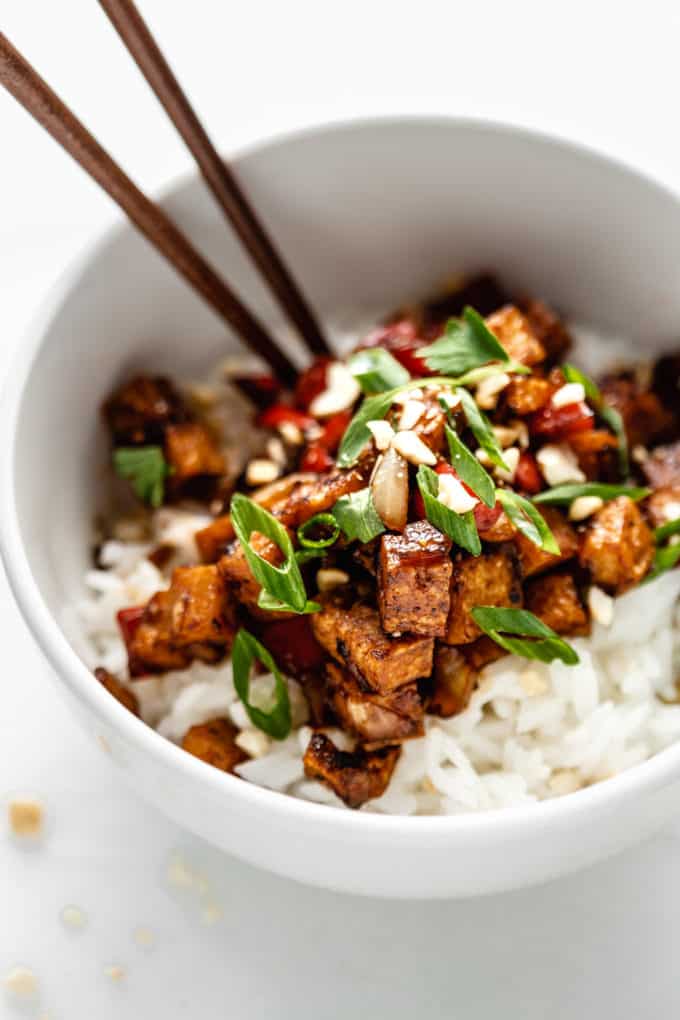 More tofu recipes you'll love
If you tried this Kung Pao Tofu or any other recipe on the blog let me know how you liked it by leaving a comment/rating below! Be sure to follow along on Pinterest, Instagram and Facebook for even more deliciousness!
Print
Kung Pao Tofu
Author: Jessica Hoffman
Prep Time: 15 minutes
Cook Time: 15 minutes
Total Time: 30 mins
Yield: 4 servings 1x
Category: Entree
Method: Cook
Cuisine: Chinese
Diet: Vegan
---
Description
Crispy tofu bites get coated in a spicy and tangy kung pao sauce. YUM.
---
2 1/2 tbsp avocado oil (can sub vegetable oil)
1 block extra firm tofu, cut into small cubes
1 onion, chopped
2 garlic cloves, chopped
1/2 red pepper, chopped
Sauce
2 tbsp soy sauce
1 tbsp balsamic vinegar (or Chinese vinegar)
1 tbsp hoisin sauce
1 tsp coconut sugar
2 tsp sambal oelek chilli paste
Other
Crushed peanuts to top
Cilantro to top
Jasmine rice to serve with
---
Instructions
Heat 2 tbsp of avocado oil in a large skillet on medium-high heat then add the tofu. Let cook on each side for 2-3 minutes until brown and crispy. (don't skip this step! We want crispy tofu on every side!)
Push the tofu off to the side of the pan then add the remaining 1/2 tbsp of avocado oil, onion, garlic and pepper. Let the veggies cook for 2-3 minutes, then mix the tofu back in. 
Reduce the heat to medium-low and pour the sauce into the pan, mixing everything together. Taste and adjust seasoning if needed.
Serve over rice and top with crushed peanuts and cilantro.
---
Notes
Use extra-firm tofu. This type of tofu has the least amount of liquid in it and will result in crispier cubes of tofu when pan-fried. 
Add in any vegetables you love to this dish.
Store leftovers in an airtight container in the fridge for up to 3 days. 
---
Nutrition
Serving Size: 1/4 recipe
Calories: 200
Sugar: 9g
Fat: 12g
Saturated Fat: 1g
Carbohydrates: 13g
Fiber: 1g
Protein: 3g
Keywords: kung pao tofu, vegetarian kung pao, vegan kung pao
This post contains affiliate links which means I will make a small commission if you purchase through those links. I only recommend products that I know, trust and love!