Vietnamese Fresh Spring Rolls
These Vietnamese Fresh Spring Rolls are light, healthy and so much fun to make! They're loaded with fresh mint and crunchy vegetables for a refreshing lunch or appetizer!
Easy fresh spring rolls you can make at home
Who doesn't love a delicious fresh spring roll? (also sometimes called a "summer roll" loaded with noodles and veggies) And want to know a secret? They're actually super easy to make at home! After trying it out, you'll wonder why you haven't been making them all the time!
This recipe is also naturally vegan, gluten-free and healthy for you! I also included a Peanut Dipping Sauce at the bottom of this recipe, and you can also stuff them with Lemongrass Tofu!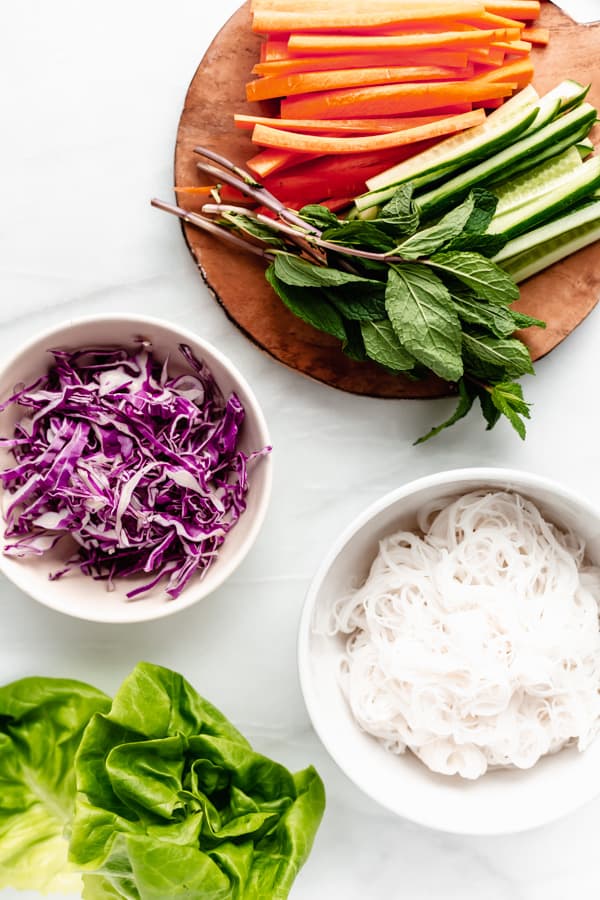 How to make fresh spring rolls
Fresh spring rolls are simple and easy to make. Here's how to do it:
Wet your round spring roll paper in a bowl of warm water, then use your fingers to press it down on a large plate.
Add all your ingredients right in the centre of the rice paper.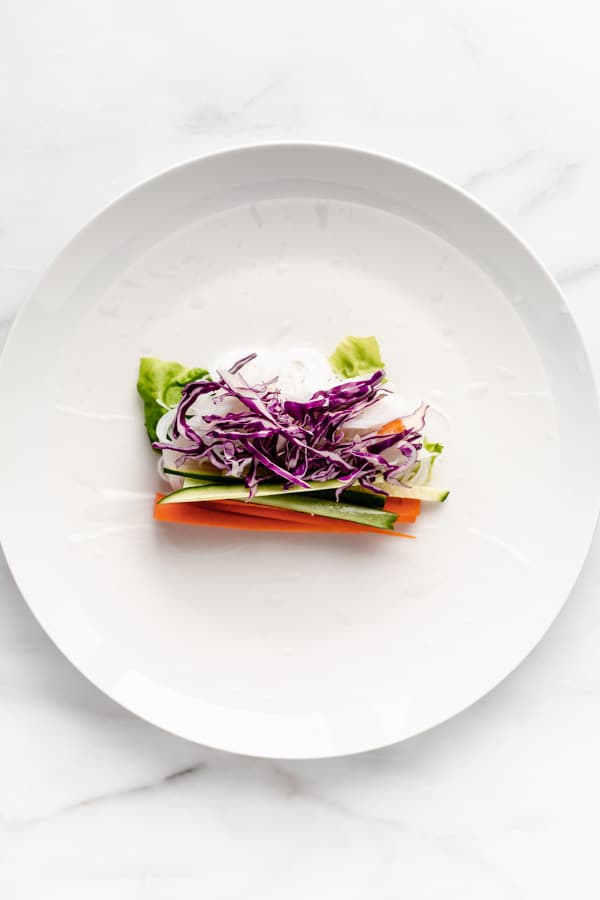 With the plate facing in front of you, fold over the left side of the wrapper and press it down.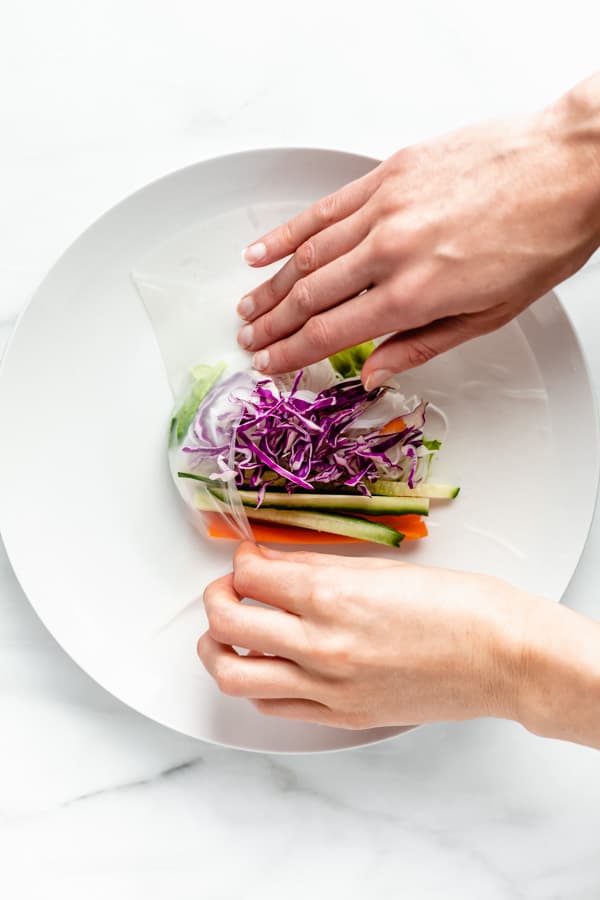 Repeat on the right side.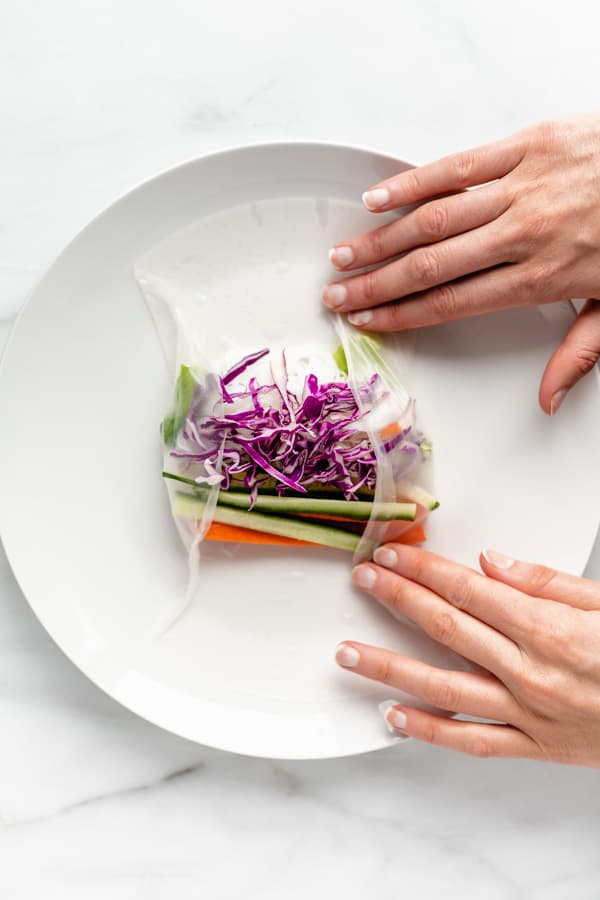 Now the fun part! Flip the plate so one of the unfolded sides is facing you, then use your hands to gently pull the wrapper over the ingredients. Press down and then roll the spring roll towards you. (Kind of like your rolling a burrito!)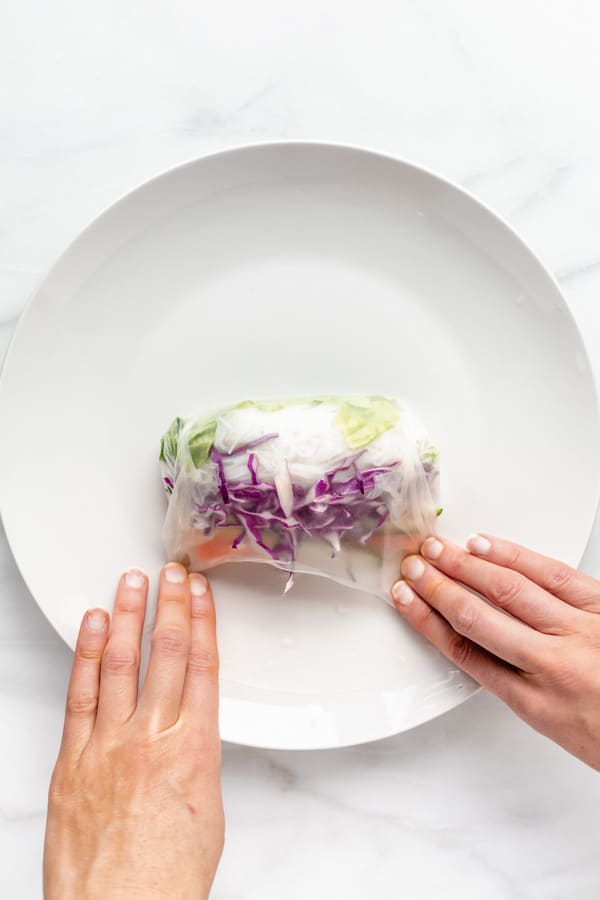 And you're done! You've just made a Vietnamese fresh spring roll! *applause!*
If you're feeling a little overwhelmed or at all confused by this technique and how to wrap spring rolls or salad rolls, click here to watch a video tutorial demonstrating how to make a fresh spring roll.
Tips for making this recipe perfectly every time
Using a bowl of warm water to soak your rice paper wrapper will help soften them up so they are just soft enough to wrap up.
Use vermicelli noodles in your fresh spring rolls as a base. This will help give the spring rolls some bulk and make them easy to roll (also, makes them delicious!)
Cut your vegetables in different sizes for some different textures in your rolls.
When preparing your rolls, place the ones you've made on a plate between two damp paper towels. This will keep them fresh and help them from drying out.
You can make these rice paper rolls in advance if you store them in the fridge in an air-tight container between two damp paper towels.
These fresh spring rolls can be eaten with any
Want to make them more filling and high in protein? Add any type of protein you like to these rolls! (Tofu, meats, edamame, tempeh…etc.)
More Vietnamese recipes to try
Print
Vietnamese Fresh Spring Rolls
Author: Jess
Prep Time: 30 minutes
Cook Time: 0 minutes
Total Time: 30 mins
Yield: 8 rolls 1x
Category: Appetizer, Main
Method: Roll
Cuisine: Vietnamese
---
Description
After making this recipe you'll wonder why you haven't been making fresh spring rolls at home all the time!
---
Quick pickled carrots 
2 carrots, cut into matchsticks 
1/2 cup white vinegar
1/2 cup water
1/2 tsp salt
2 tsp sugar 
Fresh spring rolls 
100g vermicelli noodles, cooked according to package directions 
8 leaves butter lettuce 
1/2 cup shredded cabbage 
1/2 cucumber, cut into matchsticks 
8–16 pieces of pickled carrot sticks 
a handful of mint leaves 
a handful of cilantro leaves
Peanut dipping sauce
---
Instructions
Mix the vinegar, water, sugar and salt together in a bowl then place the carrots sticks in the bowl. Let sit for at least 30 minutes, or overnight if preparing in advance. 
Soak 1 rice paper wrapper in warm water until pliable, 30 seconds to 1 minute.
Using your hands, press the wrapper onto a large plate until it's flat on the plate.
Arrange a small mound of your filling ingredients in the center of the wrapper.
Fold the left side and right side of the wrapper and press down.
Flip the plate 90 degrees and fold the edge of wrapper you over filling, tucking in filling as tightly as possible, then fold in sides and continue to tightly roll until sealed.
Repeat for all your rolls 
To prepare the peanut sauce, mix all the ingredients together in a small pot or microwave until combined, then serve with the spring rolls. 
---
Notes
This video tutorial should help you with the rolling process if you are more visual. 
Using vermicelli noodles in these spring rolls will help give them some bulk and make them easier to roll up. 
If preparing these spring rolls in advance, store them in an airtight container in the fridge between two damp paper towels. 
Add or swap out any veggies you like, or try adding some tofu or tempeh if you want more protein in these rolls.
---
Nutrition
Serving Size: 1 roll with sauce
Calories: 140
Sugar: 4g
Sodium: 257g
Fat: 4g
Saturated Fat: 0g
Carbohydrates: 23g
Fiber: 2g
Protein: 5g
Keywords: Vietnamese fresh spring rolls, Vietnamese summer rolls
If you tried these Vietnamese Fresh Spring Rolls or any other recipe on the blog let me know how you liked it by leaving a comment/rating below! Be sure to follow along on Pinterest, Instagram and Facebook for even more deliciousness!
This post contains affiliate links which means I will make a small commission if you purchase through those links. I only recommend products that I know, trust and love!