The Best Chickpea Veggie Burgers
These are the best Chickpea Veggie Burgers! They're loaded with savoury spices, fresh vegetables, and whole grains for a satisfying meal loaded on a fluffy burger bun!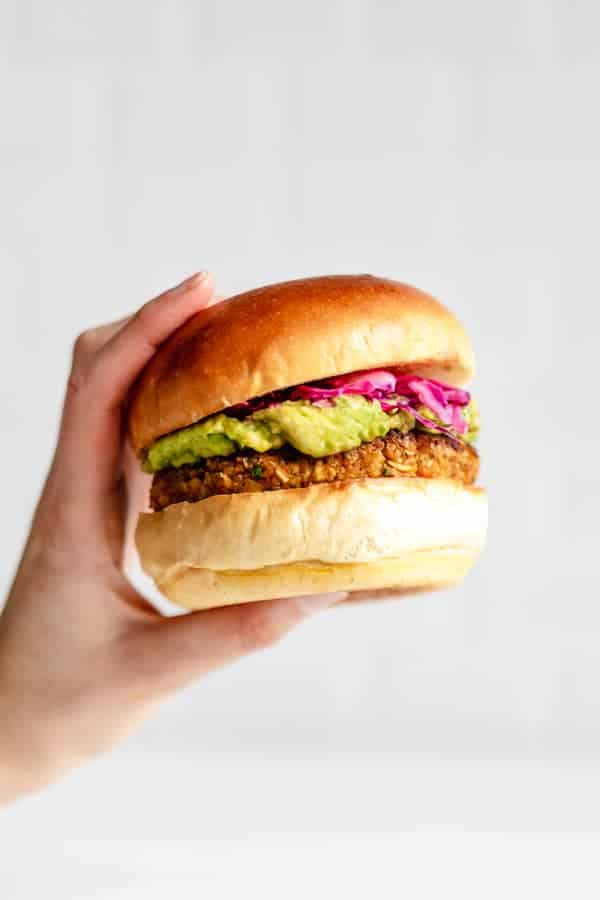 This recipe is sponsored by One Degree Organic.
If you're looking for a veggie burger that's loaded with flavour, this is just what you need! It's packed with veggies, whole grains and is seriously the best chickpea veggie burger…ever.
Are veggie burgers good for you?
Veggie burgers are typically made from legumes, vegetables and whole grains which are good for you ingredients filled with fibre, vitamins, and protein. These Black Bean Quinoa Burgers are another great example!
Some store-bought veggie burgers or veggie burgers you buy at the supermarket can be filled with more processed ingredients, added oils and preservatives, so I always recommend to make a homemade veggie burger!
This veggie burger recipe uses One Degree Organics sprouted rolled oats, which have more nutrients and are easier to digest than regular oats. They are also gluten-free, so they make the perfect binding ingredient in these burgers if you have a gluten sensitivity!
If you're looking for a low-carb or gluten-free option, for this veggie burger, you can skip out on the bun entirely, or make a lettuce burger bun out of lettuce leaves. Otherwise, you can opt for a gluten-free or whole grain burger bun.
Why this recipe works
Chickpeas are loaded with protein, and they stick together well when pureed, making them the perfect base for a veggie burger!
Sautéing the veggies adds a rich bold flavour to the burgers
The combination of vegetables, legumes and whole grains makes for a satisfying and healthy meal
How to make a chickpea veggie burger
First, cook down the onions, garlic, carrots and cauliflower in a pan. Don't skip this step! This is where you'll build all that delicious flavour.
Next, add the mixture along with the rest of the ingredients for the burgers to a food processor.
Then, shape into patties and place them in the fridge to firm up for 30 minutes before frying in the pan.
Add them to a pan with a bit of oil and cook for 3-4 minutes on each side. Then, add your favourite toppings (I like mashed avocado and cabbage) and your favourite bun!
Tips for making the best chickpea burgers
Cooking the onions, garlic, cauliflower and carrots in a pan before adding them to the food processor will give your burgers more flavour
Don't over pulse the burgers. They should still have some texture and not be a paste.
Let the burger patties rest in the fridge for 30 minutes before cooking. This will help them hold together.
Oats make a great binder to hold veggie burgers together. I use One Degree Organic sprouted rolled oats which work great.
If you want to make this burger vegan, reserve 3 tbsp of the liquid from the can of chickpeas and use it instead of an egg.
More chickpea recipes to try
Print
The Best Chickpea Veggie Burgers
Author: Jess
Prep Time: 20 minute
Cook Time: 16 minutes
Total Time: 36 mins
Yield: 8 burgers 1x
Category: Entree
Method: Cook
Cuisine: American
---
Description
A delicious Chickpea Veggie Burger packed with vegetables and whole grains for a healthy satisfying burger! 
---
1 tbsp avocado oil (or vegetable oil)
1 medium onion, chopped
4 garlic cloves, chopped
1 cup shredded carrots
1 cup cauliflower florets
1/2 tsp salt
1 1/2 cups chickpeas (from a can)
1/2 cup quinoa, cooked.
1/2 cup parsley
1 tsp cumin powder
2 tsp chilli powder
1 tsp paprika
1 egg, or 3 tbsp of auqafaba (chickpea liquid from the can)
1–2 tbsp oil for frying
---
Instructions
Heat the avocado oil in a pan on medium-high heat. Add the onion and cook for 2 minutes, then add the garlic, carrots, and cauliflower and let cook for 6-8 minutes. 
Add the veggies to a food processor with the rest of the burger ingredients and pulse until combined, but still has some texture.
Use your hands to shape into 6-8 patties then place in the fridge for 30 minutes to set. 
Heat some oil a large pan on medium-high heat then place your burgers in the pan. Cook on each side for 3-4 minutes. 
Serve in a bun with your favourite toppings. 
---
Notes
I like to eat these burgers with some pickled cabbage and mashed avocado
Don't over pulse the burgers. You want them to still have some texture and not be a paste. 
For a vegan burger, use 3 tbsp of aquafaba (chickpea liquid) in place of the egg. 
For a gluten-free burger, use your favourite gluten-free bun or enjoy this burger with no bun at all
---
Nutrition
Serving Size: one burger
Calories: 244
Sugar: 5g
Sodium: 250mg
Fat: 6g
Saturated Fat: 0.9g
Carbohydrates: 38g
Fiber: 9.5g
Protein: 11g
Keywords: chickpea burger, chickpea veggie burger
If you tried this Chickpea Veggie Burger or any other recipe on the blog let me know how you liked it by leaving a comment/rating below! Be sure to follow along on Pinterest, Instagram and Facebook for even more deliciousness!
This post contains affiliate links which means I will make a small commission if you purchase through those links. I only recommend products that I know, trust and love!