Quick & Easy Vegan Ramen
This Quick & Easy Vegan Ramen is a delicious homemade soup that is perfect for a cold or rainy day. It's filled with ramen noodles & soft tofu and comes together in less than 30 minutes!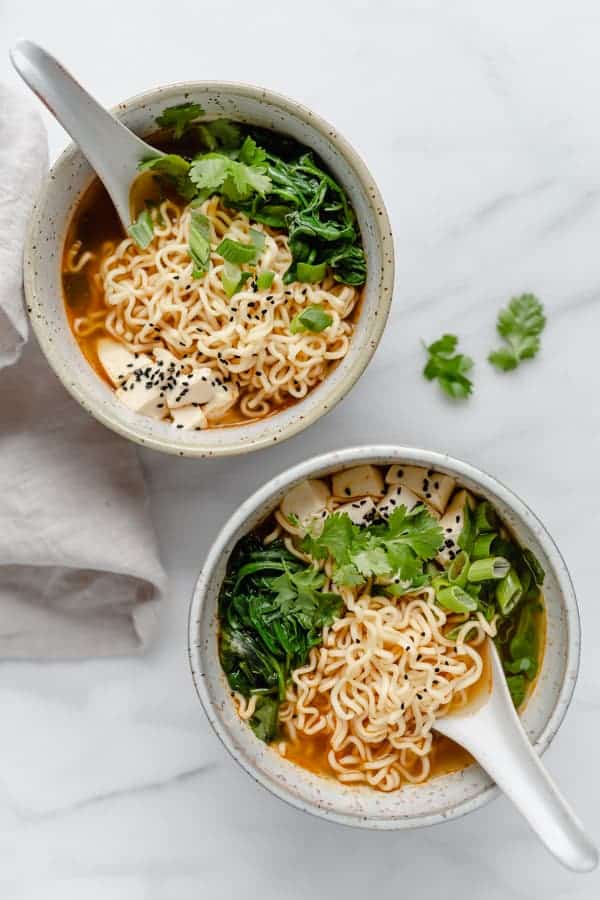 It's been raining a lot the past couple weeks. And I mean A LOT.
So naturally, all I've been wanting to eat is an absurd amount of soup. Seriously. Cauliflower soup, butternut squash soup, doesn't matter what it is. I WANT IT ALL.
There's just something about the cold rainy days in Fall that make soup taste just extra good. And there's no feeling quite like having a belly filled with soup and feeling your entire body warm up from your head to your toes. mmm.
Easy Ramen Noodle Recipe
To be honest, this is what I'm feeling RIGHT NOW. Because friends, I just finished eating a big bowl of this ramen noodle soup before sitting down to write this post.
This quick & easy vegan ramen is EVERYTHING. Seriously. Homemade is the only way to go. The best part of this ramen has got to be how quick and simple it is to throw together. Maybe not as quick and simple as a Ramen packet where you just throw some flavouring into a pot, but hey, that's the trade off for healthy, natural homemade ramen made with love.
Homemade Ramen Seasoning
What makes this recipe so great, is the homemade ramen seasoning. Yes ramen seasoning is easy to find in the grocery store and convenient to use, but it is loaded with sodium and fake ingredients we don't want to put in our bodies!
Really it is not hard to make the seasoning of tradition ramen. All you need here is dried shitake mushrooms, garlic powder, onion, soy sauce, miso paste and some vegetable broth! See not a lot!
How to make homemade ramen:
Ok. So broth, broth, broth. The broth is essential for making a full-bodied ramen soup. And since this is a vegan broth, we need to get that rich flavour elsewhere than in a typical ramen soup. So we're adding in some dried shiitake mushrooms and some miso paste for that savoury flavour. (not to mention miso is super good for you too!)These are so important to give this soup that "OUMF!" that you want in a ramen broth.
Although this recipe only takes 20 minutes to prep, the longer you leave the broth to sit the more intensified the flavours will become. So if your a planner, (Hello meal prep!) prepare the broth a day ahead of time for a flavour-packed ramen broth that'll blow your socks off.
As far as tofu goes, make sure to use soft tofu. (no extra firm tofu please!) We're looking for a nice silky texture to compliment the soup broth.
And of course, let's not forget the star of the dish: ramen noodles. I like to use organic whole grain ramen noodles, but you can use any type of ramen noodles you like. Opt for gluten-free if needed.
This Quick & Easy Vegan Ramen is:
Quick & easy (hehe I had to…)
Filled with bold rich flavour
Makes for the ultimate rainy day comfort food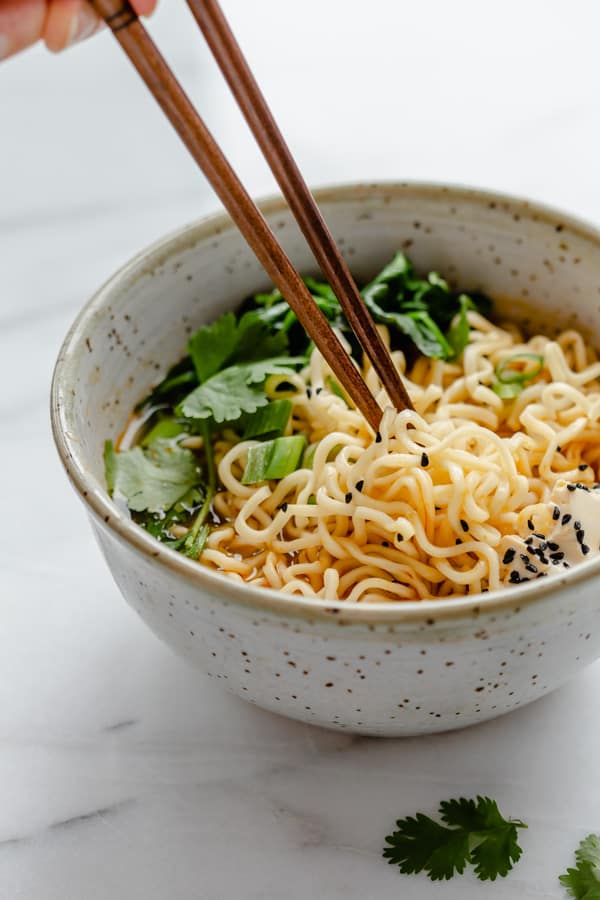 If you tried this Quick & Easy Vegan Ramen or any other recipe on the blog let me know how you liked it by leaving a comment/rating below! Be sure to follow along on Pinterest, Instagram and Facebook for even more deliciousness!
Print
Quick & Easy Vegan Ramen
Author: Jess
Prep Time: 7 minutes
Cook Time: 13 minutes
Total Time: 20 minutes
Yield: 2–4 servings 1x
Category: Dinner
Method: Cook
Cuisine: Japanese
---
Description
This ramen soup is perfect for a cozy night in and comes together in less than 30 minutes!
---
2 tbsp avocado oil (or vegetable oil)
4 green onion, chopped into 1-inch pieces
4 garlic cloves, cut in halves
3-inch cube of ginger, cut into 4 pieces
1 oz dried shitake mushrooms (about 15–20 dried shitake, can sub fresh shitake)
1-litre vegetable broth
1 cup water
2 tbsp soy sauce
1 tbsp miso paste (white or red)
1 tsp agave (or maple syrup)
1 block soft tofu, cut into small cubes
2 packs vegan ramen noodles
spinach, cilantro, & green onions to garnish
---
Instructions
Heat the avocado oil in a large pot on medium-high heat.
Add the green onion, garlic and ginger to the pot and saute for 2 minutes.
Next, add the dried shitake mushrooms and saute for another 2 minutes.
Add the vegetable broth, water, soy sauce, miso paste and agave and bring to a boil, mixing well until everything is combined, then reduce heat to low, cover & let simmer for 10 minutes.
(Optionally) strain the soup to remove the large chunks of garlic & ginger, or just remove them with a fork if desired.
Raise the heat to medium, then add the tofu and ramen noodles, letting cook for 2-3 minutes until the noodles are soft.
Serve with some steamed baby spinach, chopped green onion and fresh cilantro.
---
Equipment
---
Notes
This broth intensifies with flavour over time. Prepare the broth a day before you want to enjoy it to make it even better! Depending on how much sodium is in the broth you use, you may need to add a bit more or less soy sauce. Taste and adjust accordingly.
---
Nutrition
Serving Size: 1/4 of recipe
Calories: 217
Sugar: 5g
Fat: 5g
Saturated Fat: 1g
Carbohydrates: 33g
Fiber: 3g
Protein: 11g
Keywords: vegan ramen recipe, how to make vegetarian ramen, healthy homemade ramen
This post contains affiliate links which means I will make a small commission if you purchase through those links. I only recommend products that I know, trust and love!
This post contains affiliate links which means I will make a small commission if you purchase through those links. I only recommend products that I know, trust and love!