How to Create The Perfect Breakfast in Bed
We all love breakfast. And with all the buzz around self-care routines lately, there's no better way to take care of yourself than enjoying a slow morning with breakfast in bed.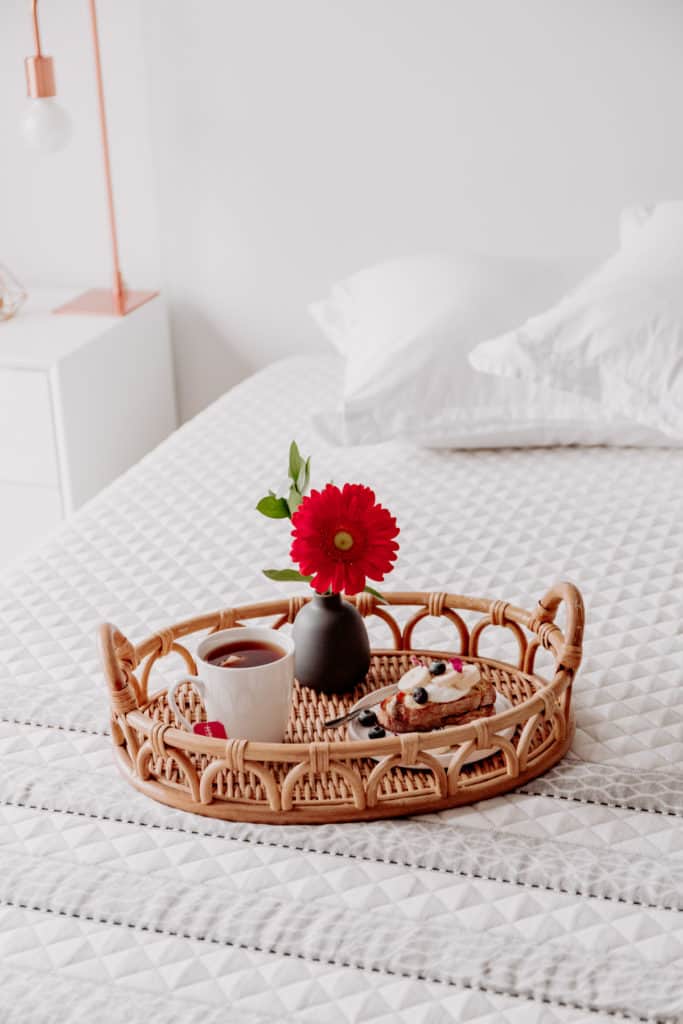 This post is in partnership with Leesa.
If I had to choose a favourite meal of the day, I'd most definitely have to go with breakfast. Besides the fact that there's nothing more motivating than waking up to eat, breakfast is a time that I like to take to myself to relax and enjoy before the hustle bustle of the day starts. Taking time to enjoy breakfast is kind of like a self-care routine on its own, but throw a big comfy bed in the mix, and now we're talking ultimate self-care!
Now I know during the busy weekdays most of us don't really have the time to leisurely spend the morning in bed, but if you're looking for a relaxing self-care activity for the weekend, (to enjoy on your own, or with a loved one) breakfast in bed is a must!
There are two elements that are essential to creating the perfect breakfast in bed. The breakfast…and the bed. Nothing feels better than having a comfy bed to snuggle up in and leisurely enjoy breakfast. And this all begins with a good Mattress.
The bed
I've been using the Leesa Sapira hybrid for 2 years now, and besides improving my overall quality of sleep, It's helped create my bedroom sanctuary where I love to spend time to wind down & relax. The bed itself is firm, with just the right amount of softness. (I personally don't like a soft mattress, but also want my firm mattress to not feel like a wood board, so the Leesa hybrid is absolutely perfect!)
I loved the mattress so much that after owning the full sized mattress for 2 years, I decided to upgrade to the King sized mattress (but will be keeping both mattresses!)
What I love about Leesa that differentiates them from other mattress brands is that they are a socially responsible company and do SO much good for the community.
I've partnered with Leesa today to show you how to create the perfect breakfast in bed so you can enjoy some self-care in the comfort of your room. Go grab yourself a Leesa mattress (they'll deliver it right to your door in a compact box!) and let's get started on some tips & tricks to make the perfect breakfast in bed!
Make sure to check out Leesa's memorial day sale going on and save up to $400 on a mattress!
How to create the perfect breakfast in bed:
Clear your space Before we get to the food, you'll want to make sure you have a nice zen space where you'll actually feel relaxed in. A clear space leads to a clear mind. So make sure to give your room a little tidy up to create a space that will leave you feeling relaxed!
Set the mood Candles, essential oil diffusers and fresh flowers are all great options for setting the mood for your space. Candles naturally leave you feeling cozy, and essential oils can make you feel relaxed as can be.
Bring in cozy elements Big knit socks, Extra pillows, blankets…go crazy! Whatever will make you and your bed feel extra snuggly.
Prepare your breakfast And last but not least prepare your breakfast! For this, you can either go a little fancier and make some waffles or pancakes or keep it simple with some fresh pastries and jams. Make a pitcher or coffee or tea, and then add some fresh fruit on the side and your good to go!
You're breakfast in bed checklist:
A serving tray
A vase of fresh flowers
A teapot/french press
Dishes & cutlery
Napkins
Reading materials
And of course…the food itself!
Breakfast in bed recipe options:
It's so important to remember to take time for ourselves and slow down sometimes. Breakfast in bed is the perfect activity to really spend that time just being present and being in space where you can feel at peace.
Enjoy your breakfast! xx
This post contains affiliate links which means I will make a small commission if you purchase through those links. I only recommend products that I know, trust and love!