Healthier belgian waffles
This recipe for healthier Belgian waffles will bring your weekend brunch to the next level! They're crispy, delicious and can be topped with anything you like!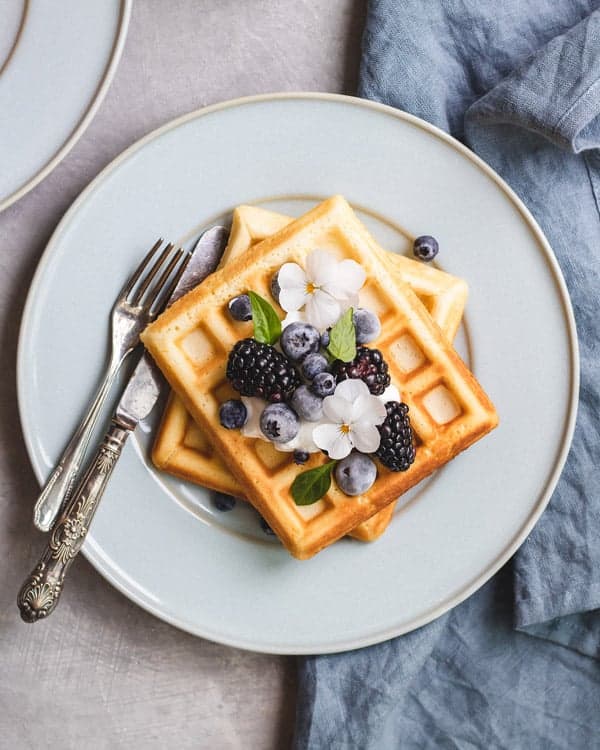 Picture this:
It's a cold winter day. You wake up and it's snowing outside. You put on a big cozy sweater, make a pot of tea and a big batch of healthier Belgian waffles. You curl up on the couch with your waffles, tea, and a good book.
Doesn't that sound nice?
This is pretty much the image I have in my mind when I think about enjoying cozy foods in the winter.
Especially on weekends, I like to take my mornings slow, (no need to rush like on Mondays!) and enjoy something a little different for breakfast.
I also love breakfast (or brunch) on the weekends as a social activity with friends and loved ones. It's a great activity that doesn't require going out, spending money, and circling around for hours trying to find parking in a snowstorm.
Let's face it, winter is a time for staying in! (Any other hygge enthusiasts out there?)
These healthier Belgian waffles are perfect for a weekend brunch (or hey, even weekday breakfast) to enjoy for some peaceful time alone or to cook and share with others.
Belgian waffles versus regular waffles?
We all know from our childhood normal waffles. The sweet (but I challenge you to try some savory waffles as well!) doughy breakfast staple we all added way too much syrup to. But let's upgrade this breakfast favorite to the waffle 2.0, the Belgian waffle.
Belgian waffles are different in their ingredients, taste and appearance. traditionally Belgian waffles were made with yeast and the batter was allowed to rest and rise which resulted in a light, airy waffle. Now, to achieve the same effect in less time and effort, you can use baking powder or beat the eggs first before folding them in. Remember, never over mix your batter!
The secret to these waffles is the waffle maker. Belgian waffles are not only bigger in size (diameter), they are way thicker which means they have bigger, deeper pockets. You know what bigger pockets means – you can fit more delicious contents such as syrup, jam or this blueberry compote.
How to make healthy Belgian waffles:
I make my healthy Belgian waffles with spelt flour, which is a less processed alternative to regular flour. I also use homemade almond milk to keep them dairy-free, and avocado oil for a dose of healthy fats!
This recipe is versatile, so you can use any oil you prefer, and regular or whole-wheat flour if you prefer.
I enjoy mine topped with coconut yogurt, berries, and maple syrup!
Print
Healthier Belgian waffles
Author: Jess
Prep Time: 10 mins
Cook Time: 6 mins
Total Time: 16 mins
Yield: 4 servings 1x
Category: Breakfast
Method: Cook
Cuisine: American
---
Description
These are seriously the BEST healthy, fluffy Belgian waffles!
---
---
Instructions
Mix the flour, baking powder, salt, and cinnamon, and sugar together in a bowl.
In a separate bowl, mix the eggs, almond milk, avocado oil, and vanilla extract together until combined.
Gently pour the dry ingredients into the bowl of the wet ingredients mixing just until combined. Do not overmix.
Heat your waffle press and spray with a non-stick cooking spray.
Cook the waffles for 2-3 minutes on each side or until golden brown.
Serve with yogurt, maple syrup, and your favorite berries!
---
---
Nutrition
Serving Size: 1 waffle
Calories: 152
Sugar: 7g
Fat: 5g
Saturated Fat: 1g
Carbohydrates: 21g
Fiber: 2g
Protein: 6g
Keywords: Healthier Belgian waffles, vegan belgian waffles, how to make vegan waffles
Tips & suggestions:
To make flax eggs mix 2 tbsp ground flax seeds with 6 tbsp water. Let sit for 5 minutes to gel
Cook frozen berries in a pot on medium-low heat to make a berry compote for your waffle
If you love these you'll also love Vegan buckwheat waffles!
This post contains affiliate links. I only recommend products I know, trust and love!
This post contains affiliate links which means I will make a small commission if you purchase through those links. I only recommend products that I know, trust and love!