Vegan Coconut Rice Pudding
This vegan coconut rice pudding is smooth and creamy and makes the perfect warming treat! It's made with simple ingredients and can be enjoyed for a dessert, a snack or even a sweet breakfast!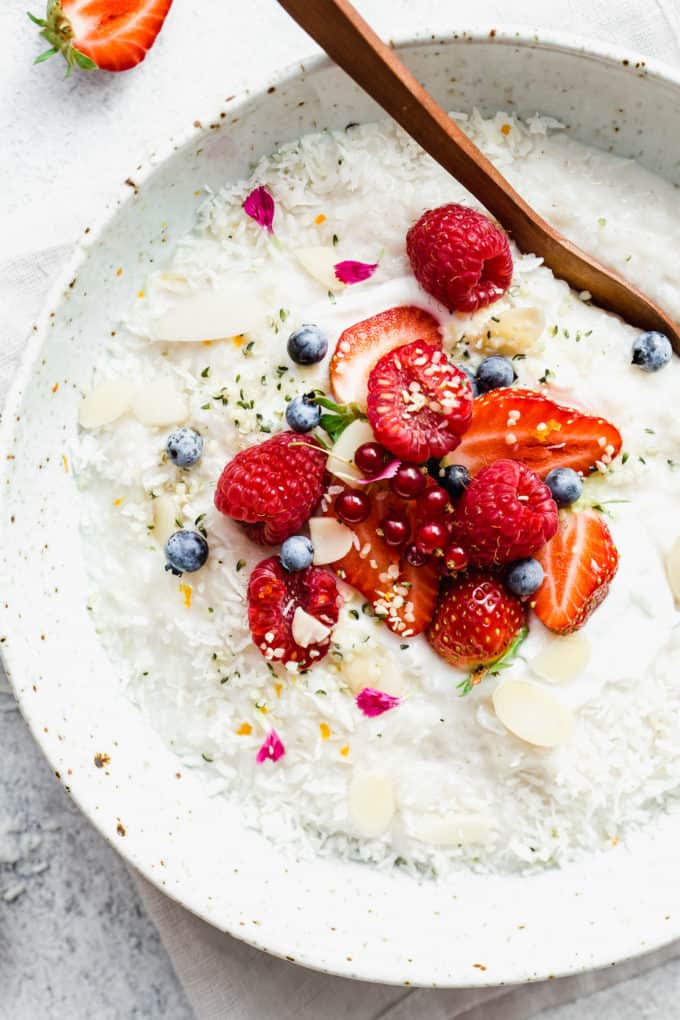 Coconut milk rice pudding
If you're looking for a delicious, creamy, dairy-free rice pudding that is vegan and packed with coconut flavour, look no further. This Vegan Coconut Rice Pudding recipe is exactly what you need.
And if you've never heard of or tried rice pudding before and happened to stumble upon this recipe, then you're in for a treat!
Rice pudding is soft, creamy, and has a really neutral flavour compared to eating oats or some other porridges, which makes it perfect for flavouring it how you like. It's typically enjoyed as a dessert but can also be enjoyed as a breakfast, similar to how you'd enjoy other oatmeal bowls or grain bowls.
This rice pudding recipe features cinnamon and orange as the star ingredients. Seriously, this is the only rice pudding recipe you'll ever need.
Why you'll love this rice pudding
Dairy-free rice pudding. Most rice pudding recipes are made with milk, cream or butter and contain dairy. This coconut rice pudding recipe is completely dairy-free and vegan, but still super creamy from the coconut milk.
Can be made with dry or cooked rice. Whether you're making rice pudding from scratch or looking for a way to use up that leftover rice in your fridge, this recipe can be made with both!
Easy to customize. Add any flavours or mix-ins you love to this vegan rice pudding recipe!
What rice do you use to make rice pudding?
I have some good news for you: you can make rice pudding with most types of white rice.
It's important to use white rice to make rice pudding and not brown rice or wild rice, as we want the rice to not have an overpowering flavour.
You can use long-grain rice like jasmine rice or basmati rice, or short-grain rice like arborio rice or sushi rice. For this recipe, I like to use arborio rice for its super creamy and delicious texture. (This is the same type of rice used to make a creamy risotto!)
Vegan Rice Pudding ingredients
Coconut milk: for this recipe I use light coconut milk to keep the rice pudding a little lighter and lower in calories, while still making it creamy. If you want you can use a can of full-fat coconut milk.
Cinnamon: either a cinnamon stick or cinnamon powder will work to infuse the coconut milk with flavour.
Vanilla extract: real vanilla extract is best!
Cane sugar: you can use regular white cane sugar, brown sugar, maple syrup, agave nectar or coconut sugar in this recipe. All will work!
Arborio rice: you can substitute it with any white rice you have on hand.
Orange zest: this is optional but will add a delicious orange flavour to the coconut rice pudding.
How to make Coconut Rice Pudding
Step 1
Add the coconut milk, vanilla extract, sugar and cinnamon stick (or powdered cinnamon) to a pot on medium-high heat. Mix together until combined and bring the mixture to a light boil. Remove the cinnamon stick after 2 minutes.
Step 2
Once the coconut milk is lightly bubbling, add 3/4 cup rice to the pot and mix together.
Step 3
Reduce the heat to medium-low and let the rice cook in the coconut milk, string every couple of minutes. (This is the same cooking technique you would use to cook risotto.) As the rice cooks, you will see the rice pudding begin to thicken.
Step 4
Stir in the orange zest and mix together. You'll know the rice pudding is done when the rice is nice and soft. If the rice still has a little bite to it, continue to cook on low heat.
How to make rice pudding in an instant pot
Rice pudding is easy to prepare in your Instant pot if you prefer to use it. The only ingredient change to make will be to use 3 cups of coconut milk or a mix of coconut milk and water.
Add all the ingredients to an Instant Pot and mix together, then close the lid with the vent set to sealing.
Set to "porridge" mode on your Instant Pot and cook for 15 minutes, and then leave on the "keep warm" mode for 8 minutes.
Release the pressure by turning the knob to venting.
How to make rice pudding with cooked rice
Have leftover rice in your fridge that you want to use to make rice pudding? No problem! Just follow the directions below:
Mix the coconut milk, cinnamon, vanilla extract and sugar together in a small pot on medium-high heat. Mix together for 5 minutes, then remove the cinnamon stick if using one.
Next, add the rice and let simmer on medium-low heat for 10 minutes until the rice becomes nice and creamy.
Stir in the orange zest.
Serve the rice pudding with any toppings you like!
Vegan rice pudding topping ideas
The best part about rice pudding (in my opinion) is the toppings! There are so many different ways you can top this rice pudding. Here are some suggestions to get you started.
shredded coconut
berries
hemp seeds
chia seeds
nuts
nut butter
jams
chocolate hazelnut spread
granola
dark chocolate chips
cacao nibs
orange slices
banana
mango
How to store and reheat leftovers
Store any leftover rice pudding in the fridge for up to 5 days. Reheat any leftovers in a bowl in the microwave or in a saucepan on the stovetop. You may need to add a little more liquid when reheating to help loosen up the rice pudding.
Expert tips for making vegan rice pudding
Use arborio rice in this recipe for the best results. This will give you a really creamy rice pudding. If you don't have this rice, you can also use Jasmine rice or Basmati rice.
Stir the rice often when cooking. This will help prevent the rice from sticking to the bottom of the pot while it cooks.
Cook on medium-low heat. This is the best way to cook the rice pudding so it becomes creamy and evenly cooks. If you cook it on high, the rice won't cook properly.
Rice Pudding FAQ
Can you make rice pudding ahead of time?
Yes! You can prepare this recipe ahead of time and then reheat it in a pot on the stovetop when you are ready to serve it.
Is rice pudding the same as tapioca?
No. Rice pudding is made with a base of rice, while tapioca pudding is made with a base made from Cassava root. Rice pudding will have a smoother and creamier texture than tapioca pudding.
How healthy is rice pudding?
While some rice pudding recipes can be loaded with sugar, this rice pudding is made with healthier ingredients. Each serving of this rice pudding contains 330 calories, 10 grams of fat, 3 grams of fibre and 5 grams of protein.
Do you need eggs for a creamy rice pudding?
Not at all! You can make a delicious and creamy rice pudding with coconut milk.
Try these coconut treats next!
If you tried this Vegan Coconut Rice Pudding or any other recipe on the blog let me know how you liked it by leaving a comment/rating below! Be sure to follow along on Pinterest, Instagram and Facebook for even more deliciousness!

Print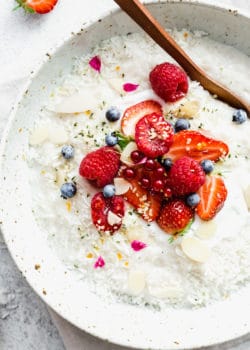 Vegan coconut rice pudding
Author: Jessica Hoffman
Prep Time: 5 minutes
Cook Time: 20 minutes
Total Time: 25 minutes
Yield: 4 servings 1x
Category: Dessert
Method: Cook
Cuisine: American
Diet: Vegan
---
Description
This creamy rice pudding is made with coconut milk and is flavoured for orange zest for a delicious dessert you'll love!
---
2 cups light coconut milk
1/2 tsp cinnamon or 1 cinnamon stick
1/2 tsp vanilla extract
2 tbsp cane sugar (can sub maple syrup)
3/4 cups arborio rice (can sub jasmine rice)
2 tsp orange zest
1/2 cup water*(if needed, see note)
---
Instructions
Place the coconut milk, cinnamon, vanilla extract and sugar together in a medium pot on medium-high heat and bring to a light boil. If using a cinnamon stick, remove it before adding the rice.) 
Lower the heat to medium-low, then add the rice to the pot and mix together. 
Continue to mix the rice every couple of minutes until the rice begins to thicken into a porridge. 
The rice pudding is done once the rice is thickened and is soft. (take a bit to see.) If the rice is still a little hard inside but the porridge is thick, add a little water to the rice pudding and continue to cook on medium-low. 
Mix in the orange zest at the end before serving. 
---
Notes
*if the rice pudding starts to thicken and the rice isn't cooked, add a little bit of water, 1/4 cup at a time and mix it into the rice on medium-low heat. Keep adding as needed until the rice is cooked. 
Store leftovers in an airtight container in the fridge for up to 5 days. 
---
Nutrition
Serving Size: 1
Calories: 330
Sugar: 6g
Fat: 10g
Saturated Fat: 3g
Carbohydrates: 53g
Fiber: 2g
Protein: 5g
Keywords: Vegan rice pudding recipe, coconut rice pudding, rice pudding with coconut milk
This post contains affiliate links which means I will make a small commission if you purchase through those links. I only recommend products that I know, trust and love!