Salted caramel coconut bliss balls
These salted caramel coconut bliss balls are made with only 4 ingredients and are so easy to make. Grab a couple with a cup of tea for a blissful snack!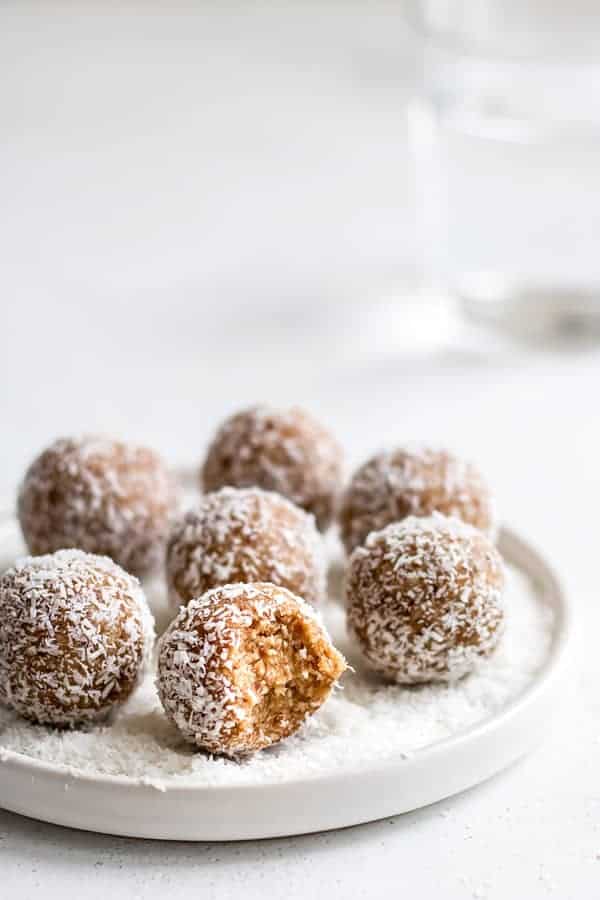 Bliss balls, energy balls, date balls…whatever you choose to call them they are all one thing: delicious!
What are bliss balls?
Bliss balls are a simple treat that pack a mighty health punch. These pick-me-ups are a simple concoction of whole, raw ingredients blended together and then rolled into a convenient ball that you can bring anywhere and eat any time! Making bliss balls have become such a staple in my kitchen. I think I must make them every week. They really are the perfect little snack to keep stored in a container in the fridge for whenever you need something quick and easy to eat.
Why are bliss balls healthy?
I think the better question is, is there anything not healthy about bliss balls?! Firstly, these balls contain only a handful of ingredients, so everything in these are whole and unprocessed. Secondly, being raw, these plant-based ingredients contain their natural enzymes that aid in digestion.
And now lastly, the ingredients in these specific salted caramel bliss balls are high in fiber, protein, minerals and vitamins. The main ingredient in any of my bliss ball recipes is Medjool dates – the best thing about this wonder ingredient is being a fruit, they have quite a bit of natural sugar. However, dates also have TONS of fiber, therefore, the glycemic index is low (low enough for diabetic patients!) on these bad boys, so they will give you lots of energy without spiking your blood sugar and leaving you in a crash. I think we should call them vegan energy balls instead! What else could you want out of a snack??
How to make salted caramel coconut bliss balls
Some other favourites I've made on the blog include these no-bake almond butter energy bites, and these coconut bliss balls (an oldie, but a goodie!)
One thing I love about making these types of vegan bliss balls is that they are just so damn easy to make. I'm talking a food processor and the press of a button easy to make. It's practically magic.
This recipe for salted caramel coconut bliss balls is especially easy to make since the recipe only uses 4 ingredients. Yup. that's it. and one of the 4 is salt (which hardly even counts as an ingredient!)
The secret to the salted caramel flavour in these bliss balls is to use Medjool dates. If you're not familiar with Medjool dates, they are bigger, softer and have a more caramelly flavour than regular dates do. They're pretty much the definition of "nature's candy."
You can of course use regular dates in this recipe if you don't have Medjool dates on hand, but if you can find them, I HIGHLY recommend them!
The other great thing about using dates in this recipe is that there is no added-sugar to these bliss balls! They are 100% natural ingredients but taste super decedent.
I like to roll mine in some unsweetened shredded coconut, but you can roll these babies in anything you like! Hemp seeds, chia seeds, and cocoa powder are all good options.
Print
Salted Caramel Coconut Bliss Balls
Author: Jessica Hoffman
Prep Time: 15 minutes
Cook Time: 0 minutes
Total Time: 15 minutes
Yield: 12 balls 1x
Category: Snack/Dessert
Method: No-bake
Cuisine: American
Diet: Vegan
---
Description
Healthy and delicious bliss balls that only require 4 ingredients!
---
---
Instructions
Add the Medjool dates, almonds, shredded coconut and salt to a food processor and pulse until it forms into a sticky dough.
Using your hands, roll into bite-sized balls, and then roll into a plate of shredded coconut to top if desired.
Store in the fridge in an airtight container
---
Equipment
---
Notes
Depending on how fresh your dates are, you may need a few more dates. If your dough isn't sticky enough, add a couple more dates and pulse until it feels like a sticky dough.
Can't find Medjool dates? Soak regular dates in hot water for 5 minutes. Drain and use.
---
Nutrition
Serving Size: 1 ball
Calories: 129
Sugar: 12g
Fat: 6g
Saturated Fat: 3g
Carbohydrates: 16g
Fiber: 3g
Protein: 3g
Keywords: energy bites, healthy treat, salted caramel bliss balls, vegan snack, healthy snack
This post contains affiliate links. I only recommend products I know, trust and love!
This post contains affiliate links which means I will make a small commission if you purchase through those links. I only recommend products that I know, trust and love!