Coconut Chia Pudding
This Coconut Chia Pudding is healthy and easy to make and is loaded with coconut flavour. You only need a handful of ingredients and a bowl to make this recipe!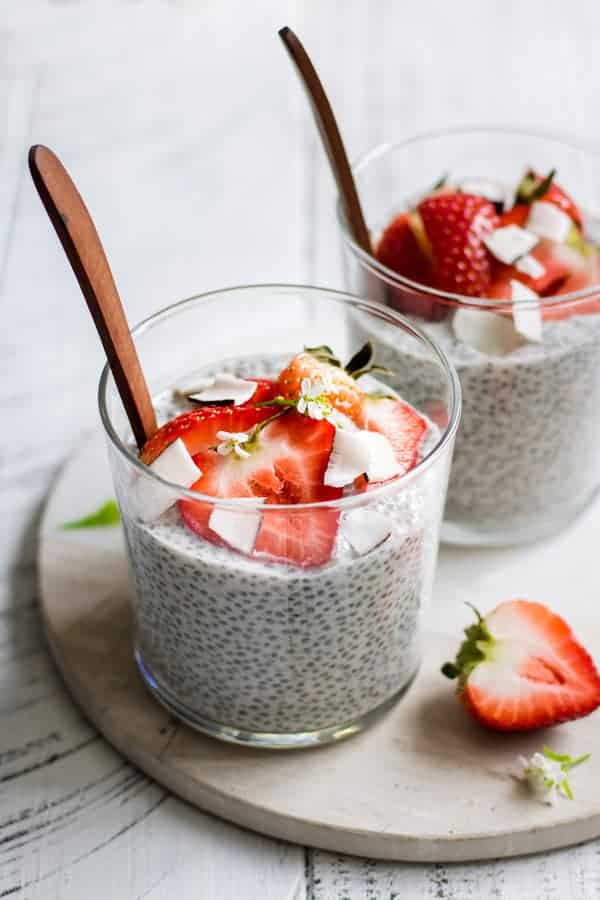 Why you'll love chia pudding made with coconut milk
This recipe is simple to make but one of the most delicious ways to enjoy chia pudding.
It only uses 6 simple ingredients to make this recipe!
It's the perfect breakfast or snack to bring on the go in a mason jar or tupperware so you can enjoy it at work, after the gym or even on a roadtrip.
The coconut milk in this recipe makes the chia pudding really rich and creamy, so it feels like a decedent treat!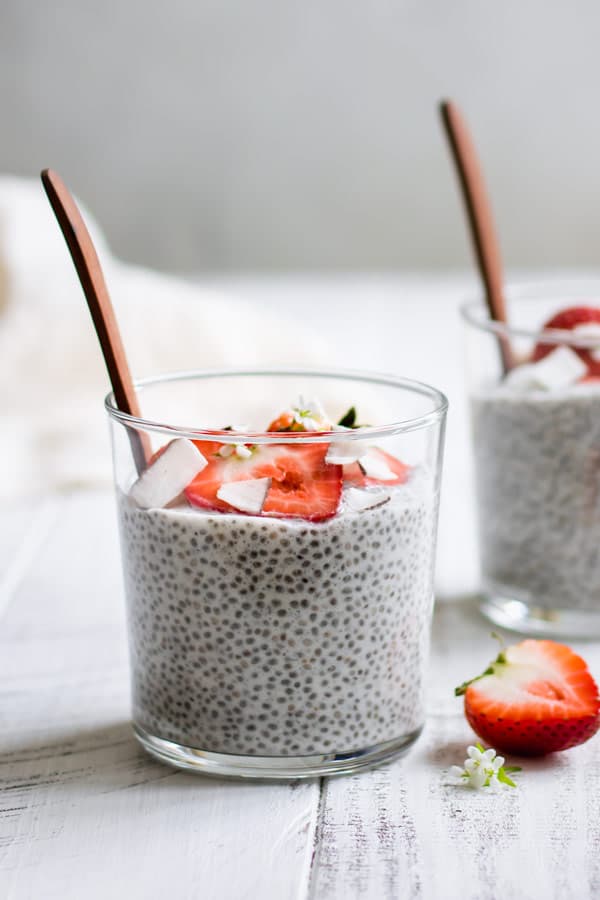 How to make chia pudding with coconut milk
This coconut chia pudding recipe starts with some chia seeds and unsweetened shredded coconut and then gets mixed together with some light coconut milk, maple syrup, and just a touch of vanilla. THAT'S IT.
Pretty simple, right? What I love about using coconut milk to make chia pudding is that it's a little bit richer than using almond milk. (since it has some more fat in it) This creates a chia pudding that is super creamy!
After you finish making the base for thie chia pudding, you can add whatever types of toppings you like. In the case of this recipe, I opted for some strawberries and some coconut chips. The combination of coconut and strawberry is a perfect match!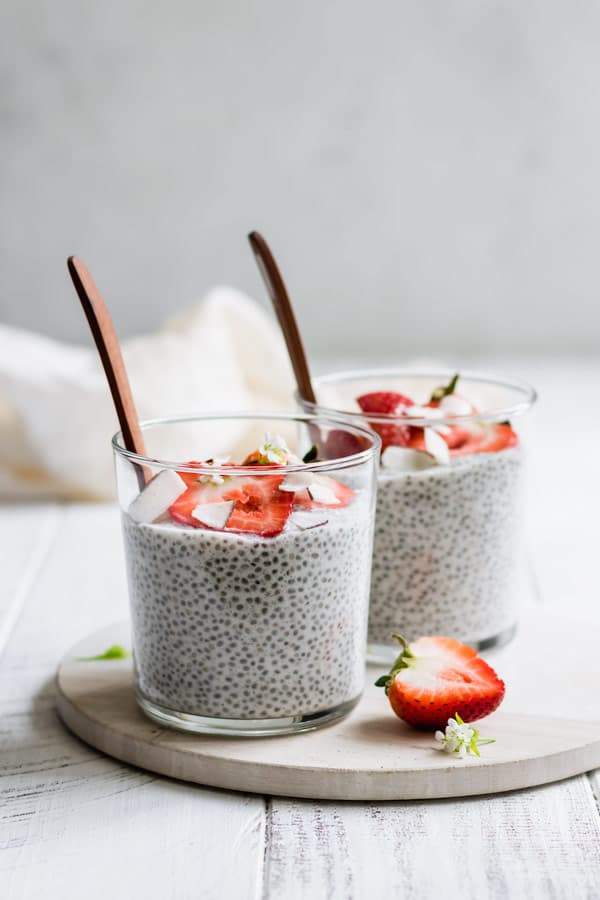 Tips for making this recipe perfectly
Whisk the chia pudding together well for a few minutes before placing in the fridge to avoid getting any clumps.
For the perfect texture, place in the fridge overnight to set so the chia seeds really have time to expand. (This recipe is still delicious if you let it sit for just an hour though!)
When assembling a cup of chia pudding, layer the chia pudding with fruit and some granola, flaked coconut or nuts on top for a bit of crunch!
Make this recipe directly in small jars to have your coconut chia puddings ready for an on the go snack.
Make this recipe a chocolate coconut chia pudding by adding 2 tbsp of cocoa powder to the recipe!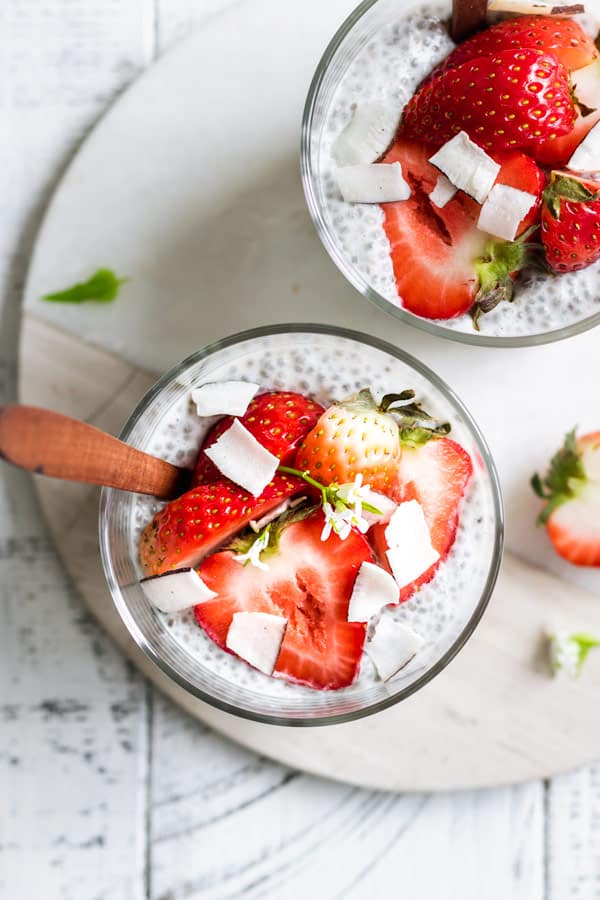 Some other options for toppings can be any fruit you love, nuts & seeds, granola and cinnamon. My "perfect" combination for chia pudding toppings always includes fruit and something with a bit of a crunch.
A few notes on this recipe:
You can make this coconut chia pudding recipe with full-fat coconut milk if you're looking for a richer & creamier chia pudding. Just remember that coconut milk can be pretty high in fat, which is why I prefer light coconut milk for this recipe!
Some other chia pudding recipes on the blog: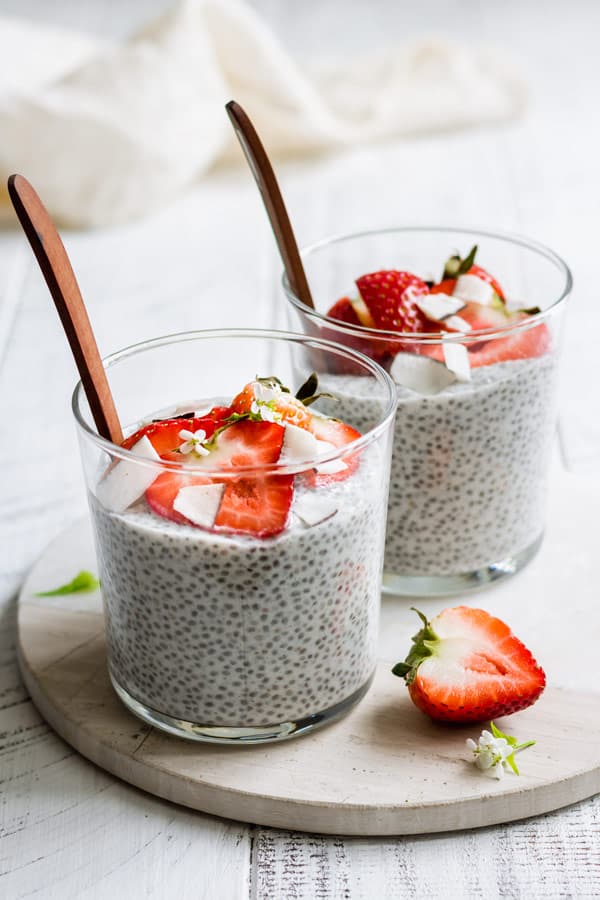 If you tried this Coconut Chia Pudding or any other recipe on the blog let me know how you liked it by leaving a comment/rating below! Be sure to follow along on Pinterest, Instagram and Facebook for even more deliciousness!
Print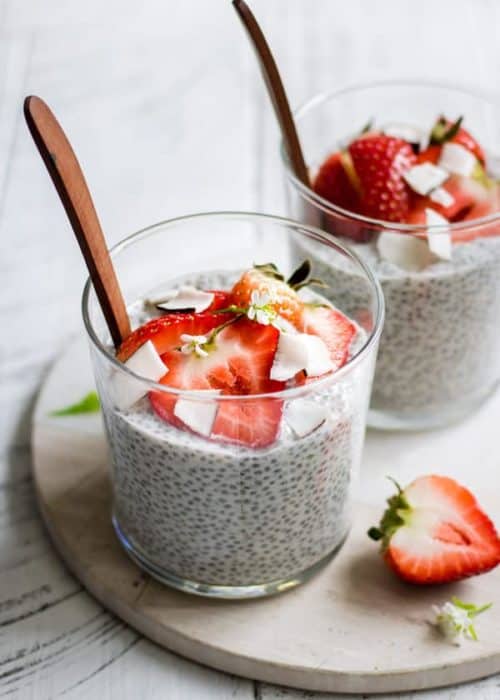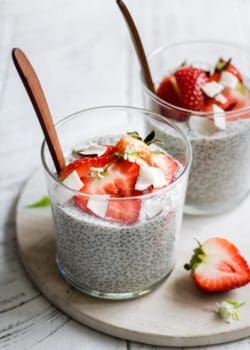 Coconut Chia Pudding
Author: Jess
Prep Time: 10 minutes
Cook Time: 0 minutes
Total Time: 10 minutes
Yield: 2 servings 1x
Category: Breakfast
Method: Mix
Cuisine: American
---
Description
A coconutty chia pudding that uses only a handful of ingredients and one bowl to make!
---
---
Instructions
Mix all the ingredients together in a bowl.
Let sit on the counter for 10 minutes, giving it a stir every 2-3 minutes.
Cover and place in the fridge to firm up for 1-2 hours.
Remove and enjoy.
---
Notes
Top this chia pudding off with some strawberries and coconut chips
Store this chia pudding in the fridge for up to a week in an air tight container
---
Nutrition
Serving Size: 1 cup
Calories: 235
Sugar: 12g
Fat: 10g
Saturated Fat: 2g
Carbohydrates: 30g
Fiber: 14g
Protein: 6g
Keywords: how to make chia pudding, chia pudding with coconut milk
This post contains affiliate links which means I will make a small commission if you purchase through those links. I only recommend products that I know, trust and love!
This post contains affiliate links which means I will make a small commission if you purchase through those links. I only recommend products that I know, trust and love!