Tuscan Soup With White Beans
This Tuscan White Bean Soup is a simple and savory vegetarian recipe that comes together in less than 30 minutes! It's made with white cannellini beans, veggies and kale for a delicious soup that is creamy and filled with flavour!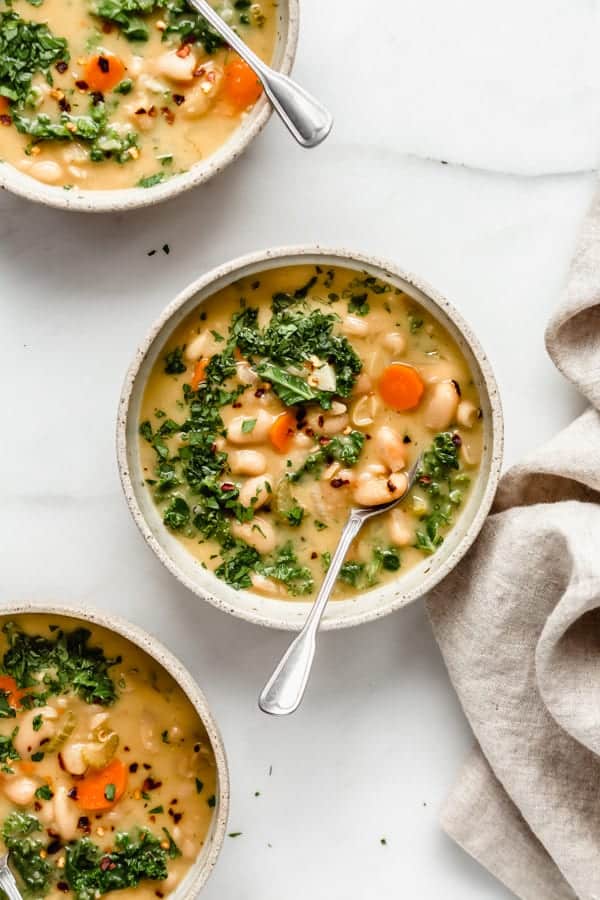 White bean soup that's easy and delicious!
Is there anything more comforting than a warm and hearty bowl of soup? There's nothing quite like taking that first spoon of hot soup on a cool or rainy day.
White beans are one of my favourite ingredients in the cold weather – they pack so much flavour and fiber. They also adapt to the flavour of whatever you're cooking them with – like this Curried White Bean Dip and these Maple Baked Beans. So hearty, and so delicious!
This recipe for Tuscan White Bean Soup is comforting, and packed with protein, fibre and veggies. This recipe is made on the stovetop and comes together quickly, so it's perfect for those busy weeknights.
Is white bean soup good for you?
Yes! White bean soup is not only packed with protein, but it's also high in fibre so it will keep you feeling full. Each serving of this soup has 8 grams of protein and 5.4 grams of fibre.
Why you'll love this cannellini bean soup
The combination of white beans and the rosemary-infused broth in this recipe makes for the ultimate flavourful and cozy soup.
This recipe is made on the stovetop and comes together in 30 minutes, so it's perfect for those busy weeknights when you want a quick and easy meal.
Tuscan white bean soup is packed with cannellini beans, which are high in protein and fibre, so this soup will keep you feeling full and can be enjoyed as an appetizer, or a larger bowl as a meal.
This soup is a great option to make for meal prep and can be stored in the fridge to enjoy all week.
White Bean Soup Ingredients
Olive oil
Shallots
Garlic
Carrot
Celery
Cannellini beans
Rosemary
Herbs de Provence
Red Chili flakes
Vegetable broth
Kale
Can I use dry beans?
If you want to use try beans in this White Bean Soup, you'll have to pre-cook the beans before adding them to the soup. If you add the dried beans directly to the soup they'll absorb all the soup liquid and you'll be left with no soup broth.
How to make Tuscan White Bean Soup
Brown the shallots and garlic in a pot on medium heat until they turn translucent. Make sure the heat is not on too high, you don't want the shallots to fry and brown too much.
Next, add the chopped celery and carrots and mix everything together on medium-high heat for 5-6 minutes until the veggies are tender.
Drain and rinse a can of cannellini beans and add them to the pot along with a sprig of fresh rosemary. Don't remove the leaves from the sprig, just toss it in whole!
Add the vegetable broth, bring to a boil, then reduce heat to low and let simmer for 15 minutes.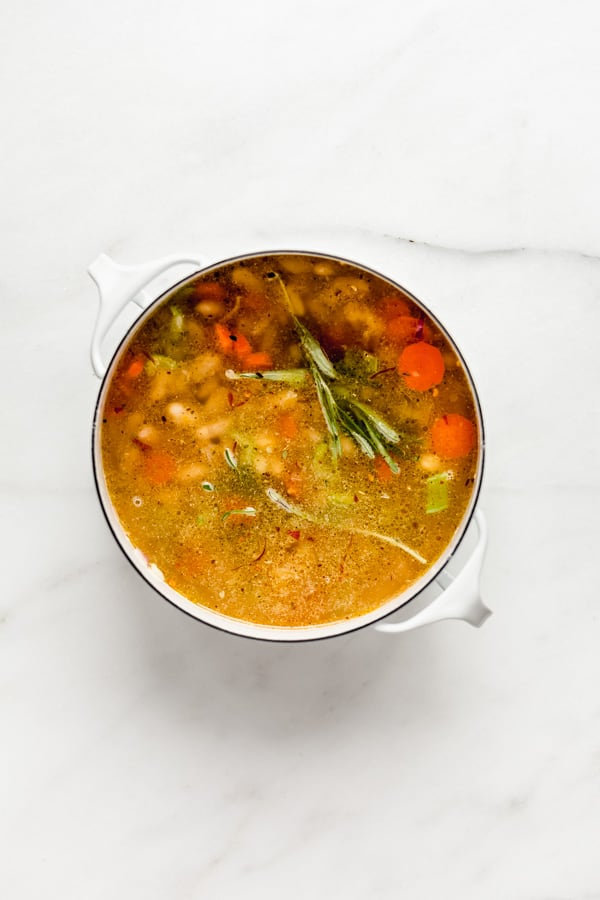 Remove the rosemary and transfer 1/3 of the soup to a blender blending until smooth and creamy. Add the blended soup back to the pot and mix everything together. Lastly, add in the chopped kale and mix until the kale is wilted.
Serve this soup on its own, or top it off with some chilli flakes and chopped parsley. This soup is also delicious served alongside some crusty country-style bread!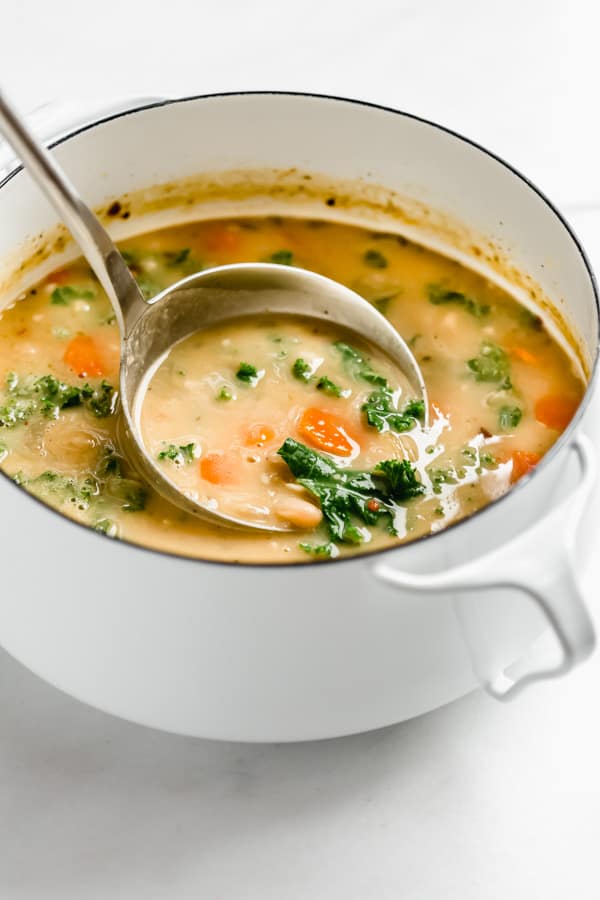 What are cannellini beans?
Cannellini beans are a white bean that is also sometimes referred to as a white kidney bean. (So check the label in your grocery store when shopping for this recipe!) One cup of cannellini beans has 225 calories, 15 grams of protein and 8 grams of fibre.
This type of bean is white in colour, light in flavour and very creamy, which makes it the perfect bean to use in creamy dips or soups.
This guide gives a great description of the difference between the four types of white beans. Though you can use any of the beans in this guide for this recipe and get a delicious tasting soup!
Is there a difference between white beans and cannellini beans?
There are several different types of white beans including Great Northern Beans, lima beans and cannellini beans. All of these beans have some differences in flavour and texture. Cannellini beans have a slightly nutty flavour. If you don't have cannellini beans on hand, you can substitute them with any other white bean.
What bean is closest to cannellini?
Great Nothern Beans are closest to cannellini beans and make a great substitute in recipes!
Tips for making this Tuscan bean soup recipe perfectly
Preheat the pot on the stove before adding the oil. This will give a chance for the pot to become nice and warm and the oil will spread out evenly and will prevent any sticking.
Use shallots if you can rather than onion. Shallots are sweeter in flavour and have a softer buttery texture compared to cooking onions. This will give the soup some incredible flavour.
Don't skip browning the veggies in the pot! Again, this helps to build flavour in the soup. This is especially important in vegetarian cooking since there is no meat fat in the recipe which generally adds flavour to soups and broth.
What is the thickener in a white bean soup?
White beans themselves make an excellent thickener for a soup! If you want to thicken the texture of this soup, Simply blend half of the soup in a blender or with an emulsion blender, add it back to the soup and mix together.
Storing Tuscan Soup with White Beans
Store leftovers of this soup in an airtight container in the fridge for up to a week. Reheat in a pot on the stove or in the microwave.
Can I freeze white bean soup?
Yes! This white bean soup freezes well. To freeze let the soup cool completely then transfer to an airtight container and freeze for up to 3 months. To defrost let the soup thaw on the countertop or defrost in the microwave.
More soup recipes to try
Print
Tuscan White Bean Soup
Author: Jess
Prep Time: 10 minutes
Cook Time: 20 minutes
Total Time: 30 minutes
Yield: 4 servings 1x
Category: Appetizer, Main
Method: Cook
Cuisine: Italian
---
Description
A hearty and creamy white bean soup packed with protein and fiber! 
---
2 tbsp olive oil 
3 shallots, finely chopped
2 garlic cloves, chopped
1 large carrot, chopped x
1 large celery stalk, chopped
1 19oz can cannellini beans
1 sprig rosemary
1/2 tsp herbs de provence (can sub some dried thyme or oregano) 
1/2 tsp red chili flakes (optional for spice)
1 litre low-sodium  vegetable broth
salt & pepper to taste
1 cup kale, stems removed and chopped. 
---
Instructions
Heat the olive oil in a large pot then add the shallots and a pinch of salt letting cook on medium heat for 1-2 minutes, then add the garlic and cook for another minute. 
Add the chopped carrots and celery and cook on medium high heat for 5 minutes until the veggies are tender. 
Add the cannellini beans, sprig of rosemary, herbs de provence, chilli flakes,  vegetable broth brinigning everything to a boil, then reducing heat to low and covering to let simmer for 15 minutes. 
Remove the sprig of rosemary and transfer 1/3 of the soup to a blender (can alterntively use a hand blender) and blend until smooth. Add back to the soup and mix togehter. 
Add the kale to the soup and stir until wilted. 
Serve this soup with some freshly chopped herbs and a sprinkle of chili flakes if desired. 
---
Notes
Preheat your pot on the stove before adding the oil. This will help prevent anything from sticking to the pot. 
Use shallots rather than cooking onions in this recipe. Shallots are sweeter in flavour and have a buttery elemtnt to them, which results in a more delicious soup! 
Don't skip browing the veggies in the pan. This helps to build flavour in the soup.
You don't have to blend any of this soup, but blending 1/3 of the soup helps result in a creamier soup. Blended or not, this soup is delicious either way!
This recipe calls for cannellini beans, but you can substitute any white bean if needed. 
---
Nutrition
Serving Size: 1/4 of the recipe
Calories: 160
Sodium: 290mg
Fat: 7g
Saturated Fat: 1g
Carbohydrates: 18g
Fiber: 5.4g
Protein: 8g
Keywords: soup with white beans, vegetarian bean soup, Italian bean soup
If you tried this Tuscan White Bean Soup or any other recipe on the blog let me know how you liked it by leaving a comment/rating below! Be sure to follow along on Pinterest, Instagram and Facebook for even more deliciousness!
This post contains affiliate links which means I will make a small commission if you purchase through those links. I only recommend products that I know, trust and love!