Why We Switched to Flodesk
From Mailchimp to MailerLite to Flodesk, we've finally landed on an email marketing platform that gives us everything we need to brand our emails. Flodesk allows you to easily customize your marketing, expand and support your business, and connect with subscribers, all at a reasonable price point.
Why you need an email list
For the record, if you don't have an email list yet, you need one. Beyond the traditional Instagram/Facebook encounter with your followers and subscribers, an email list is the only platform and interaction you own if social media were to disappear one day. This is also why I always recommend social media influencers to have a blog!
In general, email lists are also 10x more engaging than posting on social media accounts. We're all familiar with the beast of the new Instagram algorithm, and the ad-driving strategy of Facebook's home page. Emails drive directly past all of that, and land your name and brand straight in people's inboxes. Each person on your email list is targeted individually, giving you the chance to stand out with every email.
Why we switched to Flodesk
We needed an email marketing platform that was easy to use, had an intuitive user interface and offered a beautiful spread of layouts for our communications. Flodesk was initially an up-and-comer in the industry with a clean interface and plenty of options, as well as an intriguing price point.
Since we switched to Flodesk, our open and click rates have increased by over 10-15%. Our subscriber list has grown 60+% and continues to grow by the hundreds every week. Our layouts are cleaner, our landing pages are seamless, and Flodesk's analytics have shown us how to improve with every email. So let's break down why we switched.
Pricing
Below 1,000 subscribers, MailerLite is free. This is a great option if you're just starting your list, but their prices grow as your list grows.
On the other hand, Flodesk offers one price point, regardless of the size of your list. It's $38 per month or $418 per year.
You can also get 50% off your monthly subscription when you sign up through my link! Follow this link if you're interested in signing up.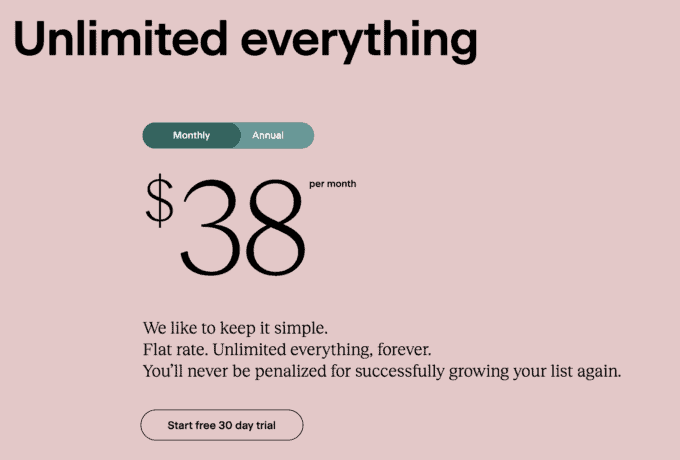 Easy conversion and connection
A large bonus for those with large email lists, Flodesk was also incredibly easy to convert to. Subscriber names + emails are easily imported into your new Flodesk account. Connection to your web domain is simple, allowing you to start sending emails immediately upon approval.
In Flodesk, you can also add affiliate links, connect your social media accounts, connect forms to landing pages in WordPress, and even sell on Shopify, all through an email. Flodesk truly offers every option you could think of to seamlessly run your business.
And if you don't have a website yet, you can create a landing page with Flodesk to sell your products, send people from social media to your email list, and more.
Flodesk interface
Dashboard
The dashboard within Flodesk is clean, simple, and easy to manage. With the guide bar at the top, you can quickly access emails sent, forms active, workflows created, and audience receiving your emails.
One of our favourite parts of Flodesk is that it allows us to quickly toggle between our various email templates and select the correct one to duplicate for that day. Simply label the template you've created, and duplicate and modify as you go.
Your home page shows your emails sorted by date sent, date created, or in alphabetical order. By clicking the three bars in the bottom of each email, you can quickly see top analytics like the open and click rate.
Branding
The brand preferences window of Flodesk is without a doubt the most underrated feature of this email marketing platform.
Quickly and easily connect all of your social media links so they pop up at the bottom of every email.
Connect your Instagram to show a snippet from your Instagram feed within the body of your email, and easily send people there to follow you.
Here's our favourite part: insert your brand colours. Customize your emails to match your branding from your website, Instagram, media kit, whatever you've got, and Flodesk makes them readily accessible for you while building your email. Talk about convenient!
This might also seem like a small detail, but Flodesk's font selections are also top notch. No more choosing between boring Arial, Helvetica, and Times New Roman. Scroll through over 50 fonts in the categories of Sans Serif, Serif, Script, and Monospace fonts to find the one that you like best, without sacrificing your brand style!
Layouts
The layout component of Flodesk is truly the most modern and revolutionary of an email marketing system, which sounds dramatic, but here's why we love it.
To build an email, you can start with a pre-formatted block layout and customize it to your specifications. Modify it with your own brand colours, fonts, photos, etc, but with a simple layout that's already made for you. There are over 50 layouts to choose from, from image gallery layouts to photo and text features, all easily customizable and ready to use.
To fill in the body of your email, there are also 13 types of blocks to choose from. Place your logo at the top of ever email. Add your Instagram feed to the bottom of your email to drive more followers there. Insert a video clip, a button that links to your latest product, or an image to create more visual interest.
While creating your email, you can click and drag features exactly where you want them to go, giving you full creative reign.
Audience Organization
Flodesk allows you to easily sort through and categorize your subscriber list into what they call "Segments." Each segment is a different group that subscribes to different features of your website that you may offer.
For each subscriber, you can analyze their email open rate, click rate, and whether or not they prefer mobile or desktop. Now, Flodesk does give you these analytics for your whole subscriber list for each email sent. However, this feature lets you deep dive into what certain subscribers prefer if you're targeting a specific audience.
For audience/list cleanup, you can filter your subscribers based on whether or not they've unsubscribed, your emails have bounced back, or if they've marked you as spam. Flodesk makes it really easy to remove inactive or spam subscribers, to keep your analytics more accurate.
Analytics
Last but not least, let's look at Flodesk's analytic features.
We've gone over the dashboard / home page's feature of quickly looking at your open and click rates for each individual email. Beyond that, Flodesk also gives you specific quantitative values for each email that, if you know how to use, you can use to grow your subscriber list and your conversion rates.
Flodesk goes beyond the standard "open rate, click rate" feature of analytics. It shows you how many emails were sent, how many were successfully delivered (ie, how many bounced or went to spam folders), open rate, and click rate.
Then, it allows you to take look even further into subscriber behaviour and shows mobile vs desktop preferences, so you can optimize your layouts for each platform. It also breaks down how many unique opens and clicks each email had, which is helpful if you're sending out resourceful emails that people may save or flag to return to later.
Overall, we've seen great improvements in our email marketing performance since switching to Flodesk. It's the right marketing platform at the right price point with some seriously great features and a simple user interface.
Get 50% off your Flodesk subscription
If you decide to check out Flodesk, feel free to use our affiliate link to get 50% off your subscription! Using our link is no extra cost to you, but we do get a small commission when you use it to sign up!
Disclaimer: this post contains affiliate links for flodesk. I only recommend programs and software that I personally use and love.
This post contains affiliate links which means I will make a small commission if you purchase through those links. I only recommend products that I know, trust and love!