Fluffy Almond Flour Pancakes
These Fluffy Almond Flour Pancakes are made with 7 simple ingredients for a light and healthy breakfast. These pancakes are fluffy, full of protein, gluten-free and keto friendly!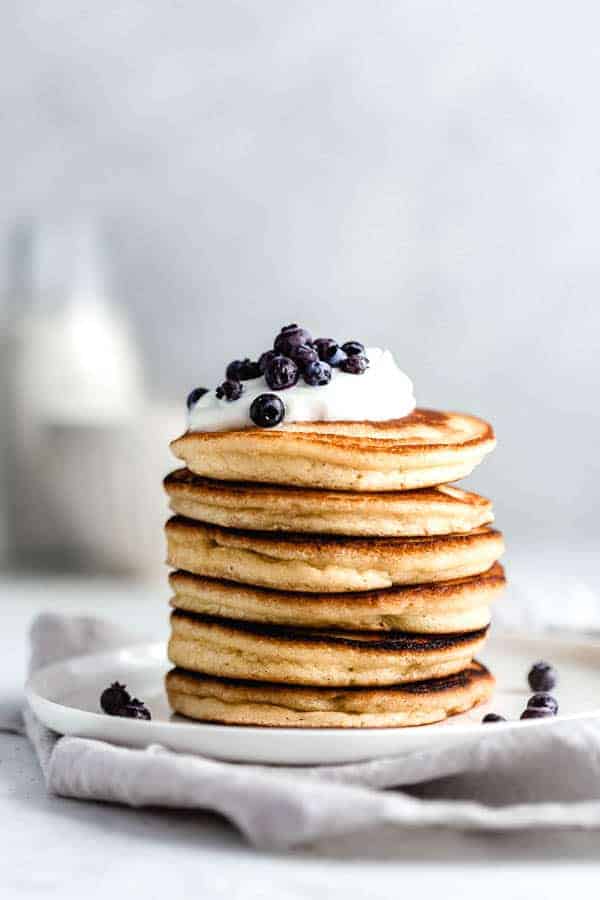 Pancakes made from Almond Flour
Let me start this post off by saying that I'm a serious carb lover. Big carby fluffy pancakes and waffles are my jam. But some days it's nice to enjoy a breakfast that is a little lighter in carbs and packed with extra protein and healthy fats.
Almond flour is a great option to use as a healthy low-carb flour in pancakes. Each serving of these almond pancakes is packed with 18 grams of protein and is perfect when you want a protein-packed breakfast option. I also make a variation of these pancakes with matcha in them that are delicious!
Why you'll love this recipe
Grain-Free and Gluten-free. These fluffy almond flour pancakes that are completely grain-free are one of my favourites. They're also a great option if you're looking for gluten-free friendly pancakes.
Keep you full. These almond flour pancakes are even more satisfying than regular pancakes since they're made with almond flour they are high in protein and keep you feeling fuller, longer! They're also perfect to enjoy post-workout.
Freezer-friendly. Double the recipe and store leftover pancakes in the freezer for an easy breakfast that you already have prepped ahead of time!
Keto Almond Flour Pancake Recipe
I've never actually done the Keto diet before, but it's become wildly popular. Basically, the Keto diet is a very low-carb and high-fat diet that can help you lose weight quickly. (And specifically, burn body fat.)
While I don't personally follow a Keto diet, I know many people who have had great success with it to help them lose weight, burn body fat or even just feel more energetic and focused.
These fluffy pancakes can be enjoyed whether you're a carbaholic (hi!) or on a low-carb eating plan. These pancakes are keto-friendly and don't contain any added sugar.
Pancake Ingredients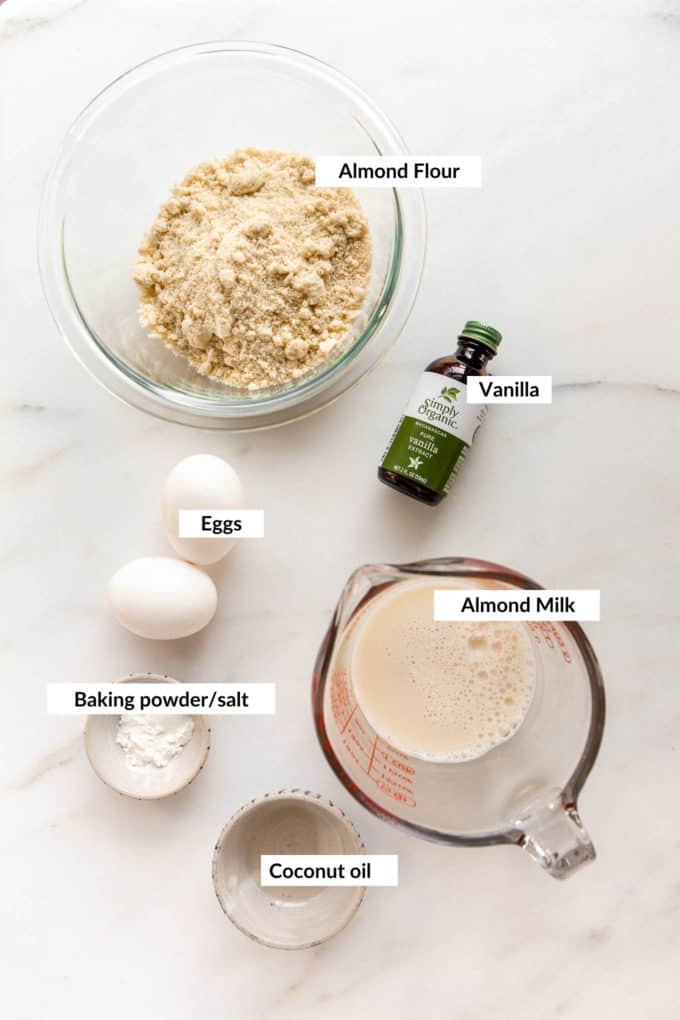 Almond flour: it's best to use almond flour and not almond meal. Almond flour is more finely ground than almond meal so will make for a softer texture.
Baking powder: this is necessary to help the pancakes rise.
Salt: for a little taste.
Eggs: these pancakes call for 2 eggs while many pancake recipes use 1 egg. The reason for this is that almond flour is gluten-free and needs more eggs to help it bind together.
Almond milk: you can substitute any type of milk you like here.
Vanilla extract: for some flavour. (this is optional to add)
Coconut oil: just a touch! This helps make the batter smoother.
How To Make Almond Flour Pancakes
Step 1
This pancake recipe is super quick and easy to make. Start by mixing the wet ingredients together in a bowl, and the dry ingredients together in a separate bowl.
Step 2
Next, pour the dry ingredients into the wet ingredients and mix just until combined. The batter should resemble that of regular pancake batter, and be runny enough to pour a large spoonful into your pan.
Step 3
Cook the pancakes on medium heat, and be patient to let the pancakes cook enough on each side. When you start to see little bubbles forming on top of the pancakes, that's when you know it's time to flip them!
Step 4
Serve immediately with your favourite toppings to store for another time.
Why are my almond flour pancakes falling apart?
Since almond flour is gluten-free, the pancake batter needs to have enough eggs in it to help the almond flour bind together. If you are using eggs that are too small or swapping out the eggs for a vegan option, (like flax eggs) the pancakes are more likely to fall apart. For best results follow the recipe ingredients and measurements exactly.
What to serve with these Pancakes
These pancakes can be served with a wide variety of toppings or fillings. You can get creative and add whatever you like to these pancakes. Here are some of my favourite things to serve up with this recipe to get you started.
Maple syrup
Honey or agave
Cinnamon
Whipped coconut cream
Berries
Chocolate chips
Sliced bananas
How To Store leftovers
Store any leftover pancakes in a sealed container in the fridge for up to 3 days. Reheat the pancakes on the stovetop or in the oven.
How to Freeze Almond Flour Pancakes
These pancakes are freezer-friendly. To freeze them place the pancakes in the freezer on a baking sheet for 1 hour to lightly freeze, (this will prevent the pancakes from sticking together) then place them in a freezer bag and store for up to 3 months. Defrost on the countertop or in the microwave.
Tips for making these Almond Flour Pancakes perfectly
These fluffy almond flour pancakes are super delicious plain but can be made with additional add-ins like blueberries or chocolate chips. Add in whatever your heart desires!
It's important to make sure to use almond flour NOT almond meal for these pancakes. Almond flour is much more finely ground which is important to get light and fluffy pancakes.
Don't cook these pancakes on too high of a heat. They can burn a bit more easily than pancakes made with regular flour, so cooking them on medium-heat works best!
Almond flour naturally has a bit more of a grainy texture than wheat flour, so you can expect these pancakes to have a little bit of graininess to them. (Think sort of like a cornbread texture.)
More Almond flour recipes to try
If you tried these Fluffy Almond Flour Pancakes or any other recipe on the blog let me know how you liked it by leaving a comment/rating below! Be sure to follow along on Pinterest, Instagram and Facebook for even more deliciousness!
Print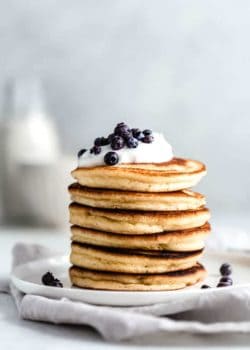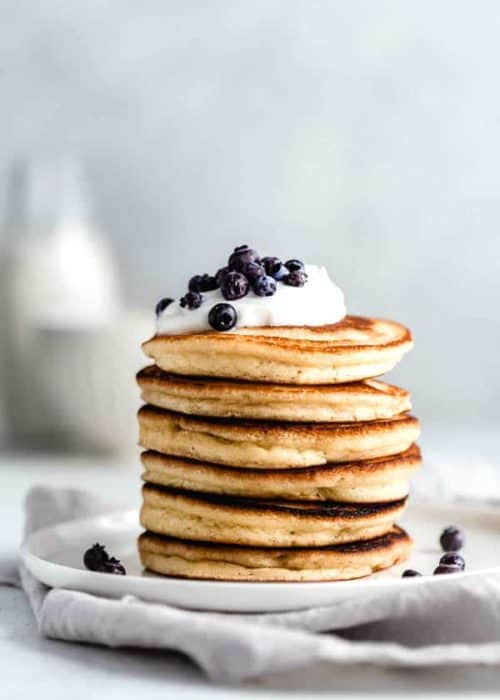 Fluffy Almond Flour Pancakes
Author: Jessica Hoffman
Prep Time: 10 minutes
Cook Time: 5 minutes
Total Time: 15 mins
Yield: 4–6 pancakes 1x
Category: Breakfast
Method: Cook
Cuisine: American
---
Description
These almond flour pancakes are light and fluffy and all around delicious! They're naturally grain-free, gluten-free and keto friendly. 
---
---
Instructions
Mix the dry ingredients together in a bowl. 
Mix the wet ingredients together in a bowl. 
Pour the dry ingredients into the wet ingredients and mix just until combined. 
Heat some oil in a large skillet on medium heat and pour a ladle of the batter into the pan. Let cook for about 2-3 minutes until little bubbles start to form on top, then flip and let cook for another minute. 
Serve with your favourite toppings like blueberries, yogurt or maple syrup! 
---
Equipment
---
Notes
Add any mix-ins you like such as chocolate chips or blueberries.
Make sure to use almond flour not almond meal. Almond flour is more finely ground and will give a smoother texture to these pancakes. 
Store any leftovers in the fridge and heat up in a pan or toaster oven when you want to enjoy!
---
Nutrition
Serving Size: 1/2 recipe
Calories: 460
Sugar: 1.4g
Sodium: 320mg
Fat: 30g
Carbohydrates: 10g
Fiber: 7g
Protein: 18g
Keywords: almond pancakes, keto pancakes, gluten-free pancakes
This post contains affiliate links which means I will make a small commission if you purchase through those links. I only recommend products that I know, trust and love!