Vegan blueberry pancakes
Vegan blueberry pancakes will become a staple in your kitchen for Sunday brunch! This recipe is simple, easy to make and goes perfectly topped with maple syrup!
If I could only choose one type of pancake to enjoy for the rest of my life, I think I would have to go with blueberry. I may be a bit bias towards blueberry pancakes, since they're the kind I would eat the most as a kid, but whatever, I think they're the BEST.
I've really been enjoying pancakes this summer. Especially after hopping on the Instagram #pancakesunday trend, I started making pancakes pretty much every weekend. Usually, my go-to recipe for pancakes are my vanilla buckwheat pancakes, but I decided to some experimenting this week to come up with a brand new fresh pancake recipe, that is also 100% vegan.
I know some people are concerned that vegan pancakes won't be light and fluffy without eggs, but trust me, these are ALL fluff!
Tips for making perfect pancakes:
Do NOT over-mix the batter!
I'm serious you guys, mix it just until everything is incorporated. Lumps in the batter are OK. Over mixing will lead to dense & hard pancakes.
Let the batter rest
We all need some rest sometimes, right? Really though, this step allows the flour to absorb the liquid ingredients and just makes things well incorporated and FLUFFIER.

Flip em' when you see bubbles
Only flip your pancakes when you see little bubbles forming. This is the exact right moment when they want to be flipped and your batter won't pour everywhere causing flat pancakes.
Now that we've covered that, let's get into the recipe a bit more.
A few notes on this recipe:
There are many different options you can use for the flour in this pancake recipe. I like using sprouted spelt flour, (super healthy and delish!) but you can substitute regular flour, gluten-free flour or buckwheat flour. Just keep in mind that if using gluten-free or buckwheat flour, the pancakes won't come out as fluffy. Gluten is key for that light and fluffy texture in these vegan blueberry pancakes! I've tested this recipe with buckwheat flour which comes out well too. (And still pretty damn fluffy for a gluten-free pancake option.)
I use almond milk for this recipe but any type of plant-based milk will work too!
These vegan blueberry pancakes are:
Whole-grain
Loaded with fresh blueberries
Simple & easy to make!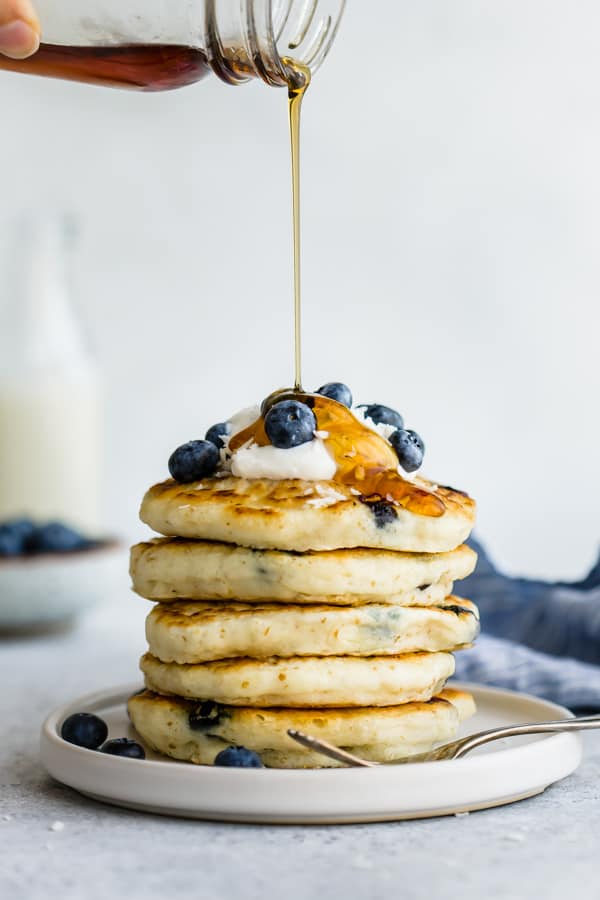 Serve up these pancakes immediately after making them and top off with some more blueberries and maple syrup!
If you tried these Vegan Blueberry Pancakes or any other recipe on the blog let me know how you liked it by leaving a comment/rating below! Be sure to follow along on Pinterest, Instagram and Facebook for even more deliciousness!

Print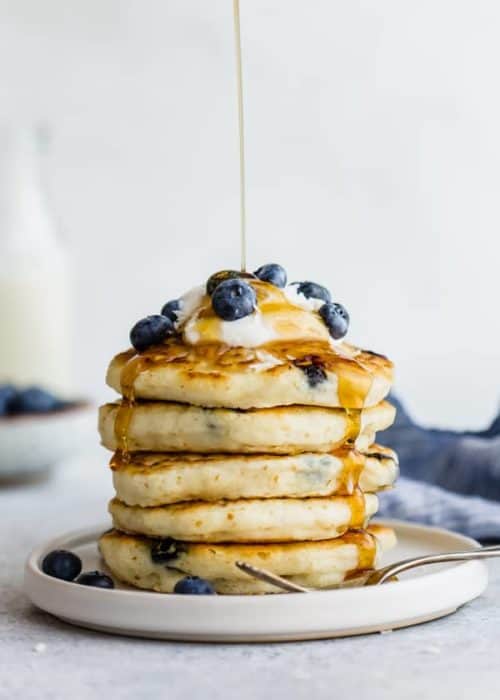 Vegan Blueberry Pancakes
Author: Jess
Prep Time: 5 minutes
Cook Time: 10 minutes
Total Time: 15 mins
Yield: 2 servings 1x
Category: Breakfast
Method: Cook
Cuisine: American
---
Description
The BEST EVER light & fluffy vegan blueberry pancakes. Seriously.
---
---
Instructions
Mix the flour, baking powder, salt and sweetener together in a bowl.
In a separate bowl, whisk the almond milk, coconut oil and flax egg together.
Pour the wet ingredients into the dry and gently mix just until combined. Do not overmix!
Next gently stir in the blueberries.
Let the batter rest for 5 minutes.
Heat some coconut oil in a large skillet on medium heat.
Pour a scoop of the batter into the pan letting cook for 2-3 minutes or until little bubbles start to form.
Flip and cook for 1 minute on the other side.
Repeat until all the pancakes are made
---
---
Notes
To make a flax egg mix 1 tbsp of ground flax seeds with 3 tbsp of water. Let sit for 5 minutes to allow it to gel.
If you're using a gluten-free flour blend, check to see if it contains xantham gum. If it doesn't, you will want to add 1/2 tsp of xantham gum to the mix to help make the pancakes fluffy.
Don't overmix your batter! It's ok if there are a few clumps in it. Overmixing will lead to tough dense pancakes.
---
Nutrition
Serving Size: 1 serving
Calories: 383
Sugar: 12g
Fat: 8g
Saturated Fat: 6g
Carbohydrates: 60g
Fiber: 5g
Protein: 7.7g
Keywords: vegan pancakes, blueberry pancakes, healthy pancakes
This post contains affiliate links which means I will make a small commission if you purchase through those links. I only recommend products that I know, trust and love!
This post contains affiliate links which means I will make a small commission if you purchase through those links. I only recommend products that I know, trust and love!