Vanilla Macadamia Matcha Latte
This Vanilla Macadamia Matcha Latte is made with homemade macadamia milk for a delicious and satisfying drink that you'll love!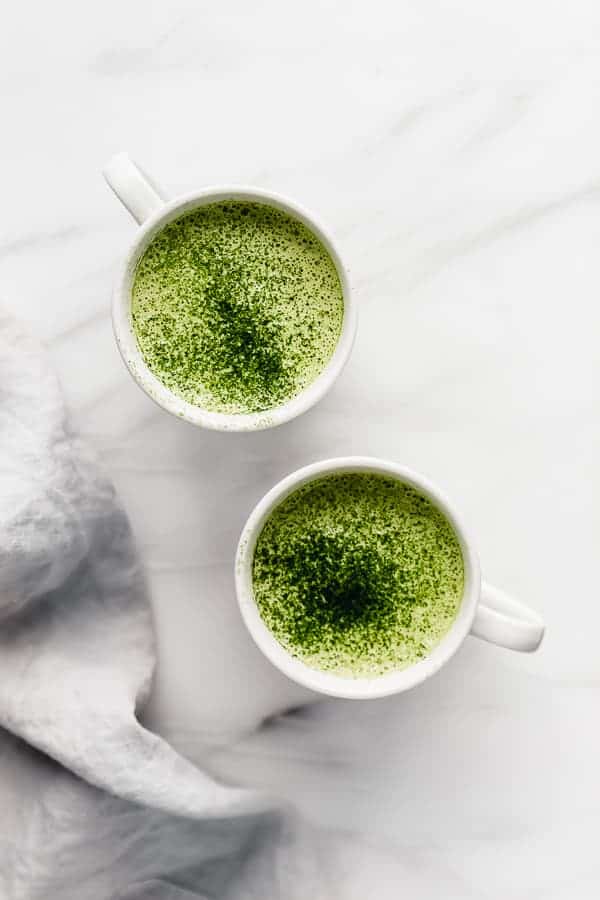 Vanilla macadamia matcha latte. How I love you so matcha <3
A matcha green tea latte
This has been my new go-to morning drink of choice lately. While I do love my coffee, (and usually have one cup a day) sometimes I like to take a little coffee hiatus and switch over to drinking matcha for a less caffeinated jittery caffeine high.
This latte is also EXTRA special because it's made with a homemade vanilla macadamia nut milk, which is just SO delicious. I've been pretty obsessed with making homemade nut milks lately, and while I love my almond milk, recently I've been all about macadamia nut milk.
It's super creamy and has this great hint of macadamia flavour that pairs SO well with the matcha tea.
What is matcha
Matcha is a premium green tea sourced from Japan that is made by grinding the actual tea leaves into a fine powder that get added directly to your tea, rather than steeping them in a bag.
Matcha contains nutrients from the entire leaf and has a higher amount of caffein and antioxidants than traditional green tea.
There are a few different qualities of matcha you can purchase. Ceremonial grade (the highest quality), Premium grade (high quality), and culinary grade (lowest quality)
For drinking, you'll want to use ceremonial matcha or premium matcha. If your using matcha in your cooking, (like adding it to a brownie) you'll want to use culinary grade.
Matcha benefits
Matcha has tons of incredible health benefits and is definitely one of my favourite "superfoods." Here are just a few of the many benefits you can get from drinking matcha:
Matcha contains a unique antioxidant called catechins, which counteract the effect of free radicals in the body.
Matcha can help boost brain functioning
Matcha is a source of Chlorophyll
Matcha can promote healthy skin
Matcha can boost the immune system
A few notes on the recipe
I use ceremonial grade matcha to make this vanilla macadamia matcha latte and highly recommend to use a good quality matcha powder. To know whether you matcha is high-quality, take a look at its colour. It should be a vibrant green, rather than a dull green. (This guide is helpful to distinguish the difference!)
I like to make my macadamia milk from scratch because it's WAY better than store bought nut milk and gives this latte a rich and creamy texture, but if you aren't able to make your own nut milk at home you can use your favourite store bought brand.
More matcha recipes to make
Print
Vanilla Macadamia Matcha Latte
Author: Jess
Prep Time: 5 minutes
Cook Time: 5 minutes
Total Time: 10 minutes
Yield: 2 servings 1x
Category: Drink
Method: Blend
Cuisine: Japanese
---
Description
This matcha latte is made with a creamy homemade macadamia nut milk, yum!
---
---
Instructions
Blend the macadamia nuts, medjool dates, salt, vanilla and water together in a high-speed blender for 60 seconds. 
Pour the macadamia milk through a nut milk bag to strain out any of the nut pulp. 
Place the macadamia milk in a pot over the stove and let come to a slight boil. 
Remove from heat and whisk in the matcha and maple syrup. 
Divide between two cups and enjoy. 
---
---
Nutrition
Serving Size: 1 latte
Calories: 345
Sugar: 23g
Fat: 25g
Saturated Fat: 3g
Carbohydrates: 30g
Fiber: 4g
Protein: 4g
Keywords: matcha benefits, what is matcha, how to make a matcha latte
If you tried this Vanilla Macadamia Matcha Latte or any other recipe on the blog let me know how you liked it by leaving a comment/rating below! Be sure to follow along on Pinterest, Instagram and Facebook for even more deliciousness!
This post contains affiliate links which means I will make a small commission if you purchase through those links. I only recommend products that I know, trust and love!