Chipotle Vegan Burrito Bowl
These Chipotle Vegan Burrito Bowls are made with delicious cilantro-lime rice, black beans and sautéed peppers and are topped off with a creamy chipotle sauce. These bowls are even better than the ones you would get from Chipotle!
What is a burrito bowl?
A veggie burrito bowl is essentially a deconstructed veggie burrito. It has the things you'd find inside a burrito, minus the tortilla.
Instead of being wrapped in a tortilla, a burrito bowl is typically served over rice, or sometimes even salad.
Burrito bowls can include a variety of different ingredients and toppings. This Chipotle-style Vegan Burrito Bowl is topped with sauteéd peppers, corn, black beans, avocado and cilantro.
Why you'll love this veggie burrito bowl
Easy to make. This vegan burrito bowl recipe is easy to make and put together. There are only two elements of the dish that need to be cooked.
Great for meal prep. One of my favourite things about this recipe is how easy it is to meal prep. You can make individual "bowls" into containers to have in the fridge for lunches or dinner.
Customizable. This recipe is completely customizable and can be easily changed to include whatever toppings you love.
Vegan Burrito Bowl Ingredients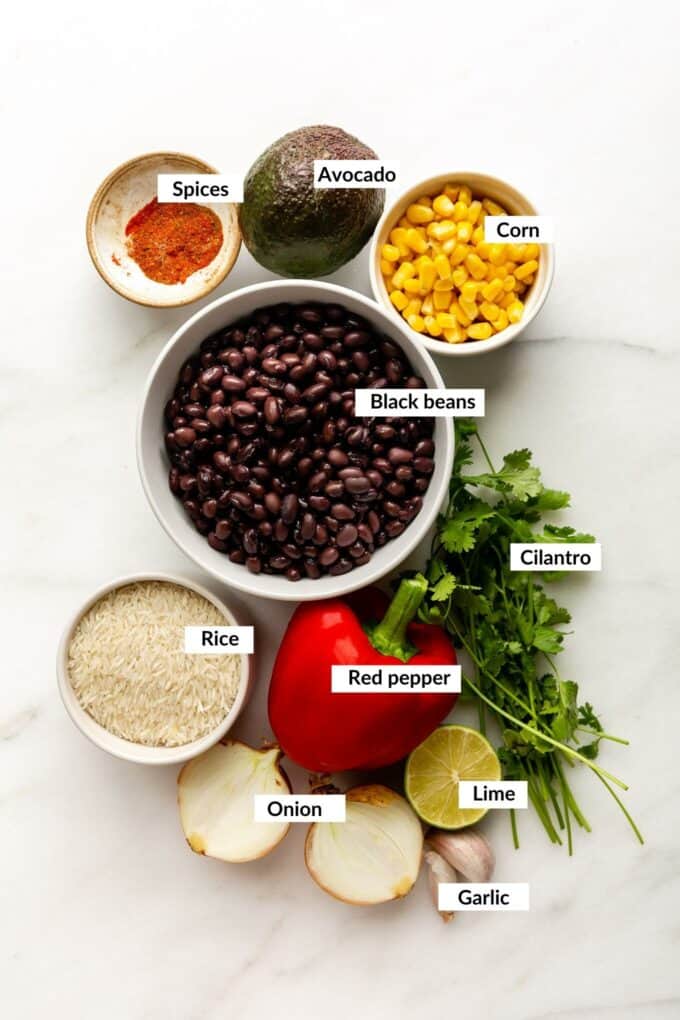 Rice: long-grain white rice like basmati rice is the most traditional rice to use in a burrito bowl. You can also use short-grain white rice, brown rice, wild rice or even quinoa for the base of the bowl.
Lime: this is squeezed into the rice to give it flavour.
Cilantro: this gets chopped into the rice to create cilantro lime rice and also sprinkled on top of the burrito bowls. If you don't like cilantro you can leave this out.
Red bell pepper: sauteéd red pepper is delicious in a burrito bowl! You can also use yellow, orange or green bell peppers or a combination of them all. If you like it spicy, try adding in a jalapeno pepper too!
Onion: any kind of onion will work. You can also use shallots.
Garlic: use fresh garlic over powdered garlic!
Chilli powder: I use Chimayo chili powder which has a delicious flavour. But regular chili powder works too.
Cumin: just a pinch for some extra flavour.
Salt: to season the sauteéd peppers.
Black Beans: you can use canned black beans or dried black beans depending on your preference. You can also use any other type of bean you love.
Corn: I love to use fresh corn off the cobb, but canned corn works too.
Avocado: you can leave it cubed or mash it into some guacamole!
How to make a Vegan Burrito Bowl
Step 1
Prepare the cilantro lime rice by cooking the rice according to package directions, then adding chopped cilantro and a squeeze of lime juice to the rice.
Step 2
Heat some avocado oil or vegetable oil in a large skillet on medium-high heat, then sauteé the onion, garlic, red pepper and spices together.
Step 3
This step is optional, but delicious if you enjoy a sauce on your burrito bowl! Make the vegan chipotle crema by blending together raw cashews, water, chipotle peppers, and seasoning together in a blender until smooth.
Step 4
Assemble the burrito bowls by layering rice on the bottom of the bowl and topping it with corn, black beans, peppers, avocado, cilantro and lime. Drizzle the chipotle crema onto the bowls for some extra spice and flavour!
Veggie Burrito Bowl Substitutions and add-ins
One thing I love about burrito bowls is that they are SO versatile! There are tons of additions or substitutions you can add to them. Here are some suggestions:
Jalapeno peppers
Tomatoes
Tortilla strips
Salsa
Shredded lettuce
Red onion
Roasted sweet potato
Vegan cheese
How to store and reheat
Store the burrito bowls in the fridge in an airtight container. You can choose to store the ingredients separately and assemble them in a bowl when you want to eat, or you can make individual portions of burrito "bowls" into containers to take on the go. These burrito bowls will stay for up to 5 days in the fridge. I don't recommend cutting up avocado to store in the burrito bowls. It's best to use fresh avocado.
Reheat this burrito bowl in the microwave, or toss everything into a pan on the stovetop and heat through in a pan. This burrito bowl can be enjoyed hot or cold.
Expert tips for making a burrito bowl
Cook the rice in vegetable broth instead of water. This will give the rice even more flavour and make for an extra flavourful burrito bowl!
Don't skip out on sauteeing the peppers and onion. This gives the burrito bowls flavour and texture rather than just having raw veggies in the bowls.
Use raw cashews for the chipotle crema. Don't substitute with roasted or salted cashews. They need to be raw cashews in order to blend up into a creamy sauce.
For meal prep, create "bowls" into individual containers to have ready to take on the go or enjoy as you like.
Vegan burrito bowl FAQ
Can burrito bowls be healthy?
Absolutely! Sometimes store-bought burrito bowls can have a lot of extra calories, fat and sodium in them and not be the healthiest option. These homemade burrito bowls are healthy!
How many calories are in a veggie burrito bowl?
One burrito bowl has 450 calories, 16 grams of fibre and 17 grams of protein!
Can I make this burrito bowl into a burrito?
Absolutely! If you want to turn this recipe into burritos, just add all the ingredients in the bowl into a tortilla and wrap it up.
More Mexican-inspired recipes to try
If you tried these Vegan Burrito Bowls with Chipotle Crema or any other recipe on the blog let me know how you liked it by leaving a comment/rating below! Be sure to follow along on Pinterest, Instagram and Facebook for even more deliciousness!
Print
Vegan Burrito Bowls with Chipotle Crema
Author: Jessica Hoffman
Prep Time: 15 minutes
Cook Time: 15 minutes
Total Time: 30 minutes
Yield: 4 servings 1x
Category: Main
Method: Cook
Cuisine: Mexican
Diet: Vegan
---
Description
This vegan burrito bowl is loaded with cilantro lime rice, sauteed peppers and beans and gets topped off with a homemade creamy chipotle sauce!
---
Burrito bowls
1 cup of rice white rice (long or short grain)
1 tbsp lime juice
2 tbsp cilantro, chopped
1 tbsp avocado oil (or vegetable oil)
1 large red bell pepper, chopped
1 medium onion, chopped
2 garlic cloves, minced
1/2 tsp chilli powder
1/2 tsp cumin
1/4 tsp salt
1 cup of cooked black beans (from a can or dried)
1 cup of corn kernels (fresh or canned)
1 avocado, cut into cubes
Chipotle Crema
1/2 cup raw cashews, soaked in hot water for an hour
2 chipotle peppers in adobo (can sub 4 tbsp chipotle sauce)
1/2 tsp garlic powder
1/2 tsp chilli powder
1/2 tsp salt
1 tbsp lime juice
1/3 cup water
---
Instructions
Cilantro lime rice: Cook the rice according to package directions. Once cooked, add in the lime juice and cilantro and mix together.
Sauteed peppers: Heat the avocado oil in a large skillet on medium-high heat. Add the onion and cook for 1-2 minutes until translucent, then add the peppers, Chimayo chilli powder, cumin and salt and mix together. Reduce heat to medium and let cook for 3-4 minutes until tender.
Chipotle Crema: Drain the cashews, then add to a  small blender or food processor with the rest of the crema ingredients. Blend until smooth, scraping down the sides of the blender as needed.
Assemble the bowls: layer the rice, peppers, black beans, corn, and avocado in a bowl. Top with the chipotle crema.
---
Notes
Cook the rice in vegetable broth instead of water for more flavour.
Store leftovers in the fridge for up to 5 days. 
---
Nutrition
Serving Size: 1 bowl
Calories: 450
Sugar: 6g
Fat: 8g
Carbohydrates: 60g
Fiber: 16g
Protein: 17g
Keywords: vegan burrito bowls, veggie burrito bowls, healthy burrito bowl, chipotle burrito bowl
This post contains affiliate links which means I will make a small commission if you purchase through those links. I only recommend products that I know, trust and love!