Smashed avocado toast with watermelon radish
This smashed avocado toast with watermelon radish is a quick and easy go-to breakfast or snack.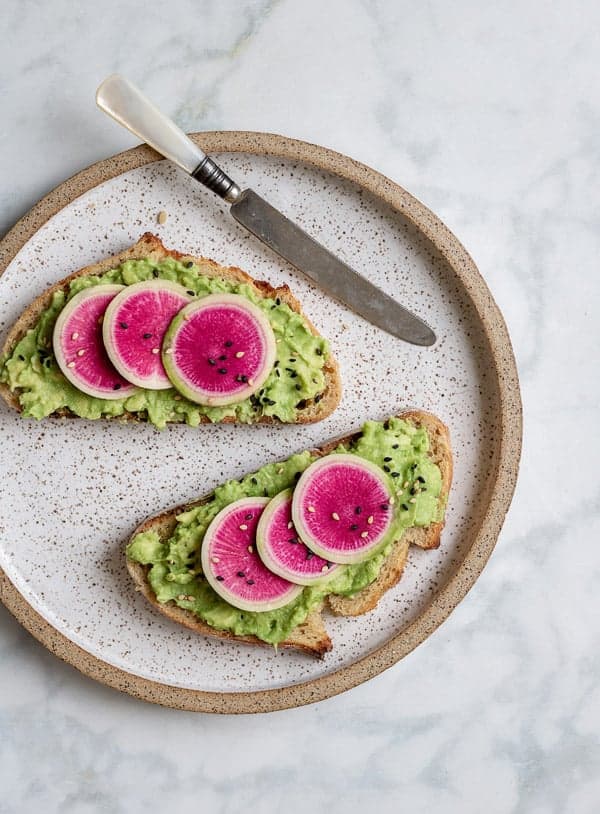 Well…this moment was bound to happen.
In all my days of blogging, I have yet uploaded an avocado toast recipe…until now.
Avocados have been especially "trendy" this past year. I've been seeing avocado art all over Instagram, and even brands coming out with avocado-themed apparel. (Because who doesn't want pyjamas with avocados on them?)
I have a feeling the avocado trend will continue well into 2018, and I think all avocado lovers out there will agree!
I love having avocado toast for breakfast or a snack. (or lunch…or dinner…) It's a quick and simple dish to make that's loaded with good for you avocado!
I know there's a lot of controversies lately about millennials spending all their money on avocado toast in restaurants. And while these articles are "half joking," there is some serious truth to this. I've been a victim of over-priced restaurant avocado toast myself!
It's a little ridiculous…10-15$ for an avocado toast at a restaurant where they are literally just taking some avocado…and putting it on a piece of toast. Mind blowing right?
Well hopefully with this recipe you'll never have to fall victim to overpriced restaurant avocado toast again!
This smashed avocado toast with watermelon radish is made with simple ingredients and takes less than 5 minutes to make. I use a crusty sourdough bread, but you can use any type of bread you like. You can also top this toast with regular radishes, or leave them off completely and top it with whatever you like.
Print
Smashed avocado toast with watermelon radish
Author: Jess
Prep Time: 5 mins
Cook Time: 0 mins
Total Time: 5 mins
Yield: 2 servings 1x
Category: Breakfast/Snack
Method: Combine
Cuisine: American
---
Description
Smashed avocado toast with watermelon radish
---
2 slices of sourdough bread
1 avocado (soft to the touch)
juice of 1/4 of a lemon
pinch of cayenne
salt & pepper to taste
2 watermelon radishes, thinly sliced
sesame seeds to top
---
Instructions
Toast your bread to your liking.
Open and remove the pit from your avocado.
Scoop the avocado out of its shell with a spoon into a bowl.
Add the lemon juice, and cayenne and smash with a fork.
Next, add salt & pepper to taste.
Using a knife, spread the avocado mixture onto your bread.
Top with sliced watermelon radishes and sesame seeds.
---
---
Nutrition
Serving Size: 1 piece of toast
Calories: 321
Sugar: 2g
Fat: 22g
Saturated Fat: 4g
Carbohydrates: 28g
Fiber: 8g
Protein: 7g
Keywords: Smashed avocado toast, watermelon radish, how to make avocado toast
Tips & suggestions:
I recommend using a thicker slice of bread for this toast. I personally love sourdough and kamut!
Can't find watermelon radishes? Regular radishes are just as good!
Pair this with a hibiscus rose latte to make the perfect complete breakfast!
Pin this recipe!
This post contains affiliate links which means I will make a small commission if you purchase through those links. I only recommend products that I know, trust and love!