Curried Butternut Squash And Sweet Potato Soup
Curried Butternut Squash And Sweet Potato Soup is the perfect Fall and Winter recipe when you're looking for a cozy soup that is a little different than your typical soup. This soup is packed with curry flavour and is naturally vegan and gluten-free.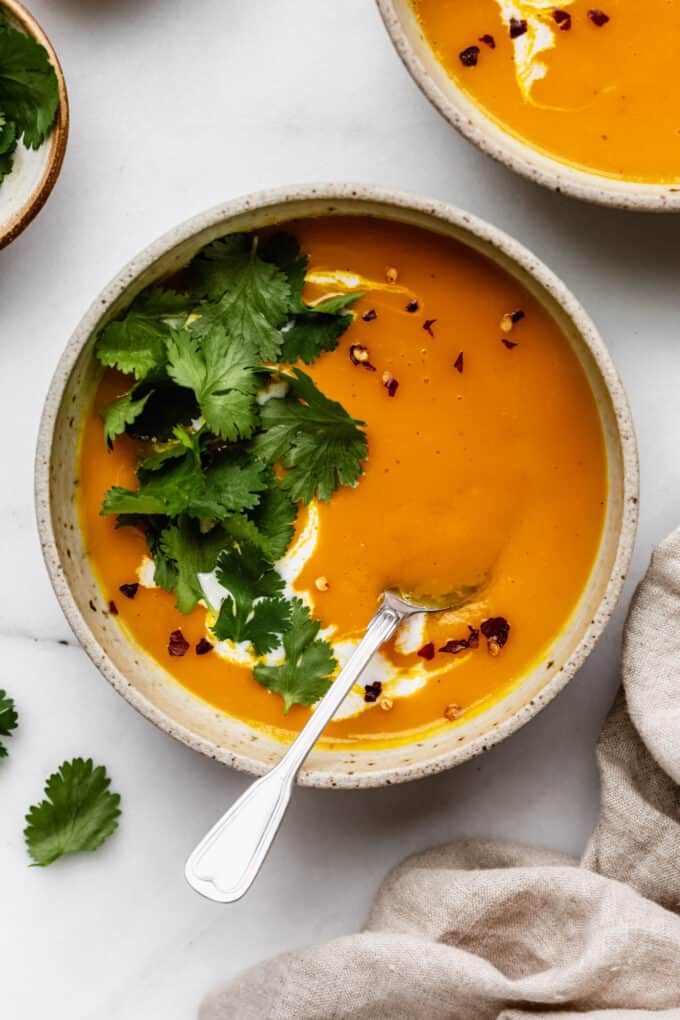 Roasted butternut squash and sweet potato soup
Butternut squash is one of those ingredients that was just made for soup.
While it's delicious to enjoy as a butternut squash curry or butternut squash risotto, my favourite way to eat butternut squash is to blend it up in a soup.
In this recipe, I've combined butternut squash with sweet potato, which not only gives the soup a delicious flavour but also helps to add some thickness and heartiness to the soup.
If you only have butternut squash on hand, or only have sweet potatoes on hand, feel free to make this soup with just one of the two. (But if you can get both, I promise combining these two vegetables will make the soup even more delicious!)
Why you'll love this recipe
Packed with flavour. This soup is packed with some serious flavour. One of the secrets of this flavourful soup is to roast the butternut squash and sweet potato before adding them to the soup.
Something a little different. If you're feeling tired of a plain ol' butternut squash soup, you'll love the addition of ginger and curry powder in this recipe to give you something new!
Good for you. Butternut squash and sweet potato are both packed with nutrients like vitamin C and vitamin K and also help boost your immune system.
Butternut squash and sweet potato soup ingredients
Butternut squash: you can buy a whole butternut squash or pre-cut butternut squash from the grocery store. Use this guide to learn how to choose a good butternut squash.
Sweet potato: while regular potatoes are delicious in soup, the sweet potato compliments the flavour of the squash perfectly for this recipe.
Onion: any medium-sized cooking onion will do. (Yellow, white or red.)
Garlic: make sure to use fresh garlic cloves in this recipe.
Ginger: make sure to also use fresh ginger in this recipe. Ground ginger won't taste the same.
Spices: this soup uses a combination of curry powder, turmeric, cayenne pepper, salt and pepper.
Vegetable broth: any kind you love.
How to make butternut squash and sweet potato soup
Step 1
Peel and cut the butternut squash and sweet potatoes. Toss them with some avocado oil and then spread them onto a baking sheet lined with parchment paper. Bake in the oven at 425 degrees for 20-30 minutes or until tender and slightly brown on the edges.
Step 2
Heat the remaining avocado oil in a large pot on medium-high heat. Sautee the onions, garlic and ginger in the pot for a couple of minutes, then add the roasted vegetables and mix everything together.
Step 3
Add the spices and broth and bring the soup to a light boil, then cover and let simmer on low for 10 minutes. Use an immersion blender to blend the soup until smooth.
How to store and freeze
Fridge: store any leftovers of this soup in an airtight container in the fridge for up to 5 days. Reheat the soup in a pot on the stove or in a bowl in the microwave.
Freezer: let the soup cool to room temperature, then transfer it to a freezer-safe container and place it in the freezer for up to 3 months. To defrost the soup, let it thaw on the countertop.
Tips for making this recipe perfectly
Use fresh ingredients. This recipe will turn out best if you use fresh butternut squash, garlic, ginger…etc. Don't substitute any of these ingredients for frozen vegetables, powdered seasoning or anything else that's been processed. (Such as freeze-dried garlic or canned squash puree)
Roast the vegetables. My #1 secret to a delicious-tasting soup is roasted vegetables. This will add much more depth of flavour to the soup as opposed to adding the raw squash and potato directly to the broth.
Season to taste. Everyone's palate is different. You might prefer a spicier soup or more curry flavour. If your vegetable is very flavourful, you may prefer less seasoning. Always taste the soup and adjust the seasoning to your personal preferences.
Add coconut milk for a creamy soup. Want to turn this curried butternut squash and sweet potato soup into a creamy version? Add 1/2 cup of full-fat coconut milk to the soup broth.
Frequently asked questions
Do I need to peel butternut squash for soup?
Yes. While butternut squash has a thin skin, it will not blend up nicely into the soup so you'll want to peel away the skin.
Can I substitute sweet potato for butternut squash?
Yes. If you don't want to use butternut squash in this soup recipe you can substitute it for equal parts of sweet potato.
Do I need to roast the sweet potato and squash before adding them to the soup?
I recommend it! While you can add the raw vegetables directly to the broth and let them cook by boiling them in the soup, you'll end up with a less flavourful and less tasty soup.
More delicious soup recipes to try
If you tried this Curried Butternut Squash And Sweet Potato Soup or any other recipe on the blog let me know how you liked it by leaving a comment/rating below! Be sure to follow along on Pinterest, Instagram and Facebook for even more deliciousness!
Print
Curried Butternut Squash And Sweet Potato Soup
Author: Jessica Hoffman
Prep Time: 10 minutes
Cook Time: 30 minutes
Total Time: 40 minutes
Yield: 4 servings 1x
Category: Appetizer
Method: Cook
Cuisine: Indian
Diet: Vegetarian
---
Description
This butternut squash and sweet potato soup is loaded with curry flavour for a delicious and cozy meal!
---
1 medium butternut squash (approx. 4 cups cubed)
1 medium sweet potato (approx 1 1/2 cups cubed)
2 tbsp avocado oil (can sub vegetable oil)
1 medium onion, chopped
3 garlic cloves, chopped
1 tbsp minced ginger
1–litre vegetable broth
2 tsp curry powder
1/4 tsp turmeric powder
1/4 tsp cayenne pepper
salt and pepper to taste
---
Instructions
Preheat the oven to 425 degrees F and line a baking pan with parchment paper.
Peel the butternut squash and cut into cubes, removing the seeds. Peel the sweet potato and cut it into cubes. (I use a vegetable peeler to peel both.) 
Toss the butternut squash and sweet potato with 1 tbsp of avocado oil and spread onto the baking sheet. Bake for 15-20 minutes until lightly golden brown.
Heat the remaining 1 tbsp of avocado oil in a large pot on medium-high heat and add the onion, garlic and ginger, sauteeing for 1-2 minutes.
Add the butternut squash, sweet potato, vegetable broth and spices and bring to a light boil.
Reduce the heat to low, cover and let simmer for 10 minutes.
Use an immersion blender to blend the soup until smooth. (You can alternatively transfer the soup to a regular blender and blend.)
Serve as is or top with some yogurt and pumpkin seeds.
---
Notes
Store in the fridge for up to 5 days or in the freezer for 3 months. 
Try adding 1/2 cup coconut milk if you like a creamy soup. 
---
Nutrition
Serving Size: 1/4 of the recipe
Calories: 130
Sugar: 7g
Sodium: 400mg
Fat: 5g
Carbohydrates: 30g
Fiber: 6g
Protein: 2.5g
Keywords: butternut squash sweet potato soup, curried butternut squash soup, sweet potato soup with butternut squash
This post contains affiliate links which means I will make a small commission if you purchase through those links. I only recommend products that I know, trust and love!