Red Lentil Soup
This Red Lentil Soup recipe is one of my favourite go-to meals on a cold day. This vegan, vegetarian and gluten-free soup is packed with 14 grams of protein and 7 grams of fibre and comes together in just 40 minutes.
What's the difference between red lentils and regular lentils?
There are several different types of lentils that can be enjoyed in recipes like soups. The main types that you're probably familiar with are green and brown lentils, which many people refer to as "regular" lentils. (Though in reality, all lentils are "regular.")
Green and brown lentils are commonly seen used in recipes like lentil stew, lentil loaf or lentil burgers because they hold their shape well and make a great replacement for meat in these vegetarian and vegan recipes.
Red lentils however are a little different than green and brown lentils. This variety of lentils is the sweetest and mildest in taste and cooks in about 30 minutes. This type of lentil is commonly seen in Indian dishes like dal.
Red lentils tend to become mushy when cooked, which makes them great for soups and stews, but not the best option for recipes like burgers, or lentil meatloaf.
As far as nutrients go, there isn't much difference between red, brown and green lentils. They are all very healthy and high in fibre and protein.
Why you'll love this carrot and lentil soup
Easy to make. This entire recipe comes together in 40 minutes and is so easy to make. You just add everything to a pot and let it simmer and that's it! You have a delicious red lentil soup.
Vegetarian protein. Red lentils are a great source of protein for a vegetarian and vegan diet. Each serving of this soup has 14 grams of plant-based protein.
Freezer-friendly. Make a big batch of this soup and store it in the freezer for up to 3 months to have it ready to go whenever you need it!
Red lentil soup recipe ingredients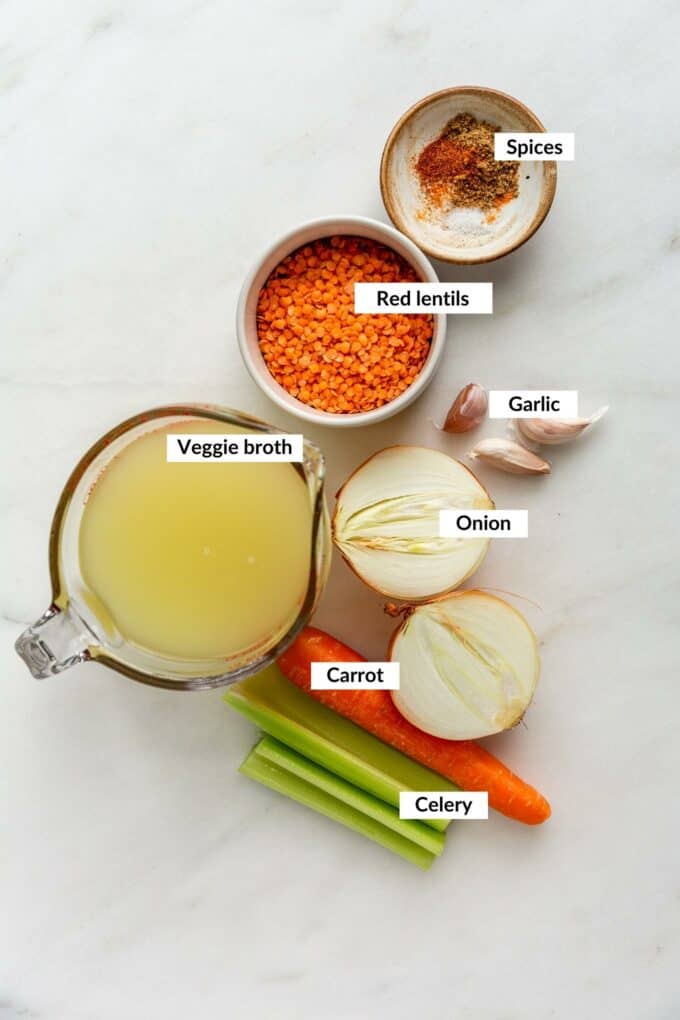 Red lentils: red lentils are dried and split making them cook quickly in liquid. You likely won't see canned red lentils at the grocery store and will find them dried in a bag.
Carrot: one large carrot for flavour and texture.
Celery: one celery stalk for flavour and texture.
Onion: 1 medium yellow or white onion.
Garlic: 2-4 garlic cloves, depending on how garlicky you like your soup!
Spices: for this lentil soup I use a blend of salt, pepper, coriander seed, cumin and cayenne pepper.
Broth: I use low-sodium vegetable broth, but you can use any broth or stock you like.
How to make Red Lentil Soup
Step 1
Heat the avocado oil in a pot on medium-high heat. Then add the onions and garlic and sauteé for a couple of minutes. Then add the chopped carrot and celery and sauteé for a couple more minutes.
Step 2
Rinse the lentils then add the to the pot along with the broth and spices, and stir everything together.
Step 3
Bring the soup to a light boil, then reduce the heat to low, cover and let simmer for about 30 minutes or until the lentils are cooked through.
Step 4
Serve the soup on its own or garnish it with some fresh parsley or cilantro.
How to store, freeze and reheat leftovers
Fridge: store leftover lentil soup in an airtight container in the fridge for up to 5 days. Reheat the soup in a pot on the stovetop or in a bowl in the microwave.
Freezer: let the soup cool to room temperature, then transfer to an airtight container. Freeze for up to 3 months. To defrost let the soup thaw on the countertop or defrost it in the microwave on the defrost setting.
Expert tips for making lentil soup
Rinse the lentils. This is an important step which will help to remove any bitter flavour from the red lentils. You want to rinse the lentils in a strainer under cold water until the water runs clear.
Use low-sodium broth. I find that many store-bought broths can be extremely salty, so I like to opt for low-sodium broth. This way I can control how salty the soup is and just add more salt as needed.
Double the recipe and freeze half. If you want an easy trick to having soup ready to go whenever you need it, try doubling the recipe and freezing half of it. Then you can just take the soup out of the freezer the next time you don't want to cook!
Serving suggestions: serve this soup on its own, with a crusty piece of bread, or with a side salad to make it more of a complete meal.
Red Lentil Soup recipe FAQ
Can I use green or brown lentils instead of red lentils?
Yes, however, it will completely change the taste and texture of the soup. I recommend trying this crockpot lentil soup with brown lentils if you want a green or brown lentil soup.
Do I need to rinse the lentils before cooking with them?
You don't need to, however, it is recommended. Red lentils can have a slightly bitter taste to them if you don't rinse them.
Can I use canned lentils in this soup?
Red lentils aren't usually sold canned, so it's best to use dried red lentils in this recipe.
Can I blend this soup?
Yes, if you want a smooth texture you can blend it but it's definitely not necessary. Red lentils break down and become very soft in the soup without blending them.
Try these cozy soup recipes next!
If you tried this Red Lentil Soup or any other recipe on the blog let me know how you liked it by leaving a comment/rating below! Be sure to follow along on Pinterest, Instagram and Facebook for even more deliciousness!
Print
Red Lentil Soup
Author: Jessica Hoffman
Prep Time: 10 minutes
Cook Time: 30 minutes
Total Time: 40 minutes
Yield: 4 servings 1x
Category: Main
Method: Cook
Cuisine: American
Diet: Vegan
---
Description
Red lentil soup is easy to make and packed with protein for a hearty lunch or dinner!
---
1 tbsp avocado oil
1 onion, chopped
2 garlic cloves, chopped
1 celery stalk, chopped
1 carrot, chopped
1 cup dried red lentils, rinsed and drained
4 cups vegetable broth
1/2 tsp ground coriander seed
1/4 tsp cumin
1/4 tsp cayenne pepper
salt and pepper to taste
---
Instructions
Heat the avocado oil in a large pot on medium-high heat, then add the onion and garlic and sauteé for 1-2 minutes. 
Add the celery and carrot and sauteé for another 1-2 minutes.
Add the lentils, vegetable broth, coriander seed, cumin, cayenne pepper, salt and pepper and mix everything together, bringing the soup to a light boil. 
Cover the soup and let simmer on low heat for 20-30 minutes until the lentils are cooked through. 
Taste and adjust any seasoning if necessary. 
---
Notes
Rinsing red lentils before cooking will remove any bitterness in the lentils.
Store soup in the fridge for up to 5 days or in the freezer for up to 2 months. 
---
Nutrition
Serving Size: 1/4 of the recipe
Calories: 205
Sugar: 3g
Sodium: 500mg
Fat: 5g
Carbohydrates: 24g
Fiber: 7g
Protein: 14g
Keywords: red lentil soup, carrot and lentil soup, turkish lentil soup, red lentil soup recipe
This post contains affiliate links which means I will make a small commission if you purchase through those links. I only recommend products that I know, trust and love!