Pumpkin Pie Overnight Oats
These Pumpkin Pie Overnight Oats are filled with pumpkin pureé and pumpkin pie spice for a healthy breakfast that tastes indulgent. These overnight oats are perfect to make for meal prep or to take on the go.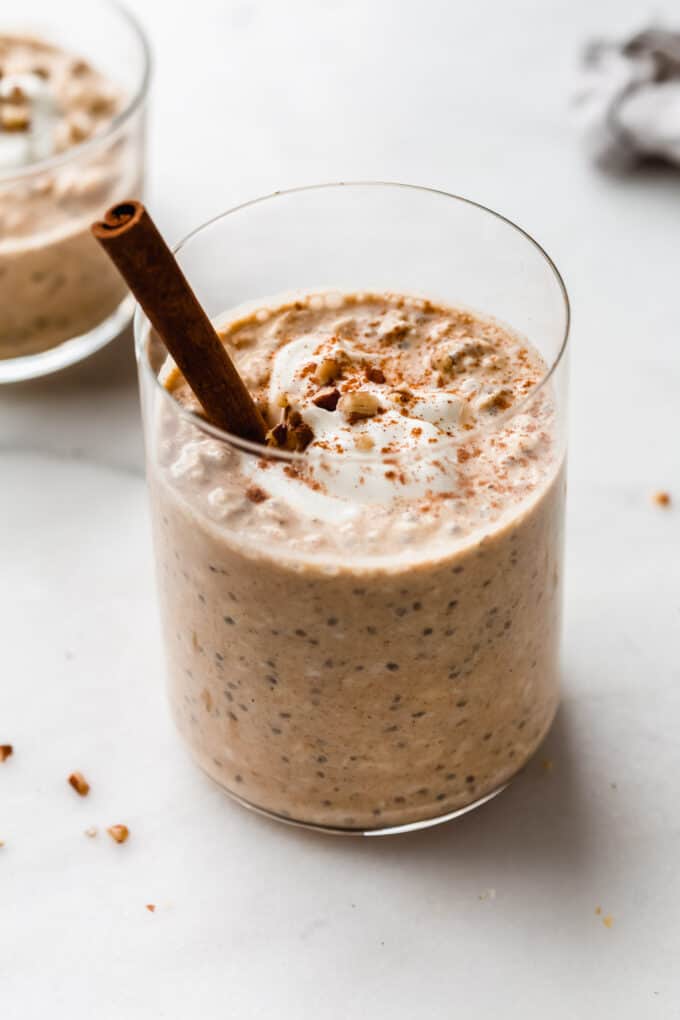 Healthy pumpkin overnight oats
There's nothing that says "Fall" quite like an abundance of pumpkin recipes. From classic pumpkin spice lattes to pumpkin chia pudding and healthy pumpkin bread, pumpkin is the star of the show when the fall season hits!
Today I'm bringing you pumpkin pie in the form of overnight oats.
This Pumpkin Pie Overnight Oats recipe is made by combining oats with ingredients like pumpkin pureé, pumpkin since and chia seeds to create a cold oatmeal that sits in the fridge overnight and is ready to go for breakfast.
It's the perfect Fall-transitional breakfast when you feel like it's time to give up your green smoothie, but it's too soon to start making hot pumpkin oatmeal.
Pumpkin Pie Overnight Oats ingredients
Oats: make sure to use rolled oats or quick oats when making overnight oats. Rolled oats will give the overnight oats a chewy and nutty texture and quick oats will give them a softer and fluffier texture. (Rolled oats are the way to go in my opinion.)
Chia seeds: these not only add nutrition to the overnight oats, but they help absorb liquid and make the overnight thicken.
Pumpkin spice: I use store-bought pumpkin pie spice for this recipe, but you could also make your own if you prefer.
Salt: just a pinch to balance the flavours.
Yogurt: I use greek yogurt in mine, but you can use any type of plain yogurt you like. If you want to keep the recipe dairy-free use vegan yogurt.
Pumpkin pureé: make sure to use pumpkin pureé and not pumpkin pie filling. Pumpkin pie filling is loaded with sugar and other ingredients.
Maple syrup: for some sweetness. You could also use honey, brown sugar or any other sweetener you love.
Almond milk: you can use any dairy or non-dairy milk.
Vanilla extract: just a splash for flavour.
How to make Pumpkin Pie Overnight Oats
Step 1
Mix the oats, chia seeds, pumpkin pie spice and salt together in a large mixing bowl. Then add the yogurt, pumpkin pureé, maple syrup, vanilla extract and almond milk.
Step 2
Stir the ingredients together until well combined. Then cover the bowl and place it in the fridge overnight to set or for a minimum of 4 hours.
Recipe variations
Make it high-protein: add a scoop of your favourite protein powder to the overnight oats. I recommend using either unflavored or vanilla protein powder for this recipe.
Make it vegan: swap out the yogurt for non-dairy yogurt. If you can't find non-dairy yogurt you can also use coconut cream off the top of a can of full-fat coconut milk.
Make it gluten-free: while many oats are gluten-free, some oats technically aren't gluten-free certified if you have a gluten allergy. If this is the case make sure to use gluten-free certified rolled oats.
Topping ideas
There are so many different toppings you can add to your overnight oats! Here are some of my favourites.
Greek yogurt
Pumpkin pie spice
Cinnamon
Pecans
Walnuts
Hemp seeds
Flax seeds
Drizzle of nut butter
Cacao nibs
Dark chocolate chips
How to store pumpkin overnight oats
Store these pumpkin pie overnight oats in an airtight container or sealed jar in the fridge for up to 4 days. You can also double the recipe and store the oats in individual small jars so you can take them on the go with you.
Overnight oats FAQ
Try these overnight oats next!
If you tried these Pumpkin Pie Overnight Oats or any other recipe on the blog let me know how you liked it by leaving a comment/rating below! Be sure to follow along on Pinterest, Instagram and Facebook for even more deliciousness!
Print
This post contains affiliate links which means I will make a small commission if you purchase through those links. I only recommend products that I know, trust and love!