Coffee Overnight Oats
If you ever wondered if you can mix coffee and oatmeal, the answer is YES! Coffee overnight oats taste like your bowl of cold oatmeal and your morning cup of coffee combined. If you're an absolute coffee lover, add sweet coffee cream on top to make your breakfast a little more indulgent.
What are overnight oats?
Overnight oats are a different way of making oatmeal that doesn't involve cooking. The oats are mixed with milk and placed in the refrigerator overnight. During that time, they will absorb the liquid and turn into soft and creamy oatmeal. Once you find the perfect oat to milk ratio, you can vary the flavors and toppings as often as you want. Our favorite combinations are peanut butter and strawberry jam, carrot cake and tiramisu.
Why you'll love this recipe
Quick and easy: This coffee overnight oats recipe is ready in 10 minutes.
Nutrient dense. It is high in fiber and makes a nutritious and filling breakfast.
Make ahead. Overnight oats are a great make-ahead breakfast for busy mornings.
Meal prep friendly. You can meal-prep them for up to 5 days ahead of time.
Key ingredients and substitutions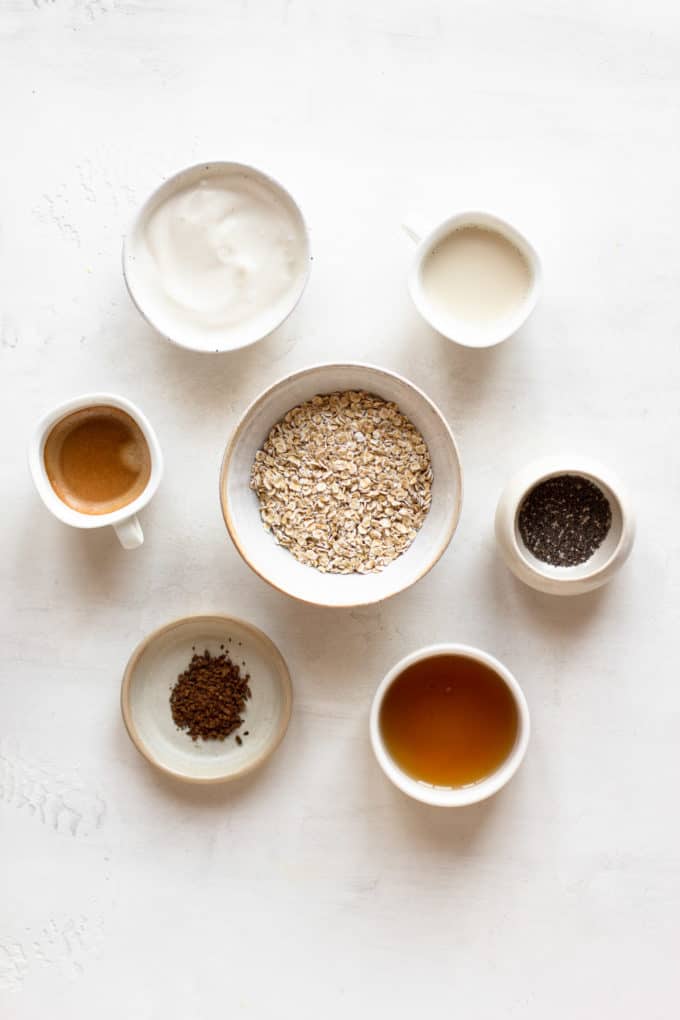 Old-fashioned rolled oats provide the best texture. Use gluten-free oats to fit your dietary needs if necessary.
Chia seeds make the oats a little thicker. You can replace them with flax seeds.
A shot of espresso for that intense coffee flavor. Choose a type of coffee that is not too bitter. We recommend freshly brewed espresso from your coffee maker. Alternatively, you can dissolve instant coffee in warm water or use strong cold brewed coffee. If using cold brew concentrate, start with 2 tablespoons and fill the rest up with milk.
Milk: prevents the coffee from being too intense and overpowering (although coffee lovers could replace milk with more coffee). You can use regular or dairy-free milk. Our favorite plant-based options are oat milk or almond milk. We also highly recommend vanilla-flavored soy milk to make your oats taste like a vanilla latte.
Pure maple syrup: is used to slightly sweeten the oats. You can replace it with another liquid sweetener (e.g., agave syrup, date syrup). Feel free to add more to taste or leave it out completely.
Plain greek yogurt: (or a plant-based alternative) makes the oats a lot creamier. Vanilla extract provides extra flavor.
A pinch of salt: enhances the overall flavor of the other ingredients. In coffee, it is also known to neutralize bitterness.
Instant coffee: is best to measure the right amount easily.
Maple syrup: turns the coffee into a cream when whisked energetically. You can replace it with granulated sugar.
Hot water: make sure it's hot water and not cold.
How to make Coffee Overnight Oats
Step 1
Add the oats, chia seeds and a pinch of salt to a bowl or glass jar (ex: a Mason jar). Pour in the espresso, milk, maple syrup and vanilla extract. Give it a good stir.
Step 2
Stir in the yogurt. You should obtain a thick and creamy mixture. Cover the bowl with plastic film or close the jar with a lid. Place the coffee overnight oats in the fridge to set for at least 4 hours (preferably overnight).
Step 3 (optional)
The next morning or shortly before serving, make the sweet coffee cream by whisking the instant coffee, maple syrup (or sugar) and hot water in a small bowl. We recommend using a hand-held electric milk frother to do so.
Tip: Traditionally, this sweet coffee cream is known as Dalgona and is served in hot or cold milk. Note that this cream is made of equal parts of coffee and sugar. Hence its sweetness and strong coffee flavor. Only add it to your oats if you like very strong black coffee.
Step 4
Add the toppings of your choice and serve the oats with sweet coffee cream if desired.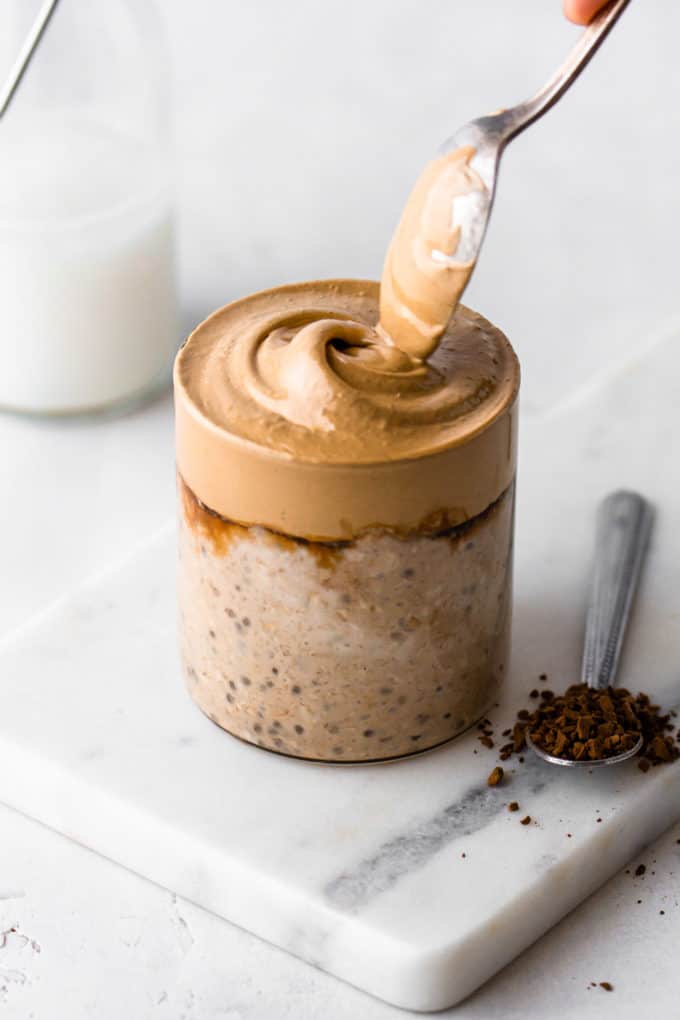 Overnight Oats Add-ins and topping ideas
Banana: coffee overnight oats taste incredibly good with bananas. You can mash them into your oats or add sliced bananas as a topping. We also love dried bananas.
Chocolate: it's no secret that chocolate and coffee are a winning flavor combination. You can stir in cocoa powder to make mocha overnight oats, or add in chocolate chips, chocolate chunks or cacao nibs.
Nut butter: the nutty flavor of almond butter and peanut butter pairs really well with coffee.
Coconut: coconut flakes or coconut yogurt make a yummy topping as well.
Caramel: if you skip the coffee cream, you can replace it with caramel sauce.
Berries: red berries such as raspberries, blackberries and even strawberries add some freshness to this recipe. You can use fresh berries, jam or reheated frozen berries.
Protein powder: for a boost of protein, feel free to add a scoop of your favorite protein powder.
Tips for making coffee overnight oats
Meal-prep your overnight oats for the entire week for a quick breakfast. Think about making a big batch on your day off and dividing it up into smaller containers that you can grab and go.
We recommend using freshly brewed espresso if you can.
Use rolled oats. Quick oats, also known as instant oats, are cut very thinly to cook more quickly and tend to get mushy if left in milk for too long.
Frequently asked questions
Can you use quick oats for overnight oats? 
You can use quick oats to make overnight oats but we recommend eating them within 24 hours to prevent them from getting soggy. If you want to meal-prep your overnight oats, make sure to use rolled oats. 

Can you use steel-cut oats for overnight oats? 
Steel-cut oats are a lot thicker than rolled oats and don't absorb milk as easily. You can use them to make overnight oats if you boil them in milk first. Refer to this recipe for detailed instructions.
What are the best containers for overnight oats?
We love Mason jars and Weck glass jars as you can prepare your overnight oats in the jar right away and close it airtightly. We have never experienced any leakage and recommend them if you eat breakfast on the go. Our favorite jar sizes are 8 oz and 16 oz, as they leave enough room for extra toppings.
Can you use water instead of milk?
While you could use water instead of milk to make these oats, we would recommend adding more coffee versus water to this recipe.
Can you reheat overnight oats?
If you prefer your oats warm, you can easily reheat them in the microwave or over low heat on the stove.
More oatmeal recipes to try
This recipe was created for you by Eloïse, the founder of the food blog Cooking With Elo. Inher little corner of the world wide web, Elo shares vegan and gluten-free recipes for busydays. Her recipes are great for meal-prepping and perfect for anyone with a busy work orfamily schedule. In her free time, she loves hosting dinners and brunches for friends andfamily, going on weekend get-aways, and sourcing props and decor in thrift stores. Makesure to head over to her blog, subscribe to her newsletter and follow her on Instagram for more delicious recipes.
Print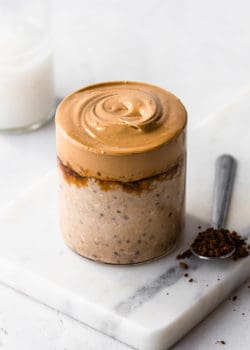 Coffee Overnight Oats
Author: Jessica Hoffman
Prep Time: 10 minutes
Cook Time: 10 minutes
Total Time: 20 minutes
Yield: 1 serving 1x
Category: Breakfast
Method: Mix
Cuisine: American
Diet: Vegetarian
---
Description
These coffee overnight oats taste like your bowl of cold oatmeal and your morning cup of coffee combined. Top them with some sweet coffee cream for an indulgent breakfast. 
---
Coffee overnight oats
1/2 cup rolled oats
1 tablespoon chia seeds
1 pinch of salt
1/4 cup freshly brewed espresso (sub cold brew or instant coffee)
1/2 cup plant-based milk
1 tablespoon maple syrup
1/4 teaspoon vanilla extract
2-3 tablespoons plant-based yogurt
Sweet coffee cream
2 teaspoons maple syrup (or granulated sugar)
2 teaspoons instant coffee
2 teaspoons boiling water
---
Instructions
Combine the oats, chia seeds and a pinch of salt in a bowl or glass jar. 
Pour in the milk, espresso, maple syrup and vanilla extract. Give it a good stir.
Stir in the plant-based yogurt. 
Cover the bowl with plastic film or close the jar with a lid. Place in the fridge to set overnight or for at least 4 hours. 
(Optional) The next morning, prepare the sweet coffee cream (see notes). Whisk the sugar, instant coffee and boiling water until creamy. Use an electric milk frother to save time. 2. Stir the cream into the coffee overnight oats. Serve with your favorite toppings.
---
Notes
ou can replace the espresso with instant coffee dissolved in warm water or strong cold brewed coffee. If using cold brew concentrate, start with 2 tablespoons and fill the rest up with milk.
The sweet coffee cream is very sweet and has an intense coffee flavor. Only add it to your oats if you like very strong and sweet black coffee. Alternatively, replace it with caramel sauce or leave out completely.
Store the overnight oats in an air-tight container in the refrigerator for up to 5 days.
The nutritional information was calculated for 1 serving of overnight oats without coffee cream.
---
Nutrition
Serving Size: 1 jar or cup
Calories: 334
Sugar: 15g
Fat: 9g
Carbohydrates: 53g
Fiber: 9g
Protein: 12g
Keywords: coffee oats, overnight oats with coffee, coffee flavor oatmeal
This post contains affiliate links which means I will make a small commission if you purchase through those links. I only recommend products that I know, trust and love!