Protein Overnight Oats
These yummy Protein Overnight Oats are healthy, delicious and packed with 27 grams of protein per serving! They're easy to make and perfect for a nourishing breakfast that can be enjoyed at home or on the go.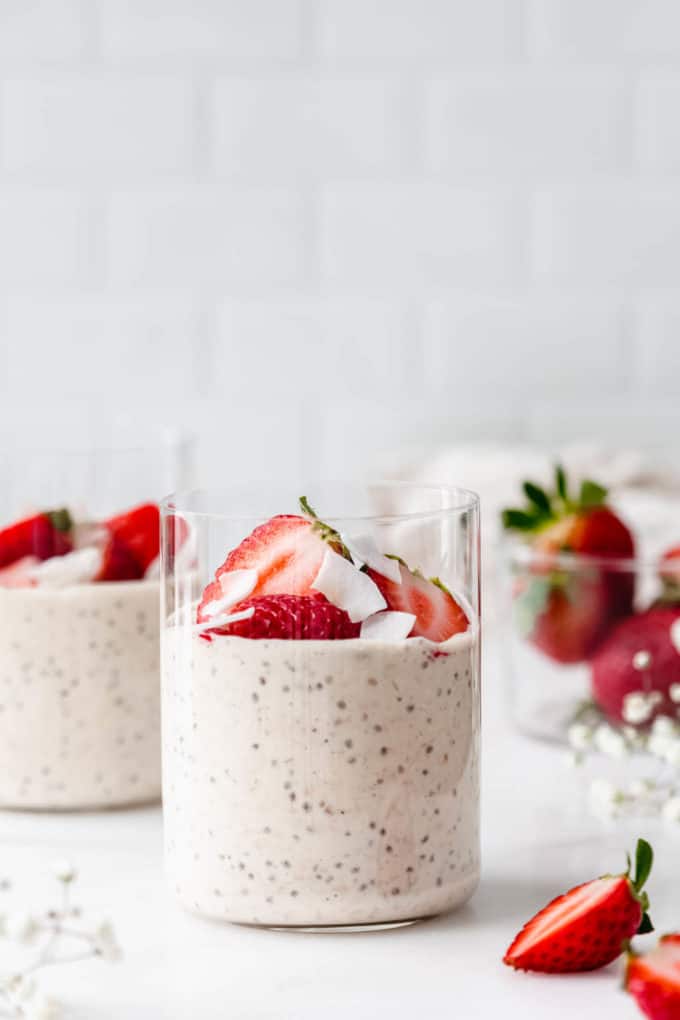 Overnight oats recipe with protein powder
If you're looking for a simple, healthy and high-protein breakfast to start your day then Protein Overnight Oats are just what you need! This recipe is so easy to make and is made by soaking oats and protein powder in milk overnight to create a creamy and chewy cold oatmeal.
These overnight oats have the added benefits of protein powder, making them much higher in protein than a typical bowl of oatmeal.
Did you know that starting your morning off with protein can give you more energy and make you feel more alert? If that's not reason enough to add protein to your oats, these overnight oats are also just honestly super tasty and make for an easy breakfast since they're prepared the night before. That's what I call a win-win!
Why you'll love this protein oats recipe
Ready in under 10 minutes. All you need to do is mix all the ingredients together in a mixing bowl or a large jar. Pretty much takes about 5 minutes, 10 if you take your time.
Breakfast ready for you in the morning. That's the beauty of overnight oats! All the prep work is done the night before so when you wake up in the morning you can just grab your protein oats and start your day! This recipe is also fantastic for meal prepping!
Customizable. These oats can be easily made vegan or gluten-free and can be customized to make them into any flavour you like.
Packed with protein and fiber. Each serving of these overnight oats has 27 grams of protein and 7 grams of fiber!
Protein overnight oats ingredients
Oats: you can use rolled oats or quick oats for this recipe. Both will work well!
Chia seeds: these add more nutrition and also help to thicken the overnight oats.
Protein powder: you can use any type of protein powder you like. I use plant-based protein powder made from pea protein.
Salt: just a pinch to balance the flavour.
Greek yogurt: you can substitute this with any type of yogurt you like, including dairy-free yogurt. I like to use Greek yogurt in this recipe because it's high in protein.
Vanilla extract: for flavour.
Honey: to sweeten the overnight oats. You can also use maple syrup or agave nectar as a vegan option.
Oat milk: I like to use oat milk for creaminess, but you can use any type of milk you like such as almond milk or coconut milk.
How to make protein overnight oats
Step 1
Add the oats, protein powder, chia seeds and salt to a large mixing bowl or a large jar. Then add in the yogurt.
Step 2
Next, add in your flavouring and sweetener. For this recipe, I used honey and vanilla extract. Then pour in the oat milk.
Step 3
Stir everything together with a large spoon until combined. You can store the overnight oats in the fridge overnight directly in the mixing bowl covered with plastic wrap, or transfer it to a sealed container or jar with a lid.
Step 4
Remove the oats from the fridge in the morning and serve with your favourite toppings. I served these with strawberries, almond butter and coconut flakes.
High protein overnight oats variations
Vegan Protein Overnight Oats: use vegan protein powder, dairy-free yogurt (like coconut yogurt) and maple syrup to sweeten.
Gluten-free Protein Overnight Oats: some oats are naturally gluten-free, but some oats may contain gluten. To make this recipe gluten-free just make sure to use gluten-free overnight oats. (They should say on the packaging if they are gluten-free.)
Chocolate Protein Overnight Oats: to make this recipe chocolate flavoured, Add 2 tablespoons of cocoa powder when preparing the oats and mix them together.
Protein oats topping suggestions
There are endless ways you can top your overnight oats! Whatever you love to add to a bowl of regular oatmeal, you can add to these oats. Here are some ideas.
Nut butter
Jam
Hemp seeds
Nuts
Seeds
Sliced banana
Berries
Mango
Kiwi
Peaches
Cacao nibs
Dark chocolate chips
Coconut flakes
Dried fruits
Granola
Cinnamon
How to store overnight oats
Store the overnight oats in a sealed mason jar or airtight container in the fridge. The overnight oats will last up to 5 days in the fridge. Overnight oats cannot be stored on the counter.
What protein powder to use in these oats
There are SO many different types of protein powder and brands of protein powder out there, that it can be hard to know which one to choose.
I've tried many different protein powder brands, and my personal favourite is the brand Sprout Living. This is the one I use in my smoothies, oatmeal or just mixed in water. Out of all the brands I've tried, this one is the best tasting and smoothest!
If you want to grab a container you can use my promo code "CHOOSINGCHIA" to save 20% off your purchase. (My favourites are the unflavored epic protein and the vanilla lucuma epic protein.
Tips for making Protein Overnight Oats
Make sure you like the taste of the protein powder you use. This is VERY important to make sure the overnight oats taste good! Some protein powders taste better than others, so make sure to use one that you've tried before and that you like.
Use mason jars to prepare individual servings of the protein oats in for an easy breakfast you can take on the go.
Use rolled oats for a chewier texture and quick oats for a softer texture. This is a personal preference. I personally like rolled oats for a bit of chew in each bite.
Use unsweetened yogurt. This way you can control how sweet the overnight oats turn out.
Frequently Asked Questions
Can I make Protein Overnight Oats Vegan?
Yes! Just use vegan protein powder, dairy-free yogurt and a vegan sweetener like honey or agave syrup.
What flavour protein powder should I use for this recipe?
I like to use unflavored protein powder, but you can also use vanilla protein powder if you prefer. You can even try chocolate protein powder or peanut butter protein powder if you want to add more flavour to the oats!
Can I make Protein Overnight Oats without protein powder?
Absolutely. You can just leave out the protein powder from this recipe and you'll end up overnight oats that are equally as delicious and still have some protein.
Can I make overnight oats without chia seeds?
Yes, but the chia seeds do help to thicken the overnight oats. If you leave out the chia seeds, I'd recommend reducing the amount of oat milk by 1/4 cup.
Should I be adding protein to my oats?
This is totally optional, but the protein will help keep you feeling full and give you energy in the morning. It's also great to add to your diet if you like to exercise in the morning. Adding protein to oats is an easy and simple way to increase your daily protein intake.
How can I add more protein to my oats without protein powder?
If you want to enjoy high-protein overnight oats without protein powder, you can add yogurt, cottage cheese, nut butter or nuts to your oats.
How long do overnight oats last?
Overnight oats should last for up to 5 days in the fridge.
More oat recipes to try
If you tried these Protein Overnight Oats or any other recipe on the blog let me know how you liked it by leaving a comment/rating below! Be sure to follow along on Pinterest, Instagram and Facebook for even more deliciousness!
Print
Protein Overnight Oats
Author: Jessica Hoffman
Prep Time: 10 minutes
Cook Time: 0 minutes
Total Time: 10 minutes
Yield: 2 servings 1x
Category: Breakfast
Method: Mix
Cuisine: American
Diet: Vegetarian
---
Description
These yummy Protein Overnight Oats are healthy, delicious and packed with 27 grams of protein per serving! They're easy to make and perfect for a nourishing breakfast that can be enjoyed at home or on the go.
---
1 cup oats
1 tbsp chia seeds
1/4 cup protein powder (I use Sprout Living.)
1/4 tsp salt
1/3 cup Greek yogurt (or dairy-free yogurt)
1 tsp vanilla extract
1 tbsp honey (can sub maple syrup)
1 cup oat milk (can sub almond milk)
---
Instructions
Add all the ingredients to a mixing bowl or to a large jar and mix together to combine.
Cover the bowl and place it in the fridge to set it overnight.
Remove the overnight oats in the morning and enjoy them as is or with your favourite toppings!
---
Notes
You can use my code "CHOOSINGCHIA" at checkout to save 20% off Sprout living protein powder. 
Store in the fridge in a sealed jar or container for up to 5 days. 
*The nutritional information listed is estimated based on the brand of protein powder I use. Please note different brands of protein powders have different amounts of protein, so the final amount of protein in the oats can vary depending on what you use. 
---
Nutrition
Serving Size: 1/2 of the recipe
Calories: 372
Sugar: 9.5g
Fat: 6g
Carbohydrates: 52g
Fiber: 7.6g
Protein: 27g
Keywords: overnight oats with protein, protein overnight oats
This post contains affiliate links which means I will make a small commission if you purchase through those links. I only recommend products that I know, trust and love!