Peanut Butter Oatmeal
This healthy peanut butter oatmeal is made with six simple ingredients and comes together in less than 10 minutes for a healthy and nourishing breakfast that is packed with 14 grams of protein and 7 grams of fibre per serving!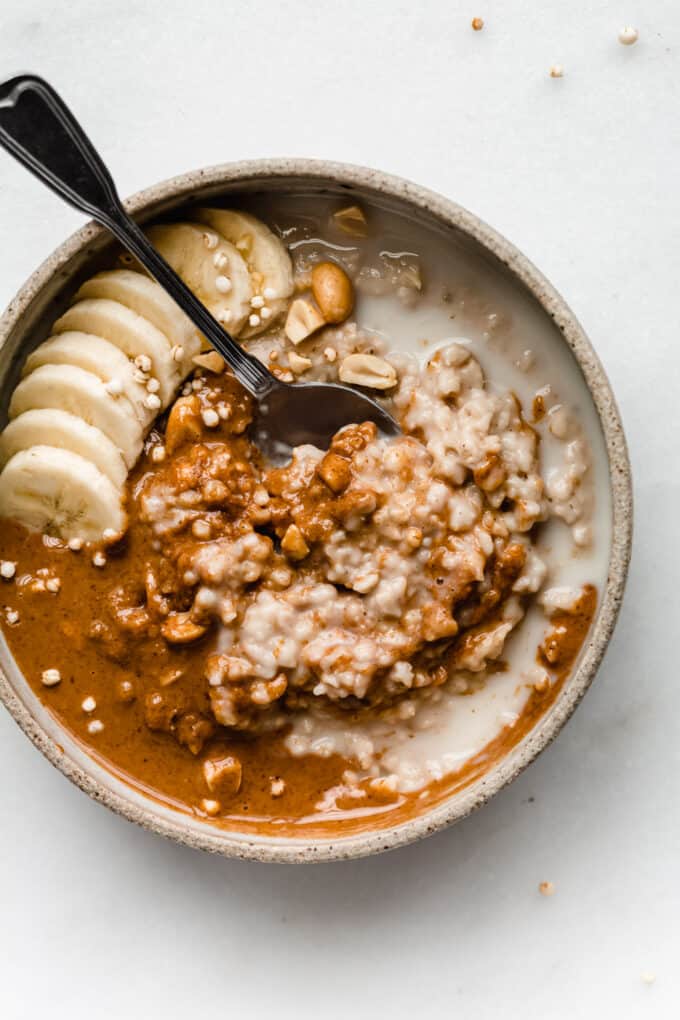 Healthy Peanut Butter Oatmeal
While I love making overnight oats or baked oatmeal, most days I don't have the time (or foresight) to plan out my breakfast ahead of time. And on those days, (which is most days) I love to make a simple, classic bowl of oatmeal with peanut butter.
This recipe for peanut butter oatmeal is perfect for a quick and easy breakfast when you need something prepared quickly that will keep you full and satisfied all day long. This oatmeal can be made with quick oats, rolled oats or even steel-cut oats, and can be made vegan and gluten-free if needed.
Why you'll love this recipe
Simple and easy. When you don't have time to prepare a time-consuming recipe for breakfast, this peanut butter oatmeal will be your go-to.
Customizable. You can add any fruits, nuts or toppings you love to this oatmeal. If you don't have peanut butter you can even use a different type of nut butter!
Tastes like a peanut butter cookie. If you're a peanut butter fan you'll absolutely love this oatmeal that tastes like you're eating a chewy delicious peanut butter oatmeal cookie.
Quick oats vs. rolled oats vs. steel-cut oats
When it comes to making a bowl of oatmeal, there are a few different types of oats you can choose from to use. Each type of oats has its pros and cons, and you can choose whichever you like depending on your personal preference.
Quick oats
Quick oats are made by steaming them for the longest period of time, then rolling them and cutting them thin. Quick oats are the more processed type of oats, though they are still packed with nutritional benefits. Quick oats have a soft texture when cooked and cook the fastest.
Rolled oats
Rolled oats are steamed for a shorter period of time and then rolled into flakes. When cooked they have a chewier texture than quick oats and will take slightly longer to cook.
Steel-cut oats
Steel-cut oats are groats of whole oats that have been chopped into smaller pieces. They have the best nutritional profile of all the oats and are the least process. They take the longest to cook and
Peanut butter oatmeal ingredients
Oats: you can use quick oats, rolled oats or steel-cut oats. The recipe directions are for quick oats, so if you use a different type of oats you'll need to adjust the cooking time. Use gluten-free certified oats if needed.
Milk: I use almond milk, but you can use any type of milk you like. This adds some creaminess to the oatmeal.
Water: if you prefer to use all milk you can use all milk. I like to use half milk and half water so the oatmeal is creamy, but not too creamy.
Peanut butter: creamy or crunchy both work. I use natural peanut butter. You can substitute any type of nut butter such as almond butter or cashew butter.
Honey: just a drizzle for some sweetness. You can also substitute with maple syrup, agave nectar or brown sugar.
Salt: just a pinch to bring out the flavour of the peanut butter. If your peanut butter already contains salt, leave out this ingredient.
How to make peanut butter oatmeal
Step 1
Add the oats to the pot on medium-high heat. You can optionally let the oats toast for about a minute or so for more intense flavour.
Step 2
Add the milk, water, peanut butter, honey and salt and mix everyhing together. Let the oatmeal come to a light boil, then reduce the heat to medium and continue to stir for 3-4 minutes. The oatmeal should thicken and become light and fluffy.
Step 3
Pour the oatmeal into a bowl and add whatever toppings you love. The oatmeal pictured here is topped with bananas, peanut butter, peanuts and puffed quinoa.
How to store oatmeal
If you prepare this oatmeal ahead of time or have extras, you can store the oatmeal in an airtight container in the fridge for up to 3 days.
Reheat the oatmeal in a small pot on medium heat or in a bowl in the microwave. The oatmeal will thicken as it sits in the fridge, so you may need to add an additional 1/4 cup of water to the oatmeal as you reheat it.
Oatmeal topping ideas
When it comes to topping peanut butter oatmeal there are endless possibilities! Get creative with your toppings and add whatever you love to this oatmeal. Here are some ideas to get you started.
Banana
Strawberries
Raspberries
Blueberries
Blackberries
Mango
Chocolate chips
Cacao nibs
Coconut flakes/shredded coconut
Chia seeds
Flax seeds
Hemp seeds
Nut butter
Jams
Caramel
Puffed quinoa
Granola
Cinnamon
Expert tips for making peanut butter oatmeal
For even more flavour, toast the oats in the pot for about 1 minute before adding the rest of the ingredients. This will give the oatmeal an extra toasty flavour!
Stir often as you cook. This will prevent the oatmeal from sticking to the bottom of the pot and will help to create a light and fluffy oatmeal.
Add more liquid as needed. The longer the oats cook, the more liquid they will absorb and the thicker they will get. If your oats have become too thick, just add some more water and stir.
Serve immediately. Oatmeal is always best served right away after it comes off the stove.
Frequently asked questions
Is oatmeal and peanut butter good?
Yes! Oatmeal and peanut butter make a delicious and healthy combo that tastes delicious together. This combination also makes a well-balanced meal of carbs, fat and protein.
Can I make this recipe in the microwave?
Yes. To make peanut butter oatmeal in the microwave add all the ingredients to a large bowl and microwave on high for 1-3 minutes, stopping the microwave and stirring halfway through.
Can I make this recipe into peanut butter overnight oats?
If you want to make this into overnight oats you can follow my recipe for peanut butter overnight oats.
What oats are best for oatmeal?
This will depend on your personal preference. Quick oats will cook the fastest, while steel-cut oats take much longer to cook but have the most nutrition.
How many calories are in peanut butter oatmeal?
A bowl of peanut butter oatmeal has approximately 375 calories, 7 grams of fibre and 14 grams of protein.
More oatmeal recipes to try
If you tried this Peanut Butter Oatmeal or any other recipe on the blog let me know how you liked it by leaving a comment/rating below! Be sure to follow along on Pinterest, Instagram and Facebook for even more deliciousness!
Print
Peanut Butter Oatmeal
Author: Jessica Hoffman
Prep Time: 5 minutes
Cook Time: 5 minutes
Total Time: 10 minutes
Yield: 1 serving 1x
Category: Breakfast
Method: Cook
Cuisine: American
Diet: Vegetarian
---
Description
This one's for you, peanut butter lover! Cozy up with a bowl of peanut butter oatmeal.
---
1/2 cup quick oats or rolled oats
1/2 cup water
1/2 cup milk of choice (I use almond)
2 tbsp peanut butter
1/2 tbsp honey
pinch of salt*
---
Instructions
Add the oats, water, milk, peanut butter, honey and salt to a pot and bring to a light boil. 
Let the oats cook for 3-4 minutes on medium heat, mixing occasionally until the oatmeal has thickened to your desired texture. (If you like it very thick, let it cook longer.) 
Enjoy as is or top with more peanut butter, bananas or whatever you like!
---
Notes
*if you're using salted peanut butter, leave out the salt.
If using rolled oats you may need to cook for an extra 1 minute.
If the oatmeal thickens too much, add a little more water. 
---
Nutrition
Serving Size: 1 bowl
Calories: 375
Sugar: 12g
Fat: 18g
Saturated Fat: 3g
Carbohydrates: 42g
Fiber: 7g
Protein: 14g
Keywords: oatmeal with peanut butter, peanut butter oats
This post contains affiliate links which means I will make a small commission if you purchase through those links. I only recommend products that I know, trust and love!