Cinnamon Roll Baked Oatmeal
This Cinnamon Roll Baked Oatmeal is filled with warming cinnamon spices and baked to fluffy perfection. It's like enjoying a cross between a cozy bowl of oatmeal and a cinnamon roll for breakfast, all while gluten-free and naturally healthy!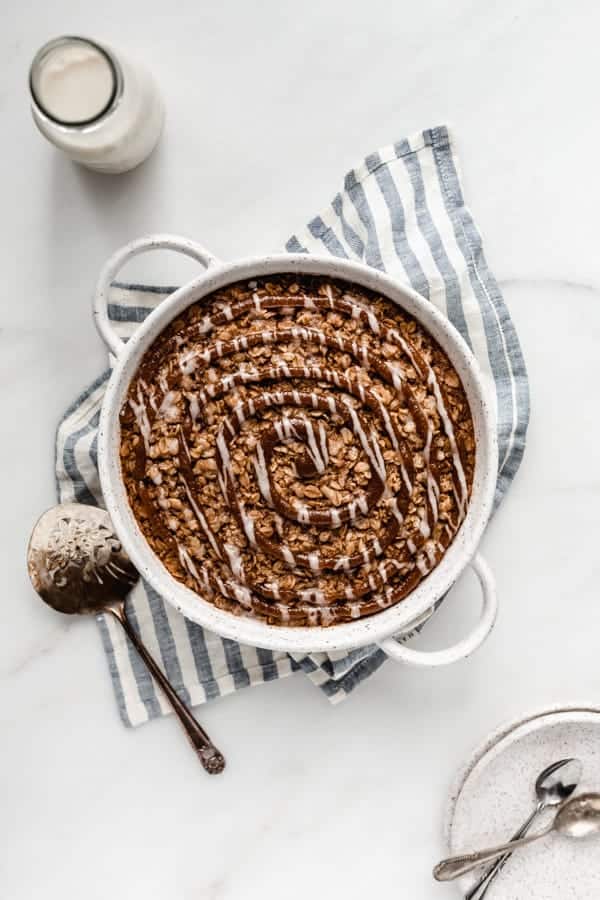 There's nothing better in the fall than having a warm and cozy breakfast filled with warming fall spices.
Cinnamon is a classic spice to use in fall and is so delicious, in anything from Cinnamon Roll Apple Bread to Roasted Sweet Potato Cinnamon Soup!
Today's recipe features a soft and delicious baked oatmeal loaded with cinnamon, coconut sugar and a hint of nutmeg. It's then topped off with a cinnamon swirl sugar and an optional drizzle of coconut butter for an oatmeal that really has all the flavours you love from a cinnamon roll!
This Cinnamon Roll Baked Oatmeal is perfect to serve up for a weekend brunch and will make your home smell amazing as it bakes!
Why you'll love this recipe
This Cinnamon Roll Baked Oatmeal can be made in one bowl and is easy to throw together.
This recipe is healthy and naturally gluten-free made with gluten-free rolled oats. It's perfect if you're looking for something that feels super comforting and decadent but is still a bit lighter.
This oatmeal tastes just like a cinnamon roll! What could be better?
Does baked oatmeal need to be refrigerated?
Baked oatmeal is best enjoyed right away, but if you have leftovers you can keep it stored in the fridge for 2-3 days. Because of the eggs in this (unless you choose to use a flax egg), I wouldn't recommend storing baked oatmeal on the countertop.
You can also prepare the batter ahead of time and keep that stored in the fridge overnight to bake in the morning. If you do this, you will need to add an extra 1/3 cup of liquid, since the oats will absorb a lot of the liquid overnight!
How to make Cinnamon Roll Baked Oatmeal
Mix all the ingredients together in a large mixing bowl, then let the mixture rest on your countertop for 5 minutes. The oats will start to absorb a bit of the liquid during this time.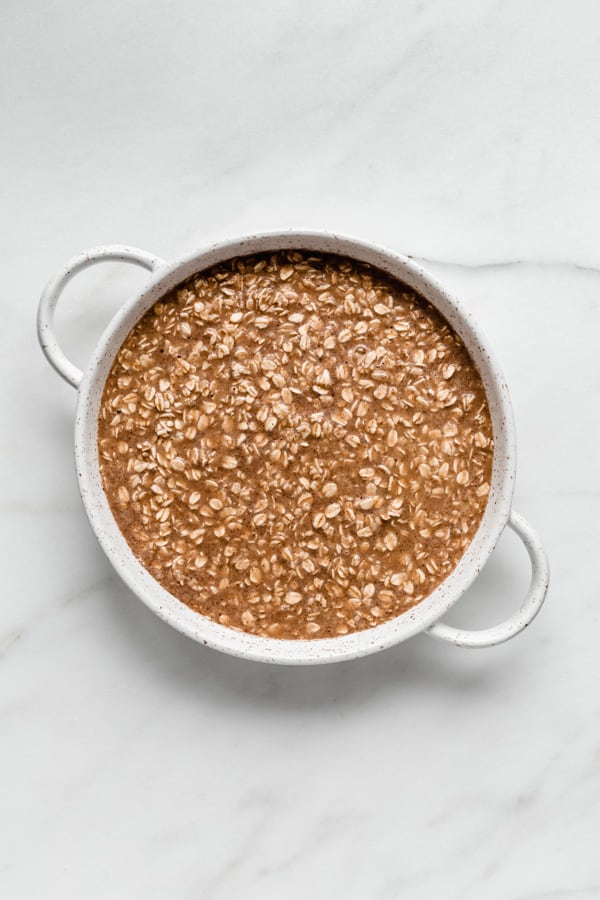 Pour the mixture into a baking dish and bake for 35-45 minutes until golden brown on top. Remove the baked oatmeal from the oven and let it cool for 10 minutes before you add the cinnamon swirl. (If you add it while the oatmeal is still hot, it will ooze out and won't create a nice swirl.)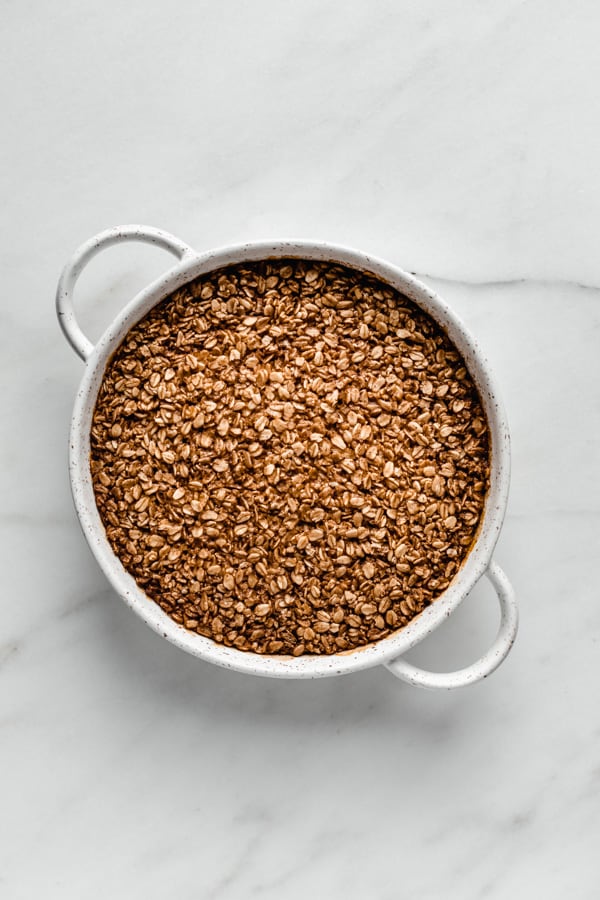 Mix the cinnamon swirl mixture together and use a piping bag or ziplock bag with the tip cut off to make a swirl all around the oatmeal. You can alternatively just drizzle it across if it's easier. Optionally, drizzle of melted coconut butter on top then serve.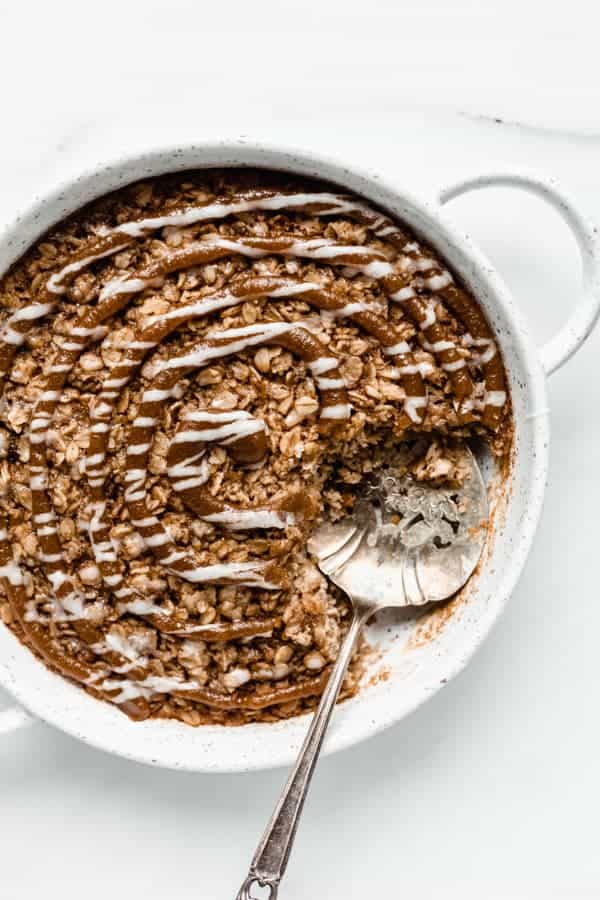 Leftovers will store well in the fridge for about 2 days. But baked oatmeal is best enjoyed fresh!
Tips for making this recipe perfectly
Use rolled oats rather than quick oats. Quick oats will become kinda mushy in baked oatmeal, whereas rolled oats will hold their shape better. They also add a nice chewy bite and a great texture to the baked oatmeal.
Let the mixture sit on the countertop for 5-10 minutes before baking. This will give the oats a chance to absorb some of the liquid in the mixture and begin to thicken up before baking. This makes for better-tasting baked oatmeal!
You can use any type of baking dish you have on hand. I use a 9-inch round baking dish, but a square baking dish or even an 8×8 inch pan will work fine.
If you like to add in any nuts or dried fruits, mix them in at the end after mixing all the other ingredients together. You can also sprinkle some nuts on top of the baked oatmeal before putting it in the oven.
Wait for the oatmeal to cool before drizzling the cinnamon swirl mixture on top. Otherwise, the topping will just melt on top of the oatmeal.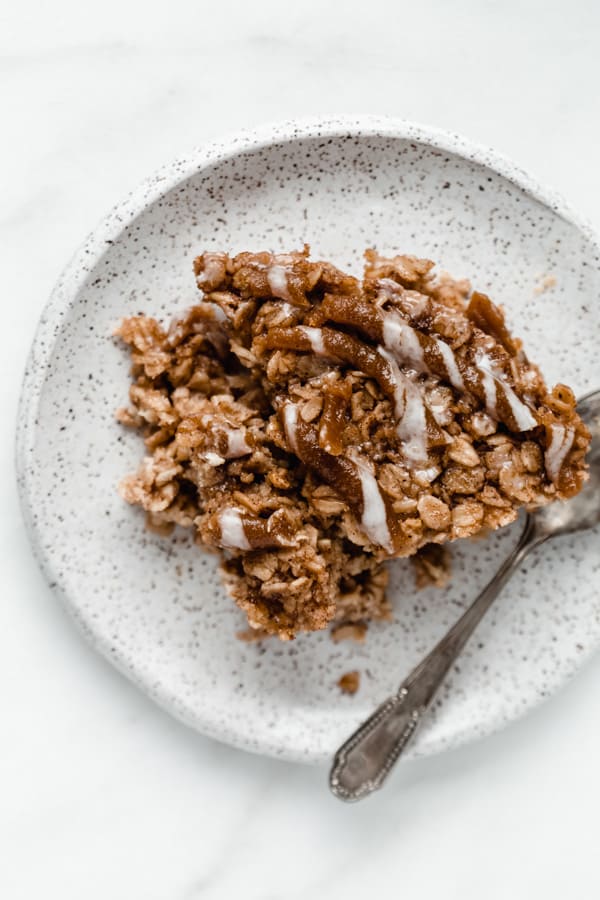 More oatmeal recipes to try
Print
Cinnamon Roll Baked Oatmeal
Author: Jess
Prep Time: 10 minutes
Cook Time: 35 minutes
Total Time: 45 mintues
Yield: 6 servings 1x
Category: Breakfast
Method: Bake
Cuisine: American
---
Description
A baked oatmeal that tastes just like a cinnamon roll. Healthy and perfect for a cozy morning! 
---
2 1/4 cup gluten-free rolled oats
1/3 cup coconut sugar
1 tsp baking powder
1/2 tsp salt
2 tsp cinnamon
1/4 tsp nutmeg
2 cups oatmilk (can sub any plant-based milk)
1 egg (sub flax egg for vegan) 
3 tbsp coconut oil, melted 
1 tsp vanilla extract 
Cinnamon swirl topping
1/3 cup coconut sugar
1 tsp cinnamon
2 tbsp coconut oil, melted 
2 tbsp melted coconut butter to drizzle on top (optional) 
---
Instructions
Preheat the oven to 350 degrees F
Mix all the baked oatmeal ingredients together in a large bowl until well combined. Let sit on the counterotp for 5 minutes until the mixture thickens slightly. 
Transfer to a baking dish (9-inch round or 8×8 inch work well) and bake for 35-45 minutes until brown on top.) 
To make the cinnamon swirl, mix the coconut sugar and melted coconut oil together. Place in a ziplock bag with the corner cut out, or piping bag and swirl ontop of the baked oatmeal. 
Optionally drizzle some coconut butter on top.
---
Equipment
---
Notes
Use rolled oats, not quick oats for this recipe. Rolled oats will hold their texture better. 
Let the mixture sit on the counter to thicken for 5-10 minutes. Don't skip this step! This will allow the oats to start absorbing the liquid before baking. 
Let the baked oatmeal cook before adding the cinnamon swirl, otherwise it will just melt into the oats.
---
Nutrition
Serving Size: 1/6 of the recipe
Calories: 330
Sugar: 25g
Sodium: 250mg
Fat: 13g
Saturated Fat: 8g
Carbohydrates: 49g
Fiber: 4g
Protein: 7.5g
Keywords: healthy baked oatmeal, baked oatmeal with cinnamon
If you tried this Cinnamon Roll Baked Oatmeal or any other recipe on the blog let me know how you liked it by leaving a comment/rating below! Be sure to follow along on Pinterest, Instagram and Facebook for even more deliciousness!
This post contains affiliate links which means I will make a small commission if you purchase through those links. I only recommend products that I know, trust and love!