Roasted Butternut Squash Risotto
This Roasted Butternut Squash Risotto is perfect for a special occasion or a date night. It's simple to make but tastes like it's from a fancy restaurant! This recipe is gluten-free and can be made dairy-free if needed.
Easy squash risotto
Some nights are all about quick and easy dinners like weeknight lentil soup or quinoa chili, and other nights are for spending a little more time and care to prepare dinner and eating something that makes you feel pretty damn fancy. This recipe for Roasted Butternut Squash Risotto is one of those dishes.
It starts with roasted butternut squash that gets pureed and added to the pan with rice, sage, white wine, and veggie broth and cooked down until tender and creamy.
Why you'll love this Butternut Squash Risotto
Filled with fall flavours. If you love Fall recipes, then this is the dish for you. This Butternut Squash Risotto is filled with cozy fall flavours and is the perfect dish to enjoy on a cold fall evening.
Easy to make. Many people think risotto is hard to make, but this recipe is simple to throw together. You'll be surprised by how easy it is!
Perfect for date night. Looking for the perfect date night recipe? This is it! It's fun to make and feels fancy.
Stores well. Store any leftover risotto in the fridge for up to 4 days. The risotto is still delicious!
Butternut Squash Risotto Recipe Ingredients
Butternut squash: this is the star ingredient of the dish! Use a small to medium-size fresh butternut squash, or buy pre-cut butternut squash.
Olive oil: make sure to use olive oil instead of another type of oil for the best taste.
Brown short-grain rice or Arborio rice: for a traditional risotto, use arborio rice. For a "healthier" version of risotto, you can use short-grain brown rice. Both are delicious!
Vegetable broth: this is what the rice will cook in and will make it flavourful.
White wine: this is a key ingredient in risotto! If you don't want to use white wine, you can use a splash of lemon juice instead and just substitute the wine with more broth.
Shallots: while you could use onions, shallots have a sweeter and more delicate taste that is delicious for risotto.
Garlic: fresh garlic only!
Sage: opt for fresh sage leaves. They pair with butternut squash perfectly!
Spices: salt, pepper and just a hint of nutmeg are used to season the risotto.
Butter: this is another key ingredient to a creamy and luscious risotto.
Parmesan cheese: go for the good stuff here. Freshly grated parmesan cheese. None of that fake stuff please!
How to Make This Butternut Squash Risotto
Step 1
Roast the butternut squash in the oven until tender. Then scoop out the flesh of the squash and puree it in a food processor or blender.
Tip: if you're intimidated by how to cook a butternut squash make sure to read this guide.
Step 2
Heat some olive oil in a large pan, then add the shallots, garlic and sage and sautee. Then add the rice and butter and mix everything together letting the rice toast for a couple of minutes. Then add the wine and let the alcohol cook off.
Step 3
Slowly begin to pour the broth into the risotto, about 1/2 cup at a time, string and letting the rice absorb the broth before adding more. Continue until the Rice is al dente. When the risotto is done stir in the butternut squash, parmesan and seasoning. Serve immediately.
What to Serve with Butternut Squash Risotto
I like to serve risotto as the main dish.
If this is what you are planning to do, then I recommend pairing it will a side salad and perhaps a soup. I would recommend using citrus and acidic flavours in the salad because this will help cut the richness of the risotto.
Corn Salad or Kale Caesar Salad would be great options. As for the soup, keep it on the lighter side. A nice Asparagus Soup, Roasted Garlic Soup or this Vegan Beet Soup would work great!
If you are looking to serve a more traditional Italian dinner, this risotto would probably be considered more of the first course or "primo piatto".
Feel free to combine this with eggplant parmesan, or for my meat-eaters, saltimbocca, scallops or fish. That's what makes this recipe so great – it can be the main attraction or not, either way, it is delicious and impressive!
Can Squash Risotto be made ahead of time?
Butternut Squash Risotto can be made ahead of time and reheats rather well, however it is best enjoyed fresh. Once you reheat the risotto, the rice will become softer and it will absorb more of the sauce. Risotto is always best enjoyed right away if possible!
How to Store Squash Risotto
Store: Let the risotto cool before transferring it to a container. (Otherwise, if it's hot it will continue to steam and get mushy in the container.) Once cooled, transfer to a container and store in the fridge for up to 4 days.
Reheat: heat the risotto in the microwave or in a pan. If the risotto is clumping together add another splash of broth or water to help thin it out.
Tips for Making Risotto with Squash Perfectly
Use arborio rice or any short-grain rice. For this recipe, I use short-grain brown rice to keep things extra healthy, but technically any short-grain rice will work. (Though I'd recommend sticking to the short grain brown rice as in the recipe, or to use arborio rice.) 
Adding a splash of white wine to the recipe gives a little kick of acidity to the risotto. If you don't have any white wine, you can add a tablespoon of lemon juice instead. 
One of the key secrets to making a perfect risotto is patience. That's right! No quick tricks here my friends. So go ahead and use this as an excuse to pour yourself a glass of wine, put on your favourite playlist on Spotify, and just ENJOY the process of making some risotto! Can you say #selfcare?
If you're wondering, can risotto be reheated? The answer is YES, YES IT CAN! But do yourself a favour and reheat your risotto in a pan rather than a microwave. Add a little extra splash of water or vegetable broth to the pan along with the risotto to help loosen it up and get that nice smooth & creamy texture. 
If you're feeling a little intimidated about the process of making risotto, tasty has a great how-to video you can watch here!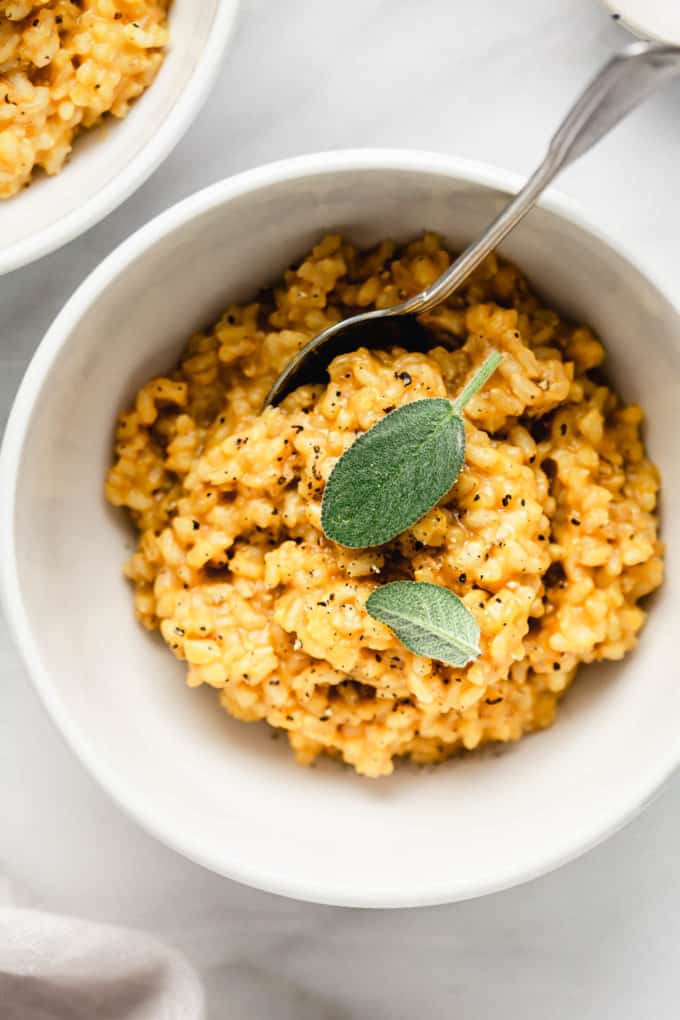 Butternut Risotto FAQs
Can I make this risotto vegan?
Absolutely! Just swap out the butter for vegan butter and either leave out the parmesan cheese or use vegan cheese instead.
Do I have to use wine in the risotto?
The wine gives the risotto a delicious flavour with a hint of acidity. If you prefer not to use white wine in this recipe, you can use a squeeze of lemon juice instead.
Can I use any type of rice?
No! Risotto requires a specific type of rice to achieve that creamy texture in a risotto. Make sure to use arborio rice or short-grain brown rice.
More Delicious Squash Recipes to Try
If you tried this Roasted Butternut Squash Risotto or any other recipe on the blog let me know how you liked it by leaving a comment/rating below! Be sure to follow along on Pinterest, Instagram and Facebook for even more deliciousness!
Print
Butternut Squash Risotto
Author: Jessica Hoffman
Prep Time: 10 minutes
Cook Time: 35 minutes
Total Time: 45 minutes
Yield: 2–4 servings 1x
Category: Main
Method: Cook
Cuisine: Italian
Diet: Vegetarian
---
Description
This Roasted Butternut Squash Risotto is perfect for a "fancy" at-home dinner that is easy to makes but tastes like you're dining at a restaurant!
---
Roasted butternut squash puree: 
Risotto: 
1 tbsp olive oil
2 shallots, finely chopped
4 garlic cloves, finely chopped
5 sage leaves
1 1/2 cups short-grain brown rice or arborio rice
2 tsp butter (or dairy-free butter if needed)
1/4 cup white wine
4–6 cups vegetable broth, heated (in a pot or microwave)
3/4 cup butternut squash puree
1/4 tsp freshly grated nutmeg
a generous handful of grated parmesan cheese (or dairy-free cheese for vegan)
salt & pepper to taste
---
Instructions
Preheat the oven to 400 degrees F and line a baking pan with parchment paper.
Cut the butternut squash in half and place face down on the baking pan. Bake for 30-45 minutes until the squash is tender. Remove and let cool.
Remove the seeds, peel and transfer about 3/4 cup worth of the squash to a blender. blend until smooth.
Heat the olive oil in a pan on medium-high heat.
Add the shallots and cook 3-4 minutes, until translucent. Then add the garlic and sage and cook another 2 minutes.
Add the rice and butter and mix together, letting the rice toast for about a minute, then add in the wine and cook until the liquid has evaporated.
Slowly add the broth, a 1/2 cup at a time, stirring frequently until the liquid is completely absorbed before adding more broth.
Cook for 20 to 30 minutes or until the rice is al dente. Add broth, as needed.
When the risotto is almost done, add in the butternut squash, nutmeg, parmesan cheese, salt and pepper. Taste and adjust seasoning if needed. 
Divide into bowls. Garnish with sage and extra parmesan if desired.
---
Notes
Use arborio rice or short-grain brown rice to make this recipe.
Adding a splash of white wines gives a nice acidity to the dish. If you don't have white wine on hand you can add a splash of lemon juice. 
To test if the consistency of your risotto is right, run a spoon through the risotto in the pan. If it slowly seeps back together you've got the consistency you want! 
You'll also know the rice is cooked when it is soft, but with a very slight bite to it. (Like pasta that is cooked al dente) 
Store any leftovers in an airtight container in the fridge.
---
Nutrition
Serving Size: 1 bowl
Calories: 291
Sugar: 8g
Fat: 10g
Saturated Fat: 3g
Carbohydrates: 40g
Fiber: 6g
Protein: 11g
Keywords: risotto with butternut squash, healthy risotto recipe, butternut squash risotto
This post contains affiliate links which means I will make a small commission if you purchase through those links. I only recommend products that I know, trust and love!