Sun-Dried Tomato Spaghetti Squash with Caramelized Onions
This Sun-Dried Tomato Spaghetti Squash with Caramelized Onions is a perfect light and fresh recipe that is naturally gluten-free and grain-free! The homemade tomato pesto and goat cheese pack this dish with a ton of flavour!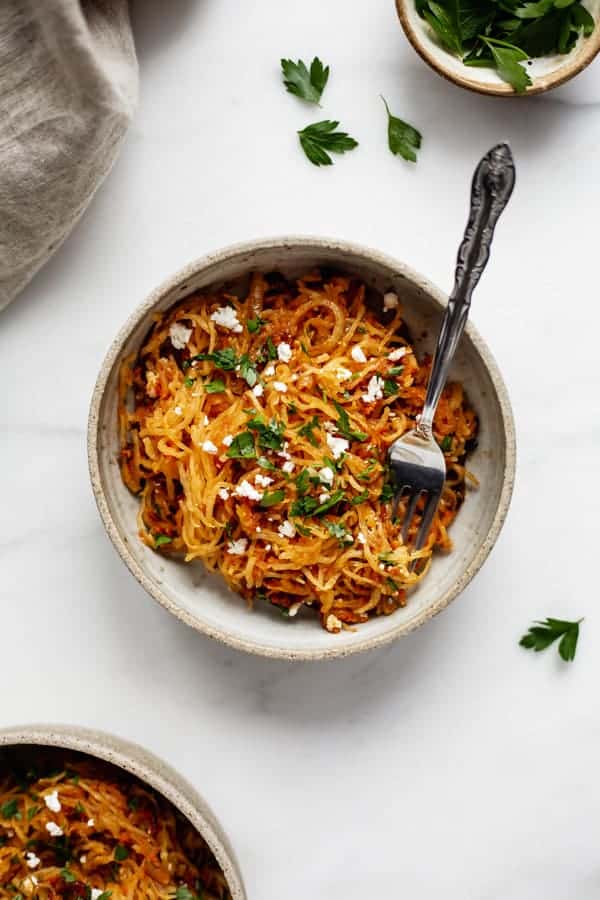 This is an old recipe on the blog that has been updated to make it even better!
This Sun-Dried Tomato Spaghetti Squash Recipe is like a lighter low-carb version of a spaghetti and tomato sauce that is also naturally gluten-free. It's tossed in a homemade sun-dried tomato pesto and mixed together with caramelized onions and goat cheese for a squash dish that packs a ton of flavour!
How does spaghetti squash taste?
Spaghetti squash has a very mild flavour when eaten on it's own. It definitely has a "squash-like" taste, similar to other squashes like a butternut squash or acorn squash.
The texture of spaghetti squash is stringy like spaghetti, but with a bit of a bite to this than real spaghetti would have. Because it's so mild in taste, it will ultimately taste like whatever type of sauce or seasoning you put on it! I like making it with Lentil Bolognese and Healthy Spaghetti Carbonara.
How to make sun-dried tomato pesto spaghetti squash
A few simple steps and you're on your way to enjoying the most delicious spaghetti squash! Here's what you'll need to do:
Cut the squash in half and roast it in the oven for 30-45 minutes
Make the sun-dried tomato pesto by pureeing the pesto ingredients together in a food processor
Caramelize your onions in a pan
Remove the squash from the oven, peel out the squash using a fork to make your "spaghetti" and then toss it together with the rest of the ingredients.
Top with some crumbled goat cheese and fresh parsley.
Tips for making this recipe perfectly
Check on your squash as you roast it to make sure you don't over-bake it. Cooking time may vary depending on the size of your squash. When you poke the squash with a fork it should feel tender, but shouldn't be mushy.
Prepare the pesto and caramelized onions while your squash bakes. This will save you time in the kitchen!
Be patient with your caramelized onions. Let them cook at a low temperature and don't rush them. Giving them time to cook is what will allow them to caramelize.
Don't have time to roast the squash? Microwave it! Place the squash cut-sides-down in a microwave-safe baking dish. Fill the dish with about 1 inch of water and microwave for 10-12 minutes, or until you can easily pierce the squash with a fork.
More squash recipes to try
Print
Sun-Dried Tomato Spaghetti Squash With Caramelized Onions
Author: Jess
Prep Time: 20 minutes
Cook Time: 40 minutes
Total Time: 1 hour
Yield: 4 servings 1x
Category: Main
Method: Bake
Cuisine: American
---
Description
This full-flavoured recipe is perfect for a lighter dinner with fresh ingredients!
---
Spaghetti Squash
1 large spaghetti squash
1 tbsp olive oil 
Sun-Dried Tomato Pesto
1 cup sun-dried tomatoes. (in oil works best) 
1 cup basil
2 garlic clove
1/4 cup toasted pine nuts
1/3 cup olive oil
salt & pepper to taste
Caramelized Onions
1 tbsp olive oil
1 large onion
1/4 tsp salt
Other
1/4 cup crumbled goat cheese
1 handful parsley, chopped
---
Instructions
Spaghetti Squash
Preheat your oven to 400 degrees F and line a baking sheet with parchment paper. 
Cut your squash in half lengthwise, remove seeds, and brush the flesh with olive oil.
Place your squash face down on your baking sheet, and place in the oven for 40-50 minutes, or until tender.
Once cooled, take a fork and begin to scrape out your squash. It should scrape rather easy, and resemble spaghetti. (If your squash is too hard to scape, it needs to be cooked longer)
While the squash cooks, prepare the rest of the ingredients 
Sun-dried tomato pesto
Place your sun-dried tomatoes, basil, garlic, toasted pine nuts, and olive oil in a food processor. Pulse until a paste form. Add salt and pepper to taste.
Caramelized onions
Heat 1 tbsp olive oil in a large saucepan. Chop your onion and add it to the pan with the salt on medium-low heat. Cook for 15-20 minutes, mixing every few minutes.
Assemble
Add half of your sun-dried tomato pesto to the pan on medium heat. Cook for 2 minutes. Add your squash and mix until everything is well combined. Add more pesto if needed, or reserve the rest for another time. 
Top with fresh chopped parsley and crumbled goat cheese. 
---
Notes
No time to bake the squash? Microwave it! Place the squash face down in a baking dish with 1 tbsp of water and microwave for 10-12 minutes or until tender when pierced with a fork. 
Sun-dried tomatoes in oil will give you a creamier pesto, but any sundried tomato will work. 
Store any leftover Sun-dried tomato pesto in a jar in the fridge to use for another time. 
---
Nutrition
Serving Size: 1/4 of the recipe
Calories: 380
Sugar: 2g
Fat: 20g
Saturated Fat: 4g
Carbohydrates: 17g
Fiber: 4g
Protein: 10g
Keywords: spaghetti squash main, spaghetti squash recipe
If you tried this Sun-Dried Tomato Spaghetti Squash or any other recipe on the blog let me know how you liked it by leaving a comment/rating below! Be sure to follow along on Pinterest, Instagram and Facebook for even more deliciousness!
This post contains affiliate links which means I will make a small commission if you purchase through those links. I only recommend products that I know, trust and love!