Dreamy pink moon milk
This dreamy pink moon milk is a tasty bedtime tonic made to help you sleep. It's warming and featuring spices and ingredients designed to help you relax and unwind after a long day!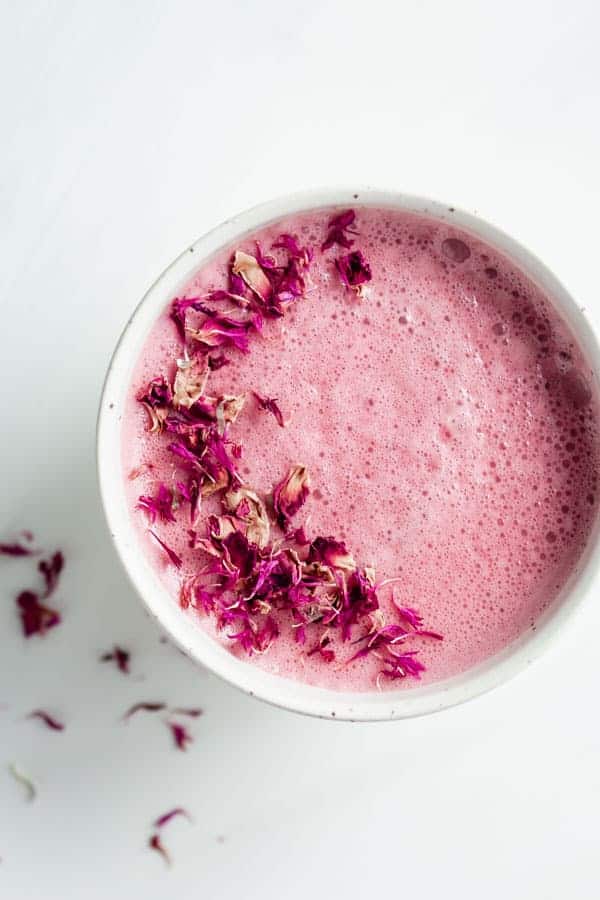 This recipe is sponsored by sunfood superfoods.
With colder weather on the horizon, there's nothing I love more than curling up with a warm drink in the evening before bed. For me, this will often be a cup of herbal tea, (usually peppermint or ginger) but sometimes I like to drink something a little more special, like this dreamy pink moon milk!
Besides the fact that it's pink, (which is reason enough to drink this) it's filled with specially curated ingredients made to help you relax and fall asleep quickly. Which if your anything like me and not particularly the best sleeper, is a huge win!
Especially with daylight savings around the corner, I always make sure to spend more time having a bedtime routine and focusing on getting more sleep in general. For whatever reason, I find that I need more hours of sleep during the winter months. (Guess I just need to hibernate, you know?)
And with that, there's nothing better before going to bed then a creamy pink moon milk made with homemade cashew milk, beetroot powder, tart cherry juice and the works! yum!
This recipe features sunfood superfood beet powder. Which is simply made by grinding up dried beetroot. You can use fresh beetroot juice for this recipe, but what I loveeee about beetroot powder is the simplicity of it. And we're all about keeping things simple especially before bedtime. Just add a teaspoon and you're good to go! No cleaning, chopping and juicing beets. (And no getting your fingers permanently stained purple. Win!)
A few notes on this recipe:
Since this is a pink moon milk, beetroot and cherry juice are essential to giving this moon milk that nice pink colour. Beetroot is also known to help with inflammation in the body and contains lots of vitamins and minerals to help boost your immune system. (Something I think we all need during this time of year!)
Then comes in some tart cherry juice, which is known to help improve overall sleep quality. When choosing a cherry juice, make sure that the ingredients are just 100% cherry juice! That's the stuff we're going for here. (No cherry juice concentrate loaded with added sugar please!)
For this dreamy pink moon milk I love to make my own homemade cashew milk. You can use store bought almond milk-or any milk you prefer, but I'd definitely recommend making the homemade cashew milk, cuz YUM.
Then comes in the spices. We're doing some cinnamon, a pinch of nutmeg and (optionally) some ashwaganda. (An adaptogenic mushroom that helps relax the nervous system.)
This dreamy pink moon milk is:
Warming
Naturally vegan & gluten-free
Filled with ingredients to help you catch more zzz's
Enjoy & sleep tight!
Print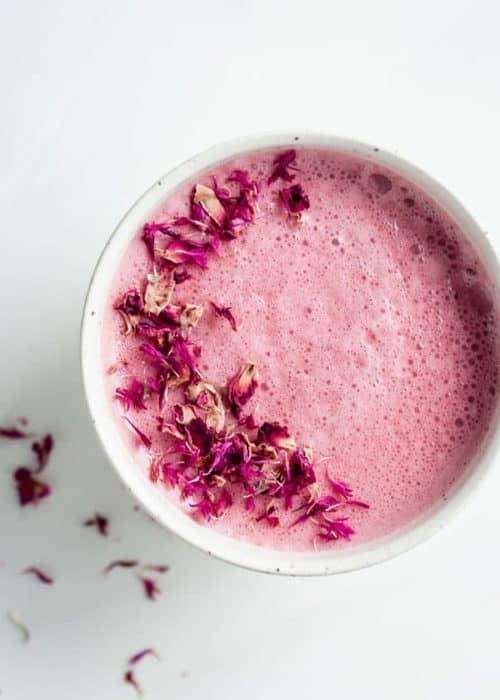 Pink moon milk
Author: Jess
Prep Time: 5 minutes
Cook Time: 5 minutes
Total Time: 10 minutes
Yield: 2 servings 1x
Category: drink
Method: cook
Cuisine: American
---
Description
Enjoy this dreamy sleepytime drink before bed to help you relax and catch some zzz's!
---
---
Instructions
Start by making the Cashew milk. Blend the soaked cashews and water in a high-speed blender until smooth and creamy.
Transfer the cashew milk to a small pot and add the rest of the ingredients over medium-high heat.
 Use a small whisk to mix everything together until incorporated and warm enough to your liking.
(Optionally) transfer to a blender and blend for 1 minute until frothy.
Top with edible flower petals or a dusting of cinnamon.
---
Notes
Taste and adjust spicing as you like. You can also add in alternative spices like turmeric, allspice or vanilla extract.
If you can't find tart cherry juice you can also blend up a handful of fresh or frozen cherries to use instead!
---
Nutrition
Serving Size: 1/2 recipe
Calories: 366
Sugar: 62g
Fat: 8g
Saturated Fat: 2g
Carbohydrates: 72g
Fiber: 1g
Protein: 3g
Keywords: moon milk recipe, beetroot latte recipe, drinks for sleep
This post contains affiliate links which means I will make a small commission if you purchase through those links. I only recommend products that I know, trust and love!
This post contains affiliate links which means I will make a small commission if you purchase through those links. I only recommend products that I know, trust and love!