Watermelon mojito frosé [rosé slushy]
This watermelon mojito frosé [rosé slushy] is a refreshing summer drink that is perfect to enjoy on a hot sunny day! Fresh watermelon and frozen rosé ice cubes and all blended together with mint and lime. Non-alcoholic version of the recipe included below!
Let's kick off this beautiful sunny weekend with a refreshing and frosty cocktail!
This is actually the very first cocktail recipe I'm sharing on the blog. I'm actually not even sure if I'd consider it a cocktail since there is only a bit of wine in this drink…but either way, it's DELISH.
I love enjoying a glass of wine on the weekend to wind down and relax. But lately, on these hot summer days, I've been feeling like something a little colder and refreshing. Some days I like to relax with a glass of refreshing cold brew peach iced tea, but other days, I want something a little more frosty!
We've been having a serious hot streak this July, which if you ask me has been AMAZING. (Especially since the last couple of summers weren't so warm.) Summer is my favourite season of the year and I live for hot weather! (Seriously I wonder sometimes if I was meant to live on a tropical island.) So I've been especially excited about this recipe that is seriously perfect for a hot and sunny day.
If you're sitting there wondering what on earth is a frosé? Let me explain. Simply put a frosé is just frozen rosé wine. As in let's take some rosé wine and make it a million times better by freezing it into ice cubes and them blending it up into a refreshing SLUSHY!
This frosé also takes it up a notch by adding in fresh watermelon, mint, and lime. Which is one of my favourite combinations.
This watermelon mojito frosé is a great healthy alternative to having a drink loaded with sugar, hard liquor and artificial ingredients. In fact, you should probably have two glasses of this recipe to yourself, since it's been shown that wine has a ton of health benefits.
A few notes on this recipe:
Remember to prepare the frozen rosé for this recipe the night before you want to make it so the rosé cubes have a chance to freeze. You can also alternatively freeze your watermelon instead and add the rosé wine in liquid form.
Even though this recipe calls for rosé wine, if you prefer white or red wine (or if that's what you have on hand) you can definitely use that instead. It will taste just as delicious! You can also use any type of juice you like in place of the wine completely to make this recipe non-alcoholic.
Watermelon is one of my favourite refreshing ingredients to use during the summertime that is hydrating and filled with electrolytes, but you prefer any other types of fruit to make this slushy then go right ahead! Maybe a mango frosé or a strawberry frosé? Yum!
This watermelon mojito frosé is:
Naturally vegan & gluten-free
refined sugar-free
Refershing and light
Make sure to serve these up immediately so they don't melt! Store any leftovers in the freezer and reblend when you're ready to enjoy.
Print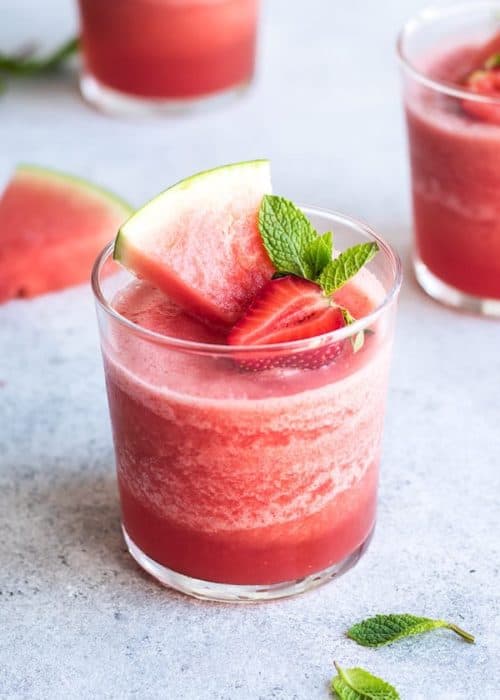 Watermelon mojito frosé [rosé slushie]
Author: Jess
Prep Time: 10 minutes
Cook Time: 0 minutes
Total Time: 10 minutes
Yield: 4 servings 1x
Category: Drink
Method: Blend
Cuisine: American
---
Description
This light and fresh frozen drink will be your new summer favourite! Loaded with watermelon, mint and frozen rose wine!
---
1/2 bottle rose wine (can sub apple juice or pineapple juice for a non-alcoholic version)
4 cups cubed watermelon
juice of 2 limes
1 handful mint leaves
2 tbsp agave nectar (can substitute maple syrup or sugar)
2 handfuls of ice
---
Instructions
Pour the rose wine into ice cube trays and freeze overnight.
Blend the rose ice cubes, watermelon, lime, mint, agave together in a high-speed blender.
Next add the ice cubes to get a more slushy consistency.
Serve immediately.
---
Notes
Add in any of your favourite fruit like strawberries or passionfruit to these slushies
---
Nutrition
Serving Size: 1/4 recipe
Calories: 103
Sugar: 15g
Fat: 0g
Saturated Fat: 0g
Carbohydrates: 20g
Fiber: 2g
Protein: 0g
Keywords: how to make a slushy, homemade frose, wine slushy
This post contains affiliate links which means I will make a small commission if you purchase through those links. I only recommend products that I know, trust and love!