Cold Brew Peach Iced Tea
Cool off with a refreshing glass of this cold brew peach iced tea. Learn the 'secret' trick to making homemade iced tea that has a smooth and crisp taste, with no bitterness!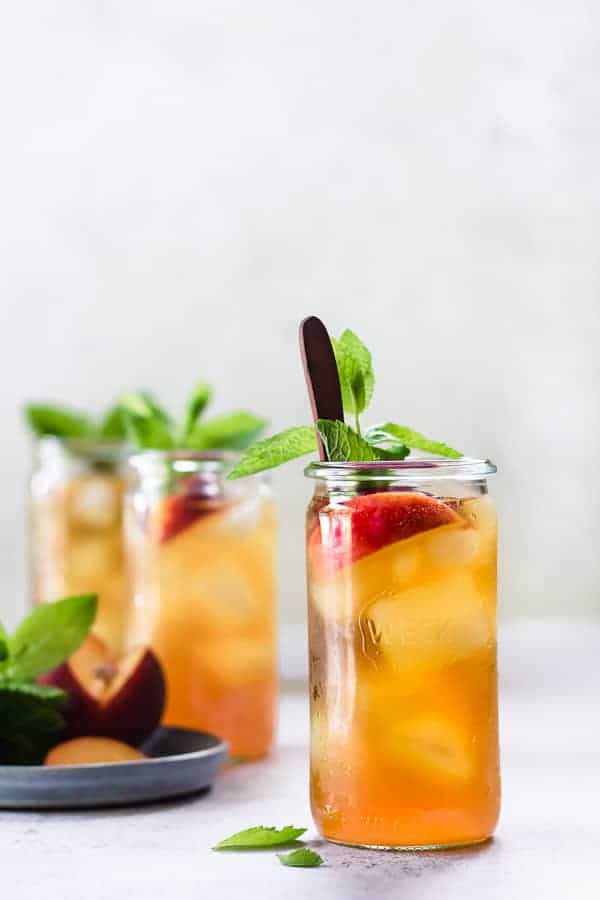 Is there any better way to cool down in the summertime than with a cold glass of iced tea? No, no there is not.
Iced tea is one of those drinks that I just crave during the summer months. There's nothing more enjoyable than sitting outside, enjoying the sunny weather and sipping on a glass of iced tea. (Ok, maybe having one of these grapefruit thyme popsicles is pretty good too!) The best part is, homemade iced tea is SO easy to make, and it's one of the healthiest (if not the healthiest) drinks you can have. If you're feeling extra peachy serve this up alongside some Gluten-Free Peach Cobbler.
Why you'll love this recipe
Typically store-bought iced teas are loaded with tons of sugar and artificial flavour. This homemade iced tea is:
All natural ingredients
low in sugar
Loaded with anti-oxidants
Naturally vegan and gluten-free
Suitable for most diet-types
Loaded with fresh peach, orange and mint flavour.
I use earl grey tea to make this recipe because I find it complements the flavours so well, but you can also use any of your favourite black, white or green tea you love.
Cold brewing iced tea
Now, let's talk about the "secret" to making the best-iced tea. It's all about the cold-brew!
So what exactly does it mean to cold brew your iced tea? Cold-brew simply means to brew your drink in cold water. Rather than using boiling water, this tea is prepared in cold water. One reason why many people usually use boiling water to make iced tea is that it's faster. But faster isn't always better.
In the case of making iced tea, using hot water can leave your tea with a bitter taste. This is often why teas made this way are loaded with extra sugar and artificial flavours to cover up any bitterness.
Making cold-brew iced tea leaves you with a crisp, clean and refreshing tasting tea. It also gives the opportunity to really allow the flavours in the tea to fully come out since the tea bags are able to sit in the water for over 6 hours. This gives your iced tea all those delicious subtle flavours.
If you are making this recipe with white tea or herbal tea, then you can use the boiling water method to make this tea. Cold-brewing iced tea isn't necessary for these types of teas because they don't have the compound in them that causes bitterness when brewed in hot water.
Ingredients you'll need
Peaches: Can't have peach iced tea without the peaches! Make sure to use fresh ripe peaches for this recipe.
Orange peel: This helps to infuse the iced tea with so flavour and make it even more delicious
Mint: to give the iced tea a refreshing taste
Cane Sugar: just a bit to sweeten. You can also substitute any type of sweetener you like here. You can use honey, maple syrup or even stevia.
Early grey tea: or any type of tea you prefer. English breakfast would also work well!
How to make peach iced tea from scratch
Maple Cold Brew Peach Iced Tea at home couldn't be easier! You basically just add everything to a large jug and let it sit in the fridge to "brew" for at least 6 hours. The result you'll be left with is a delicious and flavourful tea that is much healthier than any store bought iced tea. Follow the recipe card below for exact recipe directions.
Expert tips
I recommend using black tea to make this recipe for a rich flavour, but a green or white tea would work well too. If you like a really strong iced tea, you can add a couple of extra tea bags to steep in the water.
If you're really pressed for time and need a quick iced tea, you can still use a hot-brewed method to make this recipe. Simply steep the tea bags in boiling water for 2 minutes. Make sure to set a timer and don't over-steep the tea! (This will leave you with a bitter-tasting tea.) Let the tea cool to room temperature and pour over ice. If you have time, use the cold brew method for the best results.
I generally only add a couple of teaspoons of organic cane sugar or maple syrup to this cold brew peach iced tea, but if you like a sweet iced tea, simply add more sweetener of your choice.
More refreshing drinks to try
If you tried this Cold Brew Peach Iced Tea or any other recipe on the blog let me know how you liked it by leaving a comment/rating below! Be sure to follow along on Pinterest, Instagram and Facebook for even more deliciousness!
Print
Cold Brew Peach Iced Tea
Author: Jessica Hoffman
Prep Time: 10 minutes
Cook Time: 0 minutes
Total Time: 10 minutes
Yield: 4–6 servings 1x
Category: Drink
Method: Mix
Cuisine: American
Diet: Gluten Free
---
Description
Cool down with a glass of this refreshing Cold Brew Peach Iced Tea infused with peaches, orange zest and mint!
---
3 peaches, sliced
peel of 1 orange, peeled into large slices*
3 sprigs of mint
2–5 tsp organic cane sugar, maple syrup or honey
5 tea bags of earl grey tea
1-litre water
---
Instructions
Add the peaches to the bottom of a pitcher and muddle with a wooden spoon just enough to smash them.
Add the slices of orange zest, mint, sweetener of choice, tea bags, water and mix until combined.
Cover and place in the fridge for 6-12 hours.
Remove the tea bags and serve over ice.
---
Notes
Use a vegetable peeler to make slices of the orange peel.
I generally add 3 tsp of maple syrup or cane sugar to the iced tea, but if you prefer a sweeter iced tea simply add more.
I like to prepare this iced tea the night before and let it sit in the fridge overnight. If you prefer a clear iced tea, strain the tea and discard (or eat, yum!) the peaches.
---
Nutrition
Serving Size: 1/4 recipe
Calories: 20
Sugar: 13g
Fat: 0g
Saturated Fat: 0g
Carbohydrates: 14g
Fiber: 2g
Protein: 1g
Keywords: cold brew iced tea, how to make iced tea, peach iced tea
This post contains affiliate links which means I will make a small commission if you purchase through those links. I only recommend products that I know, trust and love!