Kimchi Fried Rice
This recipe for Kimchi Fried Rice is quick and easy to make and will be your new favourite! Top it off with a fried egg for some extra protein or even add some tofu if you'd like to make this recipe vegan-friendly!
Say hello to one of your new favourite weeknight staples: Kimchi Fried Rice! I'm not kidding when I say this recipe is borderline addicting.
It's savoury, crispy, comforting and bursting with flavour. It's made with two main ingredients: rice and kimchi. You can use any type of rice you love for this recipe, like brown rice or sprouted rice, but I like to keep it simple and use jasmine rice.
If you've never had kimchi before, kimchi is a fermented cabbage dish that is a staple in Korean cuisine. It has a unique taste and can be enjoyed cold on its own, or cooked up in dishes like this rice. If you're not a huge fan of cold kimchi on its own, I highly recommend you try it cooked up in this dish. The flavour of the kimchi changes when heated and mixed with other ingredients.
Why you'll love this recipe
This rice comes together in just 15 minutes (if you're using pre-cooked rice)
This recipe is vegetarian and gluten-free and can also be made vegan by leaving out the egg or adding some scrambled tofu on top instead.
The combination of kimchi with the rice, sesame and garlic will is absolutely delicious!
What does Kimchi Fried Rice taste like?
This rice recipe is flavourful and has a tang from the kimchi. It has a slightly sweet and sour flavour and is very garlicky. The rice gets nice and crispy on the bottom for some different texture.
You can optionally top this rice off with a fried egg or simply enjoy it on its own!
How to make Kimchi Fried Rice
Use precooked rice or cook 1 cup of rice according to package directions. Then heat some oil in a large pan and add the chopped garlic, letting it cook for just a minute until fragrant.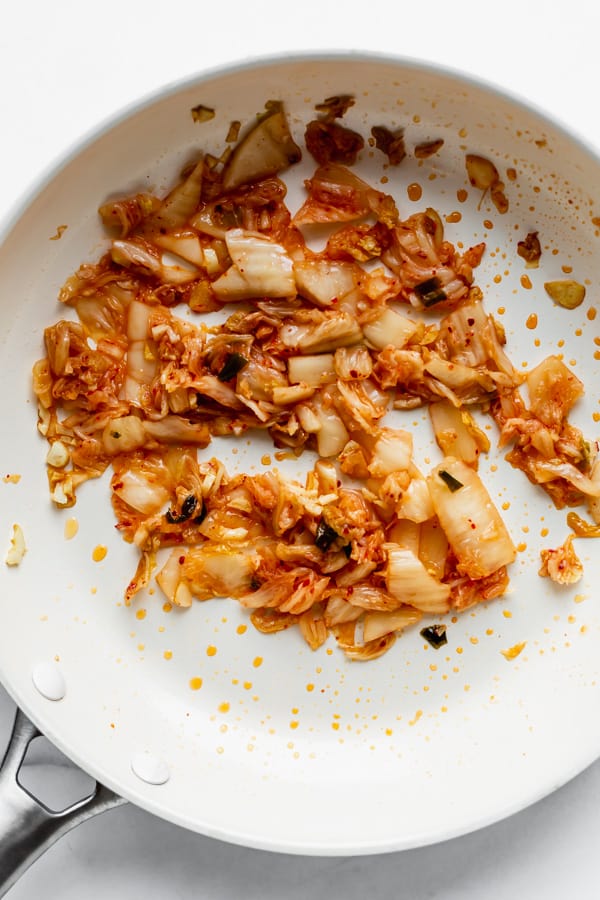 Add in the chopped kimchi and mix it all together. Let cook for a couple of minutes.
Add the rice and seasoning and mix well to incorporate everything. Let the rice sit in the pan on medium-high heat for a couple of minutes so the rice starts to brown on the bottom and get crispy.
Optionally fry up some eggs to serve on top of the rice!
Tips for making this recipe perfectly
Don't overcook the garlic in the pan. Let it cook just for about a minute. You don't want the garlic to brown, this will give the rice a different flavour.
Chop up the kimchi so it's in small bite-sized pieces. Some brands of kimchi may come in large chunks.
Let the rice cook in the pan without touching or moving it around for a couple of minutes on high heat so it browns on the bottom. Keep a close eye on it so it doesn't burn!
More rice recipes to try
Print
Kimchi Fried Rice
Author: Jessica Hoffman
Prep Time: 5 minutes
Cook Time: 10 minutes
Total Time: 15 minues
Yield: 4 servings 1x
Category: Main
Method: Cook
Cuisine: Korean
---
Description
This Kimchi Fried Rice will be your new favourite! It's tangy, sweet and savoury and perfect for an easy weeknight dinner! 
---
2 cups Jasmin rice, cooked (about 1 cup not cooked) 
1 tbsp olive oil
2 garlic cloves, chopped
1 cup kimchi
1/2 cup kimchi juice
1 tbsp sweet chili sauce
1 tsp sesame oil
1–2 tsp sriracha
2 tsp soy sauce
2 eggs
---
Instructions
Heat the olive oil in a large skillet on medium-high heat then add the garlic. Let cook for just a minute until fragrant, then add the kimchi and continue to cook for antoher 2 minutes.
Next add the rice, kimchi juice, sweet chili sauce, sesame oil, sriracah and soy sauce and mix everything together. 
Let the rice sit in the pan on medium-high heat for 1-2 minutes to brown and get crispy on the bottom, then remove from heat.
Optionally fry up a couple of eggs to serve on top of the rice. 
---
---
Nutrition
Serving Size: 1/4 of the recipe
Calories: 275
Sugar: 2g
Sodium: 450mg
Fat: 7g
Carbohydrates: 42g
Fiber: 2.2g
Protein: 8g
Keywords: how to make kimchi fried rice, kimchi fried rice recipe
If you tried this Kimchi Fried Rice or any other recipe on the blog let me know how you liked it by leaving a comment/rating below! Be sure to follow along on Pinterest, Instagram and Facebook for even more deliciousness!
This post contains affiliate links which means I will make a small commission if you purchase through those links. I only recommend products that I know, trust and love!